In this era of online & distance education, most professionals are getting inclined toward these modes for uplifting their careers. These modes help you gain relevant knowledge in your field even without physically attending the classes. The mode of open education is offering numerous courses in different majors to make your choice of higher education accessible to you.
Are you an LLM aspirant planning on taking a break from your practice to pursue that program? Well, the distance mode of education is also offering an LLM program to make you uplift your career without quitting your corporate job or law practice. However, a distance LLM course is not recognized by the Bar Council of India (BCI). Thus, online LLM courses for working professionals have been introduced by universities that last for 1 year and are completely valid in India.
Master of Legislative Law or LLM is a master's degree in Law that provides an in-depth understanding of the law & order in the country & even at the global level. Legal professionals willing to upgrade their careers can opt for this master's program to explore a wide variety of job opportunities in the public & private sectors.
Is LLM Distance Education Worth It?
Pursuing a master's degree for career advancement is one of the primary choices available to anyone in any field of work. Be it an engineer, teacher, or lawyer, this learning ladder has no end!
Distance or Open LLM makes you learn in-depth knowledge of industrial and intellectual property law, business law, law, and social transformation, legal education and research, environmental law, and many other legal topics.

For professionals engaged in their work, it becomes quite tough to take out time for a fixed schedule of a course. LLM Distance education sorts this out by providing learning flexibility to its learners by making them learn at their pace. No fixed-time classes, No commute, & low fees, are some of the main highlights of distance LLM that encourages aspirants to take this program.
Key Highlights of LLM Distance Education
With a good record of students enrolled in distance LLM in India, this course is still in demand by many professionals or students who still need to commit a full-time dedication to their studies.
Some of the eye-catching features of this distance education program are as follows:
It makes you earn a master's degree without demanding a full-time commitment.
You can attend the lectures from anywhere, thus, saving your commuting time & allowance.
Due to a flexible schedule, it allows you to continue your job while studying.
It helps you gain the same level of knowledge as you are expected to know from a regular LLM program.
An affordable fee range is the main highlight of the course for many aspirants.
Acquire the skills of verbal communication, written communication, commercial awareness, creative problem solving, initiative & independence, and teamwork through this distance education program.
Avail the dual benefit of earning & learning at the same time with this flexible & easily accessible LLM course.
Eligibility Criteria of LLM Distance Education
LLM from government-accredited universities is approved by the Bar Council of India (BCI) & the universities providing this program have pre-decided a set of criteria that the applicants must fulfill before applying for it. The eligibility criteria for distance LLM are university specific but being a PG program there are some general requirements that candidates must fulfill to pursue this program.
These general requirements are mentioned below:
LLB or relevant degree with a minimum of 50-55% marks from a recognized university.
Qualifying entrance exams conducted by universities with the required marks.
Prior knowledge in the field or work experience is preferred for this course.
How to Apply for the LLM Distance Education?
After matching the eligibility criteria for the distance LLM program decided by the university, you can move on to the admission procedure of the program which is again a university-specific factor.
Some of the basic admission steps to get enrolled in the distance LLM program are listed here:
Step 1: Visit the official university website that you chose for pursuing LLM Distance Education.
Step 2: Fill out your details in the admission form & attach the required documents to the admission portal.
Step 3: Appear & qualify for the entrance exam conducted by the university. Some universities accept the scores of common national-level law entrance exams but others conduct their own program-specific tests to judge your potential for the program.
Step 4: After being shortlisted, pay the course fee using the payment methods available on the university website.
Step 5: Download the confirmation slip for future reference. Use your personalized student credentials to log in to the study portal (LMS) of the university.
Documents asked by the universities for background verification of applicants include the mark sheets & certificates of 10th, 12th, & graduation. Apart from that you may be asked to submit your professional synopsis & passport-size photographs.
Which Entrance Exams Make You Enroll in LLM Distance Education?
The admission procedure to the distance LLM program is similar to that of the regular LLM course. Except for the paperless & less complicated admission steps, you need to appear & pass the entrance exams designed for this program. Some common national-level entrance exams like CLAT, LSAT, IPU CET, DU LLM, etc. help you enroll in reputed universities for this master's program in law.

Other than these common tests, some universities conduct their screening tests including program-specific or aptitude-based entrance exams followed by personal interviews. The exact information regarding these specifications can be confirmed on the university's official website.
Syllabus of LLM Distance Education
The curriculum design of LLM distance education is exactly similar to the one studied in a regular program of the same major. Based on your choice of specialization in the distance LLM program, you get to learn some core topics of that field that not only makes you proficient in the field but helps you explore different departments of law.
A general list of some of the core topics studied in specific specializations is listed here:
LLM Specializations

Core Subjects

Constitutional Law

Law and Social Transformation in India
Constitutionalism: Pluralism & Federalism
Indian Constitutional Law- The New Challenges
National Security, Public Order and Rule of Law
Judicial Process
Mass Media Law
Research Methodology
Human Rights
Dissertation
Administrative Law
Administrative Process and Judicial Control

Business Law

Law and Social Transformation in India
Indian Constitutional Law: The New Challenges
Judicial Process
Legal Education and Research Methodology
Law of Industrial and Intellectual Property
Environmental Law
International Trade Law
Business Law
Insurance Law
Legal Regulation of Economic Enterprises
Law Relating to Regulatory Authorities
Commercial Arbitration
Alternate Dispute Resolution & Securities Law

Human Rights

Concept & Classification of Rights
Concept of Human Rights
Concept of Human Duties
Dialectics of Human Rights
Emerging Concept of Human Rights
Human Duties, Responsibilities & its Effectuation
International Obligation
Human Rights & Criminal Justice
Jurisprudence & Human Rights: Lego Philosophical perspectives
Constitutional Governance of Human Rights in India
Refugee Law
Human Rights and International & Regional Perspectives: Implementation Mechanism
International Humanitarian Law
People's Rights to Self-determination
Dissertation Research

Criminal Law

Theories of Law
Research Methodology
Banking Law
Corporate Jurisprudence
Legal Concepts
Legislative Process
Corporate Law
Life and Fire Insurance
Judicial Process
Law of Intellectual Property
Competition Law
Consumer Law

International Trade Law

Introduction International Trade Law
Law and Practice in International Banking and Commercial Payments
World Trade Law
Marine Insurance
Charter Parties: Law and Practice
e-Commerce
International Litigation and Arbitration

Family Law

Family Law I – System Scope Sources and Schools
Family Law II – Marriage and Matrimonial Remedies
Comparative Public Law
Law and Justice in Globalizing World
Legal English and Research Methodology
Foreign Business Language
Family Law III – Nuclear and Extended Family Rights
Family Law IV – Penal Laws on Family Affairs
Family Law V – Family Property and Succession
Family Law VI – Family Disputes Resolution
Foreign Business Language

Dispute Resolution

Legal Research Methodology
Principles and Practice of Arbitration in India
Comparative Public Law
Ethical Issues in Alternative Dispute Resolution
Negotiation and Mediation
Law And Justice In A Globalizing World
Recognition, Enforcement, and Execution of Arbitral Awards
Investment Arbitration
International Commercial Arbitration
Dissertation

IPR & Tech Law

Legal Research Methodology
Advanced IPR and IT Law
Comparative Public Law
Intellectual Property and New Technology, AI
Music and Copyrights
TRIPS and Public Health
International Investment Law and Intellectual Property
GDPR: A European Example of Data Protection Law
Dissertation
Duration of LLM Distance Education
The course duration of this program is a university-specific parameter & can be completed within the set time limit as decided by the university offering this program. The general course completion duration of this course is between 1-3 years. Law aspirants applying to this program are advised to finalize their university after considering this specific parameter of the course.
Top LLM Distance Education Universities in India
Being one of the most opted master's programs for law aspirants, many universities have launched a distance LLM course on their website at an affordable fee package. The list of the top 10 LLM distance education universities is provided below.
| | | |
| --- | --- | --- |
| S.No. | University/Institution | Average Course Fee per Annum (in INR) |
| 1 | Annamalai University | 20,000 |
| 2 | Andhra University | 15,000 |
| 3 | Kakatiya University | 40,000 |
| 4 | KSOU | 21,000 |
| 5 | Kuvempu University | 25,000 |
| 6 | Acharya Nagarjuna University | 25,000 |
| 7 | Berhampur University | 20,000 |
| 8 | Kurukshetra University | 36,000 |
| 9 | Mahatma Gandhi Law College | 30,000 |
| 10 | NSOU | 38,000 |
A brief of the top LLM colleges in India based on their fee range can be seen in the stats below.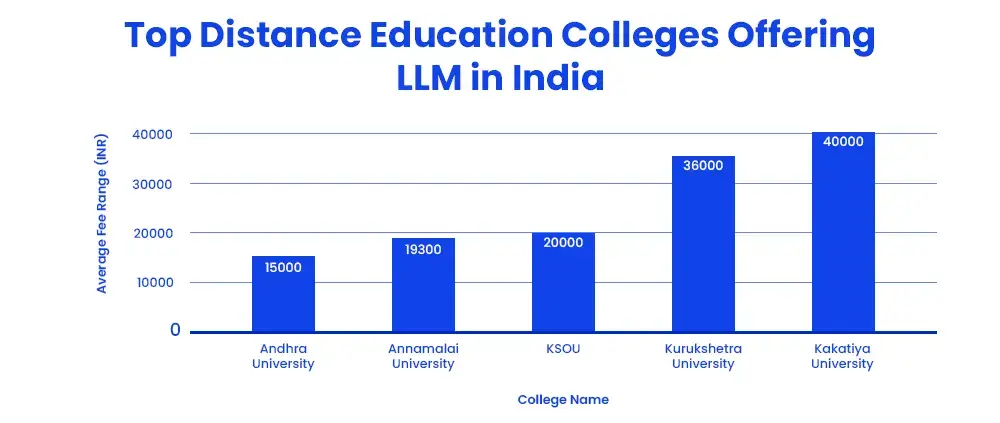 This trend will help you choose an affordable university to pursue a distance LLM course.
Scope of LLM Distance Education
Just like other domains, a master's degree in the field of law will take you to move forward in your career with meaningful results. LLM distance education provides similar career prospects as expected from a regular degree in LLM. After completion of this program, you can even go for higher studies & pursue doctorate programs to explore the deeper concepts of law-related fields.
Job Opportunities After LLM Distance Education
The amazing outcomes of distance LLM are reflected in the career opportunities one gets after its completion. Due to the high demand for legislative professionals, the industry is frequently hiring LLM graduates & offering some of the best company benefits along with high salary packages.
Some of the rewarding job titles offered in the country after LLM distance education are listed below:
| | |
| --- | --- |
| Legal Manager | Attorney Lawyer |
| Legal Support Officer | Legal Analyst |
| Senior Advocate | Notary Officer |
| Subdivision Magistrate | Judge |
| Corporate Lawyer | Bar Council Executive |
| Trade Commission Head | Chief Justice |
Salary of an LLM Distance Education Graduate
The pay scale of the law field is relatively higher than other domains of the industry. However, the salary package is a variable that depends very much on your skills & experiences. For a fresher in the industry, the package might seem lesser but after gaining significant experience in the field, you can get a decent salary package along with some alluring company benefits.

The sectors of the industry that frequently hire LLM graduates include a list of the following:
Business and Trade Union
Real Estate and Intellectual Property
Government Projects
International Relations
Public Service
Multinational companies
The salary package offered by these sectors starts from 4 LPA & goes up to a quite good level depending on your skills & experience. A list of some job positions that can be explored post-completion of LLM distance education along with their average salary package is tabulated below.
| | |
| --- | --- |
| Job Titles | Average Salary Package |
| Public Prosecutor | 5 LPA |
| Law Assistant | 5.5 LPA |
| Legal Researcher | 6.5 LPA |
| Legal Document Reviewer | 6.52 LPA |
| Assistant Professor | 7 LPA |
| Legal Officer | 8.5 LPA |
| Legal Consultant | 9 LPA |
| Civil Judge | 10 LPA |
| Law Professor | 10 LPA |
| Associate Professor | 12 LPA |
Top Recruiters of an LLM Distance Education Graduate
With an outgrowing demand in the industry, the need for trained legal professionals has increased by many folds. An LLM distance education program makes you achieve a rewarding job title in the top MNCs. The global aspects of the law field learned from this program can help you explore career opportunities in the global market.

The established firms mentioned above & many others frequently hire LLM graduates with the right skills & knowledge irrespective of their mode of degree.
Is LLM Distance Education Valid in India?
A distance LLM course is not recognized by the Bar Council of India (BCI), a government body that regulates the law profession. Thus, this 2-year degree program completed from any institution or university will be a total waste. So, beware of the universities & institutions offering this program in India just for the sake of money!
Don't panic! You still have a chance of saving yourself from this scam but at first, you must be wondering about the information on the eligibility criteria, admission process, and career scope of LLM distance education mentioned above. Actually all of that information is applicable to another accepted mode of education in law used for upskilling, i.e., online LLM courses for working professionals.
So, now you know that an LLM distance education degree is not the only way to advance your career in the law field. You can explore many other short-term law courses which are completely valid in India & even in foreign countries. Moreover, to make it accessible for you, these short-term courses are provided by the universities in an online format.
Apart from the online certifications & diplomas in law, you can even go for the online LLM program for working professionals that are completely credible when done from an authentic university. A brief of online LLM for working professionals is provided below.
LLM Online Programs for Working Professionals
In the direction of making higher education in law more flexible & accessible, universities are now providing online LLM courses specially designed for working professionals. These online courses are different from distance education programs in terms of making your studies completely location-independent.
In online LLM courses, you only need to have good access to the internet & there you are, all set to start your education journey! With no worries about fixed class schedules & attendance, you can learn the latest methodologies in the field with expert-led online classes & digitized academic resources. Although as the name of the program suggests, to pursue this online LLM program, you need to have a significant experience in the related field.
Some renowned private universities like O.P. Jindal Global University offer an online LLM degree at an affordable range & make you explore the global career opportunities available in this field. Above all, unlike distance & regular LLM programs, you can complete your online LLM education in just 12 months which is quite beneficial considering the schedule of working professionals.
For more authentic & credible information on the online LLM courses for working professionals, you can visit the official College Vidya website.
Conclusion
To keep up with the latest industry trends, upskilling has become the only choice. For individuals from a law background, a master of law program is one of the best ways to advance in your career. It helps you gain an in-depth understanding of the field & equips you with the latest methodologies being used in the legal department of different firms.
LLM aspirants can check out the minimum eligibility criteria, admission process, & career scope of online programs to finalize their decision. Moreover, the list of top universities offering LLM distance education can help you fast-track your career in this field.