Narsee Monjee is a widely renowned institute in India. The Institute started back in 1981, it incepted Distance and Online learning in 2003. The deemed to be university is known for its management courses with the top-notch e-learning infrastructure and best faculty.

Currently, there are around 70,000 active students and 600+ faculty in the institute. The university provides various courses in Management including Distance PGDM, Distance B. Com, Distance BBA, and diplomas in the industry needed specialization.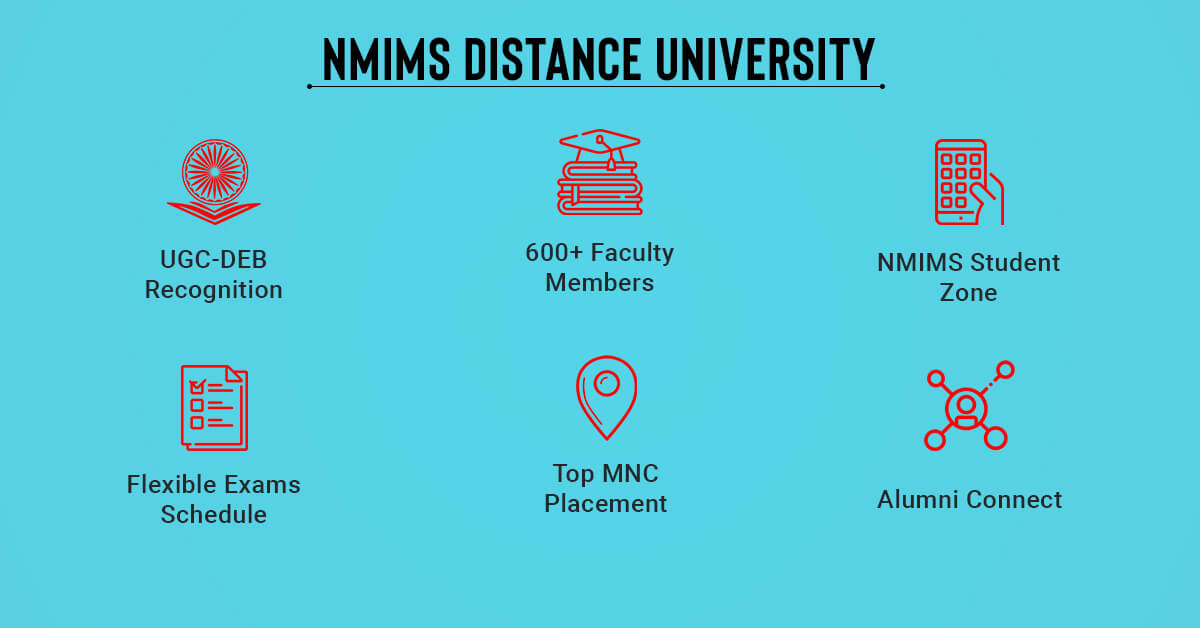 The most frequent question that I encounter on the internet is whether Distance MBA at Narsee Monjee is Worth It. We will try to encounter this question throughout the course of the blog. Before getting into details in the blog here is some basic information about NMIMS Distance Learning, Mumbai.
NMIMS Distance Learning – Key Highlights 2023
Particulars
Statistics
Establishment year
1994
Parent university
SVKM's NMIMS Deemed-to-be University
Approved by
University Grants Commission (UGC)

Distance Education Bureau (UGC-DEB)

Type of institute
Private
Accreditations
AICTE

AIU

NAAC with 'A+' Grade

Total faculty members
600
Total courses offered
20+
Type of Programs
UG, PG, Diploma, and Certificate
Is NMIMS Distance MBA Really Worth It?
So, let's clear the whole fuss about the worthiness of a Distance MBA from NMIMS. We will categorically state the facts that NMIMS offers and will help you clear all the doubts. The main categories in which we will break down the features of NMIMS will include Recognition, Learning Material, Placement, Fee structure, etc. Let's explore all the factors in detail: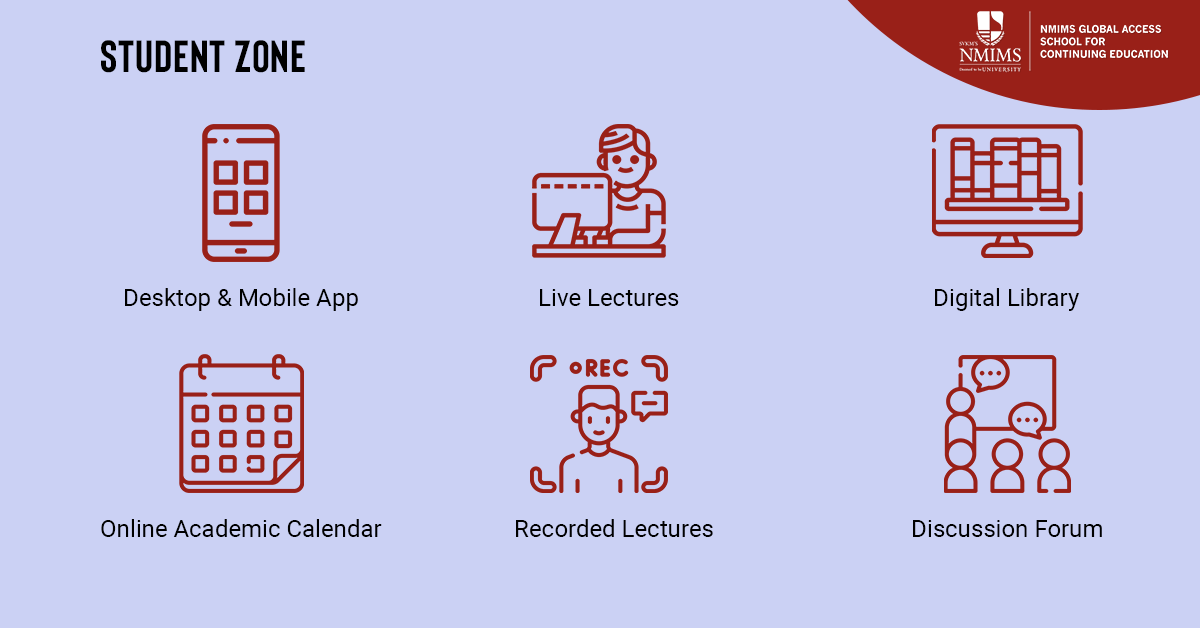 Recognition: The most important factor when it comes to any university be it regular or online. The university has got all the important approvals and a top-notch level education council.
NMIMS Distance MBA is approved by UGC-DEB enabling it to deliver distance and online education. Also, it is approved by NAAC by grade A+. The university has scored 3.59 CGPA out of 4 on the NAAC scale.
Also Find: UGC Approved Distance MBA Colleges.
Faculty: Professors and Industry Experts make up the 600 members of faculty in various degree and professional programs. 90+ PhDs, 140+ IIM and IIT faculty members, 500+ years of combined teaching experience, and over 2000+ years of cumulative industry experience make the faculty of NMIMS most revered and the best in Distance & Online Education.
Learning Infrastructure: NMIMS student Zone or NMIMS student portal or NGASCE Student Zone are available on the web and on the mobile app to enable students to experience seamless online learning with facilities like interactive lectures & Access to distinguished journals like ProQuest, JSTOR, etc. at the digital library. 800+ hours of downloadable & Live Online Lectures through WebEx.
Live Lectures are 2-way interactive in nature and provide the classroom experience to the students. Offline Research Content, the Study Kit is unique in that it was planned and produced in compliance with industry expectations by respected writers and publishers such as Pearson and McGraw Hill. Once your acceptance has been certified, the research kit will be shipped to you.
Also, the faculty prepares a summary of the lecture as a demonstration, which covers the relevant elements of the lecture and aids the student's comprehension during the assessment process.
Also Read: NMIMS MBA For Working Professionals – Courses, Fees, Review, Admission 2022.
Experiential Learning: Students benefit from case studies because they give them a hands-on learning experience and develop their problem-solving ability. This type of learning helps the students gain the knowledge and aptitude to manage situations at a higher authority level.
Exam Modules: Exams based on MCQ, tasks, and long answer style questions offer a complex, application-oriented, versatile test schedule that allows working professionals with a tight work schedule to complete the curriculum. The ability to pick and select topics, dates, and time slots, Possibility of appearing on more than one subject on the same day (based on slot availability).
Placement: Association with top companies to include interview experiences for eligible and meritorious students, which contributes to placement. Optional Work Programs, such as simulated interview preparation and job search assistance, will be open to students if they want to take advantage of them.
The NMIMS Correspondence MBA is widely recognized and recommended by major companies such as Indigo Airlines, American Express, Eureka Forbes, IBM, Genpact, Accenture Cipla, and Vodafone. These companies are recruiting partners for NMIMS Distance learning programs. Also Read: NMIMS Online MBA Program: Fees, Review, Admission 2021.
Alumni Connect: Students often do not get the most out of an online class because it is difficult for them to engage and communicate with their peers and professors. NMIMS Distance Programs provides you with the advantages of a traditional MBA by fostering and strengthening peer and tutor connections through a variety of activities and campus engagement courses. Students will be able to encounter a variety of business professionals as a result of this.
Fees: The study being in the ODL (Online and Distance Learning) mode, therefore the fee of NMIMS Distance Learning is considerably low than the regular mode. Payment mode is Flexible & NMIMS Distance Learning MBA Fees can be Paid with EMI facility. Students can also avail of a loan without a credit card based on approval by loan partner. EMI can be availed on credit cards of major banks.
Pan India Support: Both student questions are attended by a committed student support staff team. All matters pertaining to Registration, Tests, Study-kit, Identification cards, Fee Receipts, Student Site, and other issues are addressed by the support staff. Also, 9 University Regional Offices & Authorized Enrolment Partners (AEP's) across India are there to help students regarding any query. Also Read: What Is the Fees for MBA In NMIMS Distance Learning University?
These are not fabricated lies but facts that can be verified. Being India's top Distance University, NMIMS Distance Learning provides the degree that provides all of these benefits. I hope that these pointers must have cleared the tainted image of Distance and Online Learning. NMIMS Distance Learning Virtually brings the university to home with all the advantages and still not comprising on the quality of education.