Maharishi Markandeshwar University (MMU) is a deemed-to-be university that was established in 1993 in Ambala, Haryana. In addition to full-time courses in a number of disciplines, the university also provides undergraduate and postgraduate courses to students in the fully online mode.
Being a top university in northern India, many students seek admission here every year. However, a lot of students wonder how efficient the education is at MMU Online unit. Here we have provided a detailed review of the university with all the latest facts.
Read till the end to find the overall review of the university's online education.
About Maharishi Markandeshwar University Online
Maharishi Markandeshwar (Deemed-to-be) University was established in 1993 by Sh. Tarsem Garg and has since come up as a reputed organisation for higher educational services. MM(DU) has its focus on not only the academic development and growth of the student but also their personality development. The university is a UGC-recognised institution of higher education. Keeping up with the changes in the educational landscape with a shift towards online mode of delivery, it has started offering undergraduate and postgraduate degree programmes in the fully online mode. MMU(DU) provides online education in the fields of business administration, commerce, mathematics and computer applications.
So, if you are a student seeking to opt MM(DU) for your UG or PG degree, you are at the right place. Read this full review to find out if it is the right choice for the future of your academic journey.
Key Parameters to Check for Online Education
If you are not well-acquainted with the concept of online education or are confused about how to choose the right online university for higher education, we got you covered. There are certain key parameters that are important to check if you want to ensure that your online university is credible and valid for your future endeavours.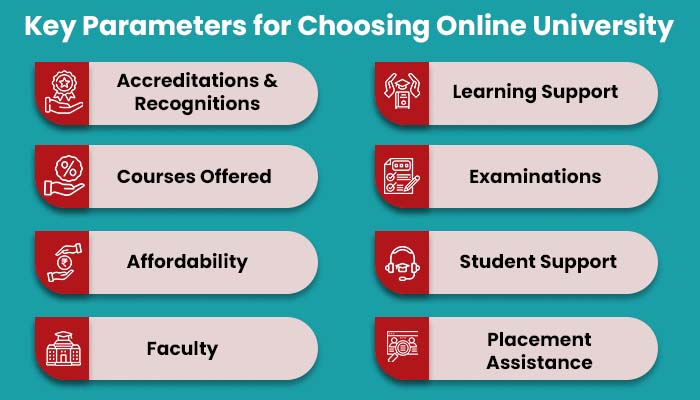 Here we have listed down all the essential factors for choosing the right online university for you, and given insights of how well MM(DU) stands in relation to these!
Accreditations & Recognitions
Understandably, while going for the right online university, it is important to check if it even has the right approvals needed to provide online courses. There are certain important approvals and recognitions that a university should possess from national accrediting bodies, to offer courses in the fully online mode, such as UGC-DEB, AICTE etc. In particular, the approval from UGC-DEB is mandatory for any higher educational institution to provide distance or online courses.
Maharishi Markandeshwar (Deemed-to-be) University Online is a very well-accredited university, having recognitions and approvals from a number of statutory bodies. The major accreditations and recognitions that MM(DU) Online has received:
University-Grants Commission- Distance Education Bureau (UGC-DEB)
All India Council of Technical Education (AICTE)
National Assessment and Accreditation Council- NAAC A++ Rating
National Institutional Ranking Framework- NIRF (In Top 100 Universities of India)
Association of Indian Universities (AIU)
Association of Commonwealth Universities (ACU)
Bar Council of India (BCI)
So, Maharishi Markandeshwar University- Online has all the important accreditations and approvals to provide online education to students that will be held credible and valid nationally and internationally.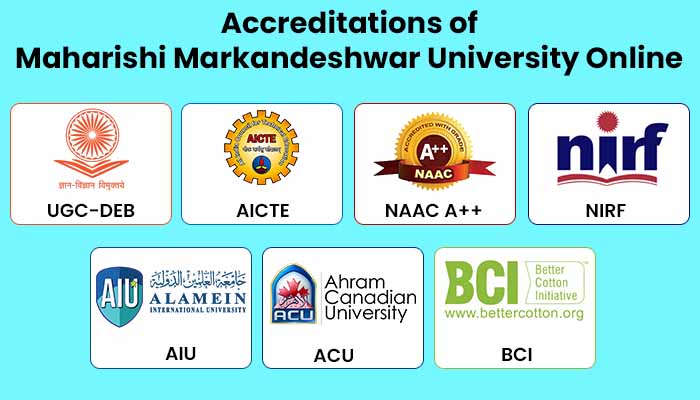 Courses Offered by University
Online universities can provide courses in certain theoretical, academic, technical and non-technical domains. An online university providing students with a range of courses, at different levels of education will be able to meet the educational needs of a larger segment of students. However , one must check that their chosen course has the approval of UGC-DEB to be delivered in the online mode.
Maharishi Markandeshwar University Online offers UGC-DEB approved courses to students in the online mode at both the undergraduate and postgraduate levels. These are the courses approved and offered by MM(DU) as of 2023:
Courses Offered at MM(DU)

Undergraduate Courses
Postgraduate Courses
Bachelor of Computer Applications (BCA)
Master of Science (M.Sc Mathematics)
B.Com Marketing
MBA Marketing
B.Com Finance
MBA Finance
B.Com Banking
MBA Human Resource Management
B.Com Human Resource
MBA International Business
BBA Human Capital Management
(INSERT MBA) Operations
BBA Digital Marketing
MBA IT
BBA Banking Finance & Insurance Services
MBA Hospital Management
BBA Business Analytics
MBA Hospitality Management
BBA Entrepreneurship
MBA Agri-Business Management
So, as can be seen, there are a number of approved online courses provided by the university along with a variety of industry-relevant specialisations in the MBA and BBA courses.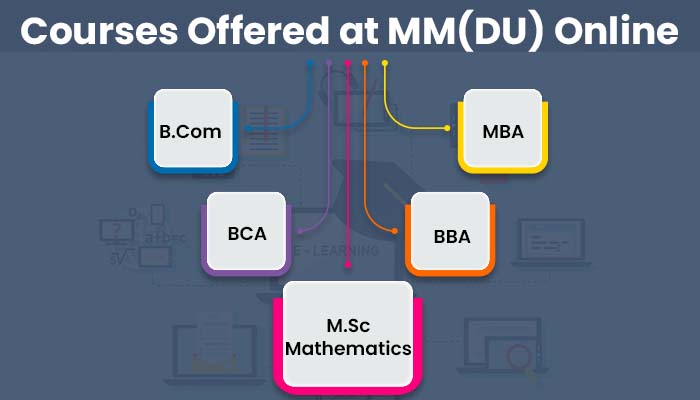 Affordability of Education
This is another key aspect while looking for courses in the online mode. Typically, online courses are more affordable than full-time regular courses. If the online university of your choice provides you with courses that are approved and affordable, you can go for the university. You can also compare the value of money offered by the university in terms of its student services, placement assistance, learning management system etc.
At MM(DU), the online education courses are within a reasonable fee range considering the academic and student support facilities offered by the university.
The fee range for the courses is given below.
Fee Range of Courses at MM(DU) Online

Course

Fee (Annual)

Indian Students
SAARC Nationals
Non-SAARC Students
BBA
INR 35,000
$600
$850
BCA
INR 30,000
$500
$750
B.Com
INR 35,000
$600
$850
MBA
INR 55,000
$ 750
$ 1000
M.Sc Mathematics
INR 35,000
$500
$850
As can be seen above, students can pay the course fee on an annual basis, which means they can pay off their education fee in easy instalments that are affordable and pocket friendly.
Overall the fee range of online courses in Maharishi Markandeshwar University is affordable and comparatively lower than other online as well as offline universities and colleges.
Faculty
Like offline education, checking the faculty who will teach the course is important in the online mode as well. You can choose an online course if the faculty for it is well-qualified and has sufficient experience in delivering the course in the online mode.
At MM(DU) Online the faculty has years of experience as well as necessary training in effectively delivering the courses through the use of online modalities. The faculty holds the required educational qualifications including academic and research-related experience.
There are facilities to reach out to the faculty through the online LMS and discussion forums provided by the university, which means students can easily connect to the professors in order to clarify their doubts and concerns.
In addition to an experienced faculty, students get the benefit of guidance from expert mentors. MM(DU) dedicates personalised mentors to students for their academic journey as well as the opportunity to them to interact with academicians and industry-experts in the relevant field while pursuing the course. Student relationship managers are also appointed by the university for guiding the students in their professional and personal development.
Academic Pedagogy
The academic pedagogy or the learning support is something one should always enquire about if looking for online education. This is so because the main channel for education in online learning is the Learning Management System (LMS). The students don't attend classes in the offline mode, so the LMS provided by the university should be strong and have all necessary learning support features.
At Maharishi Markandeshwar University Online, the learning support is holistic and multi focused with a number of provisions for students to enjoy a comprehensive learning experience. The major features of the pedagogical support offered for the online programmes at MM(DU) include but are not limited to:
Regular Live Lectures by the Faculty
Recorded Lectures for Later Reference
Webinars for Practical Learning
Prerecorded Audio-Video Educational Materials
Online Assessment Tools like Case Studies, Tests, Quizzes etc.
Facilities for Online Doubt Clarifications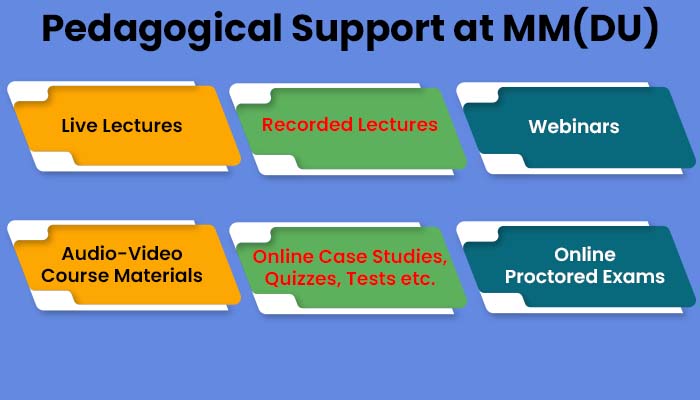 So the learning support provided by MM(DU) for its online learning courses is strong, efficient and student-friendly as well, so that students with little prior experience of online education can also easily attune themselves to the online learning framework.
Examinations and Evaluation for Online Courses
Many students are not aware of the methodology through which the examinations for the online course are conducted. In the case of online courses, the evaluation procedure is also online, i.e. students are evaluated on the basis of online tests, assignments, quizzes etc. in addition to online examinations.
Examinations for online courses are conducted in the online proctored format, which means students can take their exams from any location of their choice through the online mode.
The university follows the standard format for student evaluation:
Continuous Assessment: this makes up 30% of the students' academic performance and consists of assessments and quizzes through the LMS and
End-Semester Exams: These form 70% of the academic weightage of the students' performance and includes online proctored examinations conducted by the university.
At MM(DU), the evaluation of the students' performance for the online courses is done through online examinations, which are proctored with the help of AI software. This means that students have to appear for the examination in the online mode from any location of their choice and the process is monitored through the use of AI software to maintain the academic integrity of the exam and ensure that unfair means are not used by students.
Student Support Facilities
Student support is an important component of online education considering students do not visit the campus on a regular basis. As a result, all communication regarding concerns, doubts and student grievances must be conducted through virtual means only. As a result, you should always check if the university has independent student support functionaries in place that allow seamless academic and administrative functioning when the student is pursuing the course.
At MM(DU) a number of student support frameworks are in place that provide prompt redressal of the concerns faced by students. In addition, there are various mentorship and guidance facilities offered as well. Here we have tabulated the various student support offered at MM(DU) Online:
Student Support Features of MM(DU)

Grievance Redressal Body
Webinars and Networking with Professionals
Professional Mentorship Facilities
Dedicated Student Relationship Manager
LMS Support
Placement Assistance
So the various student support features have a 3600 focus, enabling the students to completely extract the most out of the course without any hassles. The student support bodies are prompt in action and responsive to the concerns of the students.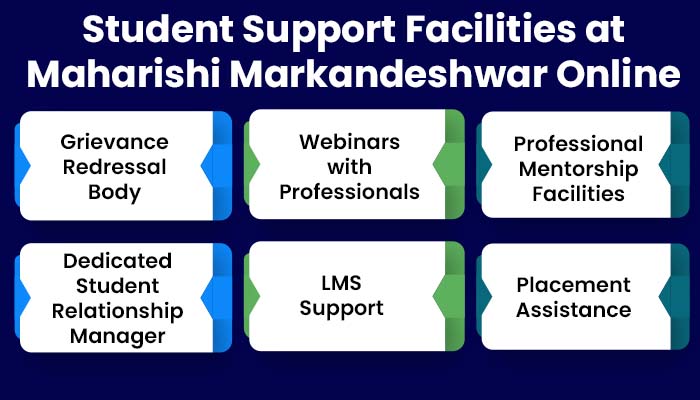 Placement Assistance Offered for the Course
With a fast-paced approach to career development, most students are looking for meaningful job opportunities right after completing their higher education. Placement support provided by the university becomes important in this direction as it helps students explore the right networks as well as their fields of interest. So placement assistance is important, and even more so in the case of online courses because students are not able to establish the regular networks of peers and professionals that students pursuing full-time offline education can.
At MM(DU), professional elevation after completing the course is as important as academic growth and success of the student. There is a focus on honing the skills and knowledge of students needed to excel in the professional domain.
For this, the university provides students with industry-relevant and updated curriculum for the various courses. But more importantly, there is a dedicated placement assistance extended by the university to the students which provides the following services to the students:
Portfolio Building Exercises, which consist of projects that give hands-on experience through collaborations with professionals.
Webinars with Professionals
Virtual Job Fairs
The university also collaborates with a large number of top MNCs and companies to enable students to provide job opportunities to students through their virtual job fairs:
Top Recruiters of MM(DU) Online
Amazon
Capgemini
Tata Consultancy Services
Infosys
WIPRO
HDFC Bank
Extramarks
Cognizant
Tech Mahindra
ICICI Bank
Allstate
eClerx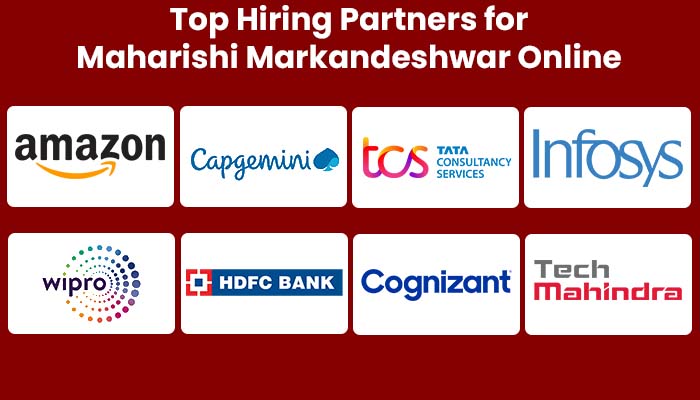 With the professional training as well as the job fairs of the university, students taking up online education from MM(DU) have a good scope of career development.
Conclusion: Is Maharishi Markandeshwar Deemed-to-be University Good or Bad?
Taking a bird's eye view of all the facilities and academic support available at Maharishi Markandeshwar (Deemed-to-be) University Online, here we have summed up our review and provided you with our final thoughts on the university's online education division: the university offers a satisfactory online education platform. The student services as well as the educational provisions of the university are efficient and prompt.
Here are the top factors that can make pursuing higher education from MM(DU) Online suitable for you
The university is well-accredited and all the online courses are UGC-DEB approved.
MM(DU) is NAAC rated A++ university of India.
The course fee for the online courses are reasonable and can be paid on installment basis.
There are a number of professionally demanded specialisations offered in the courses.
The university is well-reputed in academic circles.
The placement support is efficient and there are top MNCs that hire from MM(DU).
The student support and grievance redressal bodies are prompt and responsive to the concerns of the students.
The faculty are highly qualified and students are also provided with personal mentors.
The course curricula are industry-relevant and up-to-date.
Similar Online Universities
Top Online Universities in India

University
Location
Approvals and Recognitions
NMIMS Global Access School for Continuing Education (NGASCE)
Mumbai
UGC, NAAC, NIRF, AICTE
Dr. D. Y. Patil University-Centre for Online Learning (COL)
Pune
UGC-DEB, AICTE, AIU, ACU, ISO, WES
Chandigarh University
Chandigarh
UGC-DEB, NAAC
Amity Online University
Noida
UGC, NAAC, AIU, ACU, BCI, WES
Online Manipal
Jaipur
UGC, NAAC, AICTE, WES, ACU
LPU Online
Phagwara, Punjab
UGC-DEB, AICTE, NIRF, WES etc.
Hindustan University- Centre for Open and Digital Education (CODE)
Chennai
UGC-DEB, AICTE, NAAC, NIRF
UPES Online
Dehradun
UGC-DEB, NAAC A, NIRF
ICFAI
Hyderabad
UGC, NAAC, NIRF, ACU
Jain Online
Bangalore
UGC, AICTE
SASTRA Deemed-to-be University
Thanjavur, Tamil Nadu
UGC-DEB, NIRF, NAAC