LPU Online BA is a three-year undergraduate course that imparts the detailed study of humanities, social studies, liberal arts, and other subjects. Online BA Programme consisted of a variety of specializations like history, English, philosophy, economics, political science, geography, and so on to pursue and study their BA programme.
LPU Online BA Overview
Recently Online University has boosted the myth of providing a quality of education that offers various different of specialization as per the course with the different career scope, pay scale, etc. However, it is a little difficult to find out the best online university to choose as per your career path to grow in the respective field. Before jumping check out this below-mentioned tabulate about the Online BA programme.
| | |
| --- | --- |
| KEY FEATURES | DETAILS |
| Course | BA (Bachelors of Arts) |
| Course Level | Undergraduation |
| Mode of Education | Online |
| Approvals | UGC, AIU, AICTE, NIRF |
| Eligibility | 10+2 (in any stream) |
| Duration | 3 years |
| System Methods | LMS, Mobile Application, Live Classes, Video Conferencing, Online Study Material, Guest Lectures, Experienced Faculty, Recorded Content. |
After completing a BA of complete 3 years by regular, online and distance mode of education, a student can get many career opportunities in journalism, teaching, preparation of government examinations and even go for the higher education of MA, PhD or M.Phil level in the same or relevant disciplines. Around lakhs of students opt to pursue a BA and to apply for the respective government examinations. Students can check more details about the BA, their course description, curriculum, eligibility criteria, and so forth. Only for that, you need to scroll down to know about it. Career After BA Programme

About LPU Online University
For the last two years, LPU online university has secured its position in the top 100 universities according to NIRF rankings of the govt. of India. This has been made possible as LPU online believes in providing quality education with the help of technological tools that can be accessed remotely. As of now, LPU online university is offering a wide range of online graduate and postgraduate programmes.

Why LPU Online Degree?
All the courses and the specializations such as Management, Science, Computer Applications, Arts and Commerce are AICTE approved.

Since 2005 LPU online offers the recognized, trusted, and quality of education to its students through the online mode of learning.

University Degree in the online mode of LPU is treated at par with the regular degree. This will be eligible for the state, central government jobs, corporate, private jobs, or even valued for the higher education like PhD. Education or abroad studies or jobs.

LPU Online degree is duly recognized by the University Grants Commission and other statutory bodies of the Government of India under section 2(f) of the UGC Act.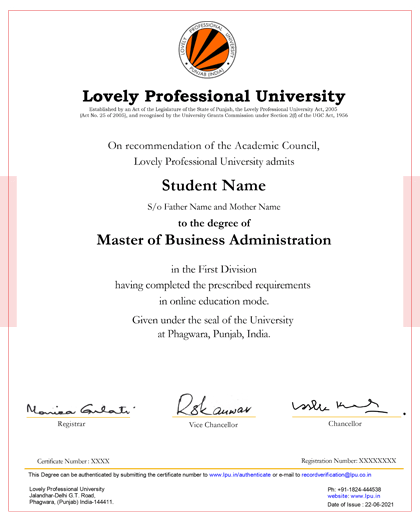 Key Features of BA at LPU Online
After the compilation of Bachelors of Arts from LPU Online, a student will receive or open the branches of the career opportunities into various fields such as journalism, commerce, teaching, and other creative fields.

The bachelor of art subjects is designed in such a way that it gives a student a deeper understanding of the combined subjects or specialisations in which they need to pursue their respective career.

BA methodology and techniques encompass the traditional study of arts.

The LPU Online has great learning techniques namely as LPU e-connect through which a student can easily regulate or experience the learning methods.

The new way of learning encompasses the new classroom techniques that allow a student to ask queries at a moment.

At LPU online, LPU e-connect students will get to experience these features such as Live Lectures, Pre-Recorded Class, Practical Sessions, Research Papers, Guest Lectures, Seminars, Group Discussions, Interactive Sessions, and so forth.

The LPU Online Degree is globally accepted and their courses/ specialisations are duly AICTE approved.

The placement drive of LPU Online organises the development classes under Placement Enhancement Program (PEP), where the students are trained in aptitude, reasoning, interviewing, and other related skills.

Students can receive their LMS Id and password via email or sms.

After that, they can easily access their LPU e-connect id and download their course materials freely.

All the teaching staff, professors are highly expert in their respective course subjects of the industry.

LPU e-connect offers guest lectures, sessions, and workshops to develop the set of skills of the BA students.
Read: After Graduation Courses
LPU Online BA Course Eligibility Criteria
Applicants must have 10+2 in any stream Science, Arts, Commerce or equivalent from a recognized board.

Candidates should have 50% or more in their 10+2.
LPU Online BA Curriculum
The curriculum of the online LPU BA (Bachelors of Arts) teaches you the study of the combined subjects and the various discipline programmes such as English, Hindi, Sciences and other subjects that depend on a student that they will apt in their elective and core subjects of the BA program course. Below mentioned a detailed description of the Bachelor of Arts curriculum semester-wise and their subjects.
Community Development Project:
Semester 1

Environmental Sciences

English Communication Skills

*For Core I and Core II students may choose two areas from the Core I &
Core II baskets. Once chosen the core areas, these areas will be fixed as
Core in T2, T3, T4, T5, and T6 and will not be applicable in generic
electives (GE) baskets

Semester 2

Core subject I

Core Subject II

Advanced English Communication Skills

Generic Elective I

–

–

Semester 3

Core subject I

Core Subject II

Discipline Specific Elective I

Semester 4

Core subject I

Core Subject II

Generic Elective III

Skill Enhancement Course I

Skill Enhancement Course II

Discipline Specific Elective II

Semester 5

Core subject I

Core Subject II

Generic Elective IV

Skill Enhancement Course III

Term Paper

Discipline Specific Elective III

Semester 6

Core subject I

Core Subject II

Discipline Specific Elective IV

Capstone Project

Skill Enhancement Course IV

–
Note: Elective or Core subjects of the bachelors of arts progarmme can be changeable and students need to apt for the subjects as per their own preferences and choice of interest.
All the LPU Online programmes of the management, science, commerce, computer application, and Arts specializations are offered in English medium only, except for the Hindi elective/ core courses in the BA Programme.
Read: Online Education Advantages and Disadvantages
Fees Structure of LPU Online BA Course
Details
Semester Fee
Lumpsum Amount

LPU Online Fee for Indian & International Applications (Sri Lanka, Nepal, Bhutan, and Bangladesh)

INR 19,000

Programme fee: 15,000

Examination fee: 4,000 (per sem)

Total fee: INR 1,14,000 (all semesters)

INR 1,05,000 (which comes out to be INR 17,000 per sems)
The above fee is exclusive of the Initial Registration Fee of ₹ 500/- (non-refundable).
LPU Online Mode Fee –

International Applicants (Other Countries)

Semester Fee

Total Fee, (in Lumpsum)

Fee

US$ 950

Programme Fee: US$ 800, Exam. Fee: US$ 150 (per sem.)

Total Fee: US$ 5700 (all sems.)

US$ 5220

(which comes out to be US$ 870 per sem.)
The above fee is exclusive of the Initial Registration Fee of US$ 10 (non-refundable).
Admission Procedure at LPU Online BA Course
To take admission into the BA programme course, a student needs to follow these four given steps to confirm their seat in the LPU Online for BA course:
Step 1: Registration
Students need to register themselves by filling their basic details such as name, contact number, active email id, etc. registration fee of 500 rs is to be submitted by students. The registration login is a crucial part to filling out the whole admission application form.
Step 2: Online Application Form
Once students are done with the registration they will have to fill an online application form. This form requires students to fill in basic details regarding educational and personal background.
Students are required to upload documents like mark sheets, provisional certificates, photographs, and signatures in a prescribed format that would be mentioned on the web portal of the BA admission application form. Once you have uploaded all these, you can move forward to the third step of the application form.
Step 3: Document Verification By University
After uploading all the documents such as mark sheets, photographs, and signature. The application will be verified by the university committee. Once the verification process is done students will be notified via email or SMS.
Step 4: Student Registration and LMS Activation
In the final step, the university will give you the LMS credentials. These credentials are your ID and Password to access LPU e-connect application or website.LPU e-connect is where you will be attending classes, live sessions, attend workshops, or other even submit your assignments, research papers, etc.
Payment Mode of BCA at LPU Online
Aspirants can submit their respective academic course fee through online mode of transaction such as Debit Card, Credit Card, UPI, Wallets, Net Banking or etc.

Students could be ensured and keep more care that the payments of a particular course and their specialization are not made to any unauthorized persons or on any unwanted/unauthorized website or link. The university and the admission portal of LPU Online could not be responsible for any of the lapses in this matter.
Read: What Is Online Career Counselling?
Placement Assistance of LPU Online University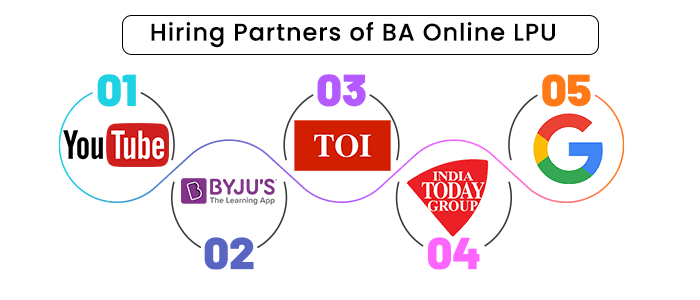 What makes LPU stand out from others? Their placement assistance. Lovely Professional University believes in preparing students for their future goals with all the required tools.
PEP:

PEP also known as Professional Enhancement Programme is conducted to enhance students' ability with professional help.
Mock Interviews:

Mock Interview sessions include everything from preparing students to answer hard HR questions to tips and tricks on how to dress confidently.
Job Profile and Average Salary After Online BA from LPU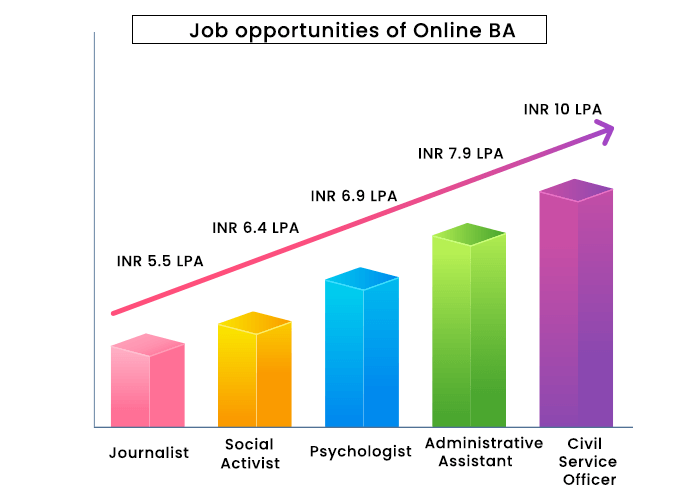 | | | |
| --- | --- | --- |
| Job Profile | Average Salary | Number Job Openings |
| Sales Associates | INR 2 to 5 LPA | 26,000+ |
| Journalist | INR 2 to 5 LPA | 12,000+ |
| Content Writer (Technical and Non-Technical) | INR 2 to 5 LPA | 33,000+ |
| Indian Administrative Service | INR 5 to 10 LPA | 200+ |
| Indian Defense Accounts Service | INR 2 to 5 LPA | 27,000+ |
| Insurance Agent | INR 2 to 5 LPA | 13,000+ |
LPU Online BA Top Recruiters
| | | | |
| --- | --- | --- | --- |
| Bisleri | Himalaya | Microland | Google |
| News Channels | HCL | Tim Hortons | Microsoft |
| Print Media | Mind Tree | CISCO | – |
LPU Online University Reviews
Faculty: Faculty members in Lovely Professional University are good as almost all of them contain a PhD in their respective fields and have a teaching experience of more than 10 years. Some of them have done MS from foreign universities, which will provide you with great exposure.
Academics: Students are provided with all kinds of facilities required for good studies like good teachers having a good knowledge of their subjects who are always ready to solve the problems of their students. All kinds of facilities for practical courses like good labs with all the essential equipment that require regular seminars are organised for students to get a good knowledge of the topics apart from their subjects.
LPU Online BA Prospectus
LPU has all its information penned down in the form of a prospectus so that students get all the required information before taking admission in their specific program. To download the LPU's online BA prospectus click here.
Similar Online Universities
| | | |
| --- | --- | --- |
| Universities | Year of Establishment | Approvals |
| Chandigarh Online University | 2012 | UGC, NAAC A+ |
| Amity Online University | 2005 | UGC-DEB, AICTE, NAAC A+ |