LPU Online B com is a 3-year undergraduate course that comprises 6 different semesters. The conceptual and fundamental study of B.com offers the understanding of Economics, Accounting, Taxation, Business Law, Business Policies, Management, and so forth. After completion of B com degree from LPU Online, a student gets immense career opportunities for themselves in the field such as Chartered Accountancy (CA), Company Secretary (CS), Banking, finance, Income Tax, RBI, Costing, Insurance and much more.

LPU Online BCom Overview
Recently Online University has boosted the myth of providing a quality of education that offers various different of specialization as per the course with the different career scope, pay scale, etc. However, it is a little difficult to find out the best online university to choose as per your career path to grow in the respective field. Before jumping check out this below-mentioned tabulate about the Online B Com programme.
| | |
| --- | --- |
| KEY FEATURES | DETAILS |
| Course | BCom (Bachelor of Commerce) |
| Course Level | Undergraduation |
| Mode of Education | Online |
| Approvals | UGC, AIU, AICTE, NIRF |
| Eligibility | 10+2 (in any stream) |
| Duration | 3 years |
| System Methods | LMS, Mobile Application, Live Classes, Video Conferencing, Online Study Material, Guest Lectures, Experienced Faculty, Recorded Content. |
The bachelor's degree in commerce gives you an overview of the concepts of monetary financial concepts of the company, world, organization, or even of an individual. For a more detailed description of the B.com degree at LPU Online read more. Scroll down for more information.

About LPU Online University
Online LPU is responsible for providing quality education through online mode to many students from India and Abroad. One of the top 100 universities of India, LPU is famous for its advanced teaching methods. It not only provides quality education but also offers multiple options in graduate and postgraduate programs.

Why LPU Online Degree?
All the Management, Science, Commerce, Arts, Computer Applications courses and their specializations are AICTE recognized.

Since 2005 LPU Online has given recognized, trusted, and quality education to their regular online students.

The LPU Online degree holds an equal value of par with other regular degrees.

The University is approved by the University Grants Commission and entitled to other accelerations.

The LPU Online degree is fully entitled by the statutory bodies and it is treated at par with other regular degrees as well.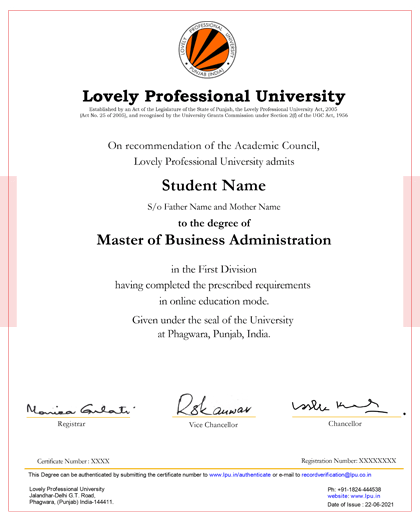 Key Features of LPU Online B Com
It offers quality learning, interactive sessions, classes, and even live learning only at an affordable fee structure.

LPU Online degree is from a top-ranked university.

The degree and the course at LPU Online are globally accepted courses or programmes that are duly entitled by the UGC and the AICTE.

The course study of B.com at LPU opens great career opportunities in the management, banking, finance, administration or other commerce-related sectors.

The medium of instruction at LPU Online is only in English apart from the study of Hindi in the elective or generic courses in the B.com or other management, science, arts programmes.

Learning is fun and interactive at LPU Online and easily affordable. You can take classes at flexible timings.

All the teaching staff, professors are highly qualified and have expert knowledge of the particular industry.

LPU allows flexible learning through its updated feature

Students can easily access their e-learning material, video lectures, presentations, audio lectures, etc.
Read: Jobs after B Com and Salary
LPU Online B Com Eligibility
Candidates must have relevant subjects in their 10+2.

10+2 should be from a recognized board with 50% or more secure.

LPU Online B Com Curriculum
The curriculum of online B.com (Bachelors of Commerce) at LPU (Lovely Professional University) Online imparts commerce, management, marketing, administration with the subjects of various economics, business, human resources, accounting, and management subjects. Some of the popular and the foremost list of core subjects are Mathematics, Statistics, Microeconomics, Finance.
Semester 1

Financial Accounting

Office Automation Tools

Business Organisation and Management

English Communication skills

Environmental Sciences

–

Semester 2

Company Law

Cost Accounting

Business Law

Business Economics

Advanced English Communication Skills

–

Semester 4

Auditing and Corporate Governance

Fundamentals of Financial Management

Generic Elective II

Skill Enhancement Course II

Soft Skills

Skill Enhancement Course I

Semester 5

Discipline Specific Elective I

Discipline Specific Elective II

Generic Elective III

Project /

2 Courses of other areas from the GE Basket 1 & 2 which is not chosen as Generic Elective (GE)

Skill Enhancement Course III

–

Semester 6

Goods and Services Tax and Customs Law

Discipline-Specific Elective III

Discipline-Specific Elective IV

Skill Enhancement Course IV

Generic Elective IV

–
The course elective and generic program in each semester depends and changes according to the respective course. In the online BCom course, you will get to study their respective subjects as per their selected management, science, commerce, or other courses. The whole course and the programs are being offered in the elective and universally understandable language only in the English medium. Except for the Hindi core or genetic elective subjects in the BCom course.
Read: Courses After Graduation
Fees Structure of BCom Course at LPU Online
Details
Semester Fee
Lumpsum Amount

LPU Online Fee for Indian & International Applications (Sri Lanka, Nepal, Bhutan, and Bangladesh)

INR 24,000

Programme fee: 20,000

Examination fee: 4,000 (per sem)

Total fee: INR 1,44,000 (all semesters)

INR 1,32,000 (which comes out to be INR 22,000 per sems)
The above fee is exclusive of the Initial Registration Fee of ₹ 500/- (non-refundable).
LPU Online Mode Fee –

International Applicants (Other Countries)

Semester Fee

Total Fee, (in Lumpsum)

Fee

US$ 1150

Programme Fee: US$ 1000, Exam. Fee: US$ 150 (per sem.)

Total Fee: US$ 6900 (all sems.)

US$ 6300

(which comes out to be US$ 1050 per sem.)
The above fee is exclusive of the Initial Registration Fee of US$ 10 (non-refundable).
Admission Procedure at LPU Online for BCom
To take admission in the LPU Online for B.Com course. Some of the steps you need to follow to enrol yourself in the university for B.com course study. There are only four simple steps to confirm your admission whether for the Bcom programme or any other science, management, art courses as well:
Step 1: Registration
The admission procedure starts with the registration process which requires students to register themselves as a new user with some basic details like name, contact number, active email id, and other details. In order to register as a new user students are required to pay the registration fees of 500 rs
Step 2: Online Application Form
Right after students register themselves as new users they are asked to upload their educational documents along with other required documents.these documents should be uploaded in a prescribed format as per the university guidelines.
Step 3: Document Verification By University
The university admission committee is responsible to verify all the applications submitted. Only those applicants whose applications are accepted after the verification get their confirmation via email. This process takes a couple of working days.
Step 4: Student Registration and LMS Activation
Last but not the least, students get their LPU e-connect credentials which is essential in order to access live sessions, workshops etc. assignments and projects are also submitted on the LPU e-connect application/website.
Read: LPU Distance Education Admission
Payment Mode of BCA at LPU Online
Students can submit the fees and it could only be accepted online on the admission portal through Debit Card, Credit Card, UPI, Wallets, Net Banking, etc.

Students can pay the prescribed fees of their particular BCA specialization on the online portal at the time of filling out the application form of admission.

Students could be ensured and keep more care that the payments of a particular course and their specialization are not made to any unauthorized persons or on any unwanted/unauthorized website or link. The university and the admission portal of LPU Online could not be responsible for any of the lapses in this matter.
Placement Assistance of LPU Online University
Students can experience the best of the best placement opportunities in the LPU online campus. Here students get immense opportunities to build their career into working with the big firms at the higher position. Students can enjoy some of the services provided by the LPU online's placement assistance.
PEP: Professional Enhancement Programmes, PEP is best for enhancing the set of skills with professional help, programmes, seminars, or through other activities.
Mock Interviews: This section of the interview prepares or gives you an overview of the personal interview. It helps to develop your whole persona and set of skills to stand confidently and crack your PI. Mock interviews guide you to work on your grey areas and convert them into your skills or strengths in the respective course or programme.

Job Profile and Average Salary in Online BCom
| | | |
| --- | --- | --- |
| Job Profile | Average Salary | Number Job Openings |
| Accountant | INR 2 to 5 LPA | 1,30,000+ |
| Insurance Agent | INR 2 to 5 LPA | 13,000+ |
| Administrator | INR 3 to 6 LPA | 66,000+ |
| Taxation Officer | INR 3 to 6 LPA | 8,000+ |
| Cost and Management Accountant | INR 10 to 15 LPA | 1,79,000+ |
LPU Online BCom Top Recruiters
| | | | |
| --- | --- | --- | --- |
| Accenture | American Express | Abbott | Infosys |
| Amazon | BYJU's | Flipkart | Kotak |
| Amdocs | Deloitte | ICICI Bank | Microsoft |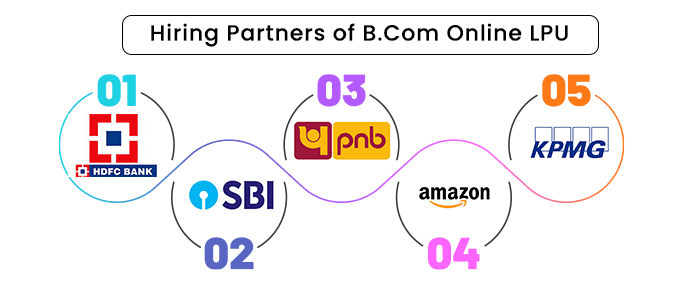 Read: Career Options after BBA
LPU Online University Reviews
Faculty: The faculty is highly educated and helpful. They explain thoroughly that students face no issues in understanding
Academics: In order to focus on studies it is important that students get proper tools like educated and trained professors, study material, webinars, etc.
LPU Online B Com Prospectus
LPU has all its information penned down in the form of a prospectus so that students get all the required information before taking admission in their specific program. To download the LPU's online B Com prospectus click here.
Similar Online Universities
| | | |
| --- | --- | --- |
| Universities | Year of Establishment | Approvals |
| NMIMS | 1981 | UGC-DEB, NAAC A+ |
| Manipal Online BBA | 1953 | UGC, AICTE, NIRF |
| UPES | 2007 | UGC-DEB, NAAC A, NIRF |
| Chandigarh Online University | 2012 | UGC, NAAC A+ |
| Amity Online University | 2005 | UGC-DEB, AICTE, NAAC A+ |