Online Masters of Business Administration (MBA) in Lovely Professional University Online is a two-year postgraduation professional degree course that is divided into four different semesters. MBA programs online is an internationally recognized lucrative degree that is best to develop your skills for business or any sort of startup related to business, management or administration. An MBA online degree is also useful for those students who are aspiring to pursue a marginal career in the private, corporate, government as well and other areas.

LPU Online MBA Overview
Recently Online University has boosted the myth of providing a quality of education that offers various different of specialization as per the course with the different career scope, pay scale, etc. However, it is a little difficult to find out the best online university to choose as per your career path to grow in the respective field. Before jumping check out this below-mentioned tabulate.
KEY FEATURES
DETAILS

Course

MBA (Masters of Business Administration)

Course Level

Postgraduation

Mode of Education

Online

Approvals

UGC, AIU, AICTE, NIRF

MBA Specializations

Finance

Marketing

Data Science

Human Resource Management

Eligibility

Graduation/ Any working Professional

Duration

2 years

System Methods

LMS, Mobile Application, Live Classes, Video Conferencing, Online Study Material, Guest Lectures, Experienced Faculty, Recorded Content.
LPU Online MBA is a fundamental study of the modules such as economics, accounting, operations, administration, marketing, and other elective subjects that are included for the development of skills set and knowledge of the selected MBA course and their specialization. Online LPU University requires or offers internships or even job opportunities through their placement assistance available at the campus.
Online MBA from LPU is one of the foremost courses that are popular worldwide and has great career opportunities with higher positions at big firms. Today over lakhs of students start their careers in the world of business, management, and administration sector. Commonly, the online MBA program is a 2-year postgraduation course. Although a student can enjoy or continue their studies through regular, online, and distance modes of education.
The online mode of education is best for the students who are already working with an organization or are in the place of designation, who want to develop their skill set to even work confidently and efficiently with more knowledge. Also, online and distance education is good for those who want to continue with their higher education but are not able to continue with managing their personal work or other reasons. Online MBA education enables you to aim for your target even while managing your other activities in the marginal space.

About LPU Online University
LPU online university is one of the most prestigious universities which caters to the educational needs of students in a digitalised manner. LPU online university is not only helping students but also helping working professionals to continue their future education in a plausible and flexible manner.
Read: Lovely Professional University Distance Education

Why LPU Online Degree?
Degree from an Online Degree is UGC approved and fully entitled to other accelerations.

LPU Online Degree would be ranked from a top university on the completion of your whole programme.

The degree is fully entitled by the statutory bodies and treated at par with other regular degrees.

All the MBA programmes are AICTE recognized.

LPU Online has been recognized, approved, and chosen by the students since 2005.

Quality of education should be provided at an affordable fee structure.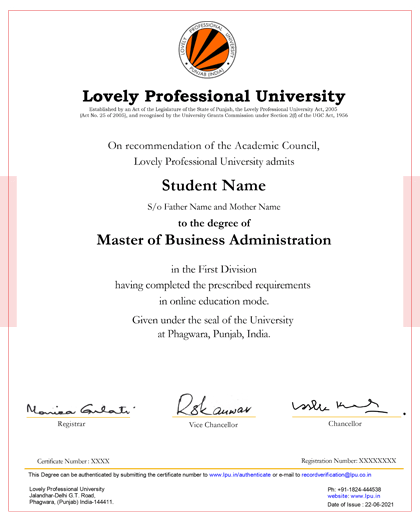 Key Features of MBA LPU Online
The minimum duration of an MBA in LPU Online is 2 years but it could be extended to a maximum of 4 years. If a student is failing or wants a gap in their respective MBA specialisation examination or has some other personal work and is not able to manage their examination with work or other reasons only then a student can extend their course duration up to a total of 4 years.

The medium of instruction or examination shall only be in the English language. Students can also submit their assignments, paperwork, research, theory project, or other internal assessment work only in the English language.

Students can enjoy access to LPU e-connect for their studies or classes. Where they can enjoy the great features of LPU and the advanced technology of updated studies.

It offers 12+ hours of live session classes as per the course and per semester.

LPU Online offers 1+ hour weekly asynchronous mentoring by experienced staff and teaching professionals.

In a week or according to the scheduled time, students can enjoy the guest lectures or workshops navigated by the expert professionals or alumni who are working in the professional field at the higher position.

Here at LPU Online, the learning should be fun and interactive as well.

The faculty and the campus life at LPU Online. Gives industry exposure with in-depth knowledge through guest lectures, webinars, seminars by eminent industrialists of the corporate or professional world.

Projects and Capstone are therefore the multifaceted assignment and submission that serves as a culminating academic experience for students of all the courses and specialisations.

LPU e- Connect has an option of live learning with the Question and Answer session for collaborative learning experiences for the development of the students.

LPU Online has great and best expertise professionals that give a student a structured learning process with the critique and provide feedback to each and every student. So that they can work on their grey areas and convert them into their strengths to work effectively and efficiently.

The curriculum of the MBA offered by the LPU Online, shows the interactive sessions, simulations, case analysis, and case development to make the course pedagogic stand with full knowledge in front of others.
Read: What Is the Full form of MBA?
Online MBA Specializations at LPU University Online
Online MBA is a vast field that offers a learning experience and provides you with the field specialization. In which you can opt for any of the online MBA specializations as per your interest, ability, and education. LPU Online is the best and offers you popular specializations. Below are mentioned all the online MBA Specializations:
Online MBA in Finance

Online MBA in Marketing

Online MBA in Data Science

Online MBA in Human Resource Management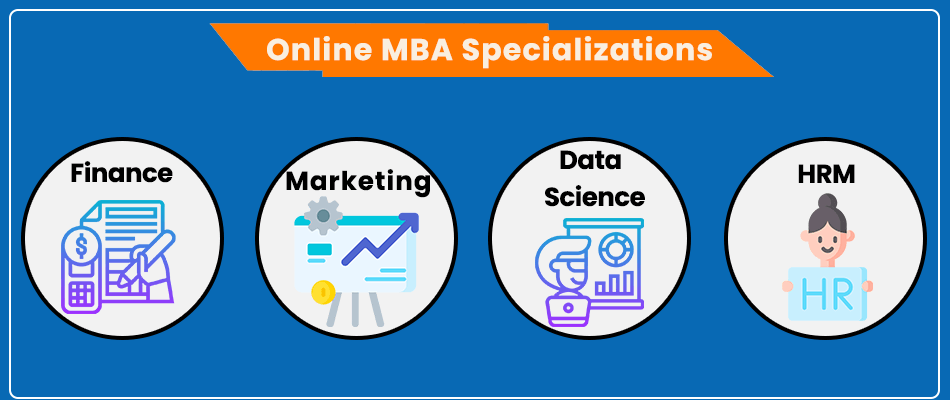 LPU Online MBA Course Eligibility
Bachelor's degree in a relevant discipline

Degree in CS from ICSI, CA from ICAI, or CMA from ICAI is also acceptable or equivalent to take admission in the MBA of LPU Online.
LPU Online MBA Curriculum
The whole syllabus of online MBA and their specialization is designed in such a way that a student adapts and learns the whole new set of skills that is best for a student to develop their knowledge as per their selected MBA specialization. Different specializations are offered in the online MBA programs but here are still common subjects that are pursued by MBA and their specialization.
Semester 1

Financial Reporting, Statements and Analysis

Managerial Economics

International Business Environment

Marketing Management

Organizational Behaviour & Human Resource Dynamics

Semester 2

Corporate Finance

Operations Management & Research

Corporate Strategy & Entrepreneurship

Research Methodology

Legal Aspect of Business

Communication for Leaders

–

–

–

–

Semester 3

DSE (Discipline Specific Elective I )

(Discipline Specific Elective II )

(Discipline Specific Elective III )

(Discipline Specific Elective III )

Seminar on summer Traning

GE – I (Generic Elective I )

Business Analytics

–

–

–

Semester 4

DSE- IV (Discipline Specific Elective IV)

(Discipline Specific Elective V )

(Discipline Specific Elective VI )

Capstone Project

–
All the elective program subjects could be changed as per the selected online MBA specializations. The whole syllabus is designed in such a way that a student can build their whole persona and skill of knowledge to run their business or work at a higher organization.
Read: Job Opportunities After MBA Course
Fees Structure of MBA Course at LPU Online
Details
Semester Fee
Lump Sum Amount

LPU Online Fee for Indian & International Applications (Sri Lanka, Nepal, Bhutan, and Bangladesh)

INR 39,000

Programme fee: 35,000

Examination fee: 4,000 (per sem)

Total fee: INR 1,56,000 (all semesters)

INR 1,42,000 (which comes out to be INR 35,500 per sems)
The above fee is exclusive of the Initial Registration Fee of ₹ 500/- (non-refundable).
LPU Online Mode Fee –

International Applicants (Other Countries)

Semester Fee
Total Fee, (in Lump Sum)

Fee

US$ 1650

Programme Fee: US$ 1500, Exam. Fee: US$ 150 (per sem.)

Total Fee: US$ 6600 (all sems.)

US$ 6000

(which comes out to be US$ 1500 per sem.)
The above fee is exclusive of the Initial Registration Fee of US$ 10 (non-refundable).
Admission Procedure for LPU Online MBA
To take admission in the LPU Online for MBA course is easy and could be done in simple four steps. All you just need to do is follow these below-mentioned steps while taking admission in MBA (Masters of Business Administration) at LPU Online:
Step 1: Registration
Filling the Registration form is the first step any applicant will have to follow. The registration form requires students to fill in their basic details like name, contact number, email id, and other details with the registration fee of rs 500.
Step 2: Online Application Form
After filling in the registration from students can move on with the next step which is filling in the details related to personal and educational background. In this step students will also have to upload required documents. Required documents include : marksheets, certificates, provisionals, address proof, passport size photographs and signature.
Step 3: Document Verification By University
Once registration along with uploading of documents is done then comes verification. Verification is done by the university of the applicants and information provided by them. Only those whose application gets approved after verification gets eligible for the admission.
Step 4: Student Registration and LMS Activation
In the end, when verification along with other steps are done then students will receive credentials for their LPU e-connect application/website.
Payment Mode
Students can pay the prescribed fees of their particular MBA specialization on the online portal at the time of filling the application form of admission. Students can submit the fees and it can only be accepted online on the admission portal through Debit Card, Credit Card, UPI, Wallets, Net Banking, etc.
Students could be ensured and keep more careful that the payments of a particular course and their specialization are not made to any unauthorized persons or on any unwanted/unauthorized website or link. The university and the admission portal of LPU Online could not be responsible for any of the lapses in this matter.
Read: Courses After Graduation for High Salary
Placement Assistance of LPU Online University
A great placement assistance cell is the base students are looking for. LPU online university offers this base with different methods to prepare students for the real game.
PEP:

In LPU online university students get Professional Enhancement Programmes which helps them in enhancing their skills and increasing their knowledge.
Mock Interviews:

mock interviews by professionals help students to be ready for their rounds.
Job Profile and Average Salary of LPU Online in MBA
| | | |
| --- | --- | --- |
| Job Profile | Average Salary | Number Job Openings |
| Quality Control Manager | INR 5 – 7 LPA | 7,000+ |
| Store Development Manager | INR 5- 10 LPA | 23,000+ |
| HR Recruiter | INR 2-5 LPA | 21,000+ |
| Managerial Leadership | INR 5-10 LPA | 75,000+ |
| Operations Manager / Project Manager | INR 5-10 LPA | 4,000+ |
| Customer Relationship Manager | INR 3-5 LPA | 6,000+ |
LPU Online MBA Top Recruiters
| | | |
| --- | --- | --- |
| IBM | HCL | Sigma |
| Accenture | Muthoot Microfin | Axis Bank |
| Wipro | Flipkart | Tech Mahindra |

LPU Online MBA Reviews
LMS: LMS of LPU online is great, it consists of everything from books to lectures.
Academics: The students get trained in Logical Reasoning, Aptitude, Verbal Ability, and Soft Skills by professional faculties.
LPU Online MBA Prospectus
LPU has all its information penned down in the form of a prospectus so that students get all the required information before taking admission in their specific program. To download the LPU's online MBA prospectus click here.
Similar Online Universities to Offer Online MBA
| | | |
| --- | --- | --- |
| Universities | Year of Establishment: | Approval |
| NMIMS Online MBA | 1981 | UGC-DEB, NAAC A+ |
| Manipal Online MBA | 1953 | UGC, AICTE, NIRF |
| UPES Online MBA | 2007 | UGC-DEB, NAAC A, NIRF |
| Chandigarh Online MBA | 2012 | UGC, NAAC A+ |
| Amity Online MBA | 2005 | UGC-DEB, AICTE, NAAC A+ |