Online MCA (Masters of Computer Application) at Lovely Professional University (LPU) is a 2 years master's degree program that is divided into 4 different semesters. MCA imparts the study of computer applications, software, programs, architecture, operating systems, and much more. For students who are keen and want to build their career in the world of computers and information technology, then pursuing an MCA is the best choice for them.
LPU Online MCA Overview
LPU online university is a prestigious university that provides a quality of education with advanced technologies and the methods to use its own LMS and LPU Application. The below-mentioned table gives you an overview of the Online MCA course details provided by the LPU Online.
| | |
| --- | --- |
| KEY FEATURES | DETAILS |
| Course | MCA (Master of Computer Application) |
| Course Level | Postgraduation |
| Mode of Education | Online |
| Approvals | UGC, AIU, AICTE, NIRF |
| Eligibility | Graduation (in BCA/ B.Sc) |
| Duration | 2 years (4 semesters) |
| System Methods | LMS, Mobile Application, Live Classes, Video Conferencing, Online Study Material, Guest Lectures, Experienced Faculty, Recorded Content. |
Online MCA is a two-years PG level course that is designed for candidates who want to excel and do wonders in the field of technology. Master of Computer Application has thrived with the vast and endless career opportunities in private, public, corporate, and government sectors as well. Online MCA is booming with almost 2,50,000 lakhs new job opportunities and that is also increasing per year with best of best career opportunities for MCA degree holders.
Online MCA in India is only done when the student has completed their graduation by BCA or other relevant degrees in the field of computer applications or others. Now check out more details of MCA about their key features, eligibility, job opportunities, best recruiters and much more.
Read: What Is MCA All About?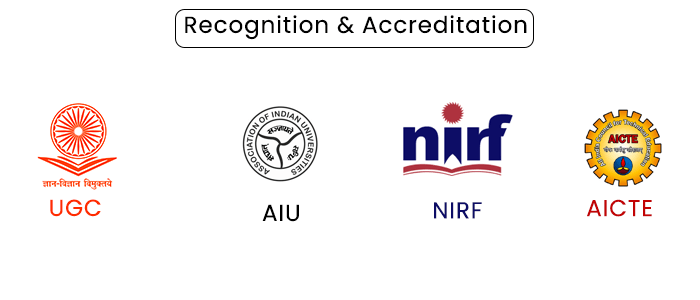 About LPU Online University
Due to multiple reasons, LPU online university is the number one choice of students when it comes to getting a quality education. The time is changing and it is important to change with time which is why LPU has adapted advanced ways of teaching to catch up with digitalization. This advancement has allowed students to access knowledge from everywhere and anywhere.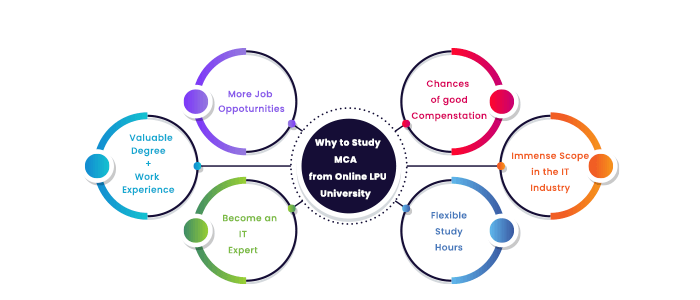 Why LPU Online Degree?
Quality of education should be provided at an affordable fee structure.

LPU Online has been recognized, approved, and chosen by the students since 2005.

All the UG and PG programmes are AICTE recognized.

Degree from an Online Degree is UGC approved and fully entitled to other accelerations.

LPU Online Degree would be ranked from a top university on the completion of your whole programme.

The degree is fully entitled by the statutory bodies and treated at par with other regular degrees.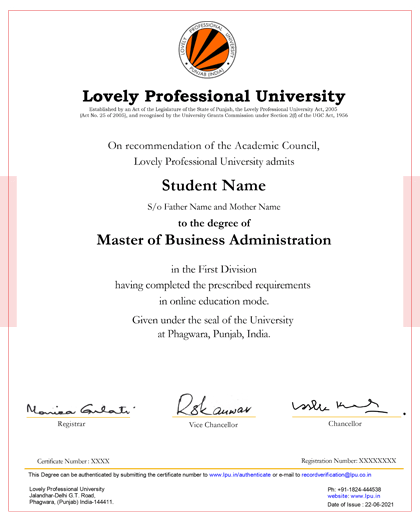 Key Features of LPU Online MCA
Masters of Computer Application is a course that is exclusively designed to meet the requirements of the IT sector in their various positions or organisations.

This online MCA degree is for those aspirants who want to have and learn advanced education in designing, building complex commercial applications software and system software.

online MCA provides complete guidance on professional grooming at a higher level which is essential for a successful career in the IT industry.

MCA graduates can work in any IT-based company or even start up their own venture of system or web developer and go for other career opportunities.

The medium of instruction is in the English language. A student will submit all their assignments, reach papers, project works, or any other theory project only in the English language.

LPU has launched an LPU e-connect for the students, to understand the concept, lectures on their comfort level with the flexible schedule and timings.

Learning at LPU Online is fun and interactive. Where students can enjoy a good range of applications and e-learning lectures, classes, or other things.

Students can easily examine their hands on the LPU e-connect and enjoy their utmost features for better results.

Through online study offered by LPU Online, the learning is becoming quite easy as compared to the earlier times.

Learning over the internet by using advanced technical tools, offers a perk of attending the university's lectures, classes, sessions remotely through online mode.

The LPU Online e-connect includes video lectures, supplemented with the study material, presentations, case studies, assignments, and so on.

Projects and Capstone are there for the multifaceted assignment and submission that serves as a culminating academic experience for their students of all the courses and specialisations.
Read: Career After BCA
LPU Online MCA Course Eligibility
Students with Bachelor's degree in computer science engineering or any other equivalent degree.

Any graduation with computer science as a subject for three years with mathematics as one of the subjects at graduation or 10+2 level or any equivalent.

B.A, B.Com, or B.Sc (graduation in any field) with mathematics as one of the subjects at graduation or 10+2 level or equivalent.
LPU Online MCA Curriculum
The curriculum of online MCA is designed in a way that a student will know all the ins and outs of computer applications and technology. The course study and the syllabus of online MCA prepare a student to stand confidently with the set of skills and knowledge. online MCA course study covers the various aspects and concepts of computational theory, language, programming, designing, algorithm, optimization, network, management, mobile technologies, electronics, mathematics etc. the MCA course prepares a student for their comprehensive knowledge with equal emphasis on both theory and practical knowledge.
Semester 1

Software Engineering Practises

Object Oriented Programming using C++

Data Warehousing and Data Mining

Linux and Shell Scripting

Data communication and Networking

Skill Enhancement Course I

Programming in C S /U

Database Management System S/U

Semester 2

Programming in Java

Advanced Data Structures

Introduction to big Data

Cloud Computing

Mathematical Foundation for Computer Science

Web Technologie

Skill Enhancement Course II

–

Semester 3

Programming in Python

Skill Enhancement Course III

Discipline Specific Elective I

Discipline Specific Elective II

Generic Elective I

Generic Elective II

Seminar on Summer Training

–

Semester 4

Skill Enhancement Course IV

Discipline Specific Elective III

Discipline Specific Elective IV

Generic Elective III

Generic Elective IV

Project Work

–

–
Fees Structure of MCA Course at LPU Online
Details
Semester fee
Lumpsum Amount

LPU Online Fee for Indian & International Applications (Sri Lanka, Nepal, Bhutan, and Bangladesh)

INR 29,000

Programme fee: 25,000

Examination fee: 4,000 (per sem)

Total fee: INR 1,16,000 (all semesters)

INR 1,06,000 (which comes out to be INR 26,500 per sems)
The above fee is exclusive of the Initial Registration Fee of ₹ 500/- (non-refundable).
LPU Online Mode Fee –

International Applicants (Other Countries)

Semester Fee

Total Fee, (in Lumpsum)

Fee

US$ 1350

Programme Fee: US$ 1200, Exam. Fee: US$ 150 (per sem.)

Total Fee: US$ 5400 (all sems.)

US$ 4920

(which comes out to be US$ 1230 per sem.)
The above fee is exclusive of the Initial Registration Fee of US$ 10 (non-refundable).
Read: Courses After Graduation for High Salary
Admission Procedure for LPU Online MCA
To take admission in the LPU Online for MCA course is easy and could be done in simple four steps. All you just need to do is follow these below-mentioned steps while taking admission in MCA (Masters of Computer Application) at LPU Online.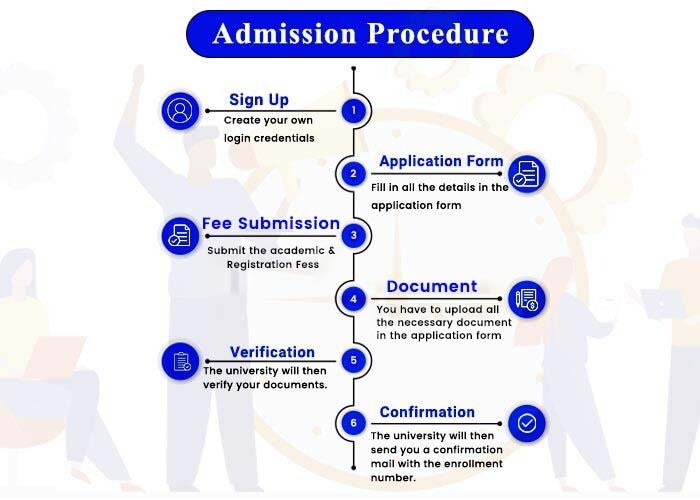 Step 1: Registration
As the initial step interested candidates will have to fill out a registration form with their basic details. Once details like name, contact number, and email id are filled then candidates will have to pay 500 rs as registration fees.
Step 2: Online Application Form
After filling out the registration form students will be redirected to the next step which is uploading required documents. These documents should be uploaded in the right size and according to the university prescribed method.
Step 3: Document Verification By University
After the registration and uploading of documents is done, students are done with their part. The rest is the university's role of verifying the students application and uploaded documents. Only those whose applications got accepted will receive a confirmation mail.
Step 4: Student Registration and LMS Activation
Once the applicant is selected they will receive their LMS credentials. LMS credentials are for LPU e-connect application/website where students will attend their classes and lectures.
Read: What Is Online Career Counselling?
Payment Mode
Students can pay the prescribed fees of their particular MCA specialization on the online portal at the time of filling the application form of admission.

Students can submit the fees and it could only be accepted online on the admission portal through Debit Card, Credit Card, UPI, Wallets, Net Banking, etc.

Students could be ensured and keep more care that the payments of a particular course and their specialization are not made to any unauthorized persons or on any unwanted/unauthorized website or link. The university and the admission portal of LPU Online could not be responsible for any of the lapses in this matter.
Placement Assistance of LPU Online University
LPU is one of the renowned universities that offer the best to its students from knowledge to placement assistance students get full support.
PEP:

in the Professional Enhancement Programmes of LPU students' skills are sharpened through programmes, seminars, and other activities.

Mock Interviews:

the interview is a crucial part of landing any job which makes it important to be prepared for the HR round. This is why LPU online universities prepare students with mock interviews.

Job Profile & Average Salary in Online MCA at LPU
| | | |
| --- | --- | --- |
| Job Profile | Average Salary | Number of Job Openings |
| Web Developer | INR 2-5 LPA | 8,000+ |
| Software Developer /Software Engineer | INR 9-12 LPA | 4,000+ |
| Project Manager | INR 5-10 LPA | 20,000+ |
| Database Programmer / Designer | INR 5-10 LPA | 10,000+ |
| Information Security Specialist | INR 9-12 LPA | 9,000+ |
| Quality Assurance Specialist | INR 5-10 LPA | 14,000+ |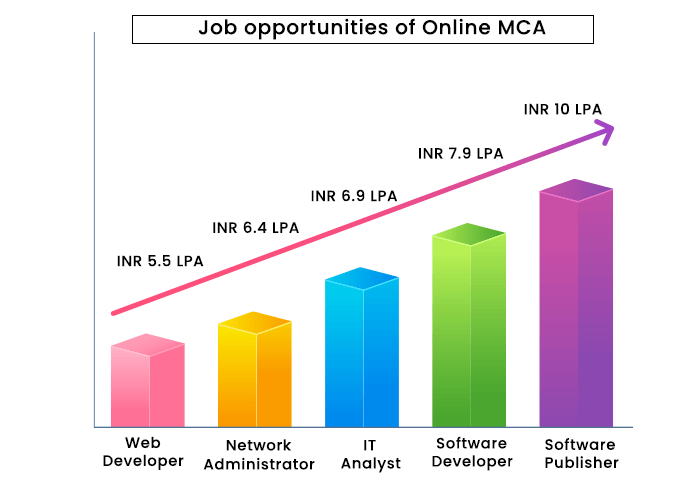 LPU Online MCA Top Recruiters
| | | | |
| --- | --- | --- | --- |
| HCL | e-Zest | IBM | DELL |
| Philips | Bosch | Flipkart | BYJU'S |
| Sun Life Financial | McAfee | ICICI Bank | Apple |

LPU Online MCA Reviews
Academic: The Centre for Professional enhancement of LPU aims at developing new skill sets to its students besides improving their existing skills and competencies. LPU provides various opportunities which range from one-day workshops to a semester-long academic course that improves the learning experiences of its students.
Education: LPU believes in transforming India through transforming education. The very first step towards achieving this transformation is by providing a healthy, supportive and secure atmosphere for the students to study in.
Read: Jobs with High Salary In India
LPU Online MCA Prospectus
LPU has all its information penned down in the form of a prospectus so that students get all the required information before taking admission in their specific program. To download the LPU's online MCA prospectus click here.
Similar Online MCA Universities
| | | |
| --- | --- | --- |
| Universities | Year of Establishment: | Approval |
| IGNOU Online MCA | 1985 | UGC, DEB, NAAC |
| Manipal Online MCA | 1953 | UGC, AICTE, NIRF |
| UPES Online MCA | 2007 | UGC-DEB, NAAC A, NIRF |
| Chandigarh Online MCA | 2012 | UGC, NAAC A+ |
| Amity Online MCA | 2005 | UGC-DEB, AICTE, NAAC A+ |