LPU Online M Sc in Mathematics or Masters of Science (Mathematics) is a two-year postgraduate course that is divided into 4 different semesters. The course deals with a deeper knowledge of the advanced technologies, concepts, theories, of science and mathematics. The course curriculum imparts the knowledge of geometry, algebra, calculus, equations, etc.
LPU Online M.Sc Maths Overview
LPU online is a prestigious university that provides a quality of education with advanced technologies and the methods to use its own LMS and LPU Application. The below-mentioned table gives you an overview of the Online MSC in mathematics course details provided by the LPU Online.
| | |
| --- | --- |
| KEY FEATURES | DETAILS |
| Course | MSC (Masters of Science) Mathematics |
| Course Level | Postgraduation |
| Mode of Education | Online |
| Approvals | UGC, AIU, AICTE, NIRF |
| Eligibility | Graduation (in BCA/ B.Sc) |
| Duration | 2 years (4 semesters) |
| System Methods | LMS, Mobile Application, Live Classes, Video Conferencing, Online Study Material, Guest Lectures, Experienced Faculty, Recorded Content. |
Mathematics has a vast and a good career scope worldwide. Students will study and focus on the theorems and derivations which are in mathematics.

About LPU Online University
Ranked amongst 100 top universities in the NIRF ranking, LPU online is attracting many students towards it. Understanding the need for online education it is offering education via the internet which can be accessed remotely by students.
They understand the importance of education which is why they ensure that students get all the tools required to receive quality knowledge. Along with Online MSC Lovely Professional University is also offering a variety of courses at the graduate and postgraduate level.

Why LPU Online Degree?
It offers demanded and popular courses.

The degree offered by LPU is valid and accepted all over.

Courses offered at LPU is AICTE approved.

LPU degree holds the same value as any other degree.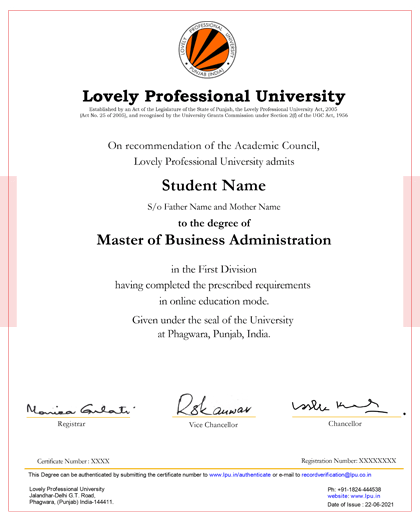 Key Features of M Sc Mathematics at LPU Online
All the courses at LPU Online are recognized, trusted, and accredited by the AICTE approved.

Since 2005, LPU Online has become the best choice for students to pursue management and other courses.

The online MSc (Mathematics) course curriculum covers such topics; as algebra, geometry, theorems, numberric theories, linear programming, and much more.

Quality of education is offered at an affordable fee structure.

The course study material is available at the LPU e-connect, students can take online lectures or download the particular classes through their e-connect accounts on LPU online. With the credentials provided to them at the time of admission.

LPU Online has an LPU e-connect feature for their students to adapt to a new way of learning and skills.

Teaching would be fun and interactive at LPU Online.

Live lectures, guest lectures, workshops would be provided to their students.

Students either download the recorded lectures, classes, study material, and much more on LPU online.

The degree and the course offered by the LPU Online are globally accepted and are duly entitled by the UGC and AICTE.

The medium of instruction of examination, assignments, reach papers, theory assessments, etc, all should be written or communicative in English apart from Hindi Elective/Core subjects in UG or PG level of study.

LPU Online organises development classes under its Placement Enhancement Program (PEP), where students can build their aptitude, communication skills, interviewing skills, reasoning ability, right from the experts and experienced faculty staff.
Read: What Is the Full form of M. Sc?
LPU Online MSc Maths Eligibility Criteria
Candidates must be graduates in any discipline.

Students with B.Tech/B.E./ B.Sc (Engineering) degrees in their bachelor's or equivalent preferred.
LPU Online MSc Maths Curriculum
The curriculum of the online MSc is designed in such a way that a student will learn and adapt the new dynamic concepts of science and mathematics. Students will study these subjects in their semesters and year of MSC at LPU Online.
Semester 1
Semester 2

Real Analysis-I

Real Analysis-II

Advanced Abstract Algebra-I

Advanced Abstract Algebra-II

Theory of Differential Equations

Research Methods and Design

Fundamentals of Research

Complex Analysis-I

Fundamentals of Information Technology

Calculus of Variation and Integral Equation

–

Generic Elective I

Semester 3
Semester 4

Partial Differential Equations

Mechanics

Generic Elective III

Functional Analysis

Complex Analysis-II

Dissertation or




Next 2 Courses from GE Basket 2 & 3 of same area from which the Course chosen in Term Paper

Term Paper




Or




1 Course from the GE Basket 1 which is not chosen as Generic Elective (GE)

–

Topology

–

Generic Elective II

–
Note: Elective and the core subjects of MSc (Mathematics) can be changeable that a student can choose as per their own preference and choice of interest. All the LPU Online programmes of undergraduate or postgraduate courses are being offered only in the English language except Hindi elective/core courses in all the programmes.
Read: Top 7 Best Career Options for Science Students
Fees Structure of Online M Sc Maths
Details
Semester Fee
Lumpsum Amount

LPU Online Fee for Indian & International Applications (Sri Lanka, Nepal, Bhutan, and Bangladesh)

INR 19,000

Programme fee: 15,000

Examination fee: 4,000 (per sem)

Total fee: INR 76,000 (all semesters)

INR 70,000 (which comes out to be INR 17,500 per sems)
The above fee is exclusive of the Initial Registration Fee of ₹ 500/- (non-refundable).
LPU Online Mode Fee –

International Applicants (Other Countries)

Semester Fee
Total Fee, (in Lumpsum)

Fee

US$ 950

Programme Fee: US$ 800, Exam. Fee: US$ 150 (per sem.)

Total Fee: US$ 3800 (all sems.)

US$ 3480

(which comes out to be US$ 870 per sem.)
The above fee is exclusive of the Initial Registration Fee of US$ 10 (non-refundable).
Admission Procedure at LPU Online for MSc Mathematics
While taking or filling out the application of online m sc form at LPU Online, students need to follow and fill these below-mentioned four steps:
Step 1: Registration
This is the initial and the foremost stage while filling the whole application form. At this stage, a student needs to fill in their basic details such as name, email id, contact number, and other basic details which have been mentioned on the web page of the registration form. Students need to pay the registration fees of Rs 500/-. This is the main stage, it is advisable for a student to fill in their basic details and contact number carefully.
Step 2: Online Application Form
After filling out the registration form, students will move forward on the online application form stage to fill- in their whole academic application form. Here at this stage students need to fill in their personal, educational, and upload their documents, certificates, signatures, photographs, and other such documents in a prescribed format which will be mentioned on the website.
Step 3: Document Verification By University
Once you have uploaded all your documents. The university admission committee will verify all your submitted documents and the whole application form. After they verify your application form they will notify the confirmation via email, SMS, or even phone call. After that, you can submit the academic course fee.
Step 4: Student Registration and LMS Activation
At this stage, a university will give you the LMS credentials over email or SMS. The LMS credentials are your ID and Password to log in to the LPU e-connect application or website, where you can take classes, live sessions, attend workshops, or even submit your assignments, research papers, etc. of your particular course or subject at the scheduled timings.
Payment Mode of Online MSc Maths Program
Aspirants can submit their respective academic course fees through online modes of transaction such as Debit Card, Credit Card, UPI, Wallets, Net Banking or etc.

Students could be ensured and keep more care that the payments of a particular course and their specialization are not made to any unauthorized persons or on any unwanted/unauthorized website or link. The university and the admission portal of LPU Online could not be responsible for any of the lapses in this matter.
Read: Courses After Graduation for High Salary
Placement Assistance of LPU Online University
Students can experience the best of the best placement opportunities in the LPU online campus. Here students get immense opportunities to build their career into working with the big firms at the higher position. Students can enjoy some of the services provided by LPU online's placement assistance.
PEP:

Professional Enhancement Programmes, PEP is best for enhancing the set of skills with professional help, programmes, seminars, or through other activities.

Mock Interviews:

This section of the interview prepares or gives you an overview of the personal interview. It helps to develop your whole persona and set of skills to stand confidently and crack your PI. Mock interviews guide you to work on your grey areas and convert them into your skills or strengths in the respective course or programme.
Job Profile and Average Salary in Online MSc Mathematics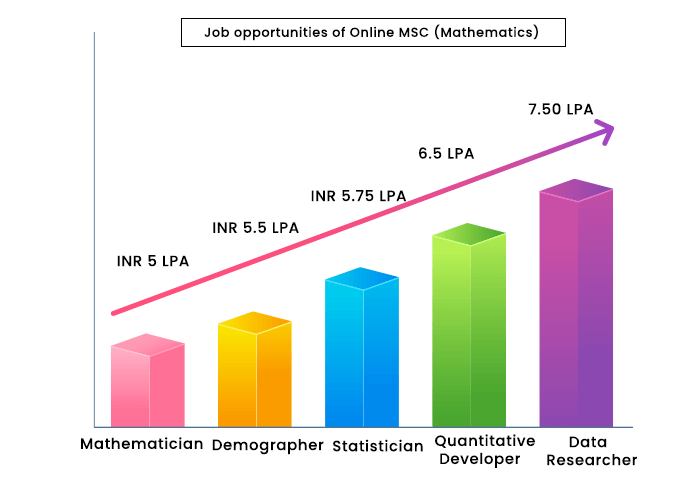 | | | |
| --- | --- | --- |
| Job Profile | Average Salary | Number Job Openings |
| Research Officer | INR 3 to 5 LPA | 3,000+ |
| Insurance Agent | INR 2 to 5 LPA | 13,000+ |
| Researcher | INR 5 to 7 LPA | 57,000+ |
| Accountant / Chartered Accountant | INR 2 to 5 LPA | 1,42,000+ |
| Data Analyst / Data Scientist | INR 4 to 8 LPA | 25,000+ |
| Loan Officers | INR 2 to 5 LPA | 16,000+ |
LPU Online MSc Top Recruiters
| | | | |
| --- | --- | --- | --- |
| Home credit | Amdocs | Acadecraft | McAfee |
| IBM | HCL | Tim Hortons | Microsoft |
| Global Data | Mind Tree | CISCO | Black turtle |

LPU Online University Reviews
LPU believes in transforming India through transforming education. The very first step towards achieving this transformation is by providing a healthy, supportive and secure atmosphere for the students to study in. This makes the university one of the safest campuses in India and contributes to the progress and well being of the country's youth. There are also many achievements of LPU which makes it different from any other university in entire India.

It is the best university where students are groomed professionally and prime focus is given on overall development.
Read: Online Career Guidance
LPU Online MSc Prospectus
LPU has all its information penned down in the form of a prospectus so that students get all the required information before taking admission in their specific program. To download the LPU's online MSc prospectus click here.
Similar Online MSC Universities
| | | |
| --- | --- | --- |
| Universities | Year of Establishment | Approvals |
| IGNOU Online MSC | 1985 | UGC, DEB, NAAC |
| Chandigarh Online MSC | 2012 | UGC, NAAC A+ |
| Amity Online MSC | 2005 | UGC-DEB, AICTE, NAAC A+ |