Despite the reason you're leaving your job, a formal resignation letter is a way to maintain a cordial relationship for an employee with the employer. It is pretty important to know how to write a resignation letter to be able to smoothly and professionally process your resignation. Here in this blog, we'll help you write a professional resignation letter by explaining to you the exact format of the letter and with the help of some tips, examples, and samples. So, if you are sure of quitting your job and need an impactful resignation letter, then you can use our resignation sample from a wide variety of ready-to-use templates.
What is a Resignation Letter?
A resignation letter is an official notification sent by an employee stating that they wish to stop working for the employer/company. In other words, it is a formal way of telling your company that you are quitting your job.
Why is a resignation letter important?
A resignation letter is usually sent in advance and so it gives the human resource department of the company hire a new employee so that the position is not left vacant and the work is not affected. This professional behaviour helps you maintain a healthy relationship with the company which in turn helps you quit the company without any hurdles.
A resignation letter is one of the most important parts in the process of quitting your job as it becomes an official record of the employee's formal notice to the company. A resignation letter is actually the first step when an employee is quitting a job. All the other formalities follow only after the employee has sent the resignation letter to the company.
However, a resignation letter is not just another official formality. You must have the skills to write an impactful resignation letter for it to get easily approved. Most of the time companies give counter-offers to resignation letters as they do not want to lose their employees. Hence, you must be confident and impactful in your resignation to avoid such offers if you have firmly decided to leave the job.
Tips for Writing a Resignation Letter
As you already know how important it is to write an impactful yet formal resignation letter, here are some important tips to help you with the same.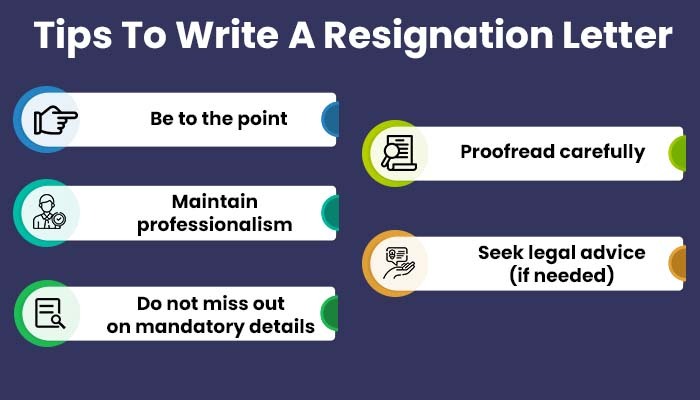 In the very first paragraph mention that you are quitting. Be very specific about it and about your reason for quitting the job.
You must be completely formal and professional while writing the resignation letter. You must avoid complaining or criticising the company or any employees. Something like this looks very unprofessional and might have a negative impact on your resignation.
Never miss out on these important details
Following are some of the important information that you must necessarily mention in your resignation letter- the specific date of your last day at the company and the reason for you quitting the job. If there is information regarding your transition like the report on your current projects, any project/s you have agreed to finish, or if you have offered to help the company find your last day.
Proofreading your resignation letter is important to make sure that all the information provided by you is accurate and that there are no silly spelling or grammatical errors as it will not look good on an important official document like this.
Seek legal advice (if needed)
A resignation can be by an employee at any level of position. Depending upon this level, you might need to seek professional legal advice regarding the process of your resignation.
How To Write a Resignation Letter (Format)?
There are certain key elements that necessarily need to be mentioned in a resignation letter like your contact information, reasons for resignation, your last day at work, and more.
Following is the format of a resignation letter which includes all these key elements and in which section of the letter to include them.
Contact Information
A resignation letter can be in the written form or in the form of an email.
Written letter-

In case of a written letter, the contact information of you as well as the employer should be written at the starting of the letter. This information includes name, title, name of the company, phone number, address, email.
The contact information is followed by the date on which the letter is written.
Email-

In case of an email resignation letter, you need to include your contact information at the end of the letter following your signature. In case of email, you do not need to write the contact information of the company.
Greetings
You will have to start the resignation letter by addressing your manager (or any other person depending upon your company) using their formal title like "Dear Ms./Mr./Dr.".
1st Paragraph
In the very first paragraph, you have to mention that you will be resigning from your job and the specific date when your resignation will be effective. This is to give an official notice to the employer for your personal file. You must refrain from writing long paragraphs and unrelated information.
2nd Paragraph (optional)
It is always advised to mention the reason for your resignation, however, it is not mandatory. In case you choose to mention the reason, then one thing you must keep in mind is that the reason must be a positive one like you are starting a new job, pursuing higher studies, leaving the city, etc.
3rd Paragraph (optional)
You must mention your availability or reference in case you are able to help in the transition process.
4th Paragraph (optional)
In this concluding paragraph, you can give a note of thanks and your appreciation for the opportunity you got by working for the company. You can also mention things that were especially rewarding during your tenure.
Closing
You have to conclude the letter with a formal sign-off like "Sincerely" or "Thanks & Regards".
Signature
Including the signature goes differently for a handwritten letter and an email.
Written Letter-

You have to put down your handwritten signature followed by your full name.

Email-

In this case, you just have to type your full name followed by your contact information.
What to Include in a Resignation Letter?
You must keep your resignation letter simple and formal, which you must do by sticking to the facts and refraining from writing lengthy explanations and stories. It is very important to be brief and to the point to keep the letter gracefully professional.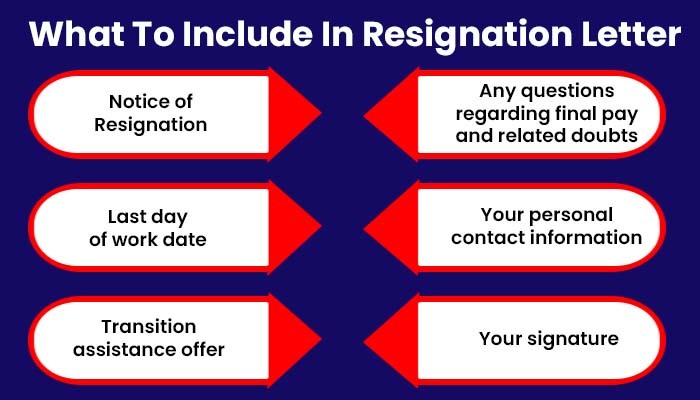 Following are some of the important elements that you must include in your resignation letter to make it look perfect.
You must start the letter by mentioning the intent of you resigning. You should be straightforward and to the point but don't forget to be very polite and formal in your tone.
You must mention information about the date until when you plan to work at the company. Also, your last day at work must comply with the policies of the company regarding the notice period.
In case you must leave before the notice period, then you can explain your reasons and request the company to consider it.
Transition Assistance Offer
If somehow you can help your employer in the transition, like you can perhaps refer your replacement or if the replacement is already arranged then you can offer to train them. If you can offer assistance in transition in any way then it is a really good opportunity as you will be able to leave with closure as your assistance will be helpful to the employer.
You might have doubts and questions regarding your final pay or other company benefits. You can inquire about any such doubts through this resignation letter. Therefore, this part is optional if you do not have any questions.
You should include your personal contact information in the resignation letter as it will be easy for the company to contact you in future if there is any need.
If you are submitting a hard copy of your resignation letter, then you must include your handwritten signature above your name. While, in the case of an email, you simply have to write your full name.
Additionally, to make a positive impact through your resignation letter and ensure a graceful exit, you must thank your employer for all the opportunities you got while working for them. You can also mention how you enjoyed working there and the fruitful experiences you gained during that time.
What Not to Include in a Resignation Letter?
While there are some things that you must include in your resignation letter, there are also some things that you must NOT include in your resignation letter.
If your reason for quitting the job is a negative one, then you must not mention it at all. It is not mandatory to mention your reason for quitting if you are fulfilling the resignation procedure properly and abiding by all the company guidelines like serving the notice period.

A resignation letter is an official document which is the notice of an employee leaving the job. Therefore, you must stick to it as it is not where the employees can complain or criticise about the workplace. If you have any such issues, then you can separately communicate with your manager or the HR department, rather than writing them all down on the resignation as it will make you look quite unprofessional.

Some people mention the reason for quitting is that they will be getting a higher salary at their new job. This is something which makes you look highly unprofessional. Therefore do not mention such reasons. If you do not have any specific reasons other than salary, then it is better to not mention the reason at all. In case your intent is to look for a counteroffer by the company regarding salary negotiations, then it is best to discuss it in person.

Your tone in the letter must be professional and humble so you must neither show excitement about leaving the job nor describe how good your new job will be.
Resignation Do's & Don'ts
There are certain things that you must keep in mind if you have decided to resign from your job. Following are things that you must do and also that you must not do after submitting your resignation letter.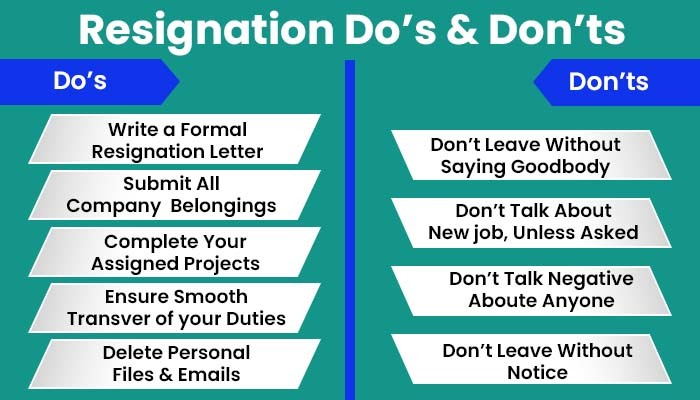 | | |
| --- | --- |
| Do's | Don'ts |
| You must submit all the company belongings before the last day of work. These belongings might include gadgets like desktop/laptop, mobile phone, etc. | Refrain talking about your new job unless asked. |
| Complete the projects that you are currently working on and that have been assigned to you before leaving. | Do not talk negatively about the company or anyone working there as it may affect your resignation procedure. |
| You should ensure smooth transfer of your duties to your replacement. You can also train that person during your notice period. | It is unprofessional to leave without saying goodbye. So, you should say goodbye. |
| It is very important to delete all the personal files and emails from the office systems before leaving. | In case you have not submitted the resignation letter, then you must do so. You must never leave without notice. In such a case, you might not get a relieving letter or experience letter from your current company and even your salary might get put on hold. |
Resignation Letter Template
We have curated a resignation letter template based on the format discussed above in this blog. You can use this template and customise it accordingly.
Written Resignation Letter Template
Raushan Singh

B-87 Sector 15, Noida – 201301, 9876543210, [email protected]

September 1, 2022

Sarthak Garg

Senior Manager

College Vidya

B-136, Sector 2, Noida- 201301

Dear Mr. Garg,

This is to bring to your kind notice that I will be resigning from my position as assistant marketing head for College Vidya effective from October 1, 2022.

Starting next month, I will be taking on the position as marketing head of an edtech startup. In the meantime, I would like to assist you with transition to a new assistant marketing head.

I would like to thank you for the opportunity you have given me to learn all about digital marketing and customer engagement. I believe to have made tremendous growth because of the kind of exposure College Vidya gave me. I have genuinely enjoyed my time working with College Vidya and my colleagues. I thank you for all the guidance.

Please accept this letter as my formal notice of resignation.

Sincerely,

Signature (handwritten)

Raushan Singh
Email Resignation Letter Template
Subject Line- Shweta Deora – Resignation
Dear Mr. Garg,

I'm writing this letter to notify you that I will be resigning from my position as content writer for College Vidya effective from October 1, 2022.

Starting next month, I will be taking on a position as a senior content writer at a digital marketing agency. In the meantime, I would like to assist you with the transition, hence, please let me know what I can do during my notice period.

I thank you sir for all the guidance you have given me and all the opportunities I got as I worked for College Vidya. I have genuinely enjoyed working at College Vidya. All the exposure that I got here will be a great help for me in the future. I will always cherish the time I have spent here.

Please accept this letter as my formal notice of resignation.

Thanks & Regards,

Shweta Deora
Samples & Examples
Following are some samples for different types of resignation letters so that you can refer to them depending upon your situation.
Sample- Effective Immediately (Short/No Notice) Resignation Letter
Dear (Name of recipient),

Please accept this letter as my official notification of resignation from my position as (name of position) at (name of company), effective this weekend (date).

I apologise for such a short notice but due to certain personal issues and circumstances beyond my control, I must immediately resign from my position.

I would like to express my deepest gratitude for all the opportunities, support, and guidance that you have given me during my tenure with (name of the company). I will always cherish my time here and I am thankful for all the experience I received.

I once again apologise for the inconvenience this may cause. However, I hope you understand and consider my urgency.

Sincerely,

Signature (in case of hard copy)

(Your Name)
Sample- Resignation Due to Academic Reasons
Dear (Name of recipient),

I am writing this letter to notify you that I will be resigning from my position as (name of position) at (name of company), effective next month (date).

I have decided to go for further studies and will be pursuing (course name eg- MBA, M.Tech) at (name of the college/university). I will not be able to continue with my current job due to the college schedule as I will be pursuing the degree on a full-time basis.

I will ensure that I complete all my ongoing projects before my last working day. Also, I would like to assist you with the transition process, hence, please let me know what I can do during my notice period.

I thank you for all the guidance you have given me and all the opportunities I got as I worked for (company name). I have genuinely enjoyed working here. All the exposure that I got will be a great help for me in the future. I will always cherish the time I have spent here.

Sincerely,

Signature (in case of hard copy)

(Your Name)
Sample- Resignation Due to Profile/Career Change
Dear (Name of recipient),

I'm writing this letter to notify you that I will be resigning from my position as (your current designation) for (company name) effective from (date).

I joined (company name) as a backend engineer, however, I have always wanted to work as a full-stack engineer. I have got an opportunity to work as a full-stack engineer at (name of your new company) and I would like to pursue it.

I would like to thank Mr. Singh, my team leader for all the guidance and support he gave me during my tenure. Even though I worked here as a backend engineer, I have learnt lots of other things as well while working with my team, which will surely help me with my new job role.

I would like to express my deepest gratitude to (company name) for all the opportunities I got. I will always cherish my time working here.

Please accept this letter as my formal notice of resignation.

Sincerely,

Signature (in case of hard copy)

(Your Name)
Sample- Resignation Due to Personal Reasons
Dear (Name of recipient),

I am writing this letter to notify you that I will be resigning from my position as (name of position) at (name of company), effective next month (date) due to personal reasons. I am ready to serve my notice period of two weeks as per company guidelines.

(if you wish, you can explain your personal reasons, like health related reasons, relocation to another state/country, emergency in the family, etc.)

I will ensure that I complete all my ongoing projects before my last working day. Also, I would like to assist you with the transition process, hence, please let me know what I can do during my notice period.

I thank you for all the guidance you have given me and all the opportunities I got as I worked for (company name). I have genuinely enjoyed working here. All the exposure that I got will be a great help for me in the future. I will always cherish the time I have spent here.

Sincerely,

Signature (in case of hard copy)

(Your Name)
Sample- Resignation Due to New Professional Opportunity
Dear (Name of recipient),

I'm writing this letter to notify you that I will be resigning from my position as content writer for (current company name) effective from (date). I will be serving my notice period of two weeks as per company guidelines.

Starting next month, I will be taking on a position as a senior content writer at a digital marketing agency (you can mention the name of your new company). In the meantime, I would like to assist you with the transition, hence, please let me know what I can do during my notice period.

I thank you sir for all the guidance you have given me and all the opportunities I got as I worked for (current company name). I have genuinely enjoyed working at College Vidya. All the exposure that I got here will be a great help for me in the future. I will always cherish the time I have spent here.

Please accept this letter as my formal notice of resignation.

Sincerely,

Signature (in case of hard copy)

(Your Name)