Kolkata is often known as the cultural capital of India, as the city upbrings the legends such as Satyajit Ray, Rabindranath Tagore, Mother Teresa, Amartya Sen, and many other intellectuals and the artist. The city believes in the quality of education, so do there are the best top universities that provide education through Online/ Distance mode to each and every student, who is keen to make their career in the management fields and their specializations. What Is an Online MBA?
There are around 14 MBA colleges located in Kolkata, both private and government colleges. Among these colleges provide online/distance and regular education of management specializations to the interested candidates who want to build up their career in the MBA programs. To ease your findings, we have shortlisted the top 08 Online/ Distance Colleges that are providing such MBA courses in Kolkata to the aspirants
Online/Distance MBA Colleges Lists In Kolkata
These universities/ Colleges/ Institutions are best in terms of layout with an excellent education, best placement cells, study material, well-organized campus, faculty staff, and much more. Students after the compilation of MBA degree, are eligible to apply in private, MNCs, Corporate, or Government departments as well. The below-mentioned tabulate shows the overview of the colleges/ universities in Kolkata with their course duration, fees structure, and mode of education.
#1 IGNOU
Indira Gandhi National Open University (IGNOU), established in the year 1998, and also set up its regional center in Kolkata with all the UG/ PG or other courses at the center. The regional centers are the core for training coordinators/ counselors/ other functions. IGNOU has fixed its centers in Kolkata at Park Street, Siliguri, kanchrapara, Bishnupur, Kharagpur, and other places.
IGNOU is UGC and AICTE approved by the Distance Learning courses. Students can grasp the education at affordable fees from anywhere in India. For admissions at PG level in management courses, students can take admission in such courses such as MBA, DIM, PGDIM, PGDHRM, PGDOM, PGDMM, PGDFMP, PGDFM, and other courses. Students just need to cross the or qualify for the OPENMAT IGNOU entrance exam for management courses. Click here to know about distance MBA from Ignou!
| | | | | |
| --- | --- | --- | --- | --- |
| Course Name | Fee Structure (INR) | Degree | Affiliation | Duration |
| MBA | INR 37,800 | Distance Mode | AITCE/ UGC | 2 years |
#2 Amity Directorate of Distance and Online Education, Kolkata
Amity Directorate of Distance and Online Education, the institution is Asia's number one online education that completely offers the quality of education in the excellence in e-learning in the different specialized courses of management, and other graduation and postgraduation courses. The program is designed in such a way that a student will get the experience education with the degree courses. Click here for a Detailed Guide!
Course Name
Fee Structure (INR)
Degree
Affiliation
Duration

MBA

INR

2 lacs 14 thousand

Online/ Distance Mode

AITCE,UGC,NACC,AIU,NCTE

2 years
#3 Sunshine Institute of Advance Education
Sunshine Institute of Advance Education was set up in the yea 2014, with the aim to provide guidance in the admission for the distance education in the desired UG/PG courses to make the successful career in desired courses. Students can enjoy various benefits 24/7 to access their student-data base for study material and other MBA resources.
| | | | | |
| --- | --- | --- | --- | --- |
| Course Name | Fee Structure (INR) | Degree | Affiliation | Duration |
| MBA | INR 74,000 | Distance Mode | UGC- DEB | 2 years |
#4 Netaji Subhas Open University
The university was established in the year 1997 it is a leading university to deliver a quality of education through distance mode for the students. In 2002 the university has bring up post-graduation courses. NSOU has gained so much popularity in Distance education for the MBA specializations.
| | | | | |
| --- | --- | --- | --- | --- |
| Course Name | Fee Structure (INR) | Degree | Affiliation | Duration |
| MBA | INR 21,500 | Distance Mode | UGC- DEC- AIU | 2 years |
#5 IIM Calcutta (IIMC)
IIMC aims in getting the students to offer a quality education both in the distance or regular mode. For working professionals or those who wish to study in a part-time manner, for them this is IIMC in Kolkata is best for distance education.
| | | | | |
| --- | --- | --- | --- | --- |
| Course Name | Fee Structure (INR) | Degree | Affiliation | Duration |
| MBA | INR 50,000 – 1.5 Lakhs | Distance Mode | AACSB, EQUIS,AMBA | 2 years |
#6 Indian School of Business Management & Administration, Kolkata
ISBMA, Kolkata was established in the year 1992, the institute offers various undergraduate, postgraduate, diploma, executive courses to the students in the MBA of other specializations. The institute is AICTE approved by the university grants commission (UGC) recognized. The institution provides MBA specializations in Finance, Human Resource Management, Marketing Management.
| | | | | |
| --- | --- | --- | --- | --- |
| Course Name | Fee Structure (INR) | Degree | Affiliation | Duration |
| MBA | INR 30,000 | Distance Mode | – | 2 years |
#7 NIST School of Education, Kolkata
National Institute of Science and Technology (NIST), was set its roots in the year 1996 by a group of technocrats and academicians to build the top institution within India and abroad. The institution is approved by the AICTE. NIST has been considered the benchmark research institution in eastern India.
| | | | | |
| --- | --- | --- | --- | --- |
| Course Name | Fee Structure (INR) | Degree | Affiliation | Duration |
| MBA | INR 1.11 Lakhs | Distance Mode | UGC – AICTE | 2 years |
Online MBA Colleges In Other States/Cities
MBA Distance Education/Colleges In Kolkata
Top MBA colleges in Kolkata offer MBA (Masters of Business Administration) in the various management, marketing, finances, healthcare programs in the online and distance mode of education. MBA in Online and Distance mode in Kolkata is a 2-year professional post-graduate degree course. The study of the MBA gives a student in-depth knowledge of business, administration, marginal economics, information technology, marketing management, etc. The city of Joy, Kolkata is a home root of British rule, Indian history, vibrancy, royalty, and much more.
Online / Distance MBA courses have always been demanded as the key for the business to function smoothly in a strategic way with all the capabilities of management skills that a student can learn in their curriculum of MBA specialisations. The universities, colleges, or institutions in Kolkata are one of the top-notched that provides their students/ candidates quality of education and train them with experience that they can stand out in the corporate well all with their skills and confidence.
The updated curriculum of Distance / Online MBA is matched with changing trends/ methods/ traditions of the management industry. Check out the blog of top colleges in Kolkata city that offers online / distance MBA with all the specializations programmes.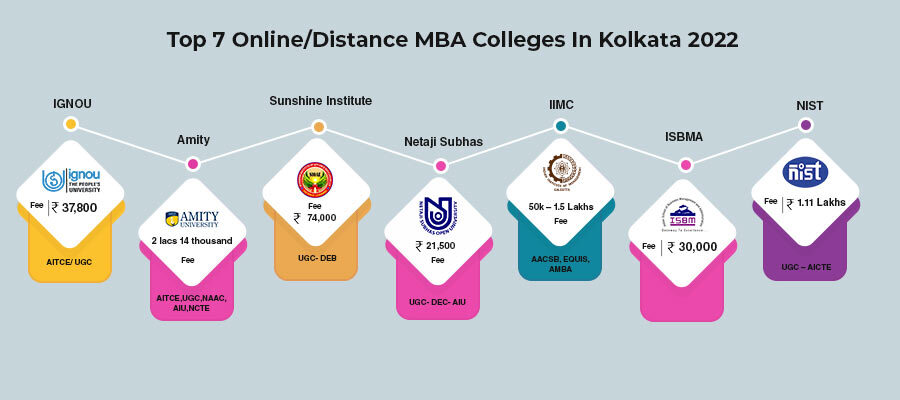 Online/Distance MBA Eligibility Criteria
To take admission in the Online / Distance MBA, a student must cross the basic eligibility to pursue their career in this field. Apart from this, eligibility criteria vary from university to college. Students are required to pass the entrance test which is applicable by some of the universities. Here are the basic eligibility criteria for most of the universities to take admission in the Online / Distance MBA course:
Students are required to pass the examination of bachelor's in any stream with a minimum percentage of 50%

Students need to make sure that they have issued their graduation/Bachelor's degree from a UGC recognized university

Students must belong from the commerce background in their 12th boards or in their graduation degree.
How Can You Choose One Perfect Online / Distance MBA College For You?
There are different parameters to judge or select a university or college for your study which would be the best choice for you. You cannot pick a university randomly, all your career depends upon it. Here are basic variables factors which you can keep in mind while selecting a university/college for an Online / Distance MBA study.
Academics: This is the foremost and first parameter that you can look at while selecting a university. Academic performance plays a crucial role, healthy study influence the creative and managing mind to execute the ideas into reality. A good resourceful academic environment nurtures the whole personality of a student.
A college academic helps a student in learning the skills, that are crucial to thriving in a competitive world. Students can grasp such a set of skills related to MBA is as, Management skills, marketing, Administration, Communicative, Leadership, etc. Students typically go for administration government jobs as well as in the corporate business world after completing an Online / Distance MBA.
Placement Drive: Since most of the college campuses or universities have their own placement cell for students. A final-year student is only eligible to enjoy the benefits of a placement cell. Internships are being provided to the 1st year students to face the patterns of the corporate world in which they are placed at the different MNCs or Private Companies.
Read: Distance MBA Top Colleges In India
Online/ Distance MBA Popular Specializations In Kolkata
MBA (Masters in Business Administration) through Online / Distance mode, offers varied specializations to the students to make their career in different fields as per their choice of interest. Hence, students get the choice to study in different areas of MBA specializations. Here are some of the popular MBA courses which you a pursue in an Online / Distance mode are:
| | | | |
| --- | --- | --- | --- |
| MBA in Supply Chain Management | MBA in Information Technology | MBA in Finance Management | MBA in Operations Management |
| MBA in Media Management | MBA in Human Resources Management | MBA in Marketing Management | MBA in Project Management |
| MBA in Hospital Management | MBA in International Business Management | MBA in Entrepreneurship Management | MBA in Digital Marketing |
These are the MBA specialization, which a student can select as per their choice of interest to make their career successful in this competitive world. These MBA specializations are highly designed and imparted with the core subject set of skills, theories, practical and in-depth knowledge of the particulars specializations.
Online / Distance MBA Career Opportunities
After completing Online / Distance MBA specializations as students can make their careers in these respective fields and working profiles/ positions. Check out what positions are these:
| | | | |
| --- | --- | --- | --- |
| ​Business Development Manager | Business adviser​ | Brand Manager​ | ​Marketing Strategist​ |
| Market Research Analyst | Sales Manager​ | Supply Chain Manager | Management Consultant​ |
| ​​Product Manager​ | Accounting Head | ​​Inventory Control Manager​ | ​Vendor Managed Inventory Coordinator​ |
| ​Warehouse Operations Manager​ | ​Material Manager​ | Logistics Manager​ | System Support Manager​ |
| ​Transportation Manager​ | — | — | — |
Top MBA Colleges in Kolkata Based on NIRF Ranking
Every year, MHRD (Ministry of Human Resource Development) releases the NIRF ranking of the colleges or universities in the country on the basis of some parameters. Candidates who are looking best colleges in Kolkata, then they should consider NIRF rankings to shortlist their respective colleges or universities in the state. Maybe you are wondering what NIRF ranking is?, why is it important for a university to earn the tag? Also, here you can check the name of some top regular MBA colleges which offers regular full-time MBA degree programs.
Read: Average MBA Salary as per specialization
What is NIRF Ranking?
NIRF National Institutional Ranking Framework ranks the Indian institutions and universities through their respective parameters task which check the university of their knowledge, education system, campus facility, placement drive, and other such relevant frameworks.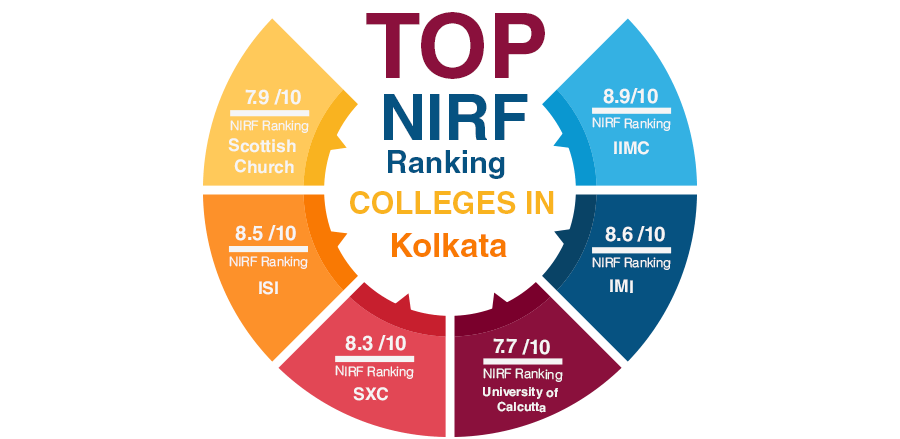 The NIRF ranking is spread objective to promote competitive excellence in the higher educational institutions/ universities or colleges. Through NIRF ranking system benefits the aspirants to pursue higher education with the right choice and best choice of MBA colleges in India. Mentioned below are some of the top NIRF ranking colleges in Kolkata:
| | | |
| --- | --- | --- |
| Regular MBA Universities / Colleges | NIRF Ranking | MBA Fees |
| IIMC (Indian Institute of Mass Communication) Calcutta | 8.9/10 | INR 2,700,000 |
| IMI ( International management Institute) Kolkata | 8.6 /10 | INR 350,000 |
| University of Calcutta, Kolkata | 7.7 /10 | INR 16,510 |
| St. Xaviers College (SXC), Kolkata | 8.3 /10 | INR 52,300 |
| Indian Statistical Institute (ISI), Kolkata | 8.5 /10 | INR 1,000,000 |
| Scottish Church College, Kolkata | 7.9 /10 | INR 57,206 |
Conclusion
The city of Joy has numerous colleges that offer MBA but some of the colleges in Kolkata are best to provide Online/Distance MBA specializations with excellent academic or placement assistance to the students. A student should visit the official website of shortlisted colleges/universities for their MBA studies. This blog has filled with all the basic and advanced information of the Kolkata-based universities for online/distance MBA.
The distance-based colleges have their study centers or regional centers in the city situated in the local areas for the students to submit their assignments, take classes, or do other such work. Online-based colleges provide a virtual class, and online submission of assignments to their enrolled students of MBA specialization.