What is the full form of M.Tech?
The full form of M.Tech is Master of Technology and it is a postgraduate program in the engineering and technology domains. M.Tech is a course in engineering that is attracting the interest of students after they have completed their B.Tech course. M.Tech degrees are also available in a variety of specializations, including computer science, computing, civil engineering, mechanical engineering, automotive engineering, electronics and communications, and many others. Now, if you are an engineering student who wishes to continue your studies, you should strongly consider distance M.Tech courses, which will not only save you time but will also provide you with the best experience because you will be able to work in the field while studying.
M.Tech is one of the famous courses in the engineering field as it focuses on innovation and improvising the existing technologies and it makes you work on research projects and thesis. However, distance M.Tech is not a valid course and has not been recognized by the supreme court of India. Nevertheless, students who are working and willing to pursue M.Tech can do it by enrolling in courses like part-time M.Tech, M.Tech evening, and M.Tech for working professionals.

Why should I even pursue M.Tech?
M.Tech is helpful for working professionals who want to add one more degree to the engineering field and for students who are looking to learn more about technology.

Here is the list of benefits that you will get in the M.Tech course:
M.Tech helps students to dive deep into concepts like Chemical Engineering, Thermal Engineering, Power Systems Engineering, and so forth.
Adds more value to your educational qualifications.
M.Tech degree can help you get a high-rank job in the engineering field
Masters degrees always land students in the highest paying jobs.
Course Details Of M.Tech Program – Quick Facts
Level
Post-graduation
Duration
2 years (4 semesters)
Fee Structure
INR 50,000- 2,00,000
Minimum Eligibility
Must be graduate in B. Tech/ BE from a recognized Institute
Modes of learning
Classroom Lectures
Program Types
Full-time and Part-time
Entrance Exams
GATE

AP PGECET

OJEE

TANCET

BHU PET

UPSEE

M.Tech Entrance Exams

Admission Process
Merit-Based, Entrance Exam
Scholarship

State government scholarship programs are open to candidates from reserved categories and economically disadvantaged groups.
Merit scholarships (based on grades in the entrance exam or graduation) are available at deemed or private universities.

Internship
There are a lot of internship opportunities for M.Tech in India.
Starting Salary
INR 3 to 6 LPA
Job Options

Senior Engineer
Project Manager
Researcher
Technical consultant
Technical Scientist
Account Manager
Technical Program Leader, etc.

Top Colleges
Lingaya's University, Sri Venkateswara University, BITS Pilani, Shobhit University, etc.
The Eligibility Criteria of M.Tech
Many students want to pursue their higher education in the M.Tech program. If you choose to apply for an M.Tech course, you must meet certain eligibility requirements in order to be accepted into the program. M.Tech courses are becoming more common as they help to lift a candidate's profile in the engineering industry. Candidates are occasionally perplexed by the M.Tech course's academic requirements. So, we have detailed information about the candidates who are qualified to enroll in an M.Tech program, have a look:
The candidate must have a bachelor's degree in BE/B.Tech from a recognized institute.
The candidates need to clear the entrance exams like GATE and NEET and the admission is based on the score you obtain in your entrance and then in your interview.
Difference Between ME And M.Tech
ME – Master Of Engineering
M.Tech – Master Of Technology
Both these degrees are in the engineering & technological field, however, they still differ from each other. You can take the reference from the table below:
| | |
| --- | --- |
| ME | M.Tech |
| Full form of ME is Masters of Engineering | The full form of M.Tech is Masters of Technology. |
| This is a knowledge-oriented program | M.Tech is designed to focus more on skills |
| ME focuses on more on in-depth facts and theoretical knowledge | M.Tech emphasizes more on practical exposure. |
| M.E. is mostly offered by self-affiliated colleges or private universities. | M.Tech. is offered by colleges affiliated with different universities. |
Do I need to give any entrance exam for admission to M.Tech?
Yes, students are required to clear the entrance exams like GATE after completing their Bachelor's in BE or B.Tech. The admission in any M.Tech course is based on the national-level/state-level/institute-level entrance examination.
Do I require any work experience for M.Tech?
There is no compulsion to have work experience in order to pursue an M.Tech course because the admission is either done on the basis of entrance or on the marks obtained in the B.Tech degree.
M.Tech Specializations
The reason why M.tech is famous among engineering students is that this degree offers several different subjects of specialization which lead you to a definite future. Now look at some famous M.Tech specializations:
| | | |
| --- | --- | --- |
| Design Engineering | Geotechnical & Geo-environmental Engineering | Biotechnology |
| Computer Science & Engineering | Disaster Assessment and Mitigation | Industrial Engineering |
| Structural Engineering | Transportation Engineering | Power Systems |
| Engineering Materials | Control and Instrumentation Engineering | Artificial Intelligence |
| Environmental Engineering | Textile Engineering and Management | Electrical Drives |
| Hydro Power Engineering | — | — |
Common Syllabus Of the M.Tech Program
| | |
| --- | --- |
| Semester I | Semester II |
| Computer Networks | Formal Models in Computer Science |
| Advances in OS | Advanced Algorithms |
| Advanced Database Management System | Advanced Computer Architecture |
| Computer System Performance Analysis | Cloud Computing |
| Fundamentals of Computer & Introduction to C programming | Elective 2 |
| Elective 1 | Project Phase-I (6-week duration) |
| Seminar | Seminar |
| Semester III | Semester IV |
| Information Security | Embedded Systems |
| Elective 3 | Project Work Evaluation and Viva-Voce |
| Elective 4 | Optical Networks |
| Project Phase-II | Advances in DIP |
| Evaluation of Project Phase-I | Computer graphics and visualization |
What is the average cost of pursuing an M.Tech?
The average cost a student will incur in pursuing an M.Tech course is INR 1-2 LPA and this cost of M.Tech may vary as per the university and type of M.tech course you have chosen. Pursuing Part-time M.Tech courses are economical in India and they even give you ample time to pursue jobs.
Is there any scholarship for pursuing M.Tech?
Universities typically award scholarships depending on a student's academic performance and category. All you have to do is apply as soon as possible and read all of the scholarship requirements carefully because some colleges only provide scholarships to restricted category students and others have cut-offs for doing so.
What are the top destinations for M.Tech Courses?
Students who are willing to pursue any M.Tech course; distance/ part-time/full-time have plenty of options in terms of universities and colleges.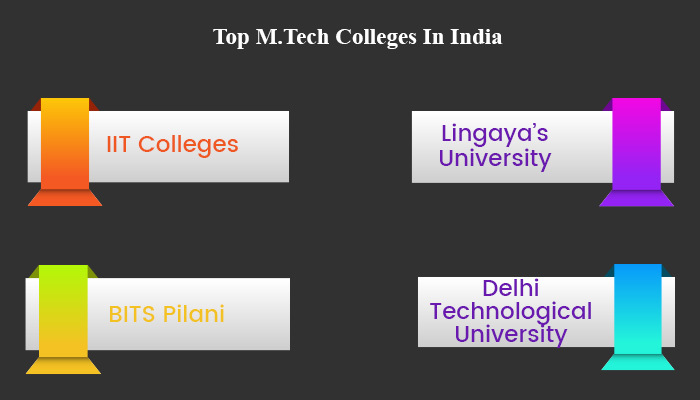 There are plenty of engineering colleges that are offering part-time M.Tech and M.Tech for working professionals. Here is the list of such colleges:
BITS Pilani
Shobhit University
Indira Gandhi National Open University (IGNOU)
Sri Venkateswara University (SVU)
Lingaya's University
Chandigarh University
Admission Procedure Of M.Tech course?
Different universities have different MTech admission procedures. Most institutes offer MTech admissions based on MTech entrance tests like GATE 2021.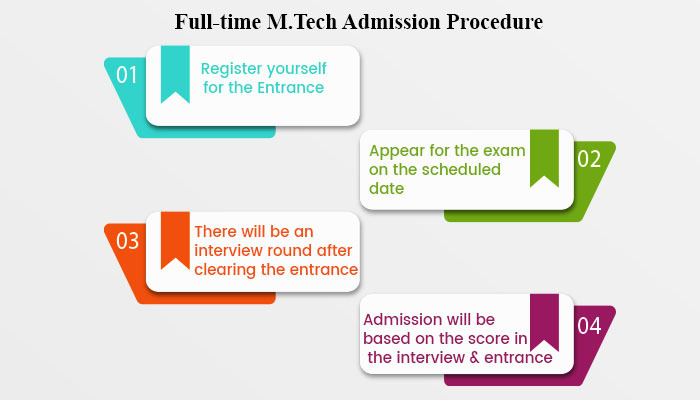 Students need to attempt the entrance exams for M.Tech which are conducted either by the institute or by the state.
Then, there will be an interview round after you secure qualifying marks at the entrance.
The selection is based on the score obtained in entrance and the interview process.
Job Opportunities Or Career Scope After M.Tech
M.Tech courses open career opportunities in almost all the available industries for students. Students can apply for any job profile they wish for after the completion of M.tech. You can apply as a technical writer, researcher, subject matter expert, or professor. Also, if you are a working professional with good experience and have completed your part-time M.Tech then you can taste success very easily. Here is the list of high-profile jobs available for M.Tech students:
| | |
| --- | --- |
| Mechanical Engineer (requires experience) | Software Developer |
| Mining Engineer (requires experience) | Maintenance Engineer |
| Electronics Engineer (requires experience) | Research Associate |
| Software Engineer | Project Manager |
| Assistant Engineer | |
What is the average salary of an M.Tech graduate?
M.tech or Master of Technology is available in different specializations and students get a plethora of different career opportunities after completion. Here is the list of all the average salaries offered to M.Tech graduates of different disciplines: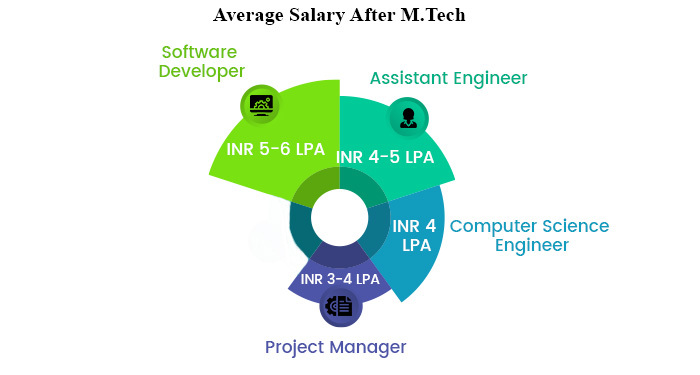 | | |
| --- | --- |
| Job Profile | Average Income Per Annum |
| Project Manager | INR 3,00,000/- |
| Computer Science Engineer | INR 3,66,000/- |
| Assistant Engineer | INR 417,967/- |
| Software Engineer | INR 529,000/- |
| Research Associate | INR 3,00,00/- |
| Mechanical Engineer | INR 300,407/- |
| Electronics Engineer | INR 359,731/- |
| Mining Engineer | INR 500,079/- |
| Electronics and Communication Engineer | INR 408,000/- |
| Software Developer | INR 479,000/- |
Top Recruiting Companies
Distance M.tech or part-time M.tech courses are some of the famous programs in India that help students in getting high-profile jobs in the engineering and technology domains.
There is a complete ocean of recruiting firms that are hiring M.Tech pass-outs, students just need to explore. Here is the list of top recruiting firms for M.Tech students:
| | | | |
| --- | --- | --- | --- |
| Accenture Services | Google | Amazon | Infosys Technologies |
| Reliance Jio | Apple Microsoft | Lenovo | ITC Limited |
| HCL Technologies | Microsoft | Samsung | Flipkart |
Can I pursue M.Tech after 30?
There is no age limit to pursue M.Tech and you can pursue it even after the age of 30. All you need to do is to clear entrance exams like GATE, TANCET, etc.
Full-Form of M.Tech, Remember?
The full form of M.Tech is Master of Technology. In this blog, we have included all of the information regarding the M.Tech program. M.Tech is an excellent choice for students who want to become excellent engineers in one of the many specializations available during the M.Tech program. Now it's your turn to get started by applying for an M.Tech course and getting the best work possible after completing your M.Tech degree and reaching the pinnacle of your career.