The Online Certificate in Cloud Computing is a popular course that aims to give students the abilities and understanding needed to work with cloud-based technology. This program is specially designed for those students who have a knack for cloud computing and wish to enhance their knowledge and skill bank in AWS, Azure & Google Cloud.
This certification program provides students the chance to learn and grasp the principles of cloud computing, which is becoming more and more common in today's digital landscape. The course provides a thorough understanding of cloud computing models, architectures, deployment patterns, and platforms. It also covers subjects like virtualization, database administration, cloud security, and data storage.
The curriculum of the program is created to be thorough, useful, and industry-relevant, with a focus on fostering the development of skills that are in high demand by employers. Graduates of this program possess the knowledge and abilities required to succeed in a range of positions in the IT sector, including those of cloud architects, engineers, consultants, and developers.
Key Highlights of Online Certificate In Cloud Computing
It is a certification program at the postgraduate level that covers the many facets of the cloud computing industry, which is currently very in demand.

Eligibility criteria require students to be graduates with 50% or more marks.

The duration of this postgraduate certificate program is around 6 months to 1 year.

Working professionals in the relevant field and relevant experience are encouraged to apply for the program.

The program's emphasis on giving an overview of cloud computing, including its definition, history, types, and numerous cloud models, is one of its strengths.

Students also learn about various cloud deployment and architecture types, including public, private, hybrid, and community clouds.

Additionally, it addresses Amazon, Google Cloud, and Microsoft Azure, among other cloud computing platforms.

Learners get a thorough grasp of the tools, techniques, and tactics necessary to harness the power of cloud computing in contemporary business contexts through practical projects and hands-on learning.
Eligibility Criteria for Online Certificate In Cloud Computing
To become eligible for the online certification course in cloud computing one must meet the below-mentioned eligibility criteria:
Graduation or equivalent

Applicants must have scored at least 50% marks in their graduation.

Engineering graduates are preferred.

Working professionals in cloud computing and IT can apply.
Duration of Online Certificate In Cloud Computing
The duration of an online cloud computing certificate program is around 6 months to 1 year.

Throughout the course, students will learn about various modules that have been specially created to provide them with the skills they need to succeed in this field.
Admission Procedure of Online Certificate Cloud Computing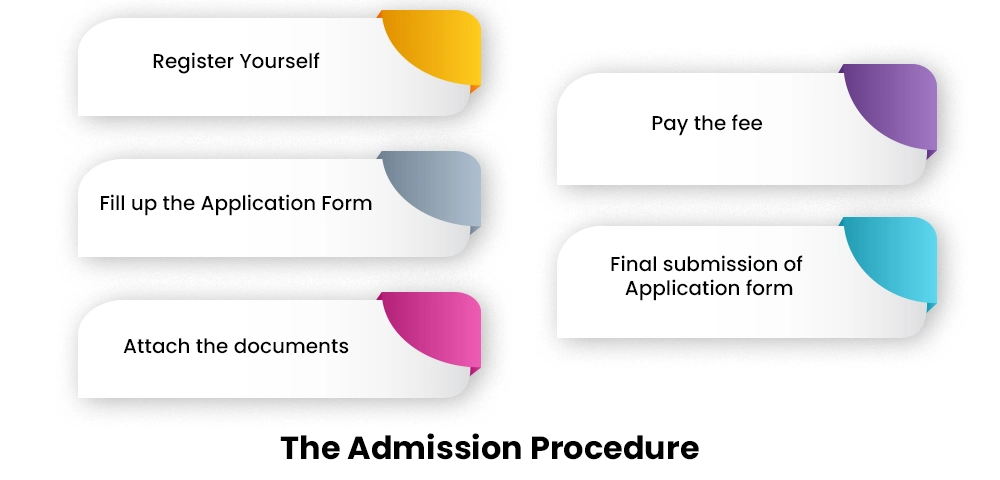 To get admission to a cloud computing certification program via online mode, one must follow the steps mentioned below:
Step 1: Go to the official website of your preferred university, in which one wishes to take the admission for the cloud computing certification course.
Step 2: Firstly register yourself on the university's admission portal, then start filling out the application form by entering the details asked in the form.
Step 3: Attach the required documents along with the admission form in the mentioned size and format.
Step 4: Finally pay the registration and course fee at the end of the application process via any online banking method like Net banking/Debit Card/Credit Card/UPI, etc.
Step 5: Finally submit the form that is complete in all respects, then wait for the admission confirmation mail pertaining to your admission confirmation.
Academic Fees of Online Certificate In Cloud Computing
The academic fees for online cloud computing certification range from 50k to 75k.

The academic fee can differ from university to university as per the benefits offered during this course duration.
If you're still unsure about which university to choose, check out the college vidya portal and compare universities based on several different factors before choosing which is ideal for your career.
Job Opportunities After Online Certificate In Cloud Computing
The Online Certificate in Cloud Computing program provides graduates with a wide range of job opportunities in the IT industry. Cloud computing is a rapidly growing field, and with more businesses moving their operations to the cloud, the demand for cloud professionals continues to rise. After completing this online certificate course one can apply for many job profiles, few are mentioned below:
| | |
| --- | --- |
| Cloud Architect | Cloud Security Engineer |
| Cloud Security Analyst | Cloud Engineer |
| Cloud Consultant | Cloud Network Engineer |
| Cloud Administrator | Dev Ops Engineer |
Top Hiring Firms for Cloud Computing Roles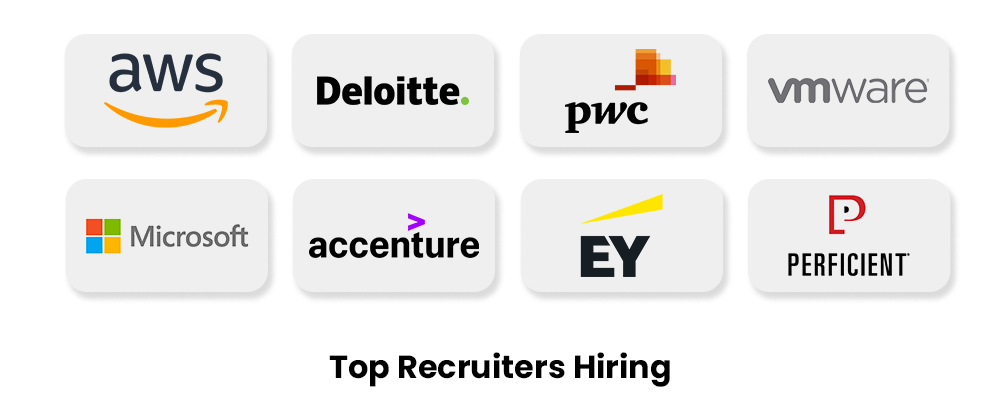 As the field of cloud computing is quite high in demand, there are various firms present out there hiring cloud computing experts. One gets quite a great salary package at this job profile. Some of the top recruiting companies are:
| | |
| --- | --- |
| AWS | Deloitte |
| PwC | VMware |
| Microsoft | Accenture |
| EY | Perficient |
Benefits of pursuing an Online Certificate In Cloud Computing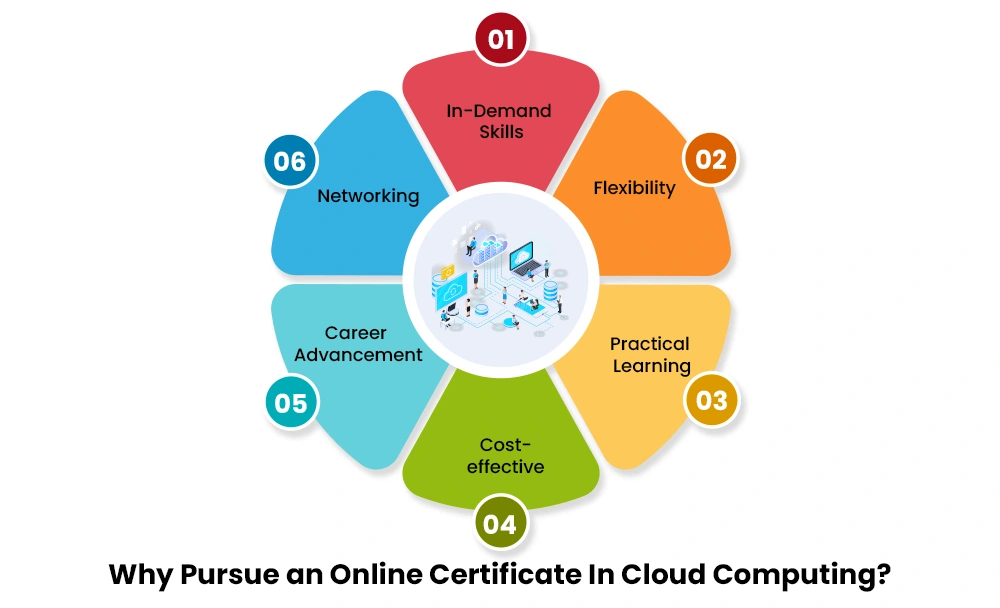 Some of the key benefits of pursuing an Online Certificate in Cloud Computing include:
In-Demand Skills:

With the increasing popularity of cloud computing, there is a growing demand for professionals with cloud computing skills. Pursuing an online certificate in cloud computing equips learners with in-demand skills that can lead to high-paying job opportunities.

Flexibility:

Online certificate programs offer learners flexibility in terms of scheduling and location. Students can learn at their own pace and complete coursework from anywhere in the world.

Practical Learning:

Online certificate programs in cloud computing provide practical learning opportunities through hands-on exercises and real-world case studies. Learners gain practical skills and knowledge that they can apply in their careers.

Cost-effective

: Pursuing an online certificate in cloud computing is often more cost effective than traditional on-campus programs. Online learners save on costs associated with travel, accommodation, and textbooks.

Career Advancement:

An online certificate in cloud computing can provide learners with opportunities for career advancement. Employers value employees with specialized skills, and obtaining a certificate in cloud computing can lead to promotions or job offers with higher salaries.

Networking:

Online certificate programs provide learners with opportunities to network with peers, instructors, and industry professionals. Networking can lead to valuable career connections and opportunities.