Let me begin by first asking you, do you know how many Distance Education Institutions are currently operational in India? Or let me reframe, other than IGNOU and DU-SOL, are you aware of any other institution that offers Distance Education in India?
99% of you would not know the answer or might have to think hard for it. It is a very very common misconception that only IGNOU and DU-SOL are the two institutions in the country that offer Distance Learning courses.
However, that is not the case at all! There are many other prestigious higher education institutions in the country that offer Distance Learning courses in various streams and specialisations.
Are Distance Education Institutions Good Other than IGNOU & DU-SOL?
Indira Gandhi National Open University (IGNOU) as well as Delhi University- School of Open Learning (DU-SOL) are both government institutions for distance education in India and hence are highly reputed because of the quality education that they offer. However, these are not the only ones.
There are several prestigious private institutions in the country that have been operating as distance education institutions and have been offering affordable yet quality education to the marginalised by themselves reaching out to them.
These private institutions are recognised and approved by the University Grants Commission (UGC) to offer distance education. It is UGC that makes sure that the institution meets all the quality and other standards required for distance education.
This is why any distance education that does not have UGC approval can not offer you courses in distance education. Even if it does, the degree that they offer will not be valid and will be considered fake. This means that you need to be very careful when choosing a distance college for yourself.
It is extremely important to check the government approvals of the college you take admission to. You can take help from Verify Portal by College Vidya. On this portal, you can easily check if your distance university is approved by the Govt. of India or not. The portal also has a complete list of distance universities in India. Not just distance universities, you will be able to find all the approved online and offline (regular) universities, colleges, institutes, and school boards on this portal.
Which Are the Top Distance Universities in India?
Other than the prestigious government-run IGNOU and DU-SOL, there are several top private universities in the country that have been providing distance education with the aim to make sure that each and every student in every corner of the country has the access to education.
Some of the top Distance Education Institutes/Universities in India are:
#1 NMIMS Global Access School For Continuing Education
NMIMS is India's apex distance-learning institution of the 20th century which has now ventured into being a 21st century ready Open and Distance Learning (ODL) platform with a dynamic blended mode of learning system to keep up with the latest trends by making most of the technological advancements of the current times. Their vision is to nurture their students into highly employable professionals that are honed and trained in accordance with the 21st-century demands.
NMIMS in its ODL mode offers certificate, diploma, bachelor's, and master's degree level courses in Management, Commerce, and Data Science domains. The university provides 100% placement support and assistance to their ODL learners to help them land great jobs as soon as their courses are complete.
#2 LPU Distance Education
Lovely Professional University is another very well-known and highly reputed university in India and especially in Northern India. The university has made a good name and fame in the country by providing excellent education as well as placements.
LPU with the vision to deliver affordable and accessible quality education has extended into the field of online and distance learning to reach students who can not afford regular education.
LPU Distance Education has earned several awards and recognitions and has shown impeccable performance in the Distance Learning field. The university offers certificate, diploma, bachelor's, and master's degree courses in Management, Arts, Commerce, Computer Science/IT, and Library Sciences.
Apart from academics, LPU has always focused on the holistic development of students with the help of extra-curricular activities. Many students from LPU have brought laurels to the country from international competitions such as Neeraj Chopra's Gold Medal from the Olympics.
The university offers excellent placement assistance to their distance learners. LPU Distance has placed more than 1300 students with the help of 190+ placement drives conducted with more than 100 companies.
The top recruiters at LPU Distance Education include Amazon.in, Wipro, Reliance Retail, ICICI Bank, Sony, HDFC Bank, LIC, RBS, and many more.
#3 Chandigarh University Distance Learning
Over the years, Chandigarh University has emerged to be one of the best Distance Universities not just in Punjab but across India as well. The Distance Learning School of Chandigarh University is operated by experienced leaders and top industry experts.
Chandigarh University offers its courses in the Open and Distance Learning (ODL) mode. With its ODL mode of learning, Chandigarh University has taken a step further towards excellence in learning through latest technology interfaces like a Learning Management System (LMS).
The University offers bachelor's and master's courses in Management, Commerce, Arts, and Computer Applications domains. Chandigarh University has been ranked amongst the top 5% universities in India to get the NAAC A+ accreditation. The university has also shown impeccable results in employability of their students with the help of their placement support services.
#4 IMT Centre for Distance Learning
Institute of Management Technology (IMT) Centre for Distance Learning is one of the top ranked distance education institutes in India for Management studies. IMT has more than three decades of expertise in the field of Management studies. In fact, IMT is the most recognised Distance education institute in India for Management courses.
IMT offers post graduate level courses in Management and short term certificate programs as well. The courses are delivered in a blended mode where the students also have access to video lectures by eminent faculty and other study material which is available 24×7. The students can also attend online learning sessions (OLS).
IMT is a highly reputed institution and hence has tie ups with big corporations such as Genpact, HCL, American Express, Infosys, Tech Mahindra, Vodafone, Indigo, Ericsson, Aditya Birla Group, RBS, and more.
The institute also invites industry veterans for webinars and expert talks to interact with the students and give them an insight into the real world management strategies and business techniques which helps them get a better exposure.
#5 Symbiosis College of Distance Learning (SCDL)
Symbiosis is one of the biggest education brands in the country when it comes to Management education. The institute even has an impeccable presence outside India as well. This gives SCDL an extremely high acceptance in the industry.
Apart from the post graduate programs in Management, SCDL also offers PG Certificate programs, Diploma, & Certificate programs as well in Management & Business. All these types of programs offer an excellent range of specialisations.
The mode of study is distance with an approach to deliver education in contemporary styles with a combination of digital and printed study books. The assessment system at SCDL is highly dynamic with a robust system of assessment for computer based assignments.
The greatest advantage is that the students can themselves schedule their exams and this allows them to decide the pace of study. With all these benefits and facilities, SCDL has been consistently named as one of the leading distance learning B-schools in the country.
SCDL focuses quite a lot on employment opportunities and then of course the reputation of the institute has helped them to receive an overwhelming response for recruitments from the industry with partners such as Cipla, Cognizant, HCL, IBM, Wall-mart, TATA, Wipro, and many more.
What is Distance Education?
In case you are not aware of what exactly is distance education or how is it different from online education, then in very simple terms, distance education is where you do not need to go to college or even no need to take any classes. Your university will send you all the required course material and all the other study material that you will need.
You can study at home at your own pace comfortably. In case of any queries or issues, you can contact the university. The university has support teams to resolve any sort of student queries.
The most important part is the examination mode. In case of distance education, students do not have to go to college for classes but for exams. The exams are conducted by the university either within the college campus or in designated exam centres in the city or within the jurisdiction of the college.
Importance Of Distance Education
There are still many people who are unaware of the extreme importance of distance education, especially in a country like India. Here, students are still not able to access quality higher education and there are numerous reasons for it.
Be it the financial constraints, geographical constraints, or demographical reasons like gender, for instance in some rural areas, girls are still not allowed to go out and attend regular schools/colleges. And there are many more reasons and problems that millions of students face in India that become the obstacles in their paths for higher education.
Hence, for such students, distance education is a blessing as they get the opportunity to complete higher studies with quality education and that too from prestigious universities, which otherwise these students might not have been able to access.
Therefore, distance education is of high importance in India. It is distance education that has made it possible to reach to the last mile and to each and every student possible.
Some argue that online education also offers similar accessibility and benefits as distance education. However, they miss out on a very important point here which is that not everybody has the infrastructure required for online education. The internet accessibility in remote areas of India is next to none and not everybody can afford expensive digital gadgets and assets.
Thus, the importance of distance education in India can not be ignored. Distance education is a great advantage in the Indian diaspora. However, it is not just beneficial for the remote population. There are some amazing practical benefits that make distance education an ideal choice for most of the urban population as well.
Benefits of Distance Education
Following are some of the top advantages of Distance Education: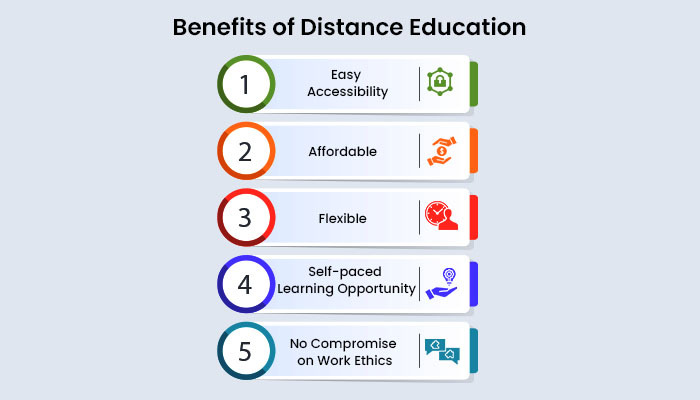 Lack of accessibility is one of the major reasons why students do not pursue higher education. However, the distance learning courses can be easily accessed by anyone and from anywhere. Students living in the remotest of areas have access to quality higher education, all thanks to distance learning.
High tuition fees is another major reason for students to not pursue or drop out of higher education. But with distance learning this problem is completely solved as it is extremely cost effective. Distance learning is the most affordable option for higher studies in India as you only have to pay for the course material that you receive and a few other small fees like registration fee, exam fee, etc.
Distance learning is extremely flexible as you do not have to abide by any sort of time table or schedule for your course. You can study at whatever time you want and whatever syllabus topic you want. You do not have to necessarily attend live interactions or lectures. Only the semester examinations are scheduled by the university and everything else the students can do according to their own schedule and availability.
Self-paced Learning Opportunity
Since there is complete flexibility offered to the students, they have the opportunity to study the course at their own pace. You have the full freedom to study whatever part of the syllabus in whatever order according to your own convenience. You can study at your own speed and take breaks however you feel. You can focus more time and effort on topics you have difficulty in while spending less time and effort on the topics you're well versed in.
No Compromise on Work Ethics
If you are a working professional, then a distance learning course is a great opportunity as the flexibility you get helps you comfortably continue your job with no obstacles. Since you do not have any commitments with the college like live classes or deadlines, you do not have to compromise with your work schedules at all.
Conclusion
So, now that you know that there are many alternatives for IGNOU and DU-SOL and that these two are not the only distance learning institutions in the country, you have many options to choose from. The distance learning institutes mentioned in this blog are top-notch and frankly better than these two in terms of services and benefits offered.
This blog mentions only 5 of the top institutes, however, there are many more. You can get a complete list of the approved distance learning institutes on College Vidya where you can get complete information about all these colleges.
You can even compare them using the 'Compare' feature and choose the one you think is the best and directly go to the official website of your desired chosen college from the College Vidya website. You do not need to search here and there for the correct website since College Vidya does that for you.