Career Objective plays an integral role when you apply for any job position as this describes your experience and skills and this is your first impression in front of the recruiter. Your chance of getting hired can be increased if you write an effective and catchy career objective. In this blog, you will find all the nitty-gritty related to the career objective or resume objective and examples for different industries.
What Is Career Objective?
Career Objective is the introduction part of your resume and it holds utmost importance as it introduces you and your profile. Your career objective or resume objective shows whether you are fit for the job role you are applying for or not. Also Read | Seek Online Career Counseling!
Employers generally notice this introductory part of the candidates to judge the employment and experience history of the candidates. These employers tend to hire employees that are driven to understand the job.
Hence, it is essential for candidates to customise their career objectives as per the role they are applying for.
How Can You Write A Career Objective?
When you start writing a career objective or resume objective, you must keep in mind your ambition, career goals, and professional experience. Also, it is always a good idea to start with your strongest traits and then lead towards how your education helped you in gaining the work experience and how it can help you in this particular job.
You might be a fresher or shifting your career, an effective career objective can help you in ways you didn't imagine before. This is your job to make employers feel that you are the perfect fit for the job they are hiring.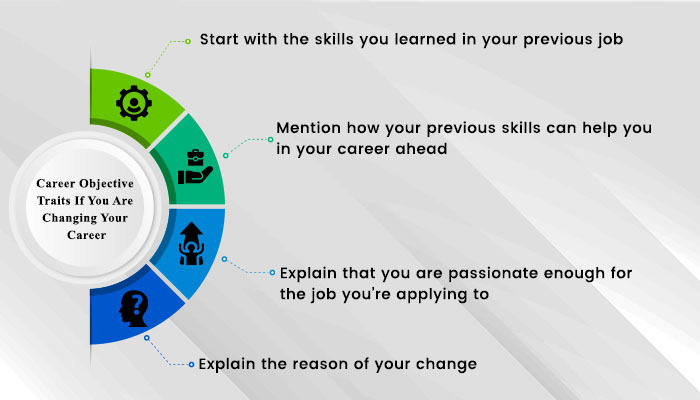 Most importantly, your career objective is the pitch of your resume that's why you need to understand some of the traits about yourself and the job and keep in mind these golden rules to impress recruiters:
Understand your aim or calling, your strengths and weaknesses as well.

Try to understand why you want to apply for that job and then show your willingness to do that job.

You can also mention the position you are applying to as this will increase your chances to get noticed by recruiters

Always try to keep your career objective short and crisp and it can be around 50 words or 2-3 sentences.

Always avoid using first-person pronouns in your sentences such as I or me. For instance, you can write "Coordinated with the writing and design team" instead of writing "I coordinated with the writing and design team."
Also Read | 7 Best Study Tips on How to Stay Focused!
Examples Of General Career Objectives for Resume
In order to build an impressive resume, you can start with these strong career objectives for resume:
To obtain a challenging position at a recognised firm where I may grow my knowledge, abilities, and learnings.

Find a responsible job opportunity where I can put my learning and skills to good use while contributing to the company's success.

Looking for an entry-level position in a high-level professional atmosphere to start my career.

To find work with a respected company where I can put my abilities and business studies background to the best use possible.

I'm looking for a difficult job with a multinational corporation.

A well-organized and hardworking individual seeking practical experience in a responsible job.

Use my interpersonal talents to help a company that focuses on customer pleasure and experience reach its goals.
Also Read | Highest Paying Salary In India!
Why Do We Write Career Objectives In Our Resumes?
A career objective is the first thing that interviewer notices in your resume and that's why it must be catchy and relatable to your job profile. The prime objective of a career objective is to define your goals. You must precisely deliver what you hope to achieve through your career goal. You can supplement these career objectives for freshers with your skills, experience, and interests. You will be able to set clear expectations for both yourself and the recruiter with the help of this.
How Should A Fresher Write A Career Objective?
Writing an effective career objective can be a bit difficult task keeping in mind that they do not have much industrial experience. You want it to be just right to strike a chord with the interviewer, but not too much. So, are you looking to start a new career and want to update your resume?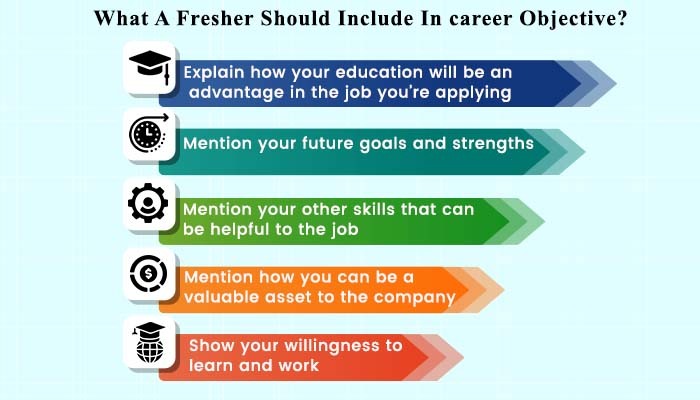 It goes without saying that recruiters will pay close attention to the career objective on your resume. They will attempt to deduce your personality, future goals, and aspirations from it. So, be mindful of everything you say. Don't worry, we've got your back. Together with us, create a meaningful and persuasive career objective.
Mention your future goals and strengths

Explain how your education will be an advantage in the job you're applying

Mention your other skills that can be helpful to the job

Mention how you can be a valuable asset to the company

Show your willingness to learn and work
Some of the major examples of career objectives for freshers In Resume
If you are a fresher and are wondering how to write a career objective in a resume that helps you in gaining an employer's attention. Then don't worry, we got you covered because we have some good examples to start with your career objective:
Looking forward to working in a challenging position in a reputable organisation where I can learn new skills, broaden my knowledge, and apply what I've learned.

A highly motivated and hardworking individual seeking a position of responsibility in a reputable organisation.

To be given an opportunity to maximise my potential and contribute to the growth of the organisation.

Seeking a position in a company where I can advance my career and develop a valuable skill set.

Seeking a position in an MNC where I can develop my skills and help the company grow.

Create value for my prospective employer through my dedicated and diligent efforts.
How to Write A Career Objective If You Are Changing Your Profile?
If you are stuck in one industry and are willing to make a shift in your career then your career objective must describe the reason for the shift and how your current job profile will help you in carrying forward the tasks in your desired profile. It becomes a bit difficult to change the industry in the beginning, however, it is possible if you show that you are actually interested in the field you are shifting and possess the required skills to do the job efficiently.
Also, remember to read the job description to which you are applying and then mould your resume as per the job profile. Make use of your current job profile to your advantage and explain how your previous experience helped you in gaining skills. When you are writing a career objective then always start with a strong trait and strong skill of yours. The last and most important tip is to keep your description short by cutting the chase.
Career Objective Examples In Resume for Different Industries
Career Objective for Traditional & Digital Marketing Career Resume
A Marketing Associate with a strong understanding of both traditional and digital marketing to handle marketing activities efficiently and desires to work with Xyz Inc.

An extremely creative thinker and social media enthusiast is looking for a position as a Social Media & Content Marketing Analyst to transform technical and digital information and processes into influential stories.

An MBA specialised in online marketing, working knowledge of Google Analytics and Adwords, and 3+ years of experience developing marketing campaigns is seeking the position of Digital Marketing Manager at Xyz Inc.
Career Objective for Banking & Finance Career Resume
A banking & finance graduate seeking a position as Financial Analyst with strong analytical and quantitative skills that can be put to use in making financial decisions in a fast-paced environment.

Looking forward to a rewarding Entry Level Business Analyst position with ABC company to put my skills and experience in banking and finance to use in the fast-paced business environment.

A passionate individual seeking a senior-level position in a banking firm where I can use my 5+ years of experience, negotiation, and oratory skills, to meet sales targets. MBA in Finance from Xyz University.
Career Objective for Sales & Marketing Career Resume
An MBA with a specialization in Marketing, 5+ years of experience, and impeccable communication skills seeking a position of Sales Associate in your company.

Seeking the position of Associate Manager-Sales to utilise my 5+ years of experience as a sales manager, proven customer service experience, and strong communication skills.

Possess more than 7 years of experience in sales and customer relationship management, now looking forward to working with Xyz company in the role of Regional Sales Manager.

Seeking an Associate Sales Manager position at Xyz Inc., where four years of sales experience, team leadership, customer relationship, and communication skills will be beneficial in developing effective client relationships and sales planning.
Career Objective for IT career Resume
Looking for a challenging position in the IT industry to make use of my technical and management skills and 4+ years of experience in the IT sector.

A B.tech graduate with a specialization in Computer Science desire to work as a Full Stack Developer and use frontend and backend architecture skills to create something innovative.

An outstanding academic record, the ability to comprehend and test software, working knowledge of Azure, a solid understanding of core internet technologies, and a willingness to work as a System Engineer.

Seeking a challenging position as a Data Scientist and having an MCA degree with a specialization in Data Science and 4+ years of experience.
Career Objective for Management Career Resume
With an MBA degree and an internship experience in an MNC, developed strong leadership and management skills. Now seeking a management position to utilize my analytical skills and work on my innovative ideas.

A result-oriented, intellectual, well-organized, and passionate individual is seeking an open management position with Xyz company in order to leverage years of experience to meet the company's strategic needs.

A highly motivated individual with impeccable organizational skills seeking to work in a managerial position to deploy 6+ years of work experience in the same field.
Career Objective for Supply Chain/Logistics Career Resume
An ardent Supply Chain Analyst with experience of more than 10 years and possess skills related to freight optimization, cost avoidance, trade compliance, and others. Looking for a challenging job role in the same field.

Experienced Logistics Coordinator with demonstrated expertise in Data Management, Contract Negotiation, and ensuring effective shipper-carrier communication. I'm seeking a Logistics Manager position with ABC company.

Looking forward to working as a Supply Chain Manager to deploy my proven experience in freight forwarding, supply chain management, and transportation.
Career Objective for Tour & Travel Industry Resume
Extremely ardent travel consultant with more than 5 years of experience in creating travel itineraries, making domestic air arrangements, and now seeking a job in the same field.

A self-driven Floor Supervisor with prior experience in recruiting and training over twenty-floor team members. Got promoted as an Assistant Floor Manager within a year. Looking for a more challenging position in a rewarding environment.

Seeking a job as a travel consultant in a rewarding organization and having skills and having skills of handling the entire process from lead generation to end-user sales.
Career Objective for Journalism Career Resume
A self-driven copywriter with 5 years of experience in managing marketing materials such as websites, brochures, press releases, magazines, and so forth. Looking for copyediting job positions in an MNC.

A MAJMC graduate with internship experience as a trainee journalist in a local daily newspaper, and experience in covering spontaneous news for both digital and print media.