Don't fall for fake promises… Read reviews
Hello everyone I'm Raushan Singh, and today I wanted to give my valuable review for Chandigarh University so that it will help other students to get a better idea of the university.

We give reviews only in two conditions either we are too happy with the kind of outcome we were looking for or it was a blunder and ruined everything you expected, and I believe in writing reviews to give a value proposition.
So without wasting time I better get started, I was a student of Chandigarh University (CUIDOL), of the program distance MBA, and here I'm sharing my learning experience.
Placements
3.9 stars out of 5 as this university prepares you in and out for the best performance both for examination and facing an interview. Along with the subject knowledge they provided me soft skill training so that I can build up my confidence and face interviews and give my best shot. I even got placed in one of the top MNC by taking all of its online training sessions and now performing well. Even if it's distance education it has given me great experience that was not expected.
Approvals
I didn't know that approvals are so important but when I search for them I get to know the importance of approvals before choosing any university and there I came to know that this university is UGC-DEB approved, So it surely provides valid courses and not a fake university as there are many. Also, it has got NAAC 'A+' accreditation so yeah shows the best curriculum too. Ahh… 4.5 stars, they deserve it.
Faculty
I would like to give 4 stars for the faculty as I was so confused about my learning when it comes to talking about distance program, but in Chandigarh University I get great learning experience as the faculties were experienced and all the lectures are valuable, Also there is a query section where we can even ask our queries during the live lectures. There were guest faculty lectures too which help me in getting real-time industry exposure.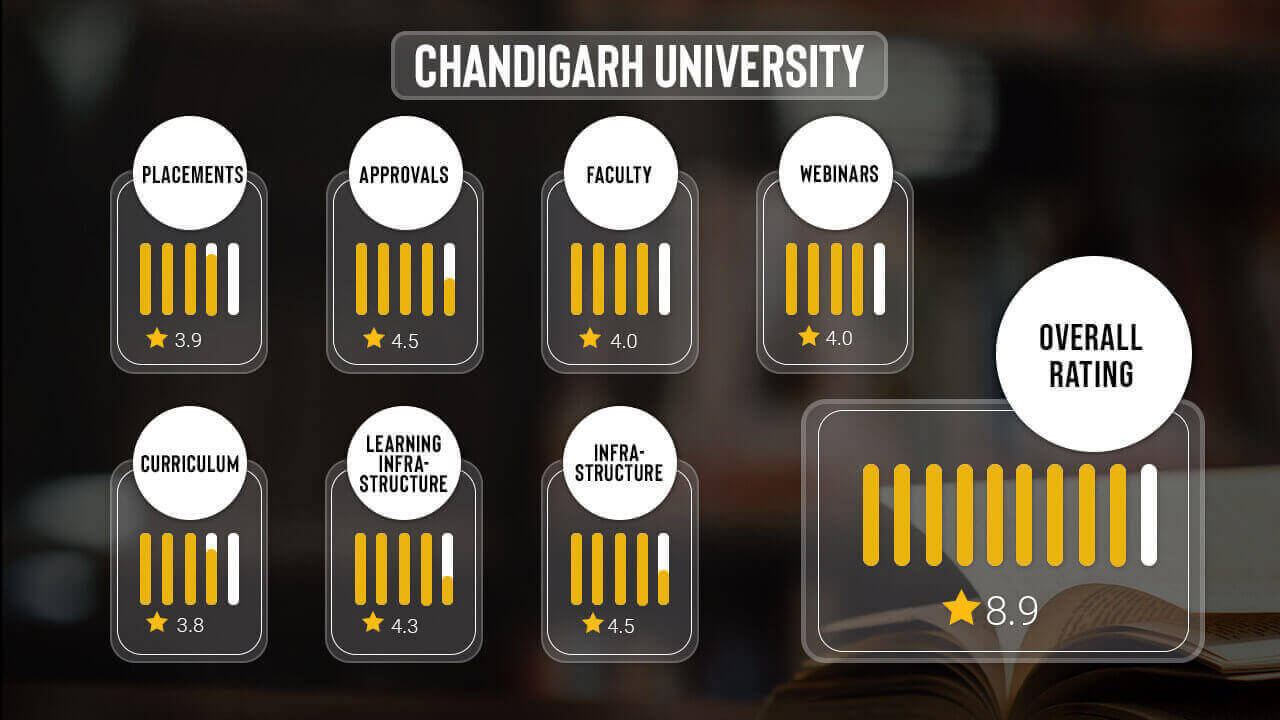 Curriculum
3.8 stars, Earlier I was so confused with the type of curriculum in distance & online mode program but after getting enrolled in the distance MBA program of Chandigarh University I realize that now the distance education system has drastically changed and the curriculum also changes with time and need.
Webinars
At the time of my classes, the university conducts various seminars by the experts of the industry and guest faculty on hot yet essential topics that helped me a lot in getting the core practical knowledge of the program. For a webinar, I would say a complete 4 stars.
Learning infrastructure
Bygone are the days when it was all about books when it comes to talking about distance learning but today it has changed and even my perspective has also been changed with the new way of learning. Now there are live lectures, query sections, industry expert faculty, e-books, and many more.

All of it makes my learning like I'm taking live lectures in the classroom, I can ask any question, oh it was a great experience, I give 4.3 stars for the Learning experience as it literally gave me the quality of education that really helped me in learning and understanding.
Infrastructure
Oh yes, there is online infrastructure too which is quite easily accessible, everything is placed in a way that even a lame man can understand. All the required information you needed it's on the university website so there is nothing missing as far as I am concerned. Wait wait… it's absolutely 4.5 stars without a doubt.
Value for Money
If you're looking for any kind of distance & online learning programs then I would suggest going for the best university listed and I believe Chandigarh University is one of them. It is best in providing management courses and other valuable courses. So take my words and go for it or go for other best universities but make sure to look for these essential points.