About distance B.Com of Chandigarh University
Chandigarh University offers distance B.Com to all those who have completed their intermediate level of education or passed the exams of 10 + 2 with a minimum percentile. Distance B.Com is a 3-year undergraduate course for all those who are willing to establish their careers in the fields like Banking, Finance, Accounting, and others.
It is not necessary that you will end up being a banker or an accountant only after B.com, you can even shift your career choice after distance B.Com very easily. Students who develop an interest in Marketing or in writing can easily go for courses like MBA or MA.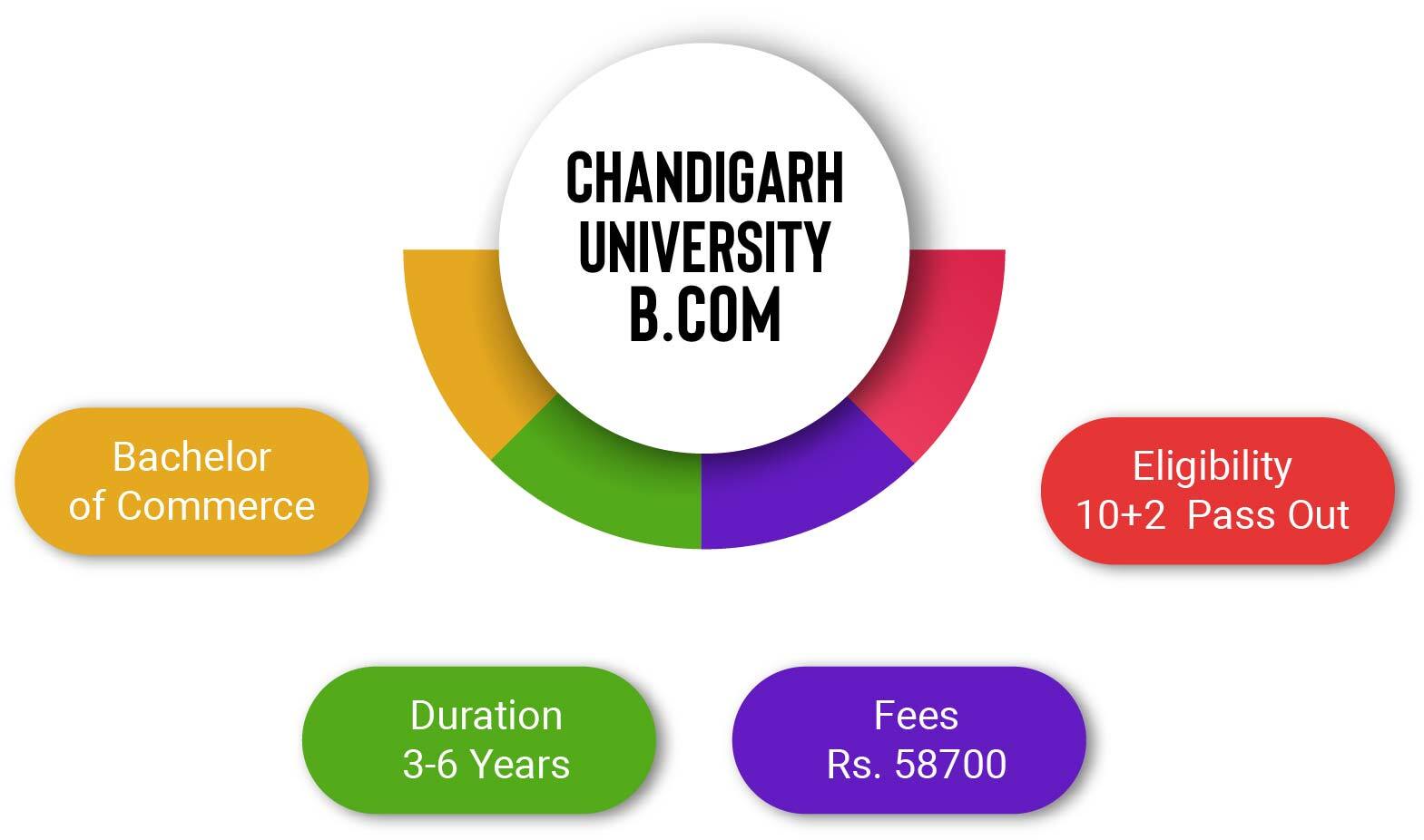 Chandigarh University is one of the most popular universities accredited by NAAC with an A+ Grade. Chandigarh University provides distance B.Com under 6 semesters dedicating 6 months to each semester. Distance B.com offers subjects like Basic Accounting, Micro Economics, communication Skills, Computer Fundamentals, Human Resource Management, Business Communications, etc.
This distance learning program will help students in developing employable skills. B.Com from distance learning has the biggest advantage that those who are already working in a firm or in a business can easily complete their studies because of its flexible timing and self-study material. This can even help them in shifting their career or in getting high profile jobs in giant firms
About Chandigarh University
Chandigarh University is one of the most prestigious universities in Punjab and provides experienced faculty and industry experts as academicians. This university is accredited by NAAC with a prestigious A+ grade.
Chandigarh University is famous for its excellence in research, interdisciplinary learning, innovation, and promotion of young talent. This university has been granted the status of Asia's fastest growing private institution, and also gained the recognition of Limca Book of records to invite numerous companies for placements.
About Distance B.Com admission in Chandigarh University
Chandigarh University provides both Undergraduate and Postgraduate degree courses of streams like Science, Commerce, Humanities. Students who are willing to take admission in the distance learning courses offered by Chandigarh University are supposed to register themselves on the official website of Chandigarh university of distance education.
Students need to fill the form on the website of the university by submitting all the necessary details and documents. Admission of students starts at the beginning of every academic year or in May. A student can find all the requirements and procedures of admission just by visiting the website.
Fee structure of Chandigarh Distance B.Com
The total fee of semesters 1st, 3rd, & 5th is Rs. 12,700
The total fee of semesters 2nd,4th,& 6th is Rs. 10,200
Duration of Chandigarh Distance B.Com
Distance B.com is a UG course and it takes a minimum of 3 years to be completed. Distance B.Com from Chandigarh University has been divided into 6 semesters of 6 months each.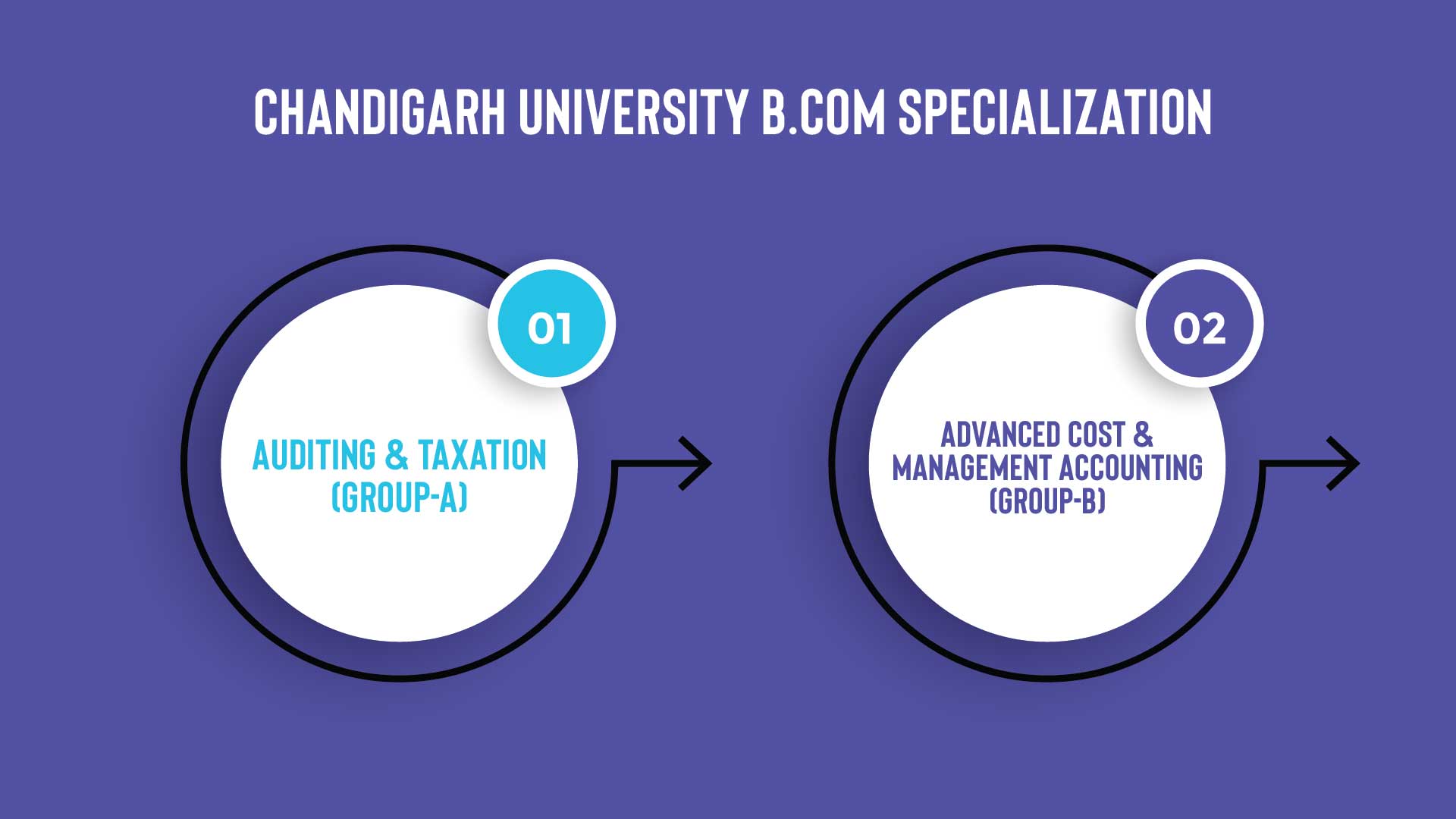 Specific Details of Chandigarh Distance B.Com
| | |
| --- | --- |
| Degree | Bachelors |
| Full-Form | Bachelors of Commerce |
| Duration | Course Duration of Distance B.Com is 3 Years. |
| Age | No specific age limit |
| Minimum Percentage | Passing marks |
| Subjects Required | 10+2 in any stream from a Recognized Educational Board |
| Average Fees Incurred | INR 17000 – INR 25000 per annum |
| Similar Options of Study | B.Com, Distance MBA, Distance BBA, Distance BCA, etc. |
| Average Salary Offered | INR 4.36 L per annum |
| Employment Roles | Executive Assistance, Chartered Accountant, Operations Manager, Accountant, Account Executive, Assistant Finance Manager, Assistant Financial Analyst, Budget Planning |
| Placement Opportunities | Marketing, Public Accounting Firms, Investment Banking, Merchant Banking, Banks, Foreign Trade, Industrial Houses, Educational Institutes, Inventory Control |
​Key Highlights
Chandigarh University is accredited by NAAC with A+ Grade.
Chandigarh is one of the most famous & recognized universities of Punjab which provides both UG & PG courses from distance learning.
The duration of distance B.Com is 3 years and Chandigarh University has divided this into semesters.
Students who have completed their 10 + 2 with a recognized board and willing to work in the commerce domain can go for distance B.Com.
Chandigarh University's distance education has been approved by UGC-DEB and all its courses are valid everywhere.
Students can work in fields like Marketing, Accounting firms, Chartered Accountancy, Finance, Product Management, Business, and so & so forth.
Distance B.Com offers subjects like Basic Accounting, Micro Economics, Business Communication, Advanced Accounting, etc.
Chandigarh University has designed distance B.Com in a way that every student develops employable & management skills required to work in any prestigious firm.
Syllabus of Distance B.Com from Chandigarh University
Semester – 1

Semester – 2

Semester – 3

Codes
Subject Title
Codes
Subject Title
Codes
Subject Title
BCM101
Basic Accounting
BCM106
Human Resource Management
BCM111
Cost Accounting
BCM102
Business Mathematics and Statistics
BCM107
Principles of Management
BCM112
Management of Financial Institution & Services
BCM103
Micro Economics
BCM108
Business Communication
BCM113
Business Environment
BCM104
Computer Fundamentals
BCM109
Macro Economics
BCM114
Legal Aspects of Business
BCM105
Communication skills
BCM110
Advanced Accounting
BCM2**
Elective- 1 Group (A/B)

BMS101
Environmental, Waste and Disaster Management
Semester – 4

Semester – 5

Semester – 6

Codes
Subject Title
Codes
Subject Title
Codes
Subject Title
BCM115
Corporate accounting
BCM119
Management Information System
BCM123
International Business
BCM116
Financial Management
BCM120
Corporate Strategy
BCM124
Financial Market operations
BCM117
Mergers and Acquisition
BCM121
Banking Theory & Practices
BCM125
Insurance and Risk management
BCM118
Company Law & Secretarial Practice
BCM122
Income Tax Law & Accounts
BCM126
Investment Analysis and Portfolio management
BCM2**
Elective- 2 Group (A/B)
BCM2**
Elective-3 Group (A/B)
BCM2**
Elective-4 (A/B)

BMS102
Gender Equality and Women Empowerment
BMC127
Project work
​Career Opportunities Available After Distance B.Com
B.Com opens a plethora of job and career opportunities for your future. You can either directly go for jobs right after B.Comor go for higher studies in any discipline of commerce and humanities stream. Here is the list of career opportunities to pursue after distance B.Com:
| | | | |
| --- | --- | --- | --- |
| ​Taxation specialist | ​Assistant Finance Manager | ​Chartered Accountancy | ​Assistant product manager |
| ​HR Manager | ​Risk Manager/Analyst | ​Retail Manager | ​Assistant Marketing Manager |
You can also pursue courses like distance M.Com, MBA, MA after the completion of distance B.Com.
Let's wind up
B.Com is one of the most versatile courses for commerce students because it teaches you almost all the skills that are required to work in a prestigious firm. Students can pursue their careers in a wide array of fields and distance B.com offers enough leverage to study at your own pace. Chandigarh University also provides UGC-DEB approved education which means your degree is valid everywhere.