Distance MSc (Master of Science) course is a 2-year program where you study the body and its organs, chemical equations and technology things. Students who want to pursue their higher studies without attending the regular classes due to some personal issues can opt for a distance M.Sc course.
This two-year postgraduate degree course develops the scientific temperament in the students who are pursuing it. Distance MSc courses offer advanced theoretical knowledge and practical knowledge is also developed to a greater extent. Focusing on the scientific and theoretical subjects, the course offers a research-based curriculum to the students who are pursuing MSc distance learning.
MSc Distance Education In India Overview 2023
The Earth, air, or activities of the whole Universe. How does it work? The different creatures, the human body, plants. Every living and non-living phenomenon has the science behind it. The science we study in the classrooms is just the scratch of the surface. The scientific principles are way more intricate and deeper to be pursued in the master of science programs.
Unlike Distance BSc course which covers a vast topic of physics, chemistry or maths, in distance MSc courses totally focus on a particular area of a specific topic. The area of concentration of MSc covers a particular topic with depth and comprehensive research. To finally complete the course, one has to submit a thesis to complete the course.
Many of the students are not interested in pursuing a regular course due to some the reasons like being a working professional one is unable to attend regular classes and maybe some think of studying at home in their comfort zone. Most of the students plan to prepare for government jobs and are unable to attend regular classes.
As you have visited the blog of MSc, you must have done a BSc or must be looking to make a career in the field of science. Thus, the scientific quest inside you must be making you curious about the course. We will break this blog step by step to provide every piece of information related to the distance MSc courses. So, just follow the blog whole blog till the end and if any queries please comment down below:
MSc Distance Education Program Structure/Specialization
Distance M.Sc. course covers many subjects like Mathematics, Computer Science, Botany, Zoology, Electromagnetic, Organic Chemistry, etc. So, one can have great choices amongst the vast choice of subject specialization.
If you want to pursue two courses at a time or to get degrees by specialising in a particular domain, Distance Education is the best. It is also best for working professionals as it is flexible. One can take classes anywhere or even on weekends.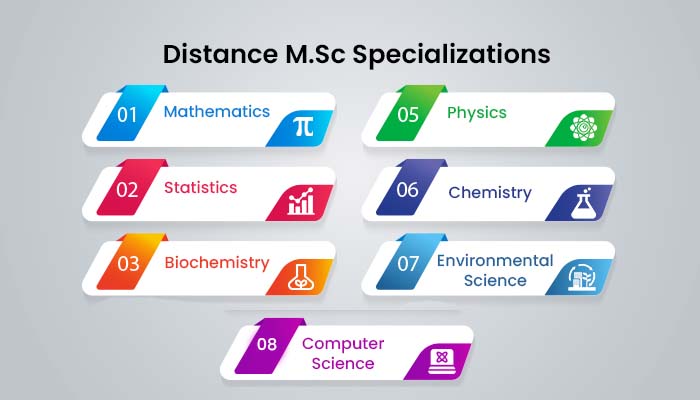 The courses offered on distance M.Sc. are similar to the courses of regular M Sc. The whole curriculum is completely similar to the regular M.Sc. both degrees are equivalent to each other. Distance M.Sc. offers specialization in various disciplines. Some of the specialized courses are mentioned below for your reference.
| | | |
| --- | --- | --- |
| MSc In Maths | MSc Statistic | MSc In Physics |
| MSc In Biochemistry | MSc In Mathematics | M.Sc In Chemistry |
| MSc In Botany | MSc In Computer Science | MSc In Environmental Science |
The complete distance M.Sc. program is structured within 2 years. Aspirants seeking distance M.Sc. program focus only on one subject chosen by itself, which is divided into various categories related to the subject. Distance M.Sc. is flexible as it's a part-time course where everything is done remotely. It deals with the detailed study of a particular subject.
​Best Universities/Colleges In India for MSc Distance Course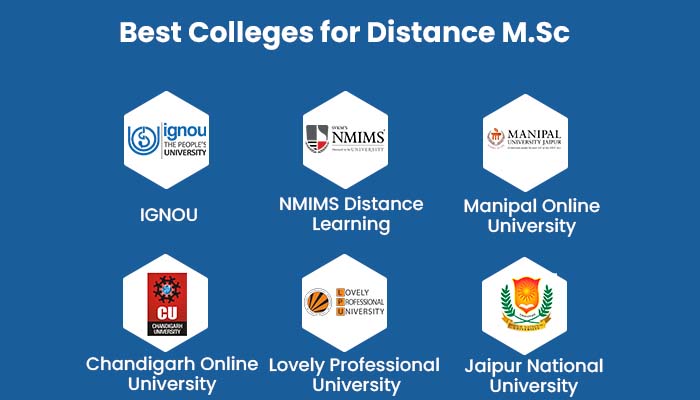 Online/Distance University
Course Name
Education Mode
Fees

Nmims Distance Learning

MSc In Applied finance

Distance/Blended

₹49500

MSc In Artificial Intelligence (AI) And Machine Learning (ML)

Distance/Blended

₹150000

Manipal Online University

MSc In Data Science

Online

₹65000

Chandigarh Online University

MSc In Data Science

Online

₹30000

Lovely Professional University

MSc In Mathematics

Online

₹13000

IGNOU

MSc In Counselling and Family Therapy (MSCCFT)

Distance

₹33,600

MSc In Food and Nutrition (MSCDFSM)

Distance

₹32,400

MSc In (Mathematics with Applications in Computer Science)

Distance

₹26,400

​

Jaipur National University (JNU)

MSc In Mathematics

Distance

₹67,200
​What Are the Benefits of the MSc Distance Education Courses?
Distance M.Sc course is favourable for the working professionals as most of the students start working after graduation, and if they are working on science-based projects or technical jobs, Distance M.Sc is best suitable for them.
Also studying science virtually gives a lot of exposure and information online. With computer graphics and 3D effects, it is much easier to understand a particular topic.
It is flexible so you can take up the weekend classes or at night, whenever you're free.
Distance M.Sc. courses enable you to study with experts all around the world. Only the expert on a particular topic gives the classes so that it ensures the best deliverance and clears all the doubts about the topic.
MSc distance education also enables you to understand complex theories and logical reasoning. It enhances your skills by giving more examples to make them clear and precise.
MSc Distance Education Fees Detail 2023
The fee taken for the course of distance MSc courses is away less than the regular mode. The total money saved when pursuing the distance MSc course ranges up to 40% as the cost of boarding and lodging costs.
The fee structure of M.Sc. distance courses varies from university to university and also depends on the course you've chosen. The average fee is around INR 10,000- 75,000 per annum. This fee may be collected semester-wise or annually.
MSc Distance Education Duration
The duration of the Distance MSc courses is 2 years. There are a total of four semesters of six months each. However, 2 years is the minimum duration for a distance MSc degree course. There are many many colleges that offer the opportunity for students to complete their distance MSc degree in a maximum of 6 years.
So, you can complete your distance MSc degree in a time span of 2-6 years. Such time flexibility makes distance MSc degrees a great aid to those who wish to pursue higher education but are bound by time constraints.
MSc Distance Education Eligibility
The minimum eligibility criteria to apply for the Distance M Sc courses are mentioned below:-
1- The candidate should have secured a minimum of 50% marks in their graduation.
2- The Candidate should be a BSc graduate from a recognized university in the relevant stream.
MSc Distance Education Admission Open 2023
The registration process for admission in Distance MSc programs has already begun for the year 2023. The entire admission can be completed online through the official website of the college you are taking admission in.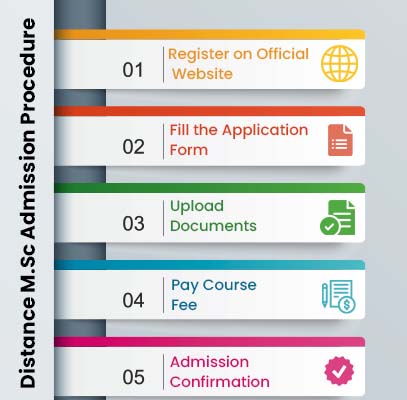 Given below are the steps that you can follow for the online admission procedure in MSc Distance courses
Step 1- Visit the official website of the distance college you are taking admission in.
Step 2- Register yourself by filling in a few basic personal details.
Step 3- You will get your sign-in credentials to log in to the website.
Step 4- Click on the direct admission link or select your preferred course and click on the apply now button.
Step 5- Fill out the admission/application form with your personal and academic details.
Step 6- Upload your original documents in the form of scanned copies.
Step 7- Pay the registration fee followed by the academic fee (for the first semester/year as per your respective college rules)Step 8- You will receive your acknowledgement slip with your enrollment details through which you can check the status of your admission or course at any point of time.
​MSc Distance Education Syllabus 2023
MSc Distance Education has various specializations to pursue such as Mathematics, Physics, Chemistry, etc. The syllabus varies from subject to subject.
Here we are providing the syllabus of MSc In Maths distance education:-
MSc Mathematics Syllabus – Semester I

MSc Mathematics Syllabus – Semester II

Theorems on Principle, Maximal and Prime Ideals
The Riemann – Stieltjes Integral
Isomorphism Theorems and its Related Problems
Finite and Infinite Sets
Linear Differential Equations of nth Order
Modeling with Recurrence Relations with Examples of Fibonacci Numbers

Recapitulation: Rings, Some Special Classes of Rings
Phragmen-Lindel of theorem
Alexandroff 's One Point Compactification
First-Order Partial Differential Equations
Second-Order Partial Differential Equations
The Conjugate Space H* of a Hilbert Space

MSc Mathematics Syllabus – Semester III

MSc Mathematics Syllabus – Semester IV

Calculus on Euclidean Space
Volterra and Fredholm Integral Equations
Two-dimensional Flows of Inviscid Fluids
Numerical Solution of Partial Differential Equations
Meaning of First and Second-order Ordinary Derivatives
Abstract Group Theory

Lebesgue Integral
Convergence Theorems and Lebesgue Integral
Riemannian Metric. Connections. Riemannian Connections and their Components
Partitions: Definition of Partition of a +ve Integer
Asymptotic Values and Asymptotic Curves
Planarity:- Plane and Planar Graphs
The syllabus of MSc distance learning of Physics is given below:-
| | |
| --- | --- |
| MSc In Physics (Year 1) | MSc In Physics (Year 2) |
| Mathematical Methods | Nuclear Physics |
| Classical Mechanics | Relativity and Cosmology |
| Quantum Mechanics | Classical Electrodynamics |
| Electronics | Advanced Optics |
| Solid State Physics | Statistical Mechanics |
| Atomic Spectroscopy | Group Theory |
| Molecular Spectroscopy | Astrophysics |
The syllabus of MSc chemistry distance learning is given below. This syllabus is based on Distance M.sc in Chemistry taught in various UGC-DEB approved university:-
Semesters

MSc In Chemistry (Subjects of Study)

SEM. I
Inorganic Chemistry I

Organic Chemistry I

Physical Chemistry I

Analytical Chemistry I

(ICT learning in Chemistry, qualifying course)

Chemistry Lab I – Inorganic-Analytical

Chemistry Lab II – Organic

Chemistry Lab III – Physical

SEM. II
Inorganic Chemistry II

Organic Chemistry II

Physical Chemistry II

Principles of Spectroscopy

Chemistry Lab-IV – Inorganic – Analytical

Chemistry Lab-V – Organic

Chemistry Lab-VI – Physical

SEM.III
Group Theory and Applications of Spectroscopy

Organic Synthetic Methods

Chemistry of Materials

Nuclear & Radiochemistry

Chemistry Lab VII – Inorganic/Analytical

Chemistry Lab VIII – Organic

Chemistry Lab IX – Physical

SEM. IV
Analytical Chemistry – III

Radioanalytical & Electroanalytical Methods

Analytical Chemistry – IV Separation Methods

Analytical Chemistry – V Hyphenated methods and automation

Analytical Chemistry – V I: Computational Chemistry
​​Scope of Distance M.Sc Courses
There is a huge scope of distance M.Sc. courses as it offers numerous subjects to study. There's a list of choices amongst the courses offered in M.Sc. distance. Basically distance M.Sc. gives you a lot of online exposure and real-life experience.
Also, as per the study says a student can learn quicker and more effectively by giving live examples so we on distance learning give technology-based classes which are again helpful if it's about science and technology.
One can have a job in technology or can become a zoologist if interested in the study of animals. Fascinated with the study of machines then go for mechanicals. How the human body works and the study of stars and planets. Mechanicals, technology, and so on.
​Job Opportunities after Distance M.Sc both Government/Private
It is the most popular and interesting subject and gives great opportunities in all the sectors including education and even abroad. It gives you huge exposure and a lot of brainstorming. Some of the essential job opportunities are mentioned below:-
| | | | |
| --- | --- | --- | --- |
| Operational research | Computing & IT | Medical Physicist | Banking-Investment Banking |
| Radiation Physicist | Synthetic Lab Scientist | Content Developer | Scientist |
| Teacher | Food Inspector | Chemical Analyst | Research Scientist |
| Mathematician | Biochemist | — | — |
Masters in science is a postgraduate program that has a great scope in making a career every field. Distance MSc course in India is a course that offers you to make career in both government and private sector. One can even make a career in abroad by doing Msc.
If you're interested in making a career as a professor then you can do doctorate programme after doing MSc or if you wanted to become a mathematician then distance MSc gives you a Masters degree on the same.
Distance Msc gives you a specialization in various subjects such as physics, chemistry, mathematics, botany, zoology, nursing, pharmacy, etc. As it's a Masters degree so it allows you to have deep knowledge about a particular course.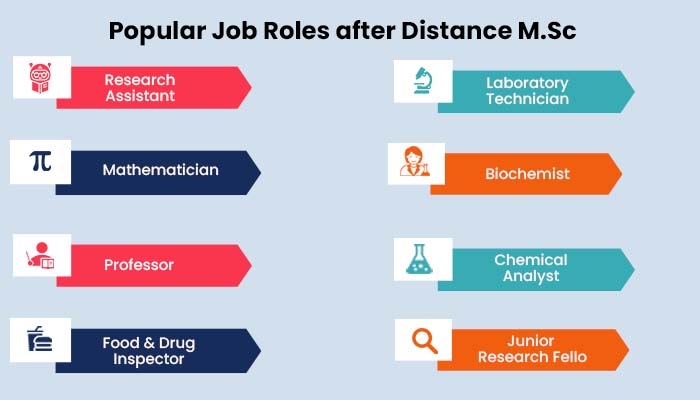 Distance MSc takes you to go for research to some of the organizations in India such as BAARC, ISRO, BHEL, ONGC, etc. you can even apply for some of the government organizations or private sectors.
Job Opportunities after Distance M.Sc

Top Companies after Distance M.Sc

Research Assistant
Scientist
Johnson & Johnson
Infosys
Junior Research Fellow
Chemical Analyst
GAIL
ONGC
Laboratory Technician
Mathematician
Wipro
Cipla
Biochemist
Professor
Ranbaxy
BHEL
Food & Drug Inspector
—
Wipro
ISRO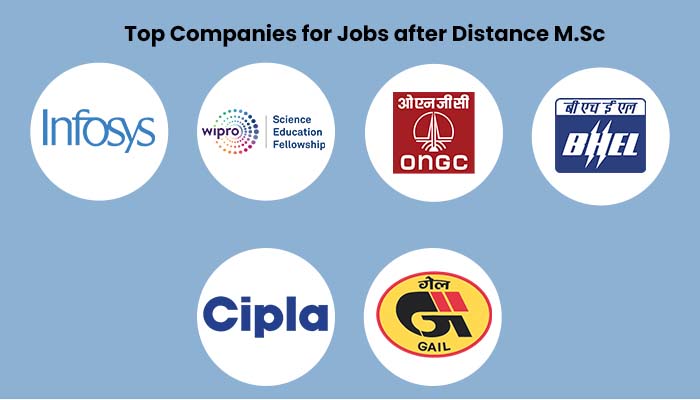 ​Average Salary of An M.Sc Professional in India​
The average salary of an MSc professional starts at a good package. As the candidate has done post-graduation he is exposed to a greater salary and lucrative perks. A pass out of MSc get an average package of 4.5 LPA from start. There are various job profiles on which an MSc professional gets employment.