BCA is one of the most pursued undergraduate courses as it helps you get entry-level jobs right after graduation. However, if you are someone aspiring for much more than just entry-level jobs, then it is definitely time for you to level up with an engineering degree. BCA followed by engineering will give you an edge over others, accelerate your career and help you get higher job positions.
What After BCA for Best Jobs?
Bachelor of Computer Applications (BCA) is a 3-year undergraduate course that is designed to provide students with a strong foundation in computer science, programming languages, software development, and database management.
The BCA curriculum includes both theoretical and practical knowledge, students are taught about computer networks, web development, mobile applications, computer graphics, multimedia, and much more. BCA is a course that prepares you well for a career in the IT industry.
After a BCA degree you are eligible for entry-level jobs in the role of software developers, web designers, system analysts, database administrators, and many other IT-related professions.
However, you have another option to opt for higher studies. By higher studies if you are only thinking about pursuing MCA, then you really need to read this blog. You have the option to pursue engineering, i.e, Bachelor of Technology (B.Tech) program right after BCA.
Why Engineering After BCA?
Varied Specialisations: Pursuing engineering after BCA is essentially beneficial because in comparison to BCA, an engineering degree offers you a variety of specialisations. Engineering is a broader field as it includes the study of many different domains like software engineering, network engineering, cybersecurity, data science, and database engineering. So, you have a wider range of career opportunities.
Evolving Technology-oriented Course Curriculum: Another important reason is that technology is constantly evolving, and IT engineers must stay up-to-date with the latest advancements in their fields. An engineering degree provides this continuous learning opportunity for keeping up with the evolving trends in the field. The IT field has immense scope for growth and exposure and so keeping up with the industry is a must in this field to achieve success.
Higher Salary & Job Post: After completing your engineering, you are eligible for jobs at higher-level in comparison to the entry-level jobs that you get after pursuing BCA. And so, naturally the salary is also higher.
Lateral Entry Admission: The best part is that if you pursue B.Tech after BCA, then you get lateral entry admission to the course. This means you directly get admission to the second year of the course. You can skip the first year of the B.Tech program because you already have the basic knowledge of the subjects through your BCA degree.
Work Integrated Learning Program: Last but definitely not the least, the greatest advantage is that you can pursue the lateral B.Tech engineering course in a part-time mode through the B.Tech for Working Professionals program. The advantage here is that you can work and study simultaneously because the course is flexibly designed to suit the schedules of working professionals.
​​​​​​​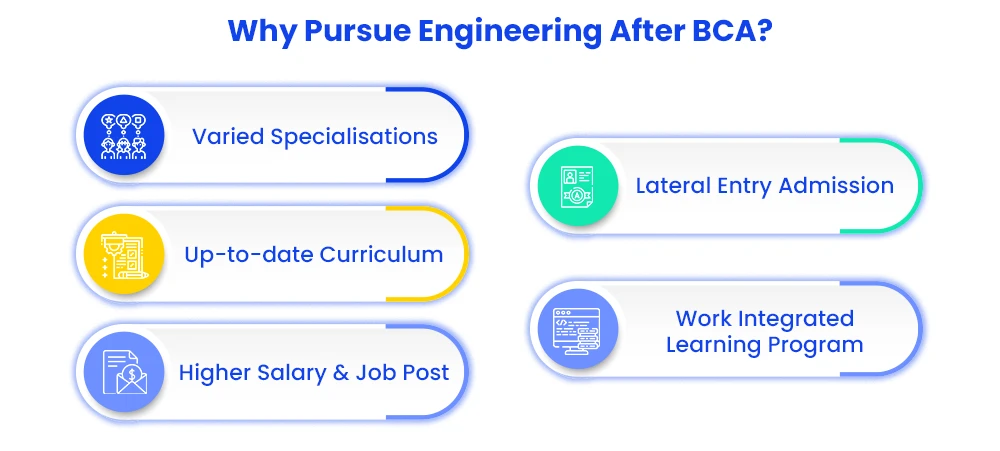 Pursuing a B.Tech for Working Professionals program after a BCA degree is the wisest choice because you have the opportunity to gain knowledge and experience at the same time. This is because you are making the most of your time by working along with studying. Your value increases in the job market because you have gained both experience and higher degree qualifications in the least possible time. You save on time and money as well because the course is quite affordable. This is why the ROI on this course is amazing because you can continue with your job and after the course is complete, you get promotions and salary hikes.
Know all the details related to the B.Tech for Working Professionals course further in this blog and also about the career opportunities that this course opens up for you.
Engineering Courses After BCA
After completing your BCA, you are eligible to pursue engineering courses like Bachelor of Technology (B.Tech) and Bachelor of Engineering (B.E.) in different specialisations. Both these courses are originally of a duration of 4 years but if you are a BCA graduate, then you get lateral admission directly to the second year. So, the duration of the program is 3 or 3.5 years at the maximum.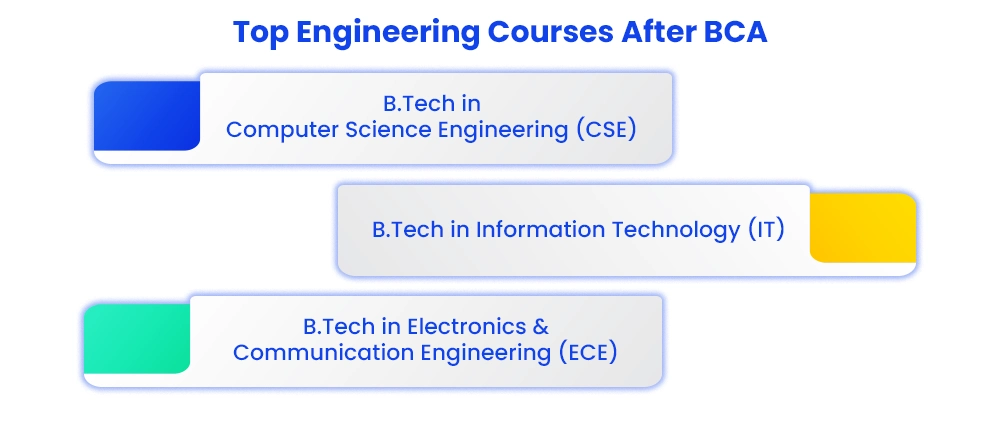 Following are some of the specialisations that you can pursue in engineering after BCA:
B.E./B.Tech in Computer Science Engineering (CSE)
B.E./B.Tech in Information Technology (IT)
B.E./B.Tech in Electronics & Communication Engineering (ECE)
These are the major specialisations that are out there for you to pursue after completing BCA. However, engineering is a dynamic course where you gain knowledge of diverse domains. For instance, there are several elective subjects during the course of an engineering program. You can choose from a pool of several subjects based on your interests.
There are industry relevant subjects like cybersecurity, data science, artificial intelligence, machine learning, programming languages, and many more. You can choose to specialise further in these subjects, if you wish to build your career specifically in this field.
Eligibility Criteria
The B.Tech for working professionals is a part-time course designed differently as it is specifically for people who can not pursue a full-time course due to work or other personal commitments.
The eligible criteria for a BCA graduate is that the applicant must have passed BCA with at least 50% marks and obtained the degree from a recognized higher education institution/university. Applicants who are working professionals must have proof of their full-time employment.
Top Colleges For Engineering After BCA
It is really crucial to find a good university for pursuing B.Tech after BCA and especially if you talk about the B.Tech for working professionals course because this is a part-time course. This is why it is essential to choose the right university which is equipped with the right infrastructure for part-time and blended (online+offline) courses.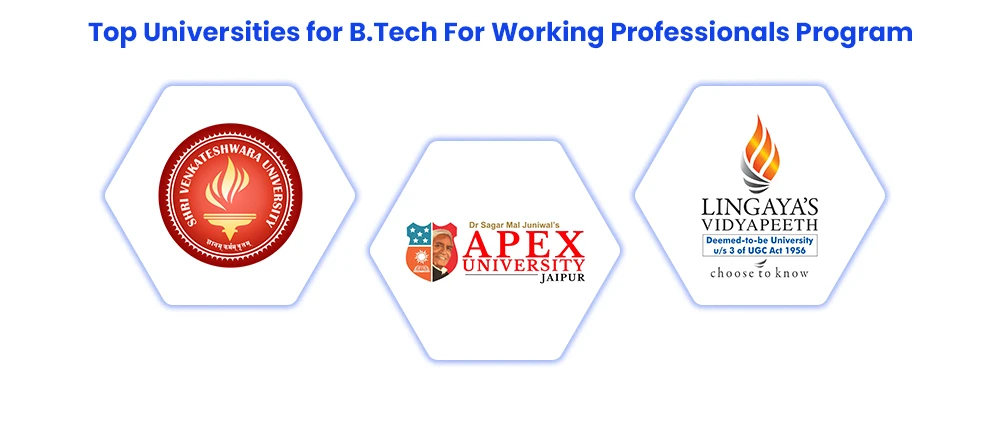 Following are a few top universities that offer B.Tech for Working Professionals courses that BCA graduates can pursue.
University Name

Course Name

Shri Venkateshwara University (SVU WILP)

B.Tech for working professionals in Computer Science Engineering (CSE)
B.Tech for working professionals in Electronics & Communication Engineering (ECE)

Lingaya's Vidyapeeth

B.Tech for working professionals in Computer Science Engineering (CSE)
B.Tech for working professionals in Electronics & Communication Engineering (ECE)

Apex University

B.Tech for working professionals in Computer Science Engineering (CSE)
Placement For Engineering After BCA
One reason for finding the right university to pursue lateral B.Tech programs is whether the university offers placement assistance facilities or not. Getting admission to a university that provides placement assistance facilities is really beneficial as you get the opportunity to directly connect with the companies with the help of the university.
Universities help students prepare for recruitment exams, personal interview (PI), group discussion (GD), Resume/CV building, etc. Apart from this, the universities also conduct placement drives, virtual job fairs, etc. and act as a bridge between students and companies.
So, while selecting a university, remember to check whether it provides placement assistance or not and if it does, then if the university has a good industry network or not. To save your time, you can just visit College Vidya as you will find each and every detail about all the universities offering B.Tech for working professionals programs at the same place.
Job Opportunities & Salary
Engineering in the field of Computer Science and Information Technology is a field with a lot of potential and job opportunities, and it can be a great career choice for those who are interested in technology and problem-solving. The demand for computer science/ IT professionals is high, and it is expected to continue to grow in the coming years.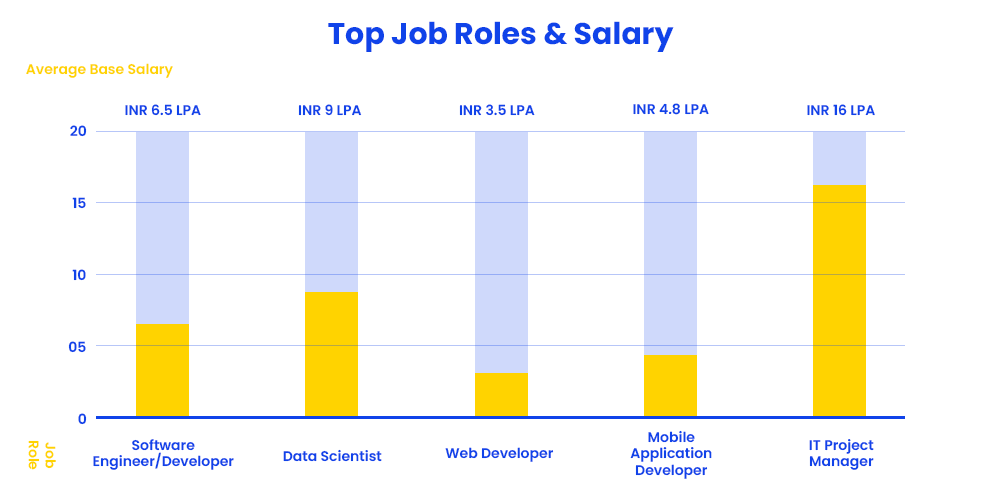 In addition to the potential for a high salary and job stability, computer science engineering can also offer opportunities for innovation and creativity. You may have the chance to work on cutting-edge technologies and solve complex problems that have a real-world impact.
The following table lists a few of the many job roles for engineers in the IT industry along with their average salaries with respect to India.
| | |
| --- | --- |
| Job Role | Average Annual Salary |
| Software Engineer/Developer | INR 6.5 LPA |
| Data Scientist | INR 9 LPA |
| Web Developer | INR 3.5 LPA |
| Mobile Application Developer | INR 4.8 LPA |
| IT Project Manager | INR 16 LPA |
This is just an average, the salaries vary based on experience and relevant qualification of the candidate.
Top Hiring Companies
All the big corporations and MNCs in the world hire computer science engineers. The increasing demand is beyond imagination. All these companies are looking for expert IT professionals to help them accelerate their business by applying the latest technologies.

Following are some of the top recruiting companies for IT graduates.
| | |
| --- | --- |
| Accenture | Infosys |
| TCS | Microsoft |
| Google | Deloitte |
| Tech Mahindra | Cognizant |
| Amazon | Facebook |
These are just a few of the top recruiting companies but there are so many more out there. The industry is huge and expanding even more with the boom of tech start-ups around the world. Working in a start-up is a great way to start your career in IT as you get good exposure.
Fee Structure For Engineering After BCA
B.Tech for working professionals is a part-time course and the duration of the course is 3-3.5 years which is why the fee structure is a lot less than the 4-year regular course. The average fee for B.Tech for working professional programs lies within a range of INR 2,00,000 to INR 3,00,000 for the complete course.
Given below is the B.Tech for working professionals fee structures for some of the universities offering lateral B.Tech programs.
University Name

Fee Structure

Shri Venkateshwara University (SVU WILP)

Course Fee Per Semester- INR 36,000
Exam Fee Per Semester- INR 1,200
Registration Fee (One Time)- INR 2,000
Project Work & VIVA Fee (Final Semester)- INR 5,000

Lingaya's Vidyapeeth

Course Fee Per Semester- INR 44,000
Exam Fee Per Semester- INR 2,500
Registration Fee (One Time)- INR 3,500

Apex University

Annual Fee- INR 1,20,000/-
Syllabus For Engineering After BCA
The syllabus for different specialisations of the lateral B.Tech courses is different as it is quite extensive. The syllabus remains almost the same across different universities. Given below are the links to the detailed syllabus for B.Tech lateral entry courses as offered by Lingaya's University.
Admission Procedure For Engineering After BCA
The B.Tech lateral admission procedure can be completed entirely online. So, you have the option to get admission from the comfort of your home as well. Following is the detailed stepwise procedure for the same.
Step 1- Find the correct official website of the university where you are taking the decision. Beware of fake websites, as it might lead to frauds. (You can also visit College Vidya to directly apply to the official website.)
Step 2- Provide your name and contact details to register as a user to the website. You will receive your login details via email or SMS. (Some universities do not require registration as they directly allow you to apply for the course.)
Step 3- Login using the details received after Step 2 and then start filling up the application form for the course of your choice.
Step 4- Upload the scanned original copies of all the required documents along with your coloured passport size photograph and signature (if required).
Step 5- If any registration/application fee is mentioned, then pay the required fee and then submit the form.
Summing Up
To sum up, pursuing the B.Tech for working professionals program after BCA is a really judicious choice because it lets you work and study at the same time. You gaining knowledge and experience together is extremely helpful, especially in current times of immense competition. The field of computer science is quite a lucrative one which is why the competition is huge. And so, you must have an edge over others. Gaining hands-on experience is really essential because the industry needs experts who possess not just bookish knowledge but have first-hand experience of working in the field.
So, if you are thinking of pursuing the B.Tech for working professionals program, then head to College Vidya right away and find the university that best compliments your needs and requirements.