Introduction
With the eminence of IMT Ghaziabad in the field of Management Studies, IMT has also launched distance Learning. IMT-CDL or Centre of Distance Learning is the distance learning institute that offers various courses in management studies.
Established in 1980, IMT is one of the top Management Institutes in India. The main campus is in Ghaziabad with other campuses in Nagpur, Hyderabad, and Dubai. The main campus of IMT in Ghaziabad has constantly ranked in India's Top 20 B-schools and Top 10 private B-Schools in India.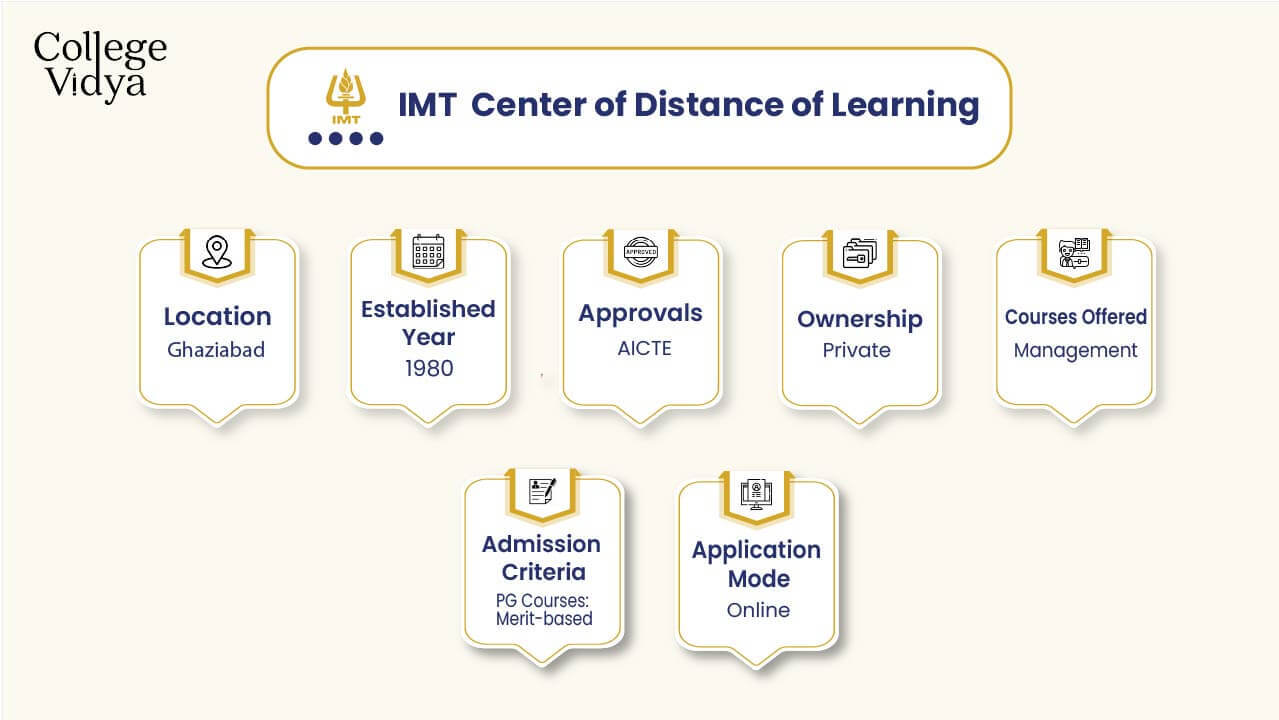 The institute has also ranked as a top private B- School several times. IMT is an autonomous institute that offers various post-graduate diploma programs in various specializations. Every program of IMT is approved by AICTE and is valuable in the job market. With best-in-class infrastructure, faculty, and placements IMT launched Online Education with some of the best courses that have high demand in the job market.
IMT CDL was formed with a vision of imparting high-quality education to the students who seek to get an education through distance mode. The programs offered at IMT CDL are also verified by AICTE. IMT CDL has conferred many distinction awards such as "CSR Top Distance Learning Institute of India" in 2018 and 2019, Awards for Excellence in Distance Learning by BBC, and many others.
AICTE has recognized IMT CDL to offer post-graduate management programs on 15th June 2020 for the academic year of 2020-21 through Open and Distance Learning Mode.
Key Highlights Of IMT CDL
IMT has an expertise in management education programs over three decades.
The quality and learning of the curriculum of IMT CDL is benchmarked by global institutes is one of the top ranked institute for management program.
The institute has an intensive online learning schematic which includes live interactive lectures, industry ready curriculum and highly experienced faculty along with industry experts.
The video library of recorded lecture is accessible to the students 24*7 thus facilitating anywhere learning with the state-of-the-art infrastructure.
The course lays foundation on business programs such as Full, Online and Executive category.
Course Details of IMT Distance Learning
IMT CDL offers various online and distance learning. The courses are a little bit different than the regular program of PGDM courses. IMT CDL offers five specializations of Finance, Operation, Human Resource, Marketing, and Business Analytics in the post-graduate Diploma program in Management. Also, an executive PGDM program is also available in the same specializations but the duration of the course is of 15 Months.
IMT CDL also offers the Post Graduate Certificate in Management. The course is structured to impart the fundamental knowledge of General Management, Finance, HR, Operation and Marketing Management.
The course lasts for 13 months. Let's see the courses offered by IMT CDL in details:-
PGDM: 24 Months :- PGDM from IMT CDL is explicitly designed to provide full management education to students. The two-year program, spread over four semesters, offers an intense, challenging and stimulating learning experience.
The program was designed to lay the groundwork for students' logical and analytical skills and covers all major management fields. The curriculum is structured to build managers who are ready to function in responsible roles in a global context.
PGDM (Executive): 15 Months :- PGDM (Executive) is developed specifically for people in their organizations and industries who have significant critical positions. This program, which focuses on experiential learning through true business cases, exchanging knowledge and a clear industry partnership, is different. The quality of the software is intended to preserve industry views of managers. They need the right flexibility to pursue their jobs and education together. they need services. Simultaneously, the program knowledge should be very strong. The PGDM (Executive) curriculum is built in such a way as to help the managers to develop their expertise in one of the main fields such as finance, Marketing, Operation, Human Resources, and Business Analytics, as well as the core management base.
PGCM (13 Months):- A standardized and compact Business Administration module is given by PGCM. The program discusses different management topics that are applicable to the professionals. The curriculum includes basics of management, economics, human resources, logistics and marketing management. This curriculum is structured to improve the participants' management skills and to add value at their workplace on a continuous basis. It facilitates the interdisciplinary application of contemporary corporate management expertise and perspectives. Using real-life cases allows learners to develop skills needed to handle situations in real life.
Campus Infrastructures of IMT Distance Learning
Library:- IMT Library is helping the academic community to keep abreast of the latest development in the field of research and consulting knowledge. The library holds a license agreement for the publication of online classroom e-learning courses with Harvard Business School Publishing and Harvard Business School, as well as an institutional member organization of the American Information Resource Center (AIRC), BCL, Management Libraries Network (MANLIBNET), and Deutsche Libraries Network (DELNET). The library contains a wide range of e-books e-journals, information about companies and businesses as well as national research databases.
Hostel:- IMT Ghaziabad has 10 blocks of student housing in its fully residential campus. All hostels are fitted with basic facilities such as water cleaners, shared space, lounge, mess, TV, laundry, security and surveillance systems etc.
Boys Hostel Single Occupancy|Shared Rooms|Shared Rooms|
Girls Hostel Single Occupancy|Shared Rooms|Shared Rooms|Hostel In Campus
Labs:- The labs of IMT has advanced computers with the latest software of various management software.
Sports Complex:-The sports complex of IMT consists of Badminton Court, Basketball Court, Cricket Ground, Football Grounds, Table Tennis Table, Volleyball Court, and Throwball ground.
Conclusion
With eminent and notable alumni such as Sachin Pilot, Prasoon Joshi, IMT without any of the top B Schools in India. IMT CDL best in class online infrastructure and best-crafted curriculum for giving the best knowledge of Business Management.
The Institute focuses heavily on academics but is not limited to conventional teaching, but values online and distance education as an important part of the curriculum. Various courses are offered such as Outbound Leadership Laboratories, Concept Thinking, Critical Thinking, negotiation, cross-functional simulation, etc. to enrich key management skills in their day-to-day work.
The Institute still suggests that it tries by using advanced technology to concentrate on the impartment of management skills. There is therefore a special course that aims to expose students to some of the most current technological developments that dominate the world market in every word.