Over the course of the past several years, there has been a significant shift in the educational system that is used. The development of online educational opportunities has significantly affected how we think about and approach education. Certain classes, such as those leading to an online BCA degree, see increased enrollment when delivered online. These programs are designed for those who are just starting in their careers as well as seasoned professionals. But the real question is, is Online BCA worth it? In this article, we will dig into the complexities of online Bachelor of Computer Applications (BCA) programs, evaluating their benefits, downsides, and ability to pave the path for a successful career in technology.
The Expansion of the Online BCA Program
For the last ten years, online education's popularity has dramatically increased. Education has become more attainable for a wider variety of people due to the adaptability, accessibility, and cost-effectiveness of online programs. This revolution has not bypassed regular on-campus BCA, a specialist program that operates inside computer applications, nor has it been immune to its effects. Let's investigate the reasons why an increasing number of ambitious technology enthusiasts are looking for online BCA programs.
Online BCA Programs are relatively less costly
A traditional education on a college or university campus is expensive when one factor in tuition, housing, and transportation costs. Eliminating these additional expenditures makes online BCA programs often more cost-effective than their in-person counterparts. Because of the low cost, a wider variety of students may now take advantage of the opportunity to receive a great education. Let's look at the fee structure at some of the most popular universities for Online BCA.
| | |
| --- | --- |
| University Name | Total fees in INR |
| Manipal University Online | 1,35,000 |
| Amrita University Online | 1,50,000 |
| Jamia Hamdard University Online | 96,000 |
| LPU Online | 1,51,500 |
| Amity University Online | 1,35,000 |
| Sastra University Online | 1,20,000 |
| Chandigarh University Online | 1,65,000 |
| GLA University | 65,500 |
| UPES Online | 1,50,000 |
| Graphic Era University | 75,000 |
| SRM University | 1,29,000 |
| Manav Rachna University Online | 1,95,000 |
| MMU Online | 90,000 |
The question that arises now is whether or not it is worthwhile to pay such a high charge. The answer to this question will be completely determined by the income you anticipate obtaining after completing an online BCA program. Now, let's take a look at the best career options and their average salary for graduates of online BCA programs.
10 Best Jobs after Online BCA Programs
The information technology industry is thriving, and a growing number of students are deciding to pursue careers related to information technology or computer science. Students interested in a career in information technology and working as a programmer or software developer can benefit from the online BCA degree courses available. Here are some of the best job roles for the online BCA graduates.
Database Administrator (Up to 24.0 LPA per year): A database administrator is in charge of designing, putting in place, and keeping up with the records of a business. They ensure the systems are safe, work well, and can be counted on.
Business Analyst (up to 15.5 LPA per year): A business analyst's job is to determine an organization's business needs and suggest ways to meet those needs. They might work with the IT teams to put the ideas into action.
Software Developer (up to 13,0 LPA per year): A software developer is someone who designs, builds, and takes care of software programs. They use different programming languages to make apps that people want.
Cybersecurity Expert (up to 11.5 LPA per year): People who work in cybersecurity help protect computer systems and networks from hacking. This could mean looking for security holes, putting security measures in place, and dealing with security events.
Technical Writer (up to 13,0 LPA per year): A technical writer's job is to write technical papers like user manuals, installation guides, and online help tools. They make sure the facts are correct and easy to understand.
System Administrator (up to 8.0 LPA per year): A system administrator keeps computer systems and networks running and running well. They make sure that the systems are working well and fix any problems that come up.
Web Developer (up to 7.0 LPA per year): A web developer is someone who makes and keeps websites running. They create and build websites with languages like HTML, CSS, and JavaScript.
Network Engineer (up to 6.5 LPA per year): A network engineer's job is to plan, set up, and take care of computer networks. They ensure that the networks are safe and work well, and they fix any problems.
Online BCA vs. Traditional BCA Programs
The Bachelor of Computer Applications (BCA) is an undergraduate degree that may be earned in three years. Students who have completed their 10th and 12th grades in science will find this is one of the most beneficial courses to take before entering the business sector. A Bachelor of Computer Application program can be completed in traditional, distance, or online formats.

The traditional BCA program is offered on campus face-to-face by the faculty. On the other hand, an Online BCA program is a new kind of education that has recently gained popularity since it enables students to study anytime and from any location with little effort. It is provided using a digital learning management system (LMS), allowing you to view the course content and engage with your course instructors and classmates. Because the entire class is delivered online, you may even study on the go using your mobile device. Now, let's look at the pros and cons of the Online BCA program.
Pros of BCA programs online
Online BCA Programs allow students to learn from anywhere in the world, breaking down physical boundaries. This ease of access is especially helpful for people who can't move to attend classes on campus.
Online BCA Programs allow students to choose when and where they want to study. This makes it easy for people with jobs or families to attend university while taking care of their other responsibilities.
In general, online classes are cheaper than standard on-campus programs. Students can save money on transportation, housing, and campus-related fees. This makes college more cheap and easier to get into.
Most online BCA programs have a full curriculum covering many parts of computer applications. Students can expect to learn computer languages, how to handle databases, how to make software, and other useful skills in the workplace.
Many online BCA programs have involved parts such as virtual classes, discussion boards, and live webinars. These tools make it easier for students to get involved, work with friends, and talk to their teachers.
Online BCA Programs often change their course materials to keep up with changes in the industry. This ensures trainees are ready for the job market with the skills and information that employers want.
Cons of BCA programs online
Traditional classes have more face-to-face contact than online learning. Some students may find it hard to get used to a virtual learning setting and miss being able to talk to their teachers and classmates in person.
It takes a lot of self-motivation and focus to do well in an online BCA program. Students who don't attend normal in-person classes must be good at managing their time and staying inspired to keep up with their work.
To learn online, you must have a reliable internet connection and know how to use technology. Students with trouble with technology, like slow connections or limited access to the tools and apps they need, may find it hard to learn online.
Online Programs may have fewer possibilities for networking than on-campus programs. In a virtual setting, making business connections and getting to know your peers can be harder.
Online degrees are becoming more common, but some workplaces may still prefer people with traditional degrees earned on-campus. How a business or workplace sees degrees that can be earned online can vary.
How do you choose the best BCA Specialisation in 2023?
Choosing the best BCA Specialization is a big choice that will affect your job in computer science and technology. To make a good choice, consider the following: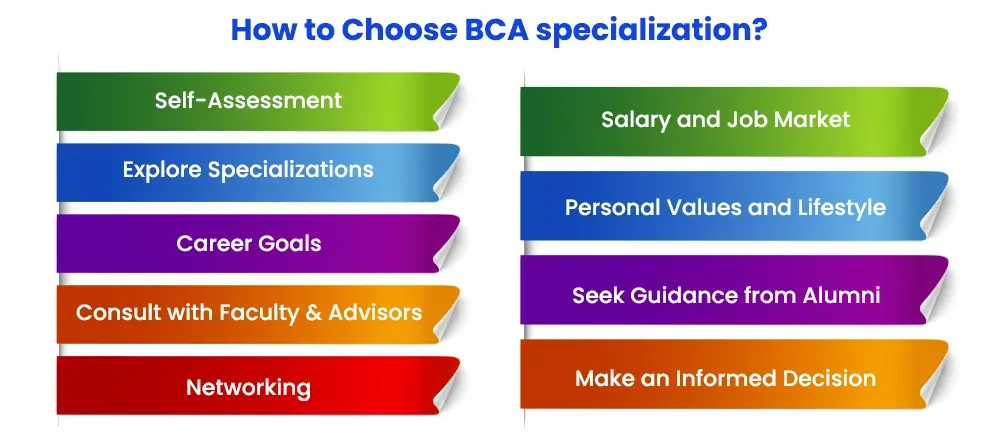 Start by thinking about what you like and what you're interested in when it comes to computer science. What parts of technology get you most excited? For example, do you want to learn how to code, analyze data, build websites, or protect computers?
Think about your skills and strengths. What do you do well? Think about how good you are at computer languages, how well you can solve problems, and how well you can talk to people.
Look into and learn more about BCA's different specializations.
Look at each specialisation's course curriculum. Look at the courses that are given, the skills that are taught, and the job possibilities for each speciality.
Think about your long-term goals in your work. Which area of training fits with your goals for your career? For example, if you want to be a data scientist, it would make sense to specialize in data science.
Look into the current trends and needs of the business. Some specialties may be more in demand in some places or fields.
Get in touch with teachers and other staff members who are experts in your interests. They can give helpful advice and views.
Talk to your school's academic counselors. They can help you determine which majors are best for you based on how well you do in school and your goals.
Gain real-world experience by doing jobs, co-op programs, or projects connected to the areas in which you might want to specialize. Getting hands-on training can help you learn more about what each specialization involves.
Go to business events, workshops, and networking events to meet different types of professionals. Their knowledge and advice can help you make better decisions.
Look into the pay possibilities for each area of expertise. More money may be made in some areas than in others.
Think about how you want to balance work and life. Some specialties may need more work hours or be on call than others.
Postgraduation Programs after Online BCA
After you finish an online BCA program, you can choose from a wide range of postgraduation programs, each of which gives you a different chance to specialize and move up in your job. Here are some famous classes you can do after you graduate:
MCA (Master of Computer Applications): BCA grads often choose to go on to get an MCA. It details computer science topics like advanced programming, software development, database management, and computer networks.Chances for a job: MCA graduates are in demand as software writers, systems analysts, database directors, and project managers, among other jobs. There are a lot of best MCA specializations in 2023 you can choose from.
MSc (Master of Science in Computer Science): This program works on the theory and practice of computer science at a high level. It often covers data science, artificial intelligence, and machine learning. When you graduate, you can work in study, data analysis, software creation, or an academic setting.
MBA (Master of Business Administration): After pursuing an online BCA, you can also go for an MBA, especially an MBA in Information Technology blends knowledge of business management with knowledge of technology. It's great for people who want to be leaders and managers in the IT field. IT managers, project managers, IT experts, and chief information officers (CIOs) are all jobs that graduates can do.
M.Tech (Master of Technology) in Computer Science and Engineering (CS&E): M.Tech programs teach advanced technical skills in computer science and engineering, such as software engineering, computer networks, and cybersecurity. Graduates can work in study, software creation, network engineering, and defense.
MSc in Software Engineering: This program focuses on how to make software, ensure the software is good, and program in a more advanced way. Graduates can work as software engineers, developers, quality assurance engineers, and project manager.
In the end, there is no doubt that pursuing online BCA is worth it, given all its benefits. Online BCA programs are easy to find, flexible, and affordable, so people worldwide can get a good education.They give kids a full program and hands-on learning opportunities to ensure they learn skills useful in the workplace. Also, because online learning is flexible, people can mix their education with work, family, and other responsibilities. This makes it a good choice for a wide range of learners.
Online BCA grads can go into many different computer science and technology areas, such as software development, data science, web development, and cybersecurity. These programs also give you a solid basis for getting a graduate degree, which can help you specialize more and move up in your job.Even though online BCA programs have some problems, like the need for self-motivation and the possibility of technology problems, the benefits are much greater than the problems.
As technology continues to change our lives, the skills and information you learn in an online BCA program are very useful and in high demand. It can lead to a hopeful and rewarding job in the fast-paced and always-changing field of computer applications. This makes getting an online BCA a must for anyone who wants to do well in the digital age.