Apex university is a top private research university situated in the capital of Rajasthan which is Jaipur. Established in the year 2018 the university belongs to the renowned Apex foundation. It offers quality education to students from all around the globe. The university offers a vast range of courses from which one can choose per their academic goals.
The university offers programs in various domains including management, engineering, law, applied sciences, etc. The university has a well-equipped infrastructure with great facilities that enhances the student's learning experience. Other than this the university has been embedded with various features.
Let's know more about this university in detail and decide whether Apex university is a good or bad choice for the students.
About Apex University
Established in the year 2018, Apex university started its educational services in the Jaipur district of Rajasthan.
It is the largest private university in Jaipur offering a vast number of technical and non-technical courses.
It offers all kinds of programs including undergraduate, postgraduate, diploma, certification, and doctoral programs.
One can choose their course of interest from the diverse range of programs offered in a varied number of disciplines including engineering, naturopathy, law, management, etc.
Not only the university provides academic excellence but it also assists the students in developing the soft skills and other skills needed to crack an interview.
Along with career assistance, one gets to participate in various placement drives once the course is completed.
It also provides ample opportunities for research projects and internships for its students.
Still, thinking about whether to choose Apex university for your higher education or not? Don't worry in this blog we will clear all your doubts and help you in deciding whether this university is a good choice or not.
What are the Factors to be Considered While Choosing a University For Higher Education?
Higher education is an important stage in our career path. So deciding the institution from where to pursue higher education is a kind of an important task. One usually gets confused when comes to the stage of choosing a university for their education.
So to clear this confusion of choosing the best university for your higher education one must look out for the various factors. There are several factors that one must consider while deciding the best university for them. The factors that we have to consider while choosing a university are:
Factors to be considered while choosing a university

Approvals and Accreditations

Student Support Facilities

Courses Offered

Placement Assistance

Affordability of the courses

Assessment Methods

On-Campus Facilities

Academic Experts

Accreditations and Approvals
The one factor or criterion that one should always keep in mind while choosing any university is whether or not the university is approved and recognized by all the mandatory regulatory boards of higher education.
Is It Valid Engineering Degree?
What is the Importance of University Approvals?
The university should be well-approved and recognized to offer degree programs. These approvals are necessary and validate a university's degree around the globe. That's why it is an important factor when deciding upon a university. If the university is not approved and recognized then the degree awarded by it will not be recognized anywhere. So always check for the university approvals and recognition.
Now talking about the Apex university, the university has gotten all the necessary approvals from the concerned regulatory bodies to offer all the technical and non-technical programs.
List of all the approvals and accreditations that Apex university has gotten so far:
University Grants Commission (UGC)
All India Council for Technical Education (AICTE)
Pharmacy Council of India (PCI)
Bar Council of India (BCI)
Association of Indian Universities (AIU)
Indian Nursing Council (INC)
National Council for Teacher Education (NCTE)
Rehabilitation Council of India (RCI)
International Organization for Standardization (ISO 21001:2018)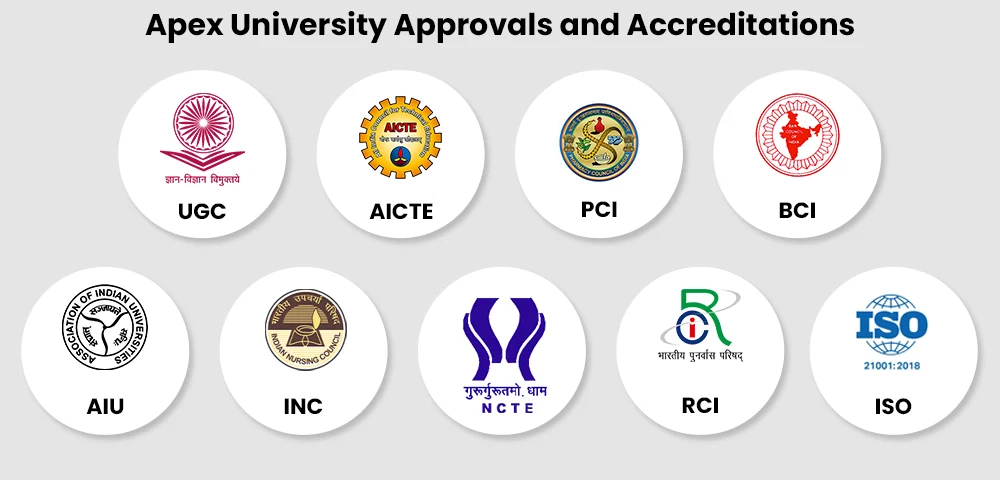 The Apex University has all the accreditations and recognitions required to offer higher education programs. So, there is no question that the institution has acknowledged and authorized. Also, the degree it awards is recognized all around the world.
Courses Offered by Apex University
The next factor in the line is the courses offered by a university. One must do extensive study on the programs that each university offers before choosing one. Because having your desired academic programs at a university is crucial. The university must also fulfill the student's academic goals. Whether a university is good or awful, if it doesn't match these standards, students won't really care. Hence, before selecting an institution, one needs to conduct extensive research.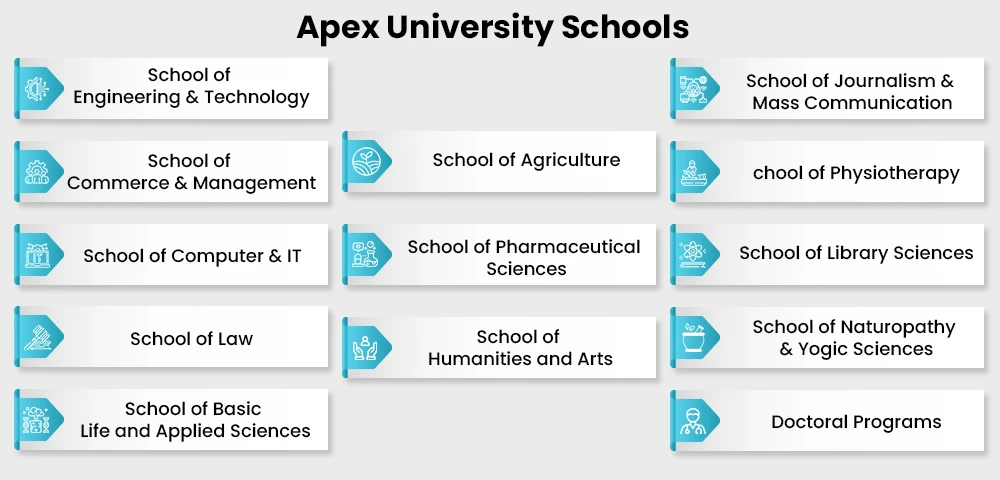 Apex university offers various undergraduate, postgraduate, diploma, certification, and diploma programs in the field of engineering, law, applied sciences, management, and many more. Thus there are an array of courses from which student can choose.
Programs offered at Apex university are listed below:
Schools

Programs

School of Engineering & Technology

Diploma Engineering
Diploma Engineering(Lateral Entry)
B.Tech
B.Tech(Lateral Entry)
M.Tech

School of Commerce & Management

B.Com
BBA
M.Com
MBA
MBA (Dual Specialization)
Executive MBA (Part-Time)

School of Computer & IT

School of Law

School of Basic Life and Applied Sciences

B.Sc programs
M.Sc programs

School of Agriculture

B.Sc (Hons.)
B.Sc + MBA
M.Sc. (Agronomy/ Plant Breeding & Genetics)
Diploma in Agricultural Extension Services for Input Dealers

School of Pharmaceutical Sciences

D.Pharm
B.Pharm
B.Pharm. (Lateral Entry)
M.Sc.(Pharmaceutical Chemistry and Industrial Pharmacy)

School of Humanities and Arts

B.A.
M.A.
Master of Physical Education & Sports (MPES)

School of Journalism & Mass Communication

BA(JMC)
PG Diploma (Journalism & Mass Communication)
MA(JMC)
Diploma in Content Writing
Diploma in Videography
Diploma in Video Editing

School of Physiotherapy

School of Library Sciences

School of Naturopathy & Yogic Sciences

BNYS
B.Sc / BA in Yoga Sciences
PGDYT
PGDYN
MA in Yoga Sciences
MSc in Yoga Sciences
Certificate in Yoga

Doctoral Programs

Ph.D. (Full Time)
Ph.D. (Part-Time)
So absolutely, the Apex University offers a wide variety of courses that satisfy practically everyone's academic goals. With so many different programs, it can end up being a fantastic option for students.
Courses Affordability and Fees
Every individual wants a university that offers programs at affordable prices. This combo of the right university at the right price helps each and every student to pursue their course of interest without any financial issues. Yet, obtaining such a combination might be difficult because, even at a reputable university, some courses can be prohibitively expensive. Also, if courses are affordable, a university may not be a smart choice. Hence, before selecting a university, a student must ensure that the school offers high-quality courses within their budget range.
Now let's check out the course fee of some of the programs at the Apex university and decide whether it suits your budget or not. Some of the Apex university's programs and their fees are listed in the table below
| | |
| --- | --- |
| Programs | Course Fee (General) |
| B.Tech | Rs. 75,000-Rs. 1,20,000 annually |
| MBA | Rs. 75,000-Rs. 1,20,000 annually |
| BCA | Rs. 70,000-Rs. 80,000 annually |
| B.Sc | Rs. 30,000 annually |
| B.Pharm | Rs. 1,00,000 annually |
| M.A. | Rs. 30,000 annually |
| Doctoral Programs | Rs. 75,000-Rs. 1,50,000 annually |
Here, we have mentioned the fee structure of only some of the programs so that one can get an idea about the same.
The university also offers various scholarship programs through which one gets financial assistance in their course fee. Students can avail of up to 100% scholarship opportunities at Apex university. Through various entrance exams during admission one can get the benefit of such opportunities.
Academic Faculties
Teachers or academic faculties play a very important role in shaping the future of students. This is the reason one cannot compromise on the quality of education. So before choosing a university for your higher education, one must also look out for this factor. Students must do deep research before enrolling in a university. An individual always researched almost all the things when selecting a university but forgot about researching the academic experts. And they regret and complain about it afterward enrolling in the university. As right guidance at right time from academic experts can change our whole career path. So always be ensure that the faculties at your dream university are experienced and have great expertise in their domain.
Let's know about the academic faculties present at Apex university is worth it or not:
Faculties at the university are well-experienced and have great expertise in their domain.
There are more than 500 faculties at the university that are imparting their academic excellence to the students enrolled.
Here at Apex university there are experts from all the top institutions like IIT, IIM, NIT, etc.
Expertise of such academic experts helps the students to gain in-depth knowledge about their subjects.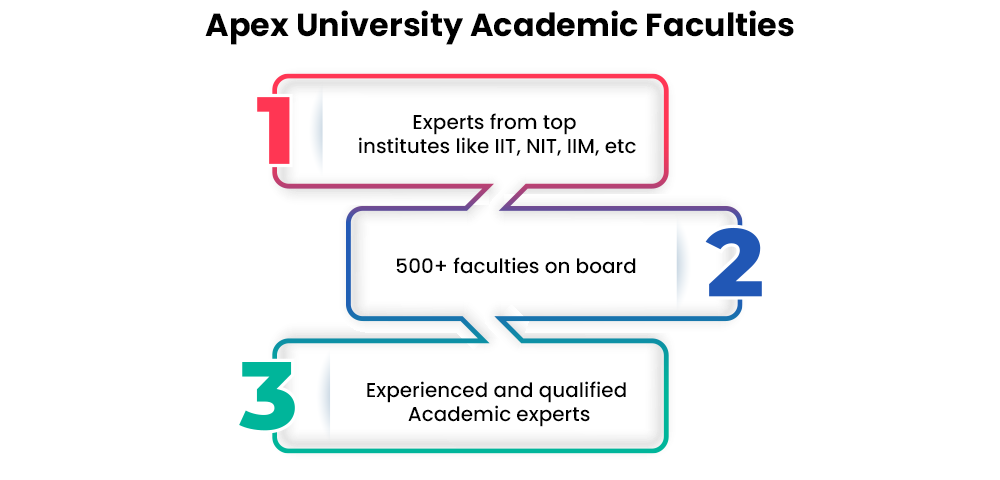 So there is no doubt that Apex university offers quality education and the education providers are experts in their domain. For getting an opportunity to learn under the supervision of such academic experts and get a quality education, the Apex university is a great choice for students.
Examination and Evaluation Procedure
While choosing a university one must also get information about the university assessment methods and examination. The student must be aware of the university examination pattern, its grading system, and the schedule of the examination. It helps an individual to get an idea that how their academic performance will be evaluated throughout the course curriculum.
Let's know in brief about the examination and evaluation methods of the Apex university:
Offline exams are conducted at the Apex university at the end of every semester.
These exams are conducted to evaluate the student's understanding of the subjects.
These exams are conducted either at the university campus or at the centers designated by the university for exams.
Students have to carry their ID card and admit card while appearing for the exams.
In addition to term-end exams the university also gives assignments, and projects to the students to evaluate their course understanding.
The examination pattern varies from course to course so one cannot exactly define the pattern of examination at Apex university.
To evaluate student performance in the examination, the grading system is available at the university.
And after successful completion of the examination final result is declared which is proof of the student's academic excellence.
The final result is decided on the basis of exams, assignments, and projects combinedly.
The examination and evaluation methods at Apex university are quite effective in analyzing the student's academic performance. Periodic evaluation techniques make Apex university the correct and best option for the student.
Facilities Provided On-Campus
One must do thorough research about the additional facilities provided at the university. As this gives an individual an idea that what kind of benefits they will reap in the particular university. And also it helps one to make a clear choice among various universities.
Apex university has several features that make it stand out from the crowd. Here are some of the facilities provided at the university. Some of them are listed here
Apex University On-Campus Facilities

100% Scholarship Assitance

Well-Equipped Infrastructure

Assitance in Research Work Publication

Additional Industrial Certification Courses

Industrial Visits

Outdoor Games Sports Area

Assistance in Starting Your Own Startup

Placement Support
The list not only ends at this there is much more at the Apex university. And all this adds up to making a good choice for the students for higher education.
Student Support Facilities
In a university student support facilities play an important role in the student's learning journey. So becoming aware of these facilities while choosing a university is necessary. These facilities support students at various stages in their college journey. Without these support facilities, students may struggle to meet their full potential, leading to lower academic achievement, higher stress levels, and an overall negative experience.
Now let's know in brief about the Apex university student support facilities and decide whether or not it makes a good choice for the student.
Academic Support: Apex University provides academic support to its students through various means like tutorials, workshops, peer mentoring, and career counseling.
Counseling Services: The university provides counseling services to students who are experiencing personal, academic, or social difficulties.
Health Counseling Services: The university offers health counseling sessions that provide medical assistance to students.
Student Accommodation: The university provides on-campus accommodation for students who wish to live on campus. The hostel facilities are well-maintained and equipped with all the necessary amenities.
Sports Facilities: The university has sports facilities that provide students with opportunities to participate in a variety of sports and recreational activities.
Career Support: The university has several career support services that assist students with career planning, job search strategies, and internships.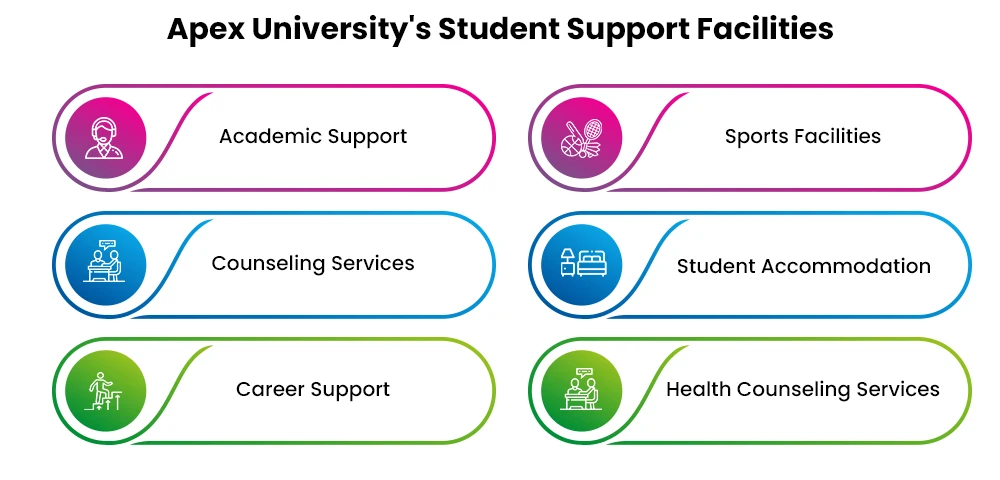 Engineering Courses with High Salary
Placement Assistance
Nowadays placement support has become one of the important factors that students oversee while deciding upon a university. This is because the student wants to achieve their career outcomes right after passing out from college or university. Seeing the importance of this factor one must definitely consider it while choosing a university for higher education.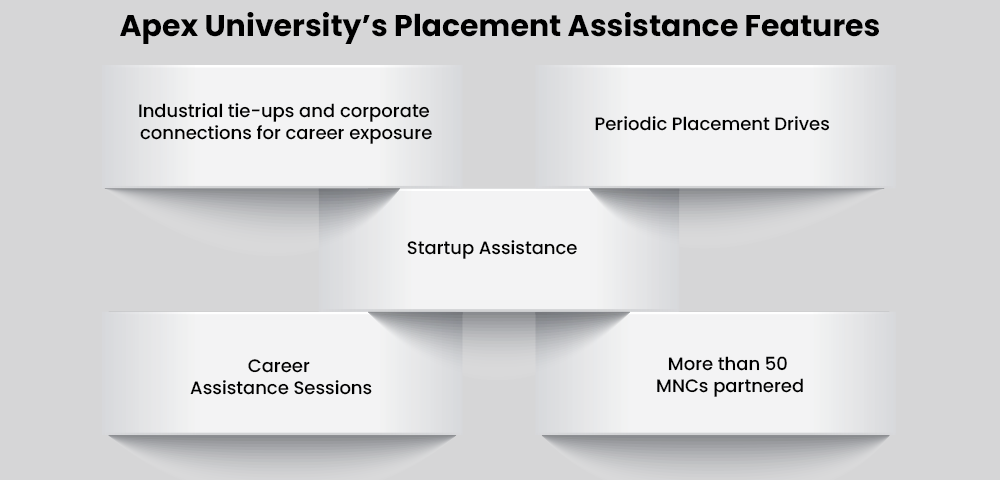 Apex university offers placement and career support to the students after completion of their programs.
The university gives the student excellent career exposure through established corporate relationships and industrial tie-ups.
On the university campus, regular placement drives are held to give enrolled students the chance to land their dream careers.
In addition, industrial visits are planned to provide further industry insight.
The icing on the cake is helping you launch your own startup and assisting the students in equipping themselves with employability skills.
More than 50 MNCs have so far partnered with Apex University and provided jobs to a variety of enrolled students.
In terms of placement assistance, one can never regret enrolling at Apex university. So one must consider this university for higher education in terms of placement and career assistance.
Conclusion-Is Apex University Good or Bad?
Here we again come to the question at which our blog started which is whether Apes university is good or bad for the students. If we look out at all the factors that we have discussed above then, in my opinion, Apex university makes a great choice for pursuing higher education in India. It is approved and recognized and has great facilities and experts on board.
Reasons, why Apex university is the right choice for the students:
UGC and AICTE approved and recognized
Has approvals for offering all the listed programs in the university.
Diverse range of courses to choose from.
Experienced and qualified academic experts.
Scholarship programs for financial assistance.
Career support facilities.
Best student support facilities.
Placement assistance.
Industry exposure.
Global student network.
Always have a problem in deciding which online university is best for your career goals. Leave all your problems behind and go to the CollegeVidya portal, an unbiased platform that allows you to compare different online universities based on a number of factors and help you decide which is best for you.
Top Trending Article