The prominent International Institute of Information Technology, Bangalore (IIITB), which is renowned for its superior technological teaching and research, has a digital division called IIIT Bangalore Online. Aspiring students and working professionals in the fields of information technology and computer science can choose from a variety of online courses offered by IIIT Bangalore Online. The organization is committed to providing top-notch education online so that people from all around the world may access cutting-edge courses and develop their professions.
About IIIT Bangalore Online
A renowned institution, the International Institute of Information Technology Bangalore (IIIT-B), was established in 1998 with the ambitious goal of advancing the field of information technology via entrepreneurship, research, education, and innovation. IIIT-B has continually set the bar for IT education and innovation as an independent school. Since the institution's founding, more than 3,500 students have received degrees from it, and today they work for more than 100 famous providers of IT goods and services. More than 50 prosperous businesses have been founded by the institute's alumni.
The IIIT-B attracts students from all around India and internationally and prides itself on picking all of its students purely based on merit, regardless of where they are from. The institution's peer interaction and discourse quality are improved by this practice. As a leading technological institution that offers interdisciplinary courses that combine social sciences and information technology, IIIT-B attracts students from a wide range of academic backgrounds. Notably, it offers the nation's first MSc in Digital Society program. The IIIT-Bangalore is an institution with a unique model for teaching, research, and industry partnership, situated at the nexus of technology and society. While preserving the intellectual independence inherent to an educational institution, it works closely with business. IIIT-B seeks to foster an academic culture that is comparable to that of the top worldwide universities, drawing inspiration from other prestigious schools across the world.
The IIIT-B got the 74th position in the Engineering category of the National Institutional Ranking Framework 2022 published by the Ministry of Human Resources Development, Government of India, thus enhancing its standing as a top-tier institution. To further teaching and research in the field of information technology, IIIT-B works as a registered not-for-profit organization with funding from the government of Karnataka and the IT sector.
Factors one should consider while choosing an online university
When looking at suitable online universities, it is crucial to undertake exhaustive research because it will be a key factor in your choice. Look closely at the program's graduation criteria, the selection of online courses they offer, and the course outline. Check to see whether they provide a wide range of classes in your desired major and if they fit with your academic goals. Some colleges have a predetermined curriculum, while others give you the freedom to select specializations or supplementary courses that suit your interests.
Additionally, find out if the program offers useful elements like labs, practical training, or internships. In doing so, consider how these components may be fulfilled in an online learning setting and examine if the school provides sufficient assistance to distance learners to make these experiences possible. Making an informed choice about the best online institution for your educational objectives will be made much easier thanks to this extensive research procedure.
These factors should guide your selection process, ensuring that you find the best fit for your needs and aspirations:
University Accreditation
Fee structure
Curriculum and faculty
Accessibility of LMS
Evaluation Method
Student Support System
Placement Assistance
Accreditation of IIIT Bangalore Online
In doing so, consider how these components may be fulfilled in an online learning setting and examine if the school provides sufficient assistance to distance learners to make these experiences possible. Making an informed choice about the best online institution for your educational objectives will be made much easier thanks to this extensive research procedure.

Although additional certification options exist, the finest online colleges frequently hold regional accreditation. This accreditation is crucial because it makes it possible for students to transfer their credits easily across institutions, meets the requirements for professional licenses and certifications, and qualifies them for federally sponsored financial aid to help cover the cost of their education.
Fee Structure of IIIT Bangalore Online
The IIIT Bangalore Online's pricing schedule changes based on the program and course. Tuition, exams, and any additional expenses for books or access to resources are normally included. The official website should always be checked by students for the most recent details on costs and any financial help or scholarships that may be offered.

Tuition and any other fees associated with attending IIIT Bangalore Online. There can also be information about payment plans, scholarships, and financial aid options. To properly set up their budget, prospective students must understand the financial aspects of education.
| | |
| --- | --- |
| Courses Offered | Fees |
| ePGP in Data Science | INR 3,25,000/- |
| ePGP in Software Development | INR 2,49,000/- |
| ePGP in Machine Learning and AI | INR 3,35,000/- |
| Online PG Certificate Program | INR 1,20,000/- |
Curriculum and Faculty of IIIT Bangalore Online
The curriculum offered by IIIT Bangalore Online is well-designed and incorporates both current academic and industrial trends. The courses are designed and instructed by seasoned academics with in-depth subject matter expertise. A thorough and modern educational experience is what students can anticipate.
All necessary materials, including scripts, data, and teacher notes, will be available. Online delivery of the course is planned. Numerous tasks will be used to assess your progress. It is important to realize that these course materials should only be used by enrolled students and should not be distributed to anyone else.
Accessibility of LMS of IIIT Bangalore Online
The IIIT Bangalore Online's Learning Management System (LMS) was created to be user-friendly and accessible. With its user-friendly design, it enables students to effortlessly access course materials, communicate with teachers and classmates, turn in assignments, and monitor their progress from any location with an internet connection.
The course is being taught through live virtual lectures, interactive discussions, in-depth case studies, and peer sharing of experiences. This method of delivery has been carefully selected. The structure for the course was built expressly to promote learning by tying various management ideas to their practical applications in the workplace. The core of this educational process will be peer learning, with participants being urged to apply and integrate their classroom knowledge to actual workplace situations throughout multiple modules.
Evaluation Method of IIIT Bangalore Online
Depending on the subject, IIIT Bangalore Online uses a range of evaluation techniques, such as exams, projects, assignments, and quizzes. Students are informed of the assessment criteria so that they are aware of how their performance is assessed.

A range of methods, including online tests, case studies, active class participation, and whatever additional components the course instructors think are acceptable, make up the assessment approach that is chosen by the faculty. The course may only be completed if at least 75% of the live sessions are attended. Additionally, participants could receive assignments and tasks to accomplish on their own or in groups. The main goal of these assignments and projects is to assist participants in applying their conceptual knowledge to real-world organizational decision-making situations. To pass each of the assessment components, participants must get the requisite score.
| | | |
| --- | --- | --- |
| Evaluation Component | Type (Individual/Group) | Weightage |
| End-Course Evaluation | Individual | 50% |
| Project Presentation | Group | 25% |
| Project Report | Group | 25% |
Students Support System of IIIT Bangalore Online
To provide a fruitful and fulfilling learning experience, IIIT Bangalore Online lays a heavy focus on offering complete student assistance. The institution is dedicated to assisting students in achieving academic success. The following are some significant facets of the student assistance offered by IIIT Bangalore Online: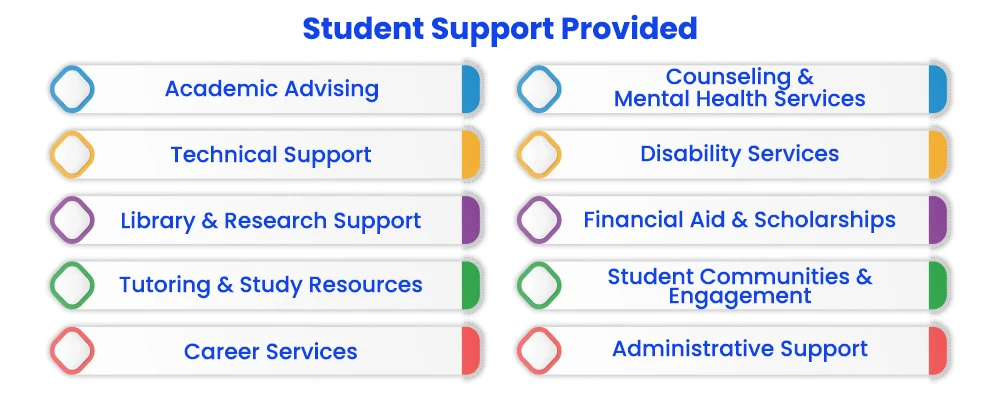 Academic Advising: It is available through IIIT Bangalore Online, and academic advisers support students at every stage of their academic careers. These advisers help students choose the right courses, comprehend program requirements, and plan their academic trajectories.
Technical Assistance: The organization is aware of the value of a flawless online learning environment. To help students with any problems they could have with the Learning Management System (LMS), online materials, or technological difficulties they might run into while studying, it offers strong technical assistance.
Counseling Services: IIIT Bangalore Online is aware that students may experience difficulties in their personal and academic lives. To deal with these problems, they give counseling services to students, assisting them in overcoming challenges and maintaining their well-being by offering them intellectual and emotional assistance.
Peer Networking: By promoting peer connection, IIIT Bangalore Online helps students feel a feeling of belonging. This can include online forums, virtual study groups, or group projects that motivate students to assist and learn from one another.
Library and Learning Tools: To help them with their studies, students have access to a sizable digital library and a variety of online learning tools. This guarantees that students have the resources and references they need to succeed in their studies.
Flexible Learning Environment: IIIT Bangalore Online is aware of the variety of demands and obligations students may have. To meet the needs of working professionals and students from varied backgrounds, they offer a flexible learning environment that enables students to learn at their speed.
Mechanisms for Feedback: The university actively solicits student feedback to enhance the online learning environment further. To improve the level of instruction offered, this involves asking for feedback on the courses, professors, and the general learning environment.
Placement Assistance of IIIT Bangalore Online
The placement help at IIIT Bangalore is famous for its success in matching students with excellent employment possibilities. Strong industry ties are fostered via tight collaboration between the institution's dedicated placement unit and top tech firms. They provide all-inclusive help, which includes job placement campaigns, resume development, career counseling, and interview preparation. This proactive strategy makes IIIT Bangalore a popular alternative for individuals looking for a smooth transition from study to a successful career in the technology industry by ensuring that graduates are well-prepared to gain employment in leading IT and tech businesses.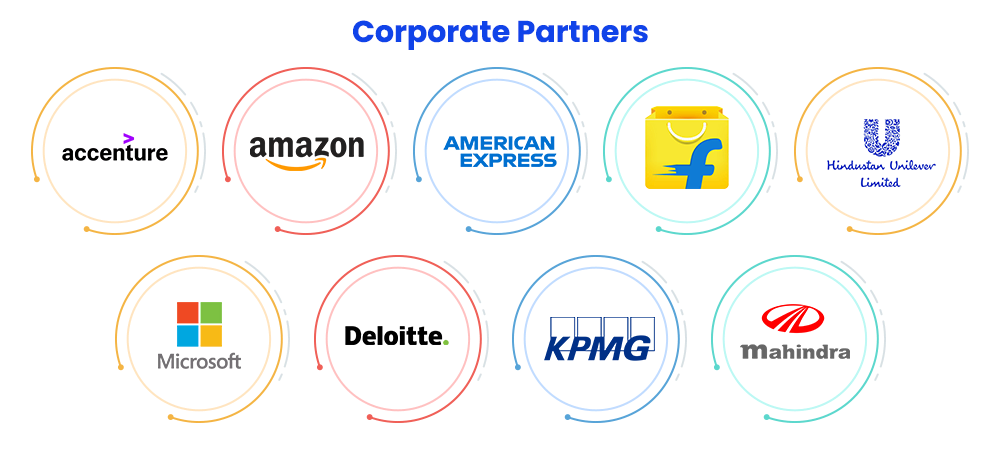 Students at IIIT Bangalore Online are given placement aid to help them make the transition from school to the workforce. This assistance could take the form of career guidance, resume writing, interview practice, and introductions to possible companies in the IT sector.

Some Other Online/Distance University
Some different universities offer the same courses in online mode. The list of those universities is given below:
| | | |
| --- | --- | --- |
| University Name | Location | Accreditations |
| Manav Rachna University | Haryana | UGC-DEB, NAAC A++, WES |
| CCE UPES Distance Learning | Dehradun | UGC-DEB, NAAC A, NIRF |
| DY Patil University | Pune | UGC-DEB, AICTE,AIU,ACU, ISO,WES |
| Amity University | Noida (Main Branch) | UGC, NAAC, AICTE, AIU, ACU |
| Lovely Professional University | Phagwara, Punjab | UGC-DEB, AICTE, NIRF, WES |
| DMIMS University | Maharashtra | UGC-DEB, NAAC A+, AICTE, NABH, AIU |
| Jain University | Bangalore | UGC, AICTE |
| Chandigarh University | Chandigarh | UGC-DEB, NAAC |
| Manipal University | Jaipur | UGC, AICTE, NAAC, WES, ACU |
Conclusion
In conclusion, IIIT-Bangalore provides a comprehensive range of top-notch courses that address the fast-developing field of technology. Whether computer science, artificial intelligence, data science, or similar subjects are of interest to you, the IIIT Bangalore M.Tech program is carefully designed to provide you with the necessary abilities and information. IIIT-Bangalore provides students with an outstanding platform to succeed and grow in their chosen fields because of its knowledgeable professors, strong industry relationships, and dedication to cutting-edge research. You may open up intriguing professional opportunities and put yourself on the road to success in the fast-paced and cutthroat technology sector by enrolling in a degree like the B.Tech. programme at IIIT Bangalore. Our essay comes to an end here. Please contact us if you have any questions about IIIT-B courses.