Are you a BCA graduate who is interested in pursuing an M.Tech degree? Transitioning from a Bachelor's in Computer Applications (BCA) to a Master's in Technology (M.computer) may be a big step. Still, it's one that many students have made successfully to further their careers in the computer sector. In this post, we'll look at whether getting an M.Tech after BCA is possible and a good idea for your future.
Understanding the M.Tech after BCA
Pursuing an M.Tech after BCA requires a more refined approach. A Master of Technology (M.Tech) is a 2 years postgraduate degree program that provides advanced knowledge and expertise in various engineering and technology subjects. It provides students extensive knowledge, research abilities, and the capacity to develop and contribute to technical breakthroughs. On the other hand, a Bachelor of Computer Applications (BCA) is a 3 years undergraduate degree in computer science and applications. It teaches students about programming, software development, database administration, and networking, preparing them for a variety of careers in the IT sector.
M.Tech after BCA: Is it possible?
After getting a Bachelor of Computer Applications (BCA), pursuing an M.Tech may appear complicated and difficult. The trip is closely guided by the basic qualifications established by M.Tech programs. While the M.Tech and MCA programs have similar syllabus with slight differences, they lead to similar job chances. However, the real question is: why can't I pursue M.Tech after BCA? Why does pursuing Mtech require a detour through MCA after BCA? The reason comes in the broad knowledge required by M.Tech programs, which goes beyond the bounds of a BCA degree.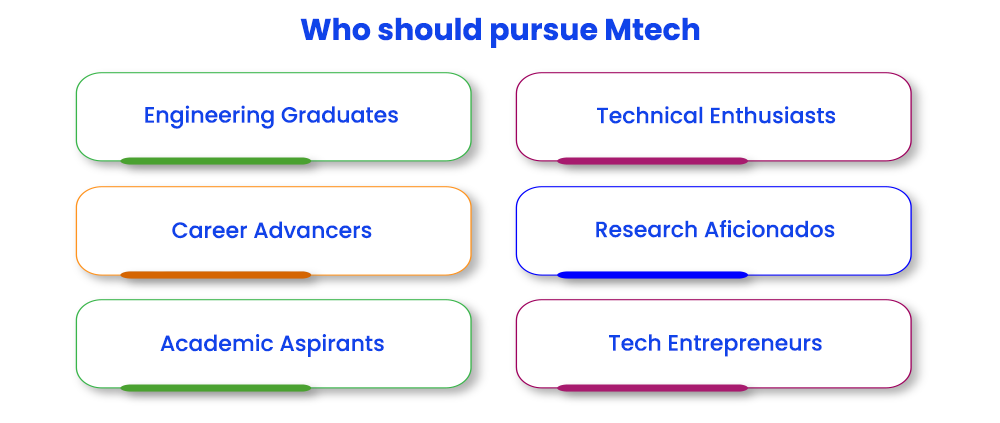 Stepping into the field of M.Tech without an intermediate MCA degree is difficult. While extensive, the breadth of the BCA does not fully coincide with the extensive standards imposed for individuals seeking a Master's in Technology. This difference is true regardless of the field's chosen speciality.
The first step for individuals wanting to pursue an M.Tech degree is to complete an MCA. This strategically meets the requirements of M.Tech programs. Even if this obstacle is overcome, the next one appears in the shape of the Graduate Aptitude Test in Engineering (GATE) examination, which is required for admission to any M.Tech program in India.
In essence, Pursuing M.Tech after BCA is a complicated jigsaw. The seeming indirect approach via MCA is due to the broad and specialised character of M.Tech programs. This complicated route emphasises the changing needs of the technology sector and the requirement for applicants to have a breadth of knowledge that extends beyond the BCA landscape. The combination of educational milestones and tests such as GATE is the doorway to an M.Tech degree, guaranteeing that only individuals with a thorough understanding of the topic make the journey.
If pursuing M.Tech after BCA is not possible, what to pursue After BCA?
Individuals with a BCA degree have several possibilities for additional education. One popular option is to pursue a master's degree in the same subject, i.e. MCA after BCA. Pursuing MCA broadens your knowledge of computer programs and technology, allowing you to pursue additional courses and several work prospects. It is critical to match your interests to the course of study.
Online BCA graduates can also pursue a master's degree in the arts (MA) or science (M.Sc). These courses provide viable job prospects based on the graduates' unique interests, assuring a prosperous future.
What are the eligibility criteria for pursuing M.Tech?
It is impossible to pursue Mtech whether you want to pursue Mtech after BCA or any other Undergraduate degree. Candidates must have a Bachelor's degree in Engineering or a related discipline from a recognised university or institution to be eligible for M.Tech programs.
If the candidate holds a UG degree other than in Engineering or a related discipline, they must pursue a Master's degree before enrolling in Mtech. But you can qualify for Mtech if your UG degree is four years. Your BCA or BSc is four years; then, you can be eligible to pursue M.Tech after BCA.
It is rare, but several universities in India provide four years BCA or BSc degrees; you can pursue them if you want to pursue Mtech after BCA or Mtech after BSc. However, applicants must fulfil other eligibility requirements before enrolling in a Mtech program.
Most colleges demand a minimum aggregate score of 50-60% in the qualifying undergraduate degree. This criterion guarantees a minimum degree of academic performance.
Many institutions regard GATE (Graduate Aptitude Test in Engineering) results as important in M.Tech admission. Good GATE results reflect ability and expertise in the discipline.
Relevant job experience may be considered by certain institutions in assessing eligibility, particularly for applicants who have been in the sector for a given period.
Eligibility criteria may differ depending on the selected speciality within M.Tech. Different specialities may have different criteria. Each university or institution may have its eligibility standards and M.Tech admission guidelines. Properly investigating and comprehending these policies is critical to guarantee compliance.
Career Scope after M.Tech
Individuals with an M.Tech degree can pursue a variety of employment prospects in a variety of industries. The extensive technical knowledge and expertise gained throughout the M.Tech program lead to positions such as:
Research and Development: M.Tech graduates can contribute to research initiatives, innovation, technology, engineering, and science development.
Engineering Leadership: Many M.Tech graduates take on leadership roles in engineering businesses, supervising projects, teams, and technical operations.
Specialised Technical Roles: M.Tech holders are in high demand for specialised employment in artificial intelligence, cybersecurity, data science, and others.
Academia and Teaching: Graduates might work as educators, lecturers, or professors at universities and technical schools.
Industry Consulting: M.Tech personnel, with their knowledge, may provide consulting services to organisations seeking technical help.
Entrepreneurship: M.Tech graduates can launch businesses using their specific skills to invent and build new technologies.
Government & Public Sector: There are opportunities for M.Tech experts to contribute to policymaking, infrastructure development, and technology implementation in government agencies.
PhD and Research: Those who want extensive research can pursue a PhD and contribute to ground-breaking advances in their area.
Global Opportunities: M.Tech qualifications are recognised globally, allowing graduates to explore work opportunities outside their native country.
Cross-Disciplinary tasks: M.Tech graduates are prepared for tasks that demand a combination of technical expertise and domain-specific knowledge.

Individuals with an M.Tech degree can pursue various work opportunities in the technology business, each with varied levels of challenge and reward. Here are some popular jobs and their average pay ranges:
| | |
| --- | --- |
| Job Titles | Average Annual Salary (in INR) |
| Computer Science Engineer | 4 lakhs |
| Software Engineer | 5 lakhs |
| Construction Project Engineer | 5.5 lakhs |
| Data Analyst | 5.8 lakhs |
| Automation Engineer | 6.2 lakhs |
| Computer Scientist | 7 lakhs |
| Product Development Engineer | 10 lakhs |
Salary ranges can vary depending on criteria such as geography, experience, firm size, and industry demand. These estimates offer a basic notion of the earning possibilities in various M.Tech-related positions; real earnings may fall within a range.
Admission process for M.Tech after BCA
Due to the specialised nature of M.Tech studies and their specific requirements, admission to M.Tech after BCA may not be possible. M.Tech programs often demand a solid background in engineering or a related discipline, which BCA may need to provide.
If a BCA graduate wants to pursue M.Tech, a viable alternative is to pursue a Master of Computer Applications (MCA) as an interim step. MCA programs provide advanced knowledge and technical abilities more closely aligned with M.Tech requirements.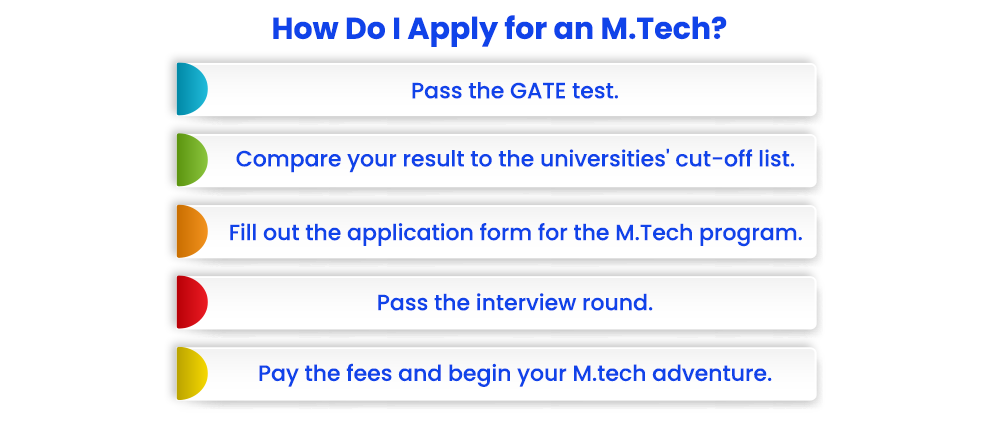 The following steps are included in the general admission procedure for M.Tech after BCA following MCA:
Identify colleges and institutes that offer M.Tech programs relevant to your interests and professional objectives.
Ensure that you meet the eligibility standards, which frequently include a qualifying Bachelor's degree and minimal academic scores.
Some universities may need you to pass admission tests such as the GATE (Graduate Potential Test in Engineering) to demonstrate your potential for advanced technical education.
Submit online applications to the colleges of interest, including all required papers, grades, and personal information.
Institutions analyse applicants based on academic records, admission exam results, and, in certain cases, interviews.
Participate in counselling sessions, if applicable, where you can pick a speciality and institution depending on your ranking.
Once you've been assigned a seat, finish the admissions process by providing the necessary papers, paying fees, and confirming your enrollment.
While straight admission to M.Tech after BCA may be difficult, the MCA degree might be a stepping stone. Following that, aspirants can proceed through the standard admissions procedure, utilising their MCA experience to pursue an M.Tech degree and thrive in technology.
Best Specialisation of M.Tech after BCA
Choosing the ideal specialisation for M.Tech after BCA needs careful assessment of your interests and professional goals. While straight admission to some specialities may be difficult owing to technical requirements, earning an interim Master of Computer Applications (MCA) degree might widen your possibilities. Here are some best Mtech specialisations you can pursue:
Top 10 universities to pursue M.Tech after BCA
When pursuing an M.Tech after BCA, the university you attend is critical in moulding your career in technology. Choosing a reputed college that provides comprehensive M.Tech programs is critical for acquiring competitive advantage in the fast-paced field of engineering and innovation. Here are the top 10 universities, according to NIRF ranking 2023, known for their M.Tech programs, as well as their academic brilliance, world-class professors, and cutting-edge research facilities.
| | | |
| --- | --- | --- |
| Institution | City, State | NIRF 2023 Rank |
| Indian Institute of Technology Madras | Chennai, Tamil Nadu | 1 |
| Indian Institute of Technology Delhi | New Delhi, Delhi | 2 |
| Indian Institute of Technology Bombay | Mumbai, Maharashtra | 3 |
| Indian Institute of Technology Kanpur | Kanpur, Uttar Pradesh | 4 |
| Indian Institute of Technology Roorkee | Roorkee, Uttarakhand | 5 |
| Indian Institute of Technology Kharagpur | Kharagpur, West Bengal | 6 |
| Indian Institute of Technology Guwahati | Guwahati, Assam | 7 |
| Indian Institute of Technology Hyderabad | Hyderabad, Telangana | 8 |
| National Institute of Technology Tiruchirappalli | Tiruchirappalli, Tamil Nadu | 9 |
| Jadavpur University | Kolkata, West Bengal | 10 |
Consider these prestigious colleges that stand as beacons of quality education and competence in pursuing an M.Tech degree as you seek to improve your technical understanding and professional possibilities.
Is it possible to M.Tech after BCA Online?
Pursuing an M.Tech degree through online platforms is feasible, which appeals to working professionals and those seeking flexible study alternatives. Recognising the increased need for higher education that fits into the schedules of busy professionals.
Working people who want to improve their skills and knowledge might benefit greatly from M.Tech with flexible timing programs. These programs are designed to meet individuals' work responsibilities, allowing them to further their education without affecting their professions. These courses are designed to teach full information via digital platforms, allowing students to access lectures, study materials, and exams at their speed.
Furthermore, AICTE has named Online Mtech as M.Tech with flexible time, catering primarily to learners who want adaptable schedules. These programs recognise individuals' different lifestyles and obligations, allowing them to balance their education with other duties.