Choosing the right university and program for pursuing higher education is a crucial decision that can significantly impact one's career prospects. When it comes to engineering programs, students often explore various options to find the best fit for their aspirations and goals. In this blog, we will evaluate the Mangalayatan University Work-Integrated Learning Program (WILP) in engineering and analyse its merits and drawbacks, helping prospective students make an informed decision.
Overview of Mangalayatan University
Mangalayatan University, located in Aligarh, Uttar Pradesh, India, is a renowned educational institution that offers a range of undergraduate and postgraduate programs, including engineering. The university aims to provide quality education and foster holistic development among its students. With its focus on practical learning and industry exposure, the WILP Engineering Program holds significance in this evaluation.
Mangalayatan University was established based on two fundamental principles: prioritising the students' interests and acknowledging that knowledge is constantly expanding, ever-present, and necessitates open-mindedness. These principles form the foundation of our institution.
Mangalayatan University, often referred to as the nurturing ground for positive thinking, strives to foster a culture of diligence, adaptability to change, and equipping individuals with the most up-to-date skills and the utmost social and personal values. Their goal is to prepare students for the rapidly advancing world, ensuring they possess the necessary tools and moral compass to thrive.
The Work Integrated Learning Programs (WILP) at Mangalayatan University was created with a focus on industry practices, to enable aspiring minds from industries to advance their career. The program enables learners to gain and adapt new skills and get ahead of their peers in a highly competitive workplace.
About WILP
Work-Integrated Learning Programs (WILP) is an educational approach that combines academic learning with practical work experience in a real-world setting. It is designed to bridge the gap between theoretical knowledge gained in classrooms and the practical skills and competencies required in professional environments.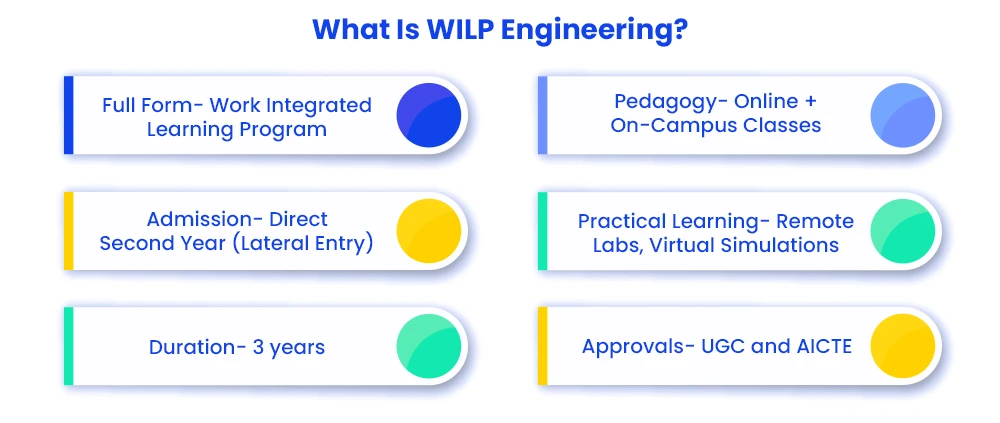 In a Work-Integrated Learning program (WILP), students have the opportunity to apply the concepts and theories they learn in their academic coursework to actual workplace scenarios. This type of learning experience is typically facilitated through internships, cooperative education, apprenticeships, or industry projects.
The primary goal of Work-Integrated Learning is to provide students with hands-on experience, enabling them to develop practical skills, enhance their understanding of industry practices, and gain insight into the demands of their chosen profession. By working alongside professionals in their field of study, students can acquire valuable industry-specific knowledge, improve problem-solving abilities, and develop effective communication and teamwork skills.
Work-Integrated Learning programs often involve collaboration between educational institutions and industry partners. This collaboration helps ensure that the learning experiences align with industry standards and meet the evolving needs of the job market. Employers benefit from these programs by having access to a pool of talented and skilled graduates who are well-prepared to contribute to their organisations from day one.
Benefits of WILP
Practical Skills Development: Students gain practical skills that are directly applicable to their chosen profession, increasing their employability and readiness for the job market.
Industry Exposure: Students get first hand exposure to the work environment, allowing them to understand industry expectations, work culture, and professional ethics.
Networking Opportunities: WIL programs provide students with valuable networking opportunities, enabling them to connect with professionals, mentors, and potential employers in their field of interest.
Enhanced Resume/CV: Work experience gained through a WILP course enhances students' resumes or CVs, making them more competitive in the job market.
Improved Transition to Employment: By experiencing the realities of the workplace during their studies, students can smoothly transition from the academic environment to professional employment.
Learn at your convenience: You have the benefit of conveniently completing your course at your own pace while simultaneously managing your professional work commitments as the course is quite flexibly designed.
Unlock Career Possibilities: WILP programs give you the necessary industry exposure to help you discover new possibilities in the professional world.
Accelerated Career Growth: Since you do not have to leave your job to pursue higher education, you get the advantage of career growth without any halt. You get to rise to higher professional levels in less time.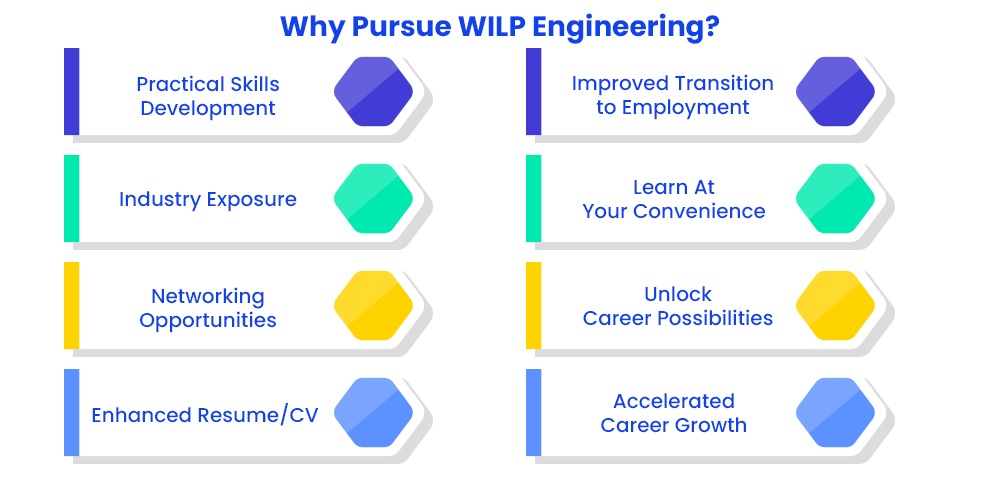 Work-Integrated Learning programs are highly regarded by employers, as they produce graduates who possess both academic knowledge and practical skills. These programs provide a win-win situation for students and industry partners, as students gain valuable experience while contributing to the success of organisations.
Overall, Work-Integrated Learning programs offer a unique and effective approach to education, combining classroom learning with real-world experiences to prepare students for successful careers in their chosen fields.
Approvals & Accreditations
Approvals and accreditations play a vital role in selecting a Work-Integrated Learning Program (WILP) engineering college. They provide important indicators of the quality and credibility of the institution and its programs.
Mangalayatan University has obtained several approvals and accreditations which are described below:
University Grants Commission (UGC) Approval: Mangalayatan University is recognized by the University Grants Commission, a statutory body responsible for maintaining the quality and standards of higher education in India.
All India Council for Technical Education (AICTE) Approval: AICTE is the regulatory authority for technical education in India. Mangalayatan University's engineering programs have received approval from AICTE, ensuring their adherence to established standards and guidelines.
Bar Council of India (BCI) Approval: For its law programs, Mangalayatan University has obtained approval from the Bar Council of India, the governing body for legal education and the legal profession in India.
Association of Indian Universities (AIU) Membership: Mangalayatan University is a member of the Association of Indian Universities, which promotes cooperation and maintains standards in higher education in India.
National Council for Teacher Education (NCTE) Approval: For its education programs, Mangalayatan University has received approval from the National Council for Teacher Education, the apex body for teacher education in the country.
Pharmacy Council of India (PCI) Approval: The pharmacy programs at Mangalayatan University have obtained approval from the Pharmacy Council of India, the regulatory authority for pharmacy education and profession in India.
Advantages of Mangalayatan University WILP Engineering Program
Work-Integrated Learning Approach: One of the program's key strengths is its integration of theoretical knowledge with practical application. Mangalayatan University collaborates with industry partners to provide students with hands-on experience and exposure to real-world challenges. This approach equips students with the skills and competencies needed to excel in their careers.
Industry Collaboration: The university has established strong ties with leading companies and organisations. This collaboration facilitates industry interactions, guest lectures, internships, and placements. Students benefit from mentorship opportunities and networking, enhancing their employability and preparing them for the professional world.
Industry Relevant Curriculum: The WILP engineering courses at Mangalayatan University follow an industry endorsed curriculum, ensuring that students receive education aligned with the latest industry standards and requirements.
Experienced Faculty: Mangalayatan University boasts a dedicated faculty with diverse expertise across various engineering disciplines. The faculty members have industry experience and academic qualifications, ensuring that students receive quality education and guidance throughout their academic journey.
State-of-the-art Infrastructure: The university's infrastructure is designed to provide students with a conducive learning environment. Modern laboratories, well-equipped classrooms, and advanced technology support practical training and research activities.
Focus on Research and Innovation: Mangalayatan University encourages research and innovation among its students. It provides research grants, collaborates on research projects, and organises conferences and seminars, fostering a culture of intellectual curiosity and discovery.
Accreditations & Recognitions: The university is fully accredited by the University Grants Commission (UGC) and All India Council for Technical Education (AICTE). Therefore, the degree earned here is valid across all private, public, and government departments.
Efficient Administration: The administration at the Mangalayatan University helps you in hassle free procedure for admission, delivery of the course followed by assessments. The digital infrastructure is also robust and ensures efficient delivery of the course and other academic activities.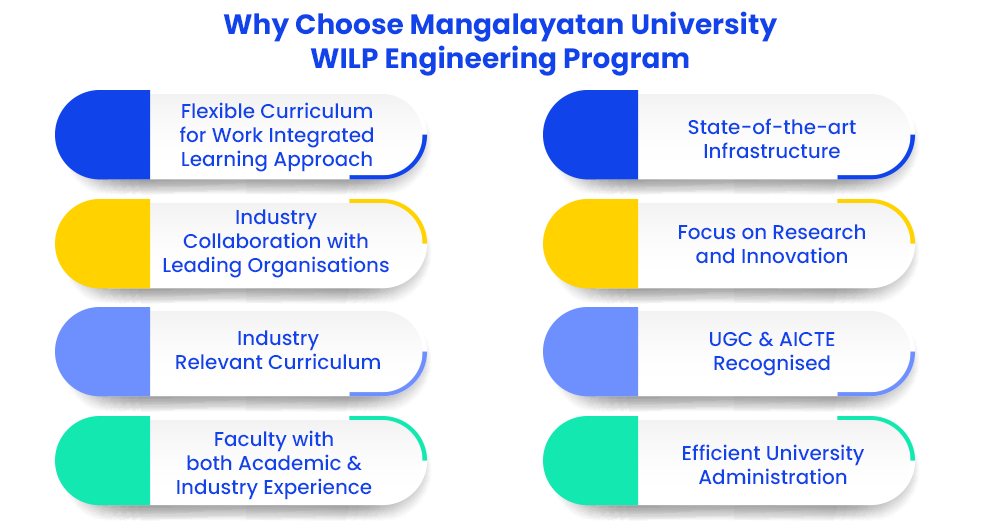 Challenges and Considerations
Limited Program Specialisations: While the university offers engineering programs, the range of specialisations may be limited compared to other institutions. Prospective students must assess whether the available options align with their career interests and long-term goals.
Regional Focus: Mangalayatan University primarily caters to students in the Uttar Pradesh region of India. Students from other parts of the country or international students should consider the regional focus of the university and evaluate its impact on their career prospects and exposure to diverse industry opportunities.
How Unique is WILP Engineering At Mangalayatan University?
The WILP (Work Integrated Learning Program) Engineering at Mangalayatan University stands out due to its unique features and offerings. Here are some key aspects that make it distinctive:
Blending of Learning and Work: The program integrates academic learning with real-world work experience, allowing students to apply their knowledge in practical settings. This combination enhances their understanding and prepares them for the demands of the professional field.
Flexibility of Online Learning: WILP Engineering offers an online learning environment, providing flexibility for students to pursue their education while managing other commitments. This mode of learning enables students to access course materials and engage in discussions at their own pace and convenience.
Industry-Relevant Curriculum (Live Case Studies): The program's curriculum is designed to align with industry requirements, ensuring that students acquire the necessary skills and knowledge for career success. The courses are regularly updated along with the inclusion of relevant case studies to reflect current industry trends and emerging technologies.
Collaborative Virtual Labs: WILP Engineering utilises virtual labs, enabling students to conduct experiments and gain practical insights into engineering concepts. These labs offer a collaborative learning environment where students can interact with peers and faculty members to deepen their understanding.
Reflection Sessions: These sessions are regularly conducted for students to assess their performance and accordingly plan their future course of studies. These sessions are highly helpful for students to stay focused with their degree programs as it gets difficult to do so with work and other professional commitments.
Experienced Faculty: The program boasts a highly experienced faculty comprising experts from prestigious institutions. These faculty members bring their rich industry experience and academic expertise to guide and mentor students throughout their learning journey.
Global Recognition: Mangalayatan University is known for its globally accredited curriculum, which ensures that the education provided meets international standards. This recognition adds value to the degree earned through the WILP Engineering program and enhances career prospects for graduates.
Comprehensive Career Support: The program offers free career support services to assist students in their professional growth. This includes guidance on resume building, interview preparation, job placement assistance, and networking opportunities, enhancing students' employability.
Overall, the WILP Engineering program at Mangalayatan University offers a unique blend of work-integrated learning, flexibility, industry relevance, and comprehensive support, making it a distinctive choice for aspiring engineers.
Placements & Top Recruiters
Mangalayatan University has a dedicated placement cell that strives to facilitate employment opportunities for WILP Engineering students. While specific placement statistics for WILP Engineering may not be available, the university as a whole has a track record of successful placements across various programs. The effectiveness of the placement process can vary depending on factors such as the individual student's skills, performance, and the demand for professionals in the specific engineering field.
To enhance employability, the university's placement cell typically organises various activities, including industry interactions, guest lectures, workshops, and career development sessions. These initiatives aim to equip students with the necessary skills, knowledge, and industry exposure to succeed in their chosen career paths.
It is recommended that prospective WILP Engineering students reach out to the university's placement cell or career services department for the most up-to-date and detailed information on placement opportunities and the track record specifically for WILP Engineering students. This will provide a clearer understanding of the placement support available at Mangalayatan University for WILP Engineering students.
Some of the top companies where the WILP engineering students at Mangalayatan University were placed are listed below:
| | | | |
| --- | --- | --- | --- |
| Accenture | HCL | Steria | UP Jal Nigam |
| Birla Cement | Tata Motors | Suzuki | Lucknow Metro Rail Corporation (LMRC) |
| Escorts | Tech Mahindra | Tata Consultancy Services (TCS) | Delhi Metro Rail Corporation (DMRC) |
| R Systems | Syntel | LG | UP Power Corporation Ltd. |
Conclusion: Is Mangalayatan WILP Engineering Good or Bad?
Choosing the right engineering program is a critical step toward building a successful career in the field. The Mangalayatan University WILP Engineering Program offers several advantages, such as its work-integrated learning approach, industry collaborations, experienced faculty, state-of-the-art infrastructure, and focus on research and innovation. However, prospective students should also consider the limited program specialisations and regional focus before making a decision. Ultimately, individuals must evaluate their own career goals, personal circumstances, and preferences to determine if the Mangalayatan University WILP Engineering Program aligns with their aspirations. Conduct thorough research, gather information, and seek guidance from academic advisors to make a well-informed choice that suits your individual needs and aspirations.
You can connect with verified and certified counsellors and academic advisors at College Vidya (CV) to help you with all your doubts regarding the engineering course you wish to pursue. Pursuing an engineering degree is quite an important decision of your life, so you must not take any risks and get all your queries answered before you take the decision. The counsellors at CV will not only help you make an informed decision but will also help you connect with the university and help with admission related formalities. Since it is an important and an irreversible decision of your life, take no risks and ask the experts at College Vidya.
WILP Program Highlights At Mangalayatan University
Mangalayatan University aims to create an establishment that provides a nurturing environment for the crucial developmental years of young individuals. They envision that students will receive guidance in their pursuit of excellence, while also fostering an inquisitive nature, developing skills to thrive in a rapidly evolving professional landscape, and cultivating a desire for personal growth and character development.
The institution is dedicated to instilling strong moral and ethical values, promoting teamwork, encouraging community service, and fostering environmental consciousness. Established in 2006, Mangalayatan University has successfully conferred degrees upon a remarkable number of over 3000 students. Presently, the campus accommodates a diverse student body of more than 3000 individuals from India as well as abroad, engaged in their pursuit of education.
The following program highlights show how the university has been maintaining this excellence over the years with their academic excellence:
Government recognised (UGC/AICTE) WILP Engineering Programs
Continuous guidance in a structured format to ensure uninterrupted learning.
Dedicated mentors providing full-time support for educational endeavours.
Comprehensive online learning platform enabling 100% remote education.
Focus on acquiring advanced skills for tangible career advancement.
Curriculum accredited globally to meet international standards.
Virtual labs facilitating practical application and understanding of concepts.
Expert faculty members with extensive experience from renowned institutions.
Free career support services to assist in professional development.
WILP Engineering Programs At Mangalayatan University
Mangalayatan University offers the following three engineering programs in several specialisations for working professionals:
Diploma Engineering
B.Tech Engineering
M.Tech Engineering
The following table gives a detailed account of all these programs as offered by the university.
Program Name

Duration

Specialisations

Eligibility Criteria

Diploma Engineering

4 Semesters + 1 additional semester for Industrial Internship

Civil Engineering (CE)
Computer Science Engineering (CSE)
Electrical Engineering (EE)
Electronics Engineering (ECE)
Mechanical Engineering (ME)
Refrigeration & Air Conditioning (RAC)

Working professionals with at least one year of relevant work experience with an ITI qualification and having a minimum of 45% marks or its equivalent.

B.Tech Engineering

6 Semesters + 1 additional semester for Industrial Internship

Civil Engineering (CE)
Computer Science Engineering (CSE)
Electrical Engineering (EE)
Electronics Engineering (ECE)
Mechanical Engineering (ME)
Refrigeration & Air Conditioning (RAC)

Working professionals with at least one year of relevant work experience with a polytechnic diploma in engineering and having a minimum of 45% marks or its equivalent.

M.Tech Engineering

4 Semesters

Mechanical Engineering (ME)

Thermal Engineering
Machine Design & Production
Industrial Engineering

Civil Engineering (CE)

Structural Engineering
Transportation Engineering
Environmental Engineering
Concrete Technology Management

Computer Science Engineering (CSE)

Artificial Intelligence & Machine Learning
Cloud Computing
Cyber Security
Data Science

Electronics Engineering (ECE)

Communication System/ VLSI Design

Electrical Engineering (EE)

Electrical Machine & Drives

Working professionals with at least one year of relevant work experience with a B.Tech degree in a relevant subject and having a minimum of 45% marks or its equivalent.
How To Apply?
To apply for the Work-Integrated Learning Program (WILP) engineering programs at Mangalayatan University, you can follow the general application process outlined below: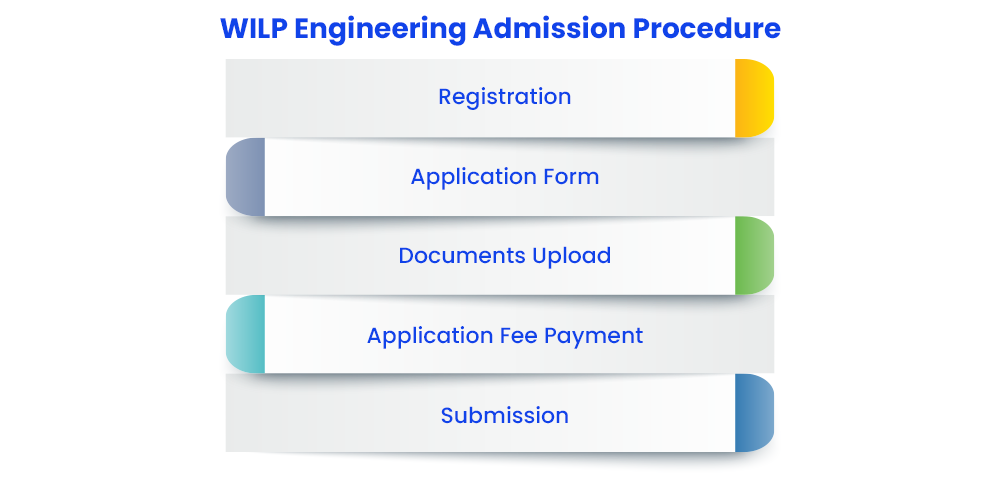 Step 1- Register yourself to the university portal.
Step 2- Fill in your basic contact details like phone number and email address and get it verified.
Step 3- After successful verification of email address, fill up the application form online.
Step 4- Now upload the required documents along with the application form.
Step 5- Pay the required application fee and submit the form.
Points To Remember Before Applying
Research and Program Selection: Begin by researching the WILP engineering programs offered by Mangalayatan University. Explore the available specialisations, curriculum, program duration, and any specific eligibility criteria.
Check Eligibility: Review the eligibility requirements for the WILP engineering programs. Typically, candidates are required to have completed their polytechnic diploma in engineering education with relevant subjects and minimum qualifying marks. Some programs may also have specific entrance exam requirements.
Who Should Apply?
Especially Designed for Busy Working Professionals
Education and learning are experiencing a global transformation, with active participation from teachers, students, industry, and governments. This shift is driven by the ever-changing market demands influenced by technological advancements. To keep up with these changes, employers must invest significantly in upskilling their workforce while also seeking professionals with relevant skill sets. Simultaneously, working professionals have a remarkable opportunity to accelerate their career growth or embark on a complete career transformation. The following categories of working professionals are encouraged to apply regularly.