Maharashtra Institute of Technology (MIT) is the very first engineering institute in Pune, Maharashtra. It was established by the Maharashtra Academy of Engineering Education and Research (MAEER) to meet the industrial, social, & economic growth of the industry. In 1983, Prof. Vishwanath D. Karad founded MAEER for value-based education. MAEER's MIT is one of the most trusted engineering institutes by National & International students for different UG & PG programs in Engineering, Medicine, Management, Pharmacy, Design, and others.
About MITSDE University
MITSDE is the School of Distance Education of Maharashtra Institute of Technology established by MIT Pune in 2008. The university works on the vision of Dr. Vishwanath D. Karad, Founder, Executive President, & Managing Trustee of MIT focused on bringing innovation & excellence in education.
MITSDE was started with the need for a learning module that allows working professionals & several students to complete their higher studies. It resolves relocation issues & time restrictions for many of them which are the biggest obstacles in pursuing a higher degree/diploma program.
The programs offered by the university are more industry relevant & are designed in a way that brings in more educational value for working executives. The management & business programs either degree or diploma at MITSDE are chosen by the candidates to lead a progressive professional life.
MITSDE is known to offer a variety of courses in the specialization areas of Marketing, Finance, Operations, Information Technology Human resources, Insurance and Risk, Retail, and Logistics and Supply Chain. On its way to fulfilling, the industrial demand of technically trained working professionals, the university also offers a varied number of diploma courses in different sectors.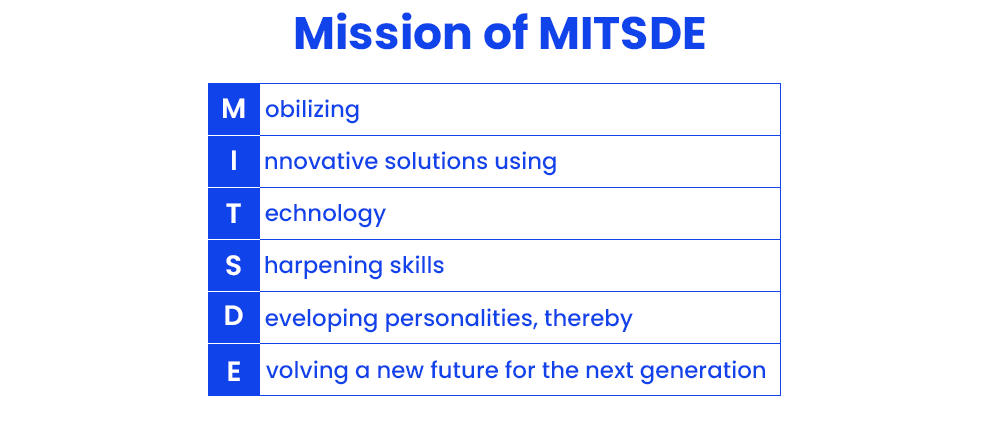 Important Factors To Be Considered While Choosing an Online/Distance University
With a Boom in online education, the choice for choosing "the one" that best fits your need is quite difficult. However, it's not impossible. There are a number of factors that must be considered by all aspiring candidates while opting for online or distance education which will make your course & university selection process much easier.
These factors include:
University Accreditations
Fee Structure
Curriculum & Faculty
Accessibility of LMS
Evaluation Method
Student Support System
Placement Assistance
Now, let's discuss all of these above-mentioned points for MITSDE University one by one to get a better idea of it.
Accreditations of MITSDE University
The accreditations or approvals of a university reflect whether the university is trustworthy or not. It is one of the most important & considered factors when opting for an online university as it will contribute to the credibility & weightage of your degree/diploma/certificate in the industry.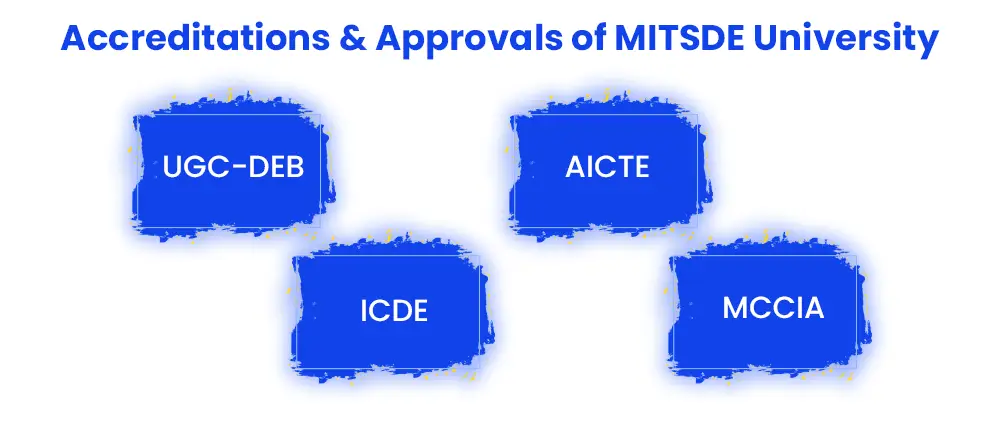 MITSDE is approved by the University Grants Commission's (UGC) Distance Education Bureau (DEB) & All India Council for Technical Education (AICTE), a statutory body under the Ministry of HRD, Govt. of India. It has also got the membership of International Council For Open And Distance Education (ICDE) which is a Global Network for Online, Open, and Flexible Education. The university has also received a certificate from the Maratha Chamber of Commerce Industries and Agriculture (MCCIA).
Thus, all the degrees or diplomas earned from MITSDE are valid & considered by other universities & recruiters.
Fee Structure of MITSDE University
The second point in the list of university selections is the fee structure. There are many universities that offer the same course at different fee packages. Thus, choosing one that fits your pocket is certainly the right step but it should not be the only factor for selecting a course or university.
MITSDE offers a variety of degrees, certifications, & diploma programs at an affordable cost as listed below.
| | |
| --- | --- |
| Course Category | Fee Range |
| Certificate Courses | 50,000 INR to 60,000 INR |
| Diploma Programs | 50,000 INR to 1,00,000 INR |
| Degree Courses | 80,000 INR to 1,00,000 INR |
| Dual Degrees | 1,50,000 INR to 2,00,000 INR |
The fee packages at which these technical & professional higher-level programs are provided at MITSDE University are one of the best packages that are being offered by other universities.
Curriculum & Faculty of MITSDE University
Choosing an online or distance course that equips you with all the latest technicalities & methodologies being used in this Hi-Tech industry is another criterion for finalizing an online university. The panel of professors should also be considered as that will contribute to your conceptual understanding of the course.
At MITSDE, the course curriculums are revised every year to ensure the involvement of the latest developments in each field. The Board of Study (BoS) of the university consists of highly experienced professors & industry experts that strengthen the conceptual learning of the course by building a strong foundation on theoretical & practical aspects of the course.
The study materials developed by knowledgeable Subject Matter Experts (SMEs) with a relevant experience in their respective field makes you develop a deep understanding of the subjects through self-study. These study materials are offered in digital & printed formats to make you study anytime anywhere.
These academic materials not only involve theoretical concepts but also incorporate some case studies, projects, & assignments to make you equipped with all the needs of the industry.
Learning Management System of MITSDE University
In the successful conduction of online courses, the Learning Management System (LMS) of the university plays a vital role. These systems serve as virtual classrooms that are the only mode of communication available to the students to interact with teachers & with peer students.
Since interaction with teaching faculty is one of the most important factors of an online program, universities must make their LMS portals as much accessible & user-friendly as they could get.
MITSDE has already understood the task & made it very clear to its users from the initial years of operations. The well-organized & simple website of the university has made it way simpler for its users to get an idea of the courses or programs they are offering.
With all the information available on the website in the form of the student handbook, prospectus, course program layout, fees, course recognitions, and contact details, students can easily finalize their course.
After gathering all the information, candidates can easily get enrolled in their specific course by following a hassle-free & quick admission process.
As soon as the students get enrolled with the university, they get access to the Online Cloud-Based Portal (CANVAS) which is used for all the interactive sessions & task submissions for the entire session of the course.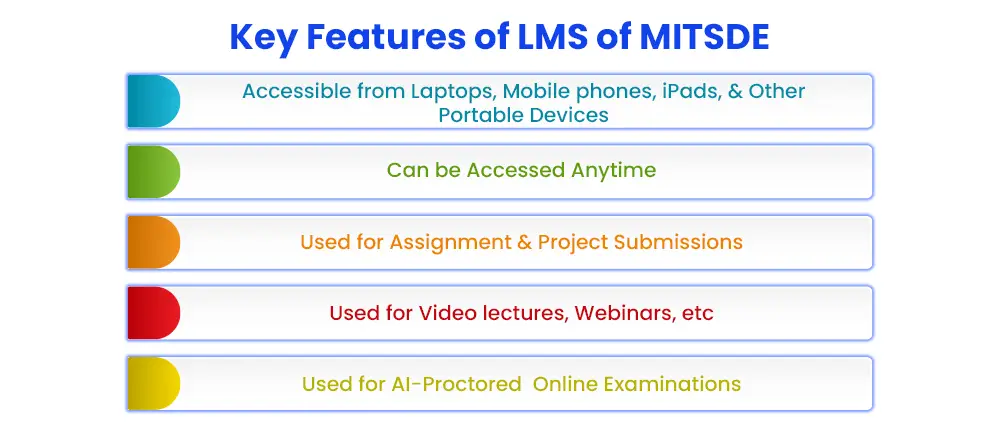 MIT School of Distance Education is the first online platform that uses CANVAS as its LMS portal. This cloud-based LMS portal of the university makes you download & play the recorded video lectures an infinite number of times. CANVAS is used by the students of the university for in-video & in-module quizzes, for doubt resolution by interacting with the SMEs & professors, for getting information on upcoming exams, live classes, & submissions, for peer-to-peer interaction, & for connecting with the concerned SMEs.
Evaluation Method Used by MITSDE University
The evaluation methods used by different universities offering online or distance education must follow a flexible pattern that would be suitable for working professionals.
At MITSDE, all the exams are conducted in a continuous & more interactive method involving internal assessments (IAs) & External theory exams. IAs are allotted to the students during the ongoing session while the external exams are conducted at the end of the semester or course.
All the exams are prepared in the format of Multiple Choice Questions (MCQs) for the convenience of each student & are conducted in January & July months for each academic year. Students are also required to submit two quizzes for each subject as a part of their assessment program.
Exams are attempted by the students via the LMS portal. The minimum mark to be scored by students to pass the course is 50% as decided by the BoS of the university. The final result of each student is evaluated by taking 60% weightage of internal assessments & 40% weightage of external exams.
Student Support System at MITSDE University
Apart from the academic pedagogy, technical support provided to the students in online or distance mode of education is equally important. There are a lot of issues students face while going through the admission form filling, fee payment, attending live lectures, submitting assignments, etc. They need to have a support system in that case & thus, this factor must also be considered when taking admission to online or distance universities.
MITSDE offers full support to its student starting from the day of their enrollment. There is a dedicated "Student Support Team" which is committed to resolving & providing full guidance to the students starting from admission to the exam results. This support team offers a variety of services to university students at different stages of the course.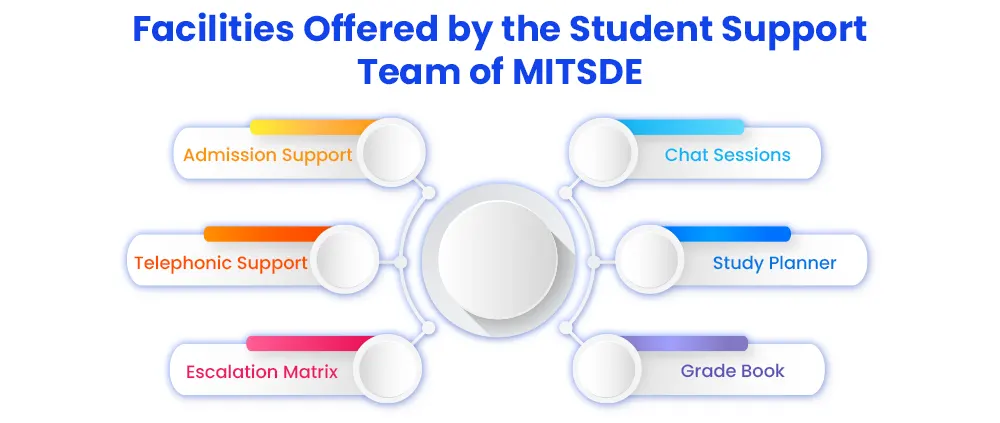 Admission Support: Simple & quick admission process can be completed with the steps mentioned on the university website. A chat box is there to help you in that process.
Telephonic Support: You can also call on the toll-free number for any kind of assistance. The specific contact numbers are also provided on the university website for specific queries/concerns to assist you at every stage starting from the admission process to the job interviews.
Escalation Matrix: This method connects students with higher members of the university. This service is useful in cases when users or students do not get satisfactory responses or resolutions to their problems from the lower authorities of the university.
Chat Sessions: This facility guides you in academic & non-academic concerns & resolves your technical & academic queries. The chat sessions with faculty members are also provided for clearing the academic doubts of the students instantly.
Study Planner: The study planner facility helps you plan your study path for the next upcoming exam. This makes you schedule your study time for the next semester as soon as you clear the last one. This service assists you manage your study time with your daily routine.
Grade Book: This facility helps you review your performance in the course by reflecting your semester-wise grades. This prepares you & helps in planning the exam cycles for better results.
Placement Assistance at MITSDE University
What are the benefits of getting a PG degree, diploma, or even certificate? Why do we need to upskill ourselves in a particular field? Well, the answer to these questions might be different for different personalities but the common one that we are sure of is certainly "Better Career Options/Salary Hike/Promotions."
As one of the primary aims of our online degree is related to aure professional growth, thus, we must consider the placement support that the online/distance universities offer.
MITSDE offers different services under the name of "Placement Support Services." The placement cell of the university is quite active & is headed by highly experienced professionals.
The services offered by the placement cell of MISDE include:
Virtual Mock Interviews: These services help students get familiar with the questions asked in the interviews of a specific field related to their course. These are conducted online via the LMS portal of the university.
Career Counseling: The panel of faculty members & industry experts guide students in their career choices after the completion of the course. These sessions are quite helpful in getting to know about the various sectors of employment available for you.
Resume Building: The technical skills & tools learned in the course help you develop an impactful resume for better career opportunities.
Industry Exposure: The industry experts that hold years of experience provide insights into the real workflow of the industry that prepares them mentally to face the industrial challenges.
Interview Calls: The placement cell of the university arranges a minimum of 3 interview invitations for each student with top MNCs. This will provide opportunities to them that can be grabbed with their learnings of the course.
Some of the top-ranked hiring partners of MITSDE are tabulated below:
| | |
| --- | --- |
| Planet Spark | Rao IIT Academy |
| Wipro | Accenture |
| Lenskart | PVR Cinemas |
| Tech Mahindra | Flipkart |
| Akash + BYJU's | Just Dial |
| Max Healthcare | Tech Mahindra |
Around 24 students of the university are working at TCS, 21 of them are placed at Tata Motors, 16 of them are working with Capgemini, 15 of them are working at Infosys, & 18 of them working at Accenture.
There are many more on the list but the primary aim that is fulfilled by these numbers is that this university is not only trusted by Students but also by Recruiters because of the quality of learning that it provides.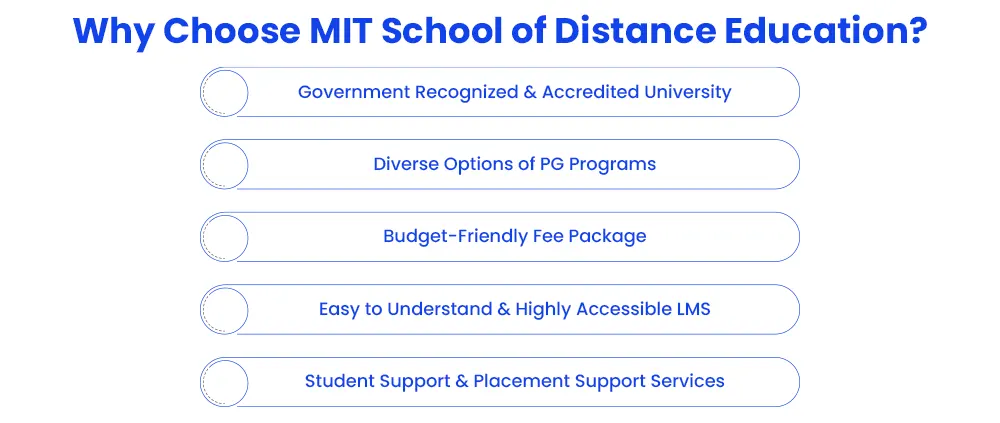 Some Other Online/Distance Universities
There are a varied number of recognized universities that offer credible online & distance courses in different categories of UG, PG, Diploma, Advanced Diploma, & Certificate Programs.
A list of some of the top-ranked online & distance universities is provided in the table below:
| | | |
| --- | --- | --- |
| University Name | Location | Accreditations |
| Chandigarh University | Chandigarh | UGC-DEB, NAAC |
| Jain University | Bangalore | UGC, AICTE |
| DMIMS University | Maharashtra | UGC-DEB, NAAC A+, AICTE, NABH, AIU |
| Lovely Professional University | Phagwara, Punjab | UGC-DEB, AICTE, NIRF, WES |
| Manipal University | Jaipur | UGC, AICTE, NAAC, WES, ACU |
| Amity University | Noida (Main Branch) | UGC, NAAC, AICTE, AIU, ACU |
| DY Patil University | Pune | UGC-DEB, AICTE, AIU, ACU, ISO, WES |
| CCE UPES Distance Learning | Dehradun | UGC-DEB, NAAC A, NIRF |
| Manav Rachna University | Haryana | UGC-DEB, NAAC A++, WES |
Conclusion
Well, after getting through all the aspects that must be considered & verified before getting enrolled in an online university, you must have prepared your checklist. If you are a working professional, it is really important for you to consider the flexibility in learning modules & recognition of the degree/diploma in the industry along with its fee package.
MIT School of Distance Education is a government-recognized university known for providing quality education in flexible learning modules in distance & online modes. The diverse options of specializations it offers at an affordable fee structure are something that makes this university popular among working executives.
MITSDE's AI-proctored online exams make the evaluation process unbiased for its students. Besides, the placement & academic supports that you get during & after the online programs of MITSDE are quite beneficial for your professional life.
So, get associated with MITSDE & make an investment for the future!