Shanmugha Arts, Science, Technology and Research Academy (SASTRA) University is a NAAC A++ university with a division for online and distance education- the Directorate of Online and Distance Education.
If you are a student seeking online education at the undergraduate or postgraduate level, here is a detailed review that you can refer to for the full facts of the university's online education division.
About SASTRA Online University
Shanmugha Arts, Science, Technology and Research Academy (SASTRA) University was established in 1984 in Thanjavur, Tamil Nadu. The university has been accredited by bodies such as UGC and has been rated as an A++ university by NAAC. It has started offering its industry-focused courses in the online mode through its Directorate of Distance and Online Education. It is among India's top 30 universities and was ranked at the 24th position by NIRF in 2022.
The university has provided higher education courses to students for nearly 40 years now and keeping up with the developments in education technology, students can now pursue full-time online courses from the university as well.
Key Factors to Consider for Choosing Online University
The format of online education is different from offline education in a number of ways. So, choosing the right online university can be quite a tricky task if you are not well-acquainted with the major factors involved.
SASTRA University offers students of online courses with a number of student services and academic facilities.
To help you make an informed and right choice about the university, here we have provided you with the complete facts and a detailed review of the university.
1. Is the University Well-Accredited and Recognized?
This is by far the most essential factor to take into account if you are going for online education. There can be many "universities" or "colleges" that offer students with online courses, but they are not recognized or accredited by the necessary statutory bodies. This means that the degree you get will be fake. In order to protect yourself from any such education scam, you should always check if the online university you are considering for admission has the necessary accreditations or not.
SASTRA University is a prestigious name among the universities of India and has the accreditations from UGC-DEB to provide fully online courses.
Additionally it has also been rated as an A++ university of India by NAAC and has been ranked 24 in the top universities of India by NIRF.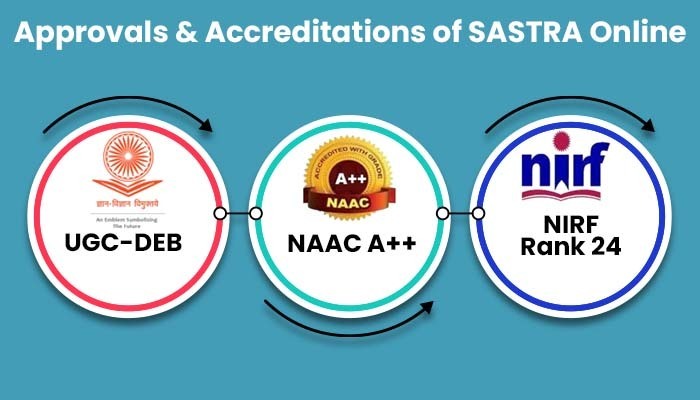 So, SASTRA Online University stands out from other online universities since it is not only accredited to provide credible online degrees, but is one of the top universities of India to do so.
2.What Courses Choices does the University Offer?
If an online university offers students a number of courses, the likelihood of finding the course of your choice increases. However, you must double check if the course you want to pursue from the university has been approved by UGC-DEB for the online mode of delivery or not. This is very important since a number of universities have the approval of UGC-DEB for providing online education but some of their online courses are not UGC-DEB approved.
At SASTRA Online University, students are provided fully online courses in the fields of computer applications, commerce, business administration and management.
The following courses are offered at SASTRA Online University at the UG and PG levels:
SASTRA University Fully Online Courses

Undergraduate Level

Postgraduate Level

Bachelor of Computer Applications (

BCA)

Master of Business Administration

(MBA)

Bachelor of Business Administration

(BBA)

Master of Computer Applications

(MCA)

Bachelor of Commerce

(B.Com)

Master of Arts

(M.A in Divya Prabandham/ Sanskrit

)

Bachelor of Arts

(B.A)

Master of Commerce

(M.Com)

Master of Fine Arts

(M.F.A)

Master of Science

(M.Sc in Data Science/ Business Analytics)
NOTE: All the above-mentioned courses are approved by UGC-DEB to be delivered in the online mode by SASTRA University.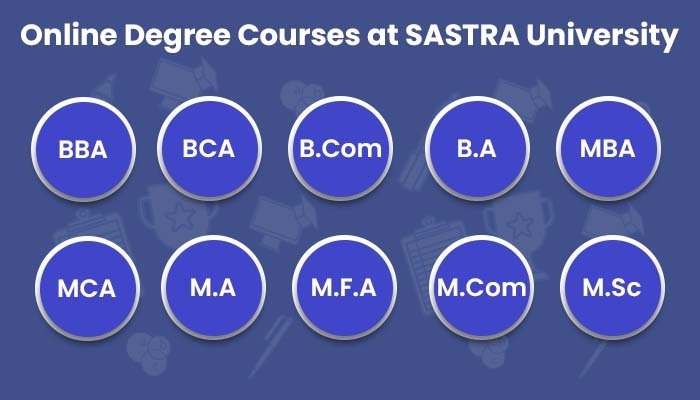 3. Is Education at the University Affordable?
In addition to the inflexibility in the learning pattern in an offline course, the cost of education in the offline regular mode is very high, which becomes an added constraint for many students. On the other hand, online education is a more pocket-friendly alternative that is more affordable than regular studies. So, while choosing your online university, you should check the course fee range and whether it is affordable for you or not.
All the courses at SASTRA Online University are provided in a fee range that can be afforded by students. There are options for students to pay the fee on a semester-basis which makes it easy for them to afford these courses.
Course Fee Range at SASTRA Online University
Course
Total Fee
Semester fee

BBA

INR 1,80,000

INR 30,000

BCA

INR 1,80,000

INR 30,000

B.Com

INR 1,80,000

INR 30,000

B.A

INR 1,20,000

INR 20,000

MBA

INR 1,20,000

INR 30,000

MCA

INR 1,40,000

INR 35,000

M.A

INR 18,000

INR 4500

M.Com

INR 80,000

INR 20,000

M.F.A

INR 80,000

INR 20,000

M.Sc

INR 80,000

INR 20,000
NOTE: A one-time admission fee of INR 1000 will be added to the fee of the first semester. A Convocation fee of INR 2100 will be charged in the last semester for the MCA course.
As can be seen, the various courses of SASTRA Online University are pretty affordable with the semester-wise payment option.
4. How is the Faculty for Online Courses?
The faculty is an important aspect of higher education irrespective of the mode of delivery. But for an online degree, the course faculty should not only be well-qualified but also well-trained in handling and effectively teaching through the use of technological means and ICT tools.
SASTRA Online University has a highly qualified faculty that is well-experienced in their relevant field and provides students with contextual insights that help in practical application. Moreover, they are reachable through the learning support and virtual contact classes.
Majority of the faculty for the various online courses at SASTRA hold doctoral and postgraduate degrees, and have multiple years of experience in their domain, garnering them with unique insights that can be of value to students.
5. What is the Learning Pedagogy for Online Courses?
For knowledge dissemination in the case of an online course, the university depends on effective learning support. This includes effective edtech tools and softwares that enable teachers and students to interact and effectively convey the course content. So, checking the academic pedagogy and learning support in the case of online education is essential.
SASTRA University has developed major tools and enhanced its edtech support for students enrolled in the online courses. The main aim is to enable students to grasp the various concepts effectively irrespective of the mode of teaching and help them develop practical insights and critical thought.
The various pedagogical tools used for online education at SASTRA Online University include:
Learning Support at SASTRA Online University

Access to SWAYAM Courses

Virtual Contact Classes

Video Lectures

Online Learning Resources

Interactive Webinars with Industry Experts

Live Doubt Clearing Sessions

Internships

Online Assessments
An added facility at SASTRA Online University is the multiple exit option offered in accordance with the new education policy. So while completing an undergraduate level course, the students will get
A

Certificate

if they complete

1 year

and exit

A

Diploma

if they complete

2 years

and exit

A

Degree

if they complete

3 years

and exit.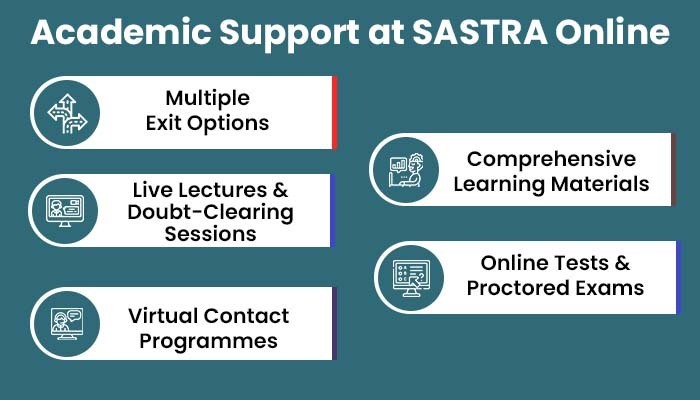 So, the overall learning support at SASTRA Online University is flexible and offers students with tools and facilities for self-paced learning. The multiple exit options are especially useful for those students who cannot pursue a full-time course for 3 years.
6. What is the Evaluation System and Examination Procedure?
In the case of online courses in higher education, the evaluation and assessment is done through virtual means. Before finalising your online university, you should check the mode of examination as well, to ensure you have the necessary amenities for appearing in the examinations in the format prescribed by the university.
At SASTRA Online University there are facilities for continuous assessment of the student through the online mode itself. In addition, there is the component of end-semester examinations which are conducted through online proctored means.
The basic format for the evaluation and assessment of online courses has been described below:
| | |
| --- | --- |
| Continuous Assessment | End-Semester Exams |
| Online Assessment | Online Proctored Mode |
| Online Quiz | MCQ Format |
| Online Assignments | 2-3 Hours, Single Attempt Exams |
| 30% Academic Weightage | 70% Academic Weightage |
| Continuous Basis | End of Every Semester |
So, the methodology for appearing the exams at SASTRA Online University is quite flexible as students can take their exams from any location using their unique credentials. The proctored supervision prevents the use of any unfair means as well, making the process reliable.
7. What are the Student Support Services offered by the University?
The student support feature is another factor to consider while choosing an online university. All administrative and other procedures for online courses are usually completed via the online mode itself, which means that a good student support system becomes essential for effectively addressing student concerns.
At SASTRA Online University, there is a comprehensive student support network that assists students from the point of onboarding with the university for online courses to the completion of their education and beyond.
The university's individualised admission counselling, beyond the degree placement support and the alternative for multiple exits based on the period of completion of course make education at SASTRA University flexible, student friendly and uncomplicated.
Student Support Services

Admission Counselling

Multiple Exit Support

Efficient Online Learning Support

Job-Linked Programmes

Grievance Redressal

Virtual Contact Programmes
8. Does the Online University provide Placement Support?
Placement support right after the completion of the course helps the student explore their professional scope as well as areas of aptitude and interest. Placement services for online courses are an important part of the course because students do not attend classes and webinars in person which may hinder the formation of peer and professional networks. So, university-assisted placement support becomes an essential factor.
SASTRA University provides students with job-linked online programmes, i.e. the online courses at SASTRA University also provide embedded placement services. The university collaborates with a number of companies, organisations and multinational companies to offer the best industry exposure and job opportunities to students.
The placement support of the university for online courses is quite strong and allows students to access the job portal (in collaboration with TCS) even after completing their course.
Conclusion: Is SASTRA Online University Good or Bad?
After a detailed review of the university and its various features, we can provide you with a final review of SASTRA University's online courses. Here is our final word on online education facilities of the university:
The accreditations of the university are very satisfactory and makes it stand out from other universities which means that the online degrees provided by the university are valid and recognized.

It is a top university as per the NIRF rankings (24th in India) and NAAC (A++ university).

There are a number of professionally demanded courses and the specialisations offered are industry-relevant.

The learning support is quite efficient and allows flexible and self-paced learning.

The faculty is highly qualified and experienced, and willing to assist students through the doubt clearing sessions and virtual contact programmes.

The placement services are strong and the university has satisfactory placement records.
Taking all factors into consideration, SASTRA University is a good alternative to pursue higher education from, in the online mode.
Similar Online Universities of India
Some of the other top universities of India that are well-accredited to offer full-time online degrees are given here.
Well-accredited Online Universities in India

University

Location

Approvals and Recognitions

LPU Online

Phagwara, Punjab

UGC-DEB, AICTE, NIRF, WES etc.

Online Manipal

Jaipur

UGC, NAAC A+, AICTE, WES, ACU

Amity Online University

Noida

UGC, NAAC A+, AIU, ACU, BCI, WES

Dr. D. Y. Patil University-Centre for Online Learning (COL)

Pune

UGC-DEB, AICTE, AIU, ACU, ISO, WES

NMIMS Global Access School for Continuing Education (NGASCE)

Mumbai

UGC, NAAC A+, NIRF, AICTE

Hindustan University- Centre for Open and Digital Education (CODE)

Chennai

UGC-DEB, AICTE, NAAC A, NIRF

Chandigarh University

Chandigarh

UGC-DEB, NAAC A+

Jain Online

Bangalore

UGC, AICTE

ICFAI

Hyderabad

UGC, NAAC A+, NIRF, ACU

UPES Online

Dehradun

UGC-DEB, NAAC A, NIRF

Maharishi Markandeshwar University

Ambala

UGC-DEB, AICTE, NAAC A++, NIRF, AIU, ACU