The online arm of the famous business school SP Jain School of Global Management noted for its cutting-edge teaching methods and global viewpoint, is called SP Jain School of Global Management. This online learning environment provides a selection of courses created to satisfy the requirements of working professionals and those looking for excellent management education.
About SP Jain School of Global Management Online
A well-known Australian business school, SP Jain School of Global Management, has campuses in thriving corporate centers including Dubai, Mumbai, Singapore, and Sydney. With multi-city undergraduate and graduate programs and ground-breaking technology-driven learning platforms including Premium Learning Online, Engaged Learning Online, and Engaged Learning Classroom, the institution is famous for its creative approach.
Due to a dedication to global education, SP Jain opened its first campus in Dubai in 2004, marking the start of the school's international expansion. Notably, in a Brand Perception Audit carried out by Nielsen in 2008, SP Jain achieved first place in the UAE. The Singaporean government invited SP Jain to open a campus there in 2005, which resulted in the opening of SP Jain Singapore in 2006. To give students access to a worldwide education that is strengthened by exposure to Western culture, SP Jain opened its third international campus in Sydney, Australia, in 2012. This was part of the company's ongoing global growth.
When SP Jain opened its fourth campus in the heart of Mumbai in 2015, it achieved yet another significant milestone. Since Mumbai serves as both the commercial center of India and a nexus for both domestic and international businesses, this move marked a logical step forward in SP Jain's educational career. Most recently, in 2023, SP Jain opened a cutting-edge campus in the center of Wadala, solidifying its dedication to providing top-notch education.
Factors one should consider while choosing an online university
Finding the best match for your educational needs in the era of the rapid expansion of online education may be challenging, but it is not impossible. To make picking a university and course more straightforward, prospective students should consider several crucial factors while deciding on online or distance learning.
These include the university's accreditation, pricing, academic offerings, faculty, accessibility to the learning management system (LMS), evaluation practices, job placement services, and alternatives in the shape of other online or distance learning schools.
Those factors are:
University Accreditation
Fee structure
Curriculum and faculty
Accessibility of LMS
Evaluation Method
Student Support System
Placement Assistance
Each of these factors plays a crucial role in determining how effective and appropriate an online education will be.
Accreditation of SP Jain School of Global Management Online
A critical element in determining the legitimacy of an online education is accreditation. The education offered by SP Jain School of Global Management Online is normally approved by reputable organizations, assuring that it satisfies strict requirements for quality. The accreditation status may be checked by prospective students to validate the validity and worth of the degree being given.

Recognized and Approved by:
NIRF -Rank 20(India)
TEQSA (Australia)
ACCA (Global)
KHDA(UAE)
CPE(Singapore)
ABEST21(Japan)
SP Jain School of Global Management Online is accredited by various authorities like NIRF ranks 20th across the India region, the Tertiary Education Quality and Standards Act 2011 (TEQSA ), the Association of Chartered Certified Accountants (ACCA), the Knowledge and Human Development Authority (KHDA), Continuing Professional Education (CPE) and The Alliance on Business Education and Scholarship for Tomorrow (ABEST21) that make the degree of that university valid across the world and provide growth to your career.
Fee Structure of SP Jain School of Global Management Online
Financial planning requires an understanding of the charge structure. Typically, SP Jain School of Global Management Online provides a variety of programs with varying cost structures. Prospective students should evaluate the value of the education and professional options offered by the school while also taking their financial situation into account.

These are the courses offered by the SP Jain School of Global Management Online are listed below:
| | |
| --- | --- |
| Courses Offered | Fees |
| Leadership & Management | INR 85,000/- |
| Operations Management | INR 85,000/- |
| Professional Certification Program in Marketing | INR 1,54,875/- |
Curriculum and Faculty of SP Jain School of Global Management Online
The staff and curriculum are crucial to the standard of education. Typically, SP Jain School of Global Management Online offers a thorough curriculum created to give students useful information and abilities. The faculty is often made up of seasoned teachers and business leaders who enrich the learning environment by bringing real-world perspectives to the online classroom.
The professors at SP Jain are not just experts in their disciplines; they also form the intellectual foundation for developing the next generation of world leaders. Beyond leading industry reforms, their contributions to the constantly changing field of international business practices have earned them widespread praise. These professors collaborate to develop the curriculum and teaching strategies that best meet the demands of the corporate world through active engagement with businesses throughout the globe.
Accessibility of LMS of SP Jain School of Global Management Online
The platform via which students access course materials and interact with teachers and classmates is the learning management system (LMS). An accessible and user-friendly LMS is normally offered by SP Jain School of Global Management Online so that students can easily navigate the online learning environment, access materials, and take part in discussions and assignments.
Evaluation Method of SP Jain School of Global Management Online
SP Jain Global Management School examinations taken online with online proctoring employ testing procedures that are comparable to those used for examinations taken at home. With the flexibility of these online tests, students may study at their speed and take their time. You only need a computer or smartphone with a functional webcam and microphone to take an online exam.
It is essential to comprehend how student performance is measured. Assignments, tests, projects, and exams are just a few of the assessment tools frequently used by the SP Jain School of Global Management Online to gauge how well students have understood and applied the course material. Numerous colleges offer online exams, and each one has a different grading scheme. They do, however, employ a comparable scoring system, with 30% of the marks coming from internal assessments and 70% from external evaluations. Assignments, tests, practical exercises, projects, and end-of-term examinations are just a few of the assessment methods used by SP Jain School of Global Management Online to gauge student progress in compliance with this pattern.
Students Support System of SP Jain School of Global Management Online
For students to succeed in an online learning environment, there must be a strong student support structure. To ensure that students have the help they need during their academic journey, SP Jain School of Global Management Online normally provides a variety of support services, including academic advisers, technical support, and access to digital libraries.
In an online educational environment, a student support system often consists of a variety of services and resources created to help students in many facets of their academic journey. These services might consist of: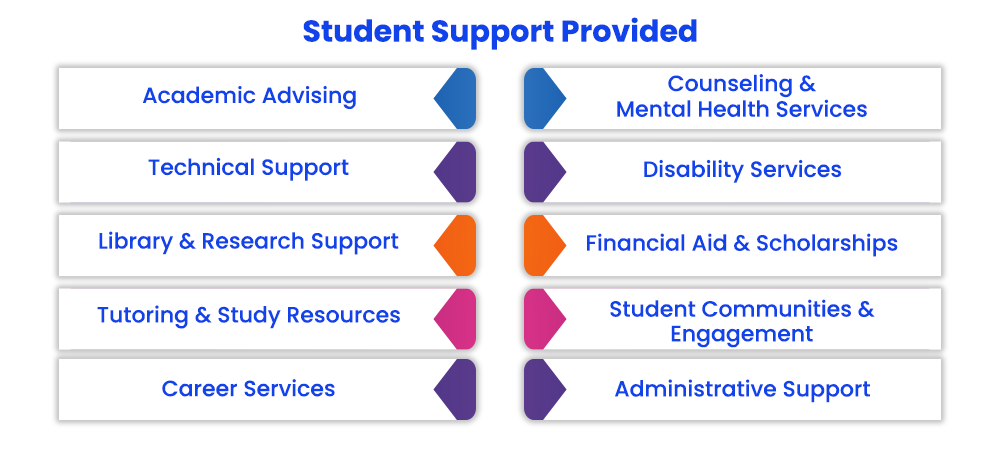 Academic advising: Academic advisers advise students on how to organize their course schedules, select majors or specializations, and meet their academic objectives.
Technical Support: Support with online learning platforms, technical problem-solving, and ensuring that students have access to the tools and resources required for online learning are all examples of technical support.
Library and Research Support: Access to digital libraries, research databases, and advice on how to do research for assignments and projects include library and research support.
Tutoring and Study Resources: Study aids, tutoring services, and other resources are available to aid in the learning and comprehension of the course topics.
Career Services: Help with internship possibilities, resume writing, career counseling, and interview preparation.
Counseling and Mental Health Services: Students who are experiencing personal or emotional difficulties can access counseling services and mental health specialists.
Disability Services: Students with disabilities are provided with accommodations and assistance to enable equitable access to learning resources and assessments.
Financial Aid and Scholarship: Information and support with financial aid applications, scholarship searches, and other financing possibilities.
Student Communities and Involvement: Online discussion boards, chat rooms, and virtual gatherings to promote student involvement and connection with teachers and other students.
Administrative Support: Support with administrative duties including enrollment, registration, and payment-related questions.
Placement Assistance of SP Jain School of Global Management Online
The importance of placement aid for people pursuing professional progression cannot be overstated. For students transitioning into their intended occupations, SP Jain School of Global Management Online often offers support in the form of career counseling, resume development, interview preparation, and job placement chances. Here are some of the top recruiters of the SP Jain School of Global Management Online are listed below: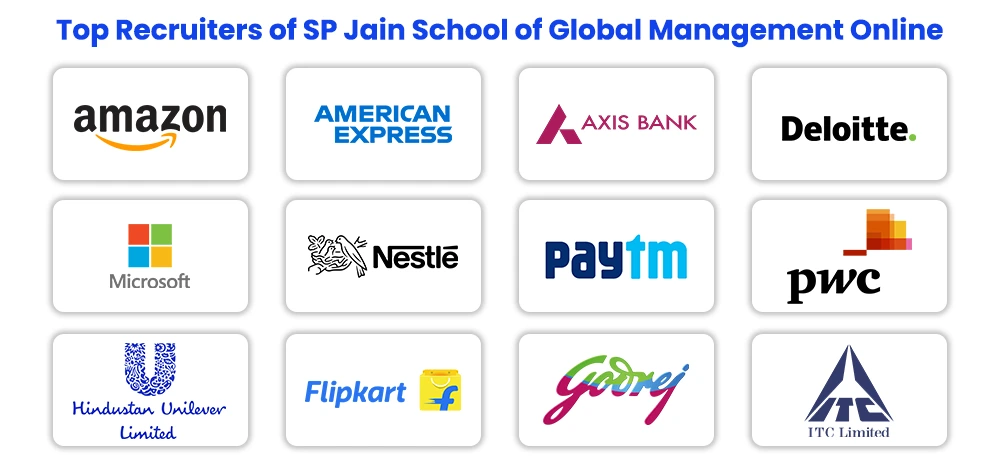 By providing career counseling, skill development courses, and connections with a range of sectors, the institution is dedicated to maximizing students' placement prospects and encouraging successful professional achievements.
Some Other Online/Distance University
To make an educated choice, prospective students are advised to research other distance learning or online colleges. The ideal fit for their educational objectives may be found by contrasting SP Jain School of Global Management Online with other universities in terms of accreditation, programs, faculty, fees, and student assistance. The list of those universities is given below:
| | | |
| --- | --- | --- |
| University Name | Location | Accreditations |
| Manav Rachna University | Haryana | UGC-DEB, NAAC A++, WES |
| CCE UPES Distance Learning | Dehradun | UGC-DEB, NAAC A, NIRF |
| DY Patil University | Pune | UGC-DEB, AICTE,AIU,ACU, ISO,WES |
| Amity University | Noida (Main Branch) | UGC, NAAC, AICTE, AIU, ACU |
| Lovely Professional University | Phagwara, Punjab | UGC-DEB, AICTE, NIRF, WES |
| DMIMS University | Maharashtra | UGC-DEB, NAAC A+, AICTE, NABH, AIU |
| Jain University | Bangalore | UGC, AICTE |
| Chandigarh University | Chandigarh | UGC-DEB, NAAC |
| Manipal University | Jaipur | UGC, AICTE, NAAC, WES, ACU |
Conclusion
In conclusion, choosing an online institution is a big decision that needs to be well thought out. In general, SP Jain School of Global Management Online provides certified programs, a thorough curriculum, knowledgeable professors, easily accessible technology, objective evaluation procedures, strong student support, and placement aid. To make an educated decision, people should assess their particular demands and contrast SP Jain School of Global Management Online with other universities.