As a cutting-edge academic strategy, Virtual Interactive Learning (Online Learning/Distance Learning/Part-Time Management program) was developed by XLRI in 2002. It allows working professionals to continue their management education without having to take time away from their jobs.
This eLearning strategy has been painstakingly designed to provide participants with schedule freedom and enriched course material that promotes professional growth. To give top-notch management education, XLRI regularly investigates cutting-edge instructional approaches.
About XLRI Delhi Online
One of India's top business schools, XLRI Jamshedpur, has a virtual branch called XLRI Delhi Online. It provides a selection of online management courses created to meet the demands of working professionals and people wishing to advance their managing expertise. To deliver high-quality instruction in a flexible online format, XLRI Delhi Online makes use of the experience and reputation of XLRI Jamshedpur.
The goal of XLRI Delhi is to develop future leaders who can serve both society and business by being moral, ethical, and globally competent. The school is a well-liked choice for students interested in pursuing management education in India since it offers a comfortable studying environment, a cutting-edge curriculum, experienced teachers, and cutting-edge facilities.
In addition to its PGDM program, XLRI Delhi also offers an Executive PGDM program for professionals with varied levels of work experience. These programs, which typically last a year, are created to provide professionals in the middle of their careers with the knowledge and abilities they need to develop their careers and take on leadership roles.
Factors one should consider while choosing an online university
It might be difficult, but not impossible, to find the ideal fit for your educational needs in the era of online education's explosive growth. When deciding on online or distance education, prospective students should take into account several important elements to simplify the choice of a university and course.
These include the university's accreditation, cost structure, academic program, faculty, availability of the learning management system (LMS), assessment procedures, placement services, and alternatives in the form of other online or distance learning institutions.
These are the factors:
University Accreditation
Fee structure
Curriculum and faculty
Accessibility of LMS
Evaluation Method
Student Support System
Placement Assistance
Each of these elements is essential in figuring out how good and appropriate an online education will be.
Accreditation of XLRI Delhi Online
When assessing the legitimacy of an online education, accreditation is a crucial consideration. Since XLRI Delhi Online is renowned for having high academic standards and is accredited by reputable organizations, the education it provides is up to par with industry requirements. To confirm the authenticity of the institution and the worth of the degree they will get, prospective students might check the accreditation status.

XLRI Delhi Online is accredited by the AICTE (All India Council for Technical Education) and has the NIRF ranking of 8th across the nation and QS ranking of 7th in India and 30th in Asia. These rankings and accreditation provide validity to the degree you completed after applying to these courses.
Fee Structure of XLRI Delhi Online
Planning one's educational journey requires having a clear understanding of the cost structure. XLRI Delhi Online provides a range of programs with varying cost structures.

Prospective students should think about their financial situation and weigh the cost of their tuition against the quality of the education and employment chances provided by XLRI Delhi Online.
These are the courses offered by the XLRI Delhi Online are listed below;
| | |
| --- | --- |
| Courses Offered | Fees |
| Post Graduate Diploma in Human Resource Management (Online) | INR 14,00,000/- |
| Post Graduate Diploma in Business Management (Online) | INR 14,00,000/- |
| Post Graduate Diploma in Finance | INR 14,00,000/- |
These are the fee ranges of the courses offered by XLRI Delhi Online.
Curriculum and Faculty of XLRI Delhi Online
The quality of education is critically dependent on the curriculum and staff. The extensive curriculum provided by XLRI Delhi Online is meant to give students information and skills that apply to the workplace. The faculty is made up of seasoned professors and business leaders who enrich the learning environment by bringing real-world knowledge to the online classroom.
Our primary objective is to close the knowledge gap for India's future business leaders between the present-day constraints and the demands of the future. Our staff has extensive experience in a variety of fields, including business, IT, finance, marketing, law, mathematics, and human resources. Our goal is to completely transform education by utilizing the limitless potential of virtual learning.
We encourage active engagement, information sharing, careful listening, mutual support, respect, compelling communication, and critical thinking within our team. We sincerely think that joining forces is just the beginning, that remaining together indicates development, and that cooperating to achieve a common goal eventually results in success.
Accessibility of LMS of XLRI Delhi Online
The platform via which students access course materials and communicate with teachers and classmates is the learning management system (LMS). To ensure that students can easily navigate the online learning environment, access materials, and participate in discussions and assignments, XLRI Delhi Online offers an accessible and user-friendly LMS.
Lectures, case studies, interactive discussions, practical exercises, simulations, individual reflections, role-playing scenarios, tutorials, and collaborative peer-to-peer learning through group assignments are all included in the course's curriculum.
On Thursdays and weekends, online classes are planned from 6:30 p.m. to 9:45 p.m. In addition to these predominantly taught by XLRI faculty members' contact hours, the program offers chances for organized peer learning through adaptable interactive sessions. These extra classes are conducted on Tuesday and Friday nights from 8:30 to 10:00, as well as on Sunday mornings from 11:30 to 1:00. With the ability to change the timing of these contacts to suit members' schedules, participants work in groups on a monitored platform offered by the institution, increasing the program's adaptability. Additionally, participants may use instructional support as required on Mondays from 7:00 p.m. to 10:00 p.m.
Evaluation Method of XLRI Delhi Online
It is essential to comprehend how student performance is measured. Assignments, tests, projects, and exams are just a few of the evaluation tools used by XLRI Delhi Online to determine how well students comprehend and apply the subject matter. Students can prepare more efficiently if they are aware of the evaluation techniques.
Quizzes, assignments, projects, and examinations are just a few of the evaluation techniques used by XLRI Delhi Online to gauge students' understanding and development. Understanding the evaluation procedures is vital for students to succeed in their coursework.
Numerous colleges offer online exams, and each one has a different grading scheme. They do, however, employ a comparable scoring system, with 30% of the marks coming from internal assessments and 70% from external evaluations. Assignments, tests, practical exercises, projects, and end-of-term examinations are just a few of the evaluation methods used by XLRI Delhi Online to gauge students' progress under this pattern.
The testing procedures utilized by XLRI Delhi Online are comparable to those that may be used for examinations taken remotely with online proctoring. With the flexibility of these online tests, students may study at their speed and take their time. You only need a computer or smartphone with a functional webcam and microphone to take an online exam.
Students Support System of XLRI Delhi Online
For students to succeed in an online learning environment, there must be a strong student support structure. To ensure that students have the help they need during their academic journey, XLRI Delhi Online provides a variety of support services, including academic advisers, technical support, and access to digital libraries. These are some of the student support provided by XLRI Delhi Online: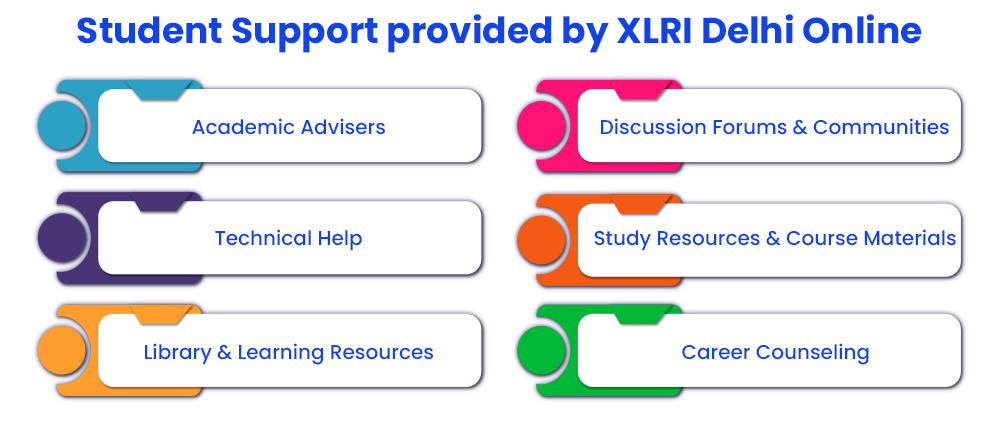 Academic advisers: Academic advisers are available to students often and can offer advice on choosing a program, planning a course schedule, and advancing academically. These counselors can assist students in successfully navigating their academic careers.
Technical help: For online learners, technical help is essential. When students have trouble using the online learning platform or other course-related technologies, XLRI Delhi Online often assists them.
Library and Learning Resources: To assist with coursework and research, students may have access to internet databases, digital libraries, and research materials.
Discussion Forums and Communities: By allowing students to connect with classmates and teachers online, discussion forums and communities promote group learning and problem-solving.
Study Resources and Course Materials: To aid students in their academic success, access to course materials, textbooks, lecture notes, and multimedia resources is frequently made available.
Career counseling: To help students improve their careers after finishing their programs, career counseling services may include résumé building, interview practice, and job placement aid.
Placement Assistance of XLRI Delhi Online
The importance of placement aid for people pursuing professional progression cannot be overstated. To help students transition into their intended jobs, XLRI Delhi Online offers support in the form of career counseling, resume development, interview preparation, and job placement chances. Here is the list of top recruiters that XLRI provides for the placement:

The university is committed to maximizing students' placement opportunities and promoting successful professional results by offering career counseling, skill development programs, and links with a variety of industries.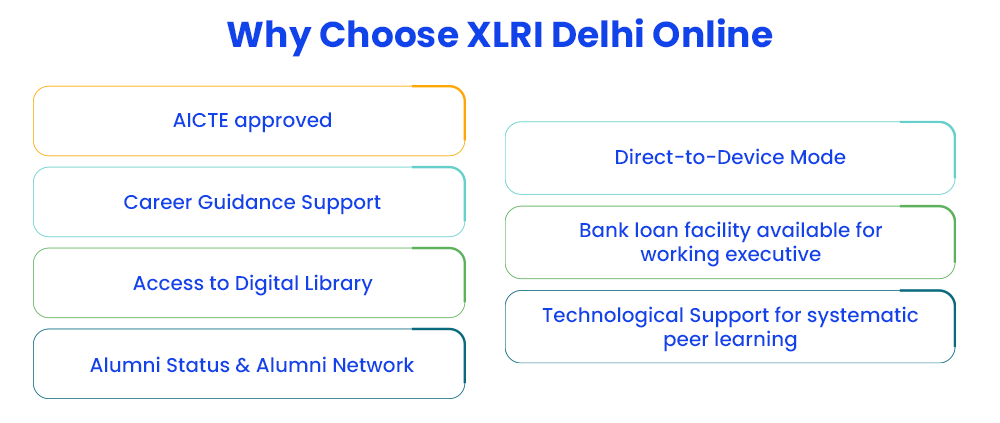 Some Other Online/Distance University
To make an informed choice, it's important to research different online or distance learning institutions. Prospective students may decide which university is ideal for achieving their educational objectives by contrasting XLRI Delhi Online with other schools in terms of accreditation, programs, faculty, costs, and student assistance.
| | | |
| --- | --- | --- |
| University Name | Location | Accreditations |
| Manav Rachna University | Haryana | UGC-DEB, NAAC A++, WES |
| CCE UPES Distance Learning | Dehradun | UGC-DEB, NAAC A, NIRF |
| DY Patil University | Pune | UGC-DEB, AICTE,AIU,ACU, ISO,WES |
| Amity University | Noida (Main Branch) | UGC, NAAC, AICTE, AIU, ACU |
| Lovely Professional University | Phagwara, Punjab | UGC-DEB, AICTE, NIRF, WES |
| DMIMS University | Maharashtra | UGC-DEB, NAAC A+, AICTE, NABH, AIU |
| Jain University | Bangalore | UGC, AICTE |
| Chandigarh University | Chandigarh | UGC-DEB, NAAC |
| Manipal University | Jaipur | UGC, AICTE, NAAC, WES, ACU |
Conclusion
In conclusion, choosing an online institution is a big decision that needs to be well thought out. Accredited programs, a thorough curriculum, knowledgeable professors, easily accessible technology, objective assessment procedures, strong student support, and placement aid are all provided by XLRI Delhi Online. To make an educated decision, people should assess their particular demands and contrast XLRI Delhi Online with other universities.