Manipal Online Masters of Computer Application (MCA) is a two-year professional degree course that is divided into four different semesters. The course studies focus and give you in-depth knowledge of computer applications, software, system operations, networking and much more.
Manipal Online MCA Course Overview
This overview table will give you the basic information about the Online MCA programme provided by the Manipal Online University.
KEY FEATURES
DETAILS

Course

MCA (Masters of Computer Application)

Course Level

Postgraduation

Mode of Education

Online

Approvals

UGC, ACU, NAAC (A+), WES, ICES AICTE, IQAS

Online MCA Job Profiles

Software Developer

Hardware Engineer

System Analyst

Web Designer & Developer

Software Consultant

IT Architect

Data Scientist, etc.

Eligibility

Graduation degree

in Computer Applications/ Computer Science/ Informational Technology, equivalent qualification.

Duration

2 years (4 Semesters)

Average Salary

INR 7 lakh to 9 lakh and above
After completion of the MCA programme from Manipal Online University, a student can receive thousands of career opportunities in the world of computers, Information Technology, and so forth. They can open a good range of career opportunities for themselves. For a more detailed description of the MCA programme at Manipal Online. Scroll down to know the eligibility criteria, fee structure, and much more.
The online Masters of Computer Applications is tailored for those aspirants who are seeking to become or step into the strategic, innovative, and world of technology. The programme also gives access to the Coursera and the Google cloud computing foundations and will introduce you to the breadth of cloud technology with the concepts of computer applications.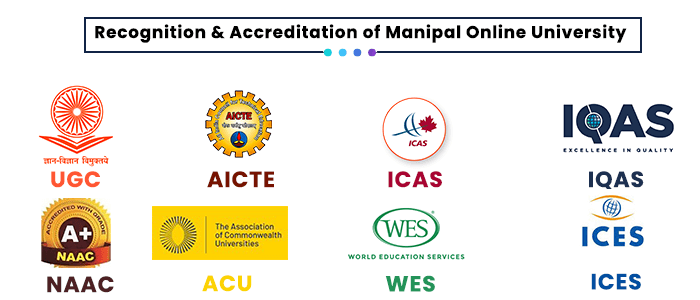 Why Manipal Online MCA?
Online Manipal University's MCA course will upskill the career opportunities and understand the work culture of their selected and respective field of IT, Computer, Software, Management, Networking, etc. Students at the university's official website to more about the university's course curriculum, and other advantages provided by the Manipal Online University.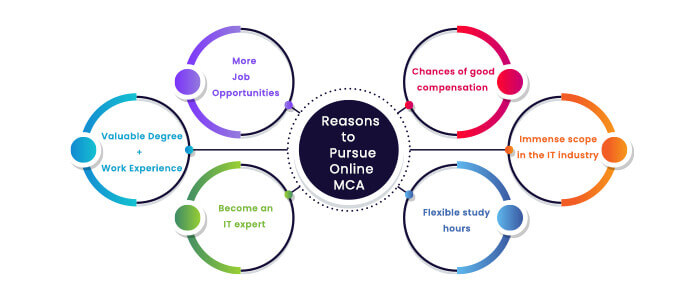 Is Manipal Online MCA Degree Valid?
Yes, the Manipal Online MCA course degree is valid in all the private, corporate, IT, government sectors, higher education, institutions, jobs, aboard as well. Students will receive the online MCA degree only after the completion of the MCA programme from the Manipal Online Degree. The online course degree is appropriately inscribed by the higher education council and committees such as UGC, AICTE, etc.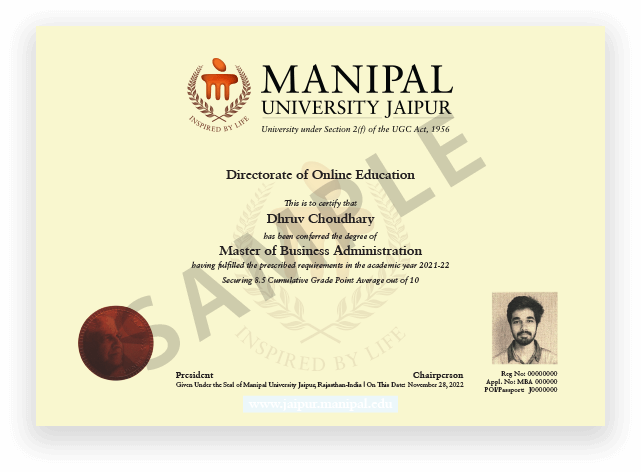 Key Features of Online Manipal MCA Programs
Online Manipal University programmes are acclaimed to teach the best education with experienced professional lecturers/ professors. The Online MCA programme leads you to walk on the right path.

MCA course at Manipal Online University aims to build the software, operating system, computer-based skills and strengthen the esstantial industry requirements of the IT and MNC sector.
Online MCA program is much focused on the implementation of the operating, programming languages, IT skills and other detailed concepts are mentioned on the curriculum of Online MCA that has been stretched into 4 semesters of 2 years.
Manipal Online University has their own LMS system has live sessions, webinars, digital content, with supportive experienced professionals of the industry.
Read: What Is the Full Form of MCA?
Online MCA Scholarship Offered by Manipal Online University
Students who are applying to Manipal Online University in MCA course through these below-mentioned scholarship categories. For them, they should carry all the required certificates in the prescribed format to appreciate the benefits of provided scholarships.
| | | |
| --- | --- | --- |
| Scholarship Category | Documents Required | Scholarship Discount |
| Divyang (for persons with disabilities) | Divyang Certificate | 20% |
| Defence Personnel | Personnel/ Services/IC number | 20% |
| Government Employees | Identity Card | 10% |
| Merit (80% & above in class 12, 10+3, Diploma exams) | Marksheets | 10% |
Manipal Online MCA Course Eligibility
Students must have a 10+2 and bachelor's degree in Computer Applications/ Computer Science/ Informational Technology or an equivalent qualification from a recognized university or institution by AIU (Association of Indian Universities.

Students must have a minimum of 50% aggregate marks.

For reserved categories, 45% aggregate marks are required.

Candidates from other streams like Science, Arts & Humanities, Commerce, Business Administration, Business Management, etc. can apply to this course.

Students from different streams must have a 10+2+3 year bachelor's degree with mathematics subject in their 10+2 level and have a minimum of 50% aggregate marks in their graduation (45% is for reserved categories)
Manipal Online MCA Eligibility Criteria for International Students
Candidates must have completed their graduation degree of equivalence from the AIU approved universities, which is required from students with foreign education to apply in any university in India.

Students or Professionals will hold NRE, PIO status, residing outside India to pursue MUJ's online degree programmes.

Students and professionals will be billed an international fee for respective degrees & may need to submit documents mentioned but not be limited to CV, address proof, valid VISA, PR card & passport copy as a part of the application process.

Candidates who did not studied mathematics as a subject in their 10+2 or their bachelor's course need to take an additional course in their first semester.
Students can pay their course academic fees in instalment semester-wise. They can also explore easy financing ways to submit their academic fees like zero-cost EMIs.
Read: Best Colleges for Distance MCA Colleges
Online MCA Curriculum Offered by Manipal Online
| | |
| --- | --- |
| First Semester | Second Semester |
| Fundamentals of Computer and IT* | Operating Systems |
| Programming in C | Advanced Data Structure |
| Foundation of Mathematics | Web Technologies |
| Advanced Database Management System (DBMS) | Advanced Computer Networks |
| Computer Architecture | Communication Skills |
| Practical – Programming in C | Practical – Advanced Data Structures Using C++ |
| Practical – Advanced DBMS | Practical – Web Technologies |
| Third Semester | Fourth Semester |
| Probability and Statistics | Project |
| Programming in Java | Elective |
| Advanced Software Engineering | |
| Analysis and Design of Algorithm | |
| Elective | |
| Practical – Java Programming | |
| Seminar | |
| Elective Course: | |
| Wireless and Mobile Communication, Open Source DB Systems, Cryptography and Network Security | Advanced Web Programming, Cloud DB System, Storage Management |
Note:
Communication skills and all the practical courses carry 2 credits each.

Seminar carries 1 credit.

All other courses carry 4 credits.

Each semester and year project work in the fourth semester carries 24 credits.
Manipal Online MCA Fees & Duration
Particulars
Description
Course

MCA

Fees

Total Fees: INR 1,50,000 (all-inclusive)

INR 37,500 per semester (includes an examination fee of INR 5,000)

Duration

Minimum 2 years (divided into four semesters) Maximum Duration 4 years

Roles and Duties in MCA

Business Analytics

Database Engineer

Data Scientist

Software Consultant

Product Manager, etc

Average Starting Salary

INR 7.95 LPA
Read: Career Counselling Online
Online MCA Admission Procedure at Manipal Online University
The admissions process of MCA (Masters of Computer Application) is written below. It is advisable for the students to fill out the academic application form carefully for their respective selected MCA courses.
Application Process
Applicants who are interested and want to take admission to Manipal Online University need to submit their online applications at www.onlinemanipa.com.

Candidates are required to pay an online application fee of Rs 500/- as registration charges. (this paid fees will be adjusted against the first-semester fee)

Candidates need to provide all the required details such as, personal details, academic details, ID proofs, upload eligibility documents, etc.
Documents Required
Identity Proofs: Adhar card, Passport, Voter's ID, PAN Card with Current Photograph, any other Govt- issued identity card.

Address Proofs: Aadhar Card, Passport, Voter's ID, Gas Bill, Bank, Statement, Post-Paid Mobile Statement.

Class 10th Marksheet

Class 12th Marksheet

Graduation Marksheet (for MBA, MCA, M.Com, MA JMC)
Other Documents
Work-related experience certificate

Graduation degree certificate

Scholarship Documents

Defense Service Certificate

Divyaang Scholarship

Reserved Category Certificate
Academics at Manipal Online University
Manipal University has an e-learning system known as LMS (Learning Management System) where students enjoy these below-mentioned features of advanced learning.
Video Lectures

Virtual Classroom

E-Text Materials

Virtual Simulation Interactive Material

Discussion Forums
Mode of Delivery
Only English is the crucial language that would be instructed in writing the examinations, assignments, or any other research work.

From attending live lectures, online classes, study material to submitting the respective assignments all are regulated through LMS. Students will receive their respective LMS credentials at the time of admission.

Students must score at least 40% aggregate marks in their semester or final examinations.
Read: Best Career Options after BCA
Online MCA Placement Assistance at Manipal Online
The Online MCA program gives the theoretical and practical knowledge as well to adapt the real-world exposure of the IT sector. Online MCA has its own placement drive that works as a bridge that provides good job opportunities, projects, and internships as well as the average smart salary packages of the applying job profile.
The placement cell of the online universities organizes personality development workshops, sessions, training, and other programs. These programs are highly designed to train the students to deal with the various possible scenarios that could help a student in the workplace. It is one of the key responsibilities of a university's placement cell is to train their student for the real world in setting up IT, Computing, and technology skills.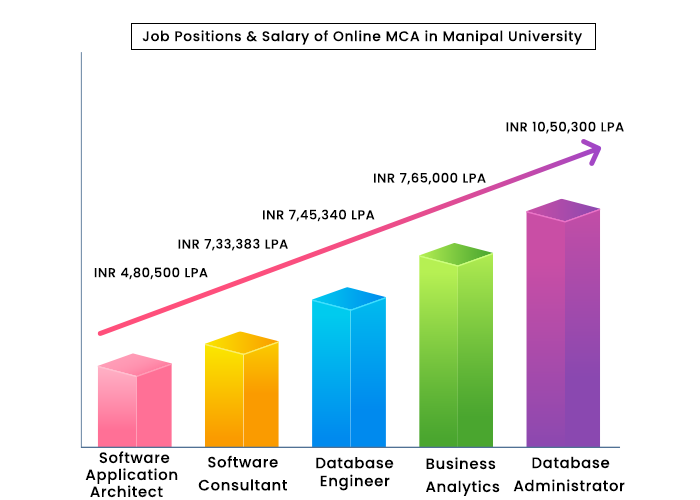 Top Recruiters of Manipal Online MCA
These hiring partners not only offers job opportunities but also provides internship or other project work programs that a student will experience in the real-world working environment. Here are some of the top hiring companies of Manipal Online University.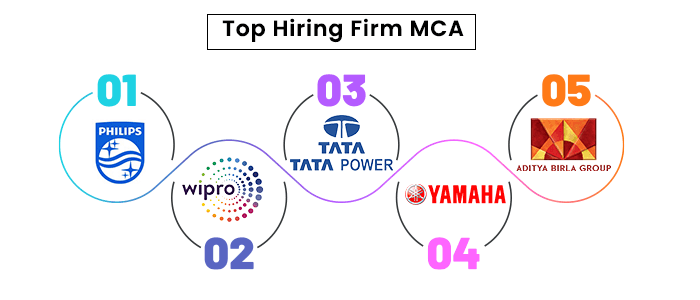 | | | | |
| --- | --- | --- | --- |
| Utopia Labs | EazyDiner | ValueLabs | Mahindra & Mahindra |
| Synopsys | Microsoft | Tata Power | National Instruments |
Online MCA Manipal University Reviews
The college promotes students to do internships in their final semester as per their selected course and in which they want to step into the industry. There are plenty of companies visiting campus to hire students for internships, projects, research work as per their selected field.

Companies that visit the campus to recruit the students are Amazon, Microsoft, Infosys, TCS, Tech Mahindra, DirectI, Flipkart, Byju's, Dell, HCL, AKS Software, etc.
Online MCA Manipal University Prospectus
The Online Manipal University has its own fully detailed online mca prospectus from where a student will get all the university and offered courses details, eligibility criteria, curriculum, campus, faculty, and much more.
Read: Investment Banker Salary in India
Similar Online MCA Universities
| | | |
| --- | --- | --- |
| Universities | Year of Establishment: | Approval |
| Amity Online University | 2005 | UGC-DEB, AICTE, NAAC A+ |
| NMIMS | 1981 | UGC-DEB, NAAC A+ |
| Lovely Professional University Online | 2005 | UGC, AICTE, NIRF |
| Chandigarh Online University | 2012 | UGC, NAAC A+ |
| UPES | 2007 | UGC-DEB, NAAC A, NIRF |