Due to infringement of the University Grants Commission (UGC) norms, UGC has issued a directive prohibiting Narsee Monjee Institute of Management Studies (NMIMS) from conducting distance learning and online courses for a year. In addition, the UGC has advised prospective students not to enrol in any NMIMS course, citing concerns about the Centre for Internal Quality Assurance (CIQA), the quality of Self-Learning Material and e-Learning Material (e-LM), and the terminology of the Centre for Distance and Online Learning.
UGC Secretary Manish Joshi declared that NMIMS had violated UGC norms on the operation of CIQA, the quality of study materials, and the terminology of their remote learning and online programs.
He went on to say that
"The institute was not following the fee refund policy promulgated by UGC, and numerous continuous complaints were being received against the HEI (higher education institution) from various stakeholders in offering open and distance learning (ODL) and online."
The UGC's decision concerned students preparing to enroll in NMIMS's remote learning and online courses. It acts as a reminder to students and educational institutions to rigorously follow the norms established by the UGC and other regulating authorities in order to safeguard the quality and integrity of higher education in India.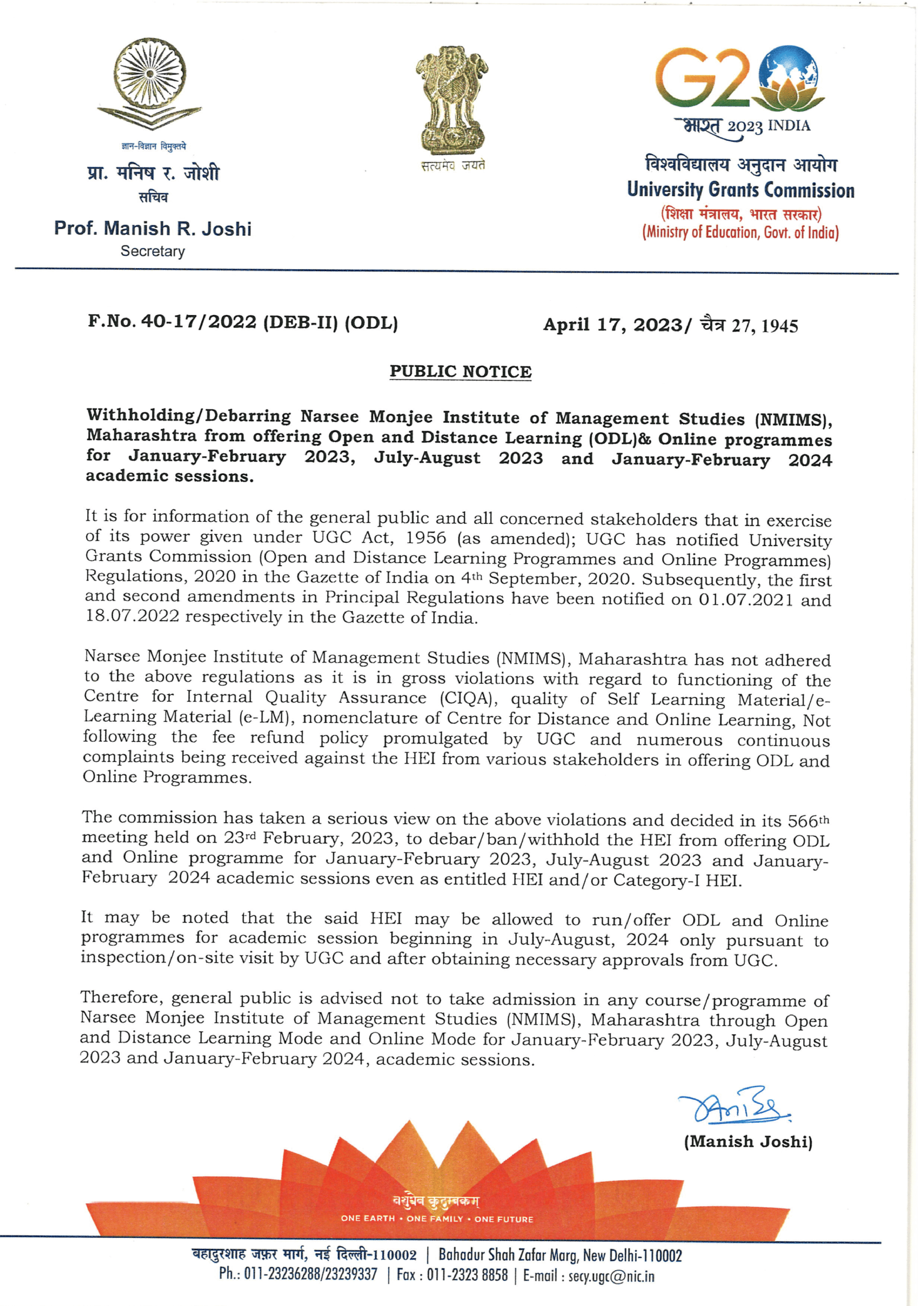 The UGC has directed NMIMS, a reputable university recognised for its management programs, to correct the infractions and conform with the requirements before continuing their remote learning and online courses. Students should check any higher education institution's accreditation and compliance status before enrolling in any remote learning or online programs to avoid future problems.
"We have received the notice from UGC and are currently reviewing it. We realise this news might cause worry among our stakeholders, students, and parents. Please be assured that we are closely working with all concerned parties to address the issue and resolve the situation as soon as possible. We will keep you informed of any updates on this matter," stated an NMIMS spokeswoman.
The UGC's action against NMIMS emphasises the need to follow the rules and uphold high standards in remote learning and online education to ensure quality and credibility in the higher education sector. Accordingly, students are advised to exercise caution and select authorised schools that adhere to regulatory criteria to have a dependable and meaningful educational experience