Who's the best? NMIMS VS IMT Ghaziabad Distance and Online Learning: All the universities do shout loud to tell that yes they are the best, which creates confusion amongst students that are actually looking for the most suitable university which will definitely impact their life and their career.
Most of the time we get tangled in between two universities, and today also we're going to discuss the two NMIMS and IMT University and will find the best out of it.
For that first, we need to understand what are the important points before choosing the best university, or we can say before declaring the one as the best university.
We know that like an individual having both good and bad same applies to things or university as even they have some good quality or bad or offering good courses and normal rated courses. Here both the universities offer online and distance PGDM courses and their specialization to distance learning partners. The pointers to be noted before selecting a university are as follows:-
NMIMS Vs IMT Ghaziabad (Approvals)
Approvals are now playing a crucial role to measure the quality of education offered through universities. Approvals like UGC- DEB, AICTE, NIRF, etc. Let us discuss the role of these approvals while selecting a university.
University Grant Commission is a regulatory body that can be given under numerous circumstances to the universities on the basis of serving good quality of education amongst the students, faculty interaction and way of teaching, curriculum framework, infrastructure, and provides financial help to the universities.
Distance Education Board was established in the year 2012, it is a bureau of UGC that works on giving a green flag to the universities to offer distance education amongst students.
Other than these important approvals we have the All India Council of Technical Education (AICTE), an approval for technical education. National Institute Ranking Framework (NIRF), launched by MHRD to rank universities as per their performances.
National Assessment and Accreditation Council (NAAC), established in the year 1994, is for the approval given to universities as per their curriculum, and faculty performance. It takes on the watch to the complete data of any activity that occurs in the university.
NMIMS NGASCE is a university established in the year 1981 and has its headquarters in Mumbai. It has its regional offices in 9 cities. Talking about its approvals we have had its operation for the last 30 years and the university is accredited by UGC-DEB, and NAAC A+ accreditation NMIMS Global Access-School of Continuing Education deemed to be a university offers an updated curriculum after every six months.
Whereas IMT University, which is situated in Ghaziabad established in the year 1980. By the time and looking at an increasing number of distance education aspirants IMT University has introduced IMT-CDL which is the Centre of Distance Learning.
It has scaled to be one of the top management institutes in India. It has its main campus in Ghaziabad along with other campuses in Nagpur, Hyderabad, and Dubai. IMT University is constantly ranked in India's Top 20 B-Schools and top 10 private B-Schools in India.
By ranking as top private B-School numerous times, it is an AICTE-approved university with all the valid AICTE-approved courses that enable you to have various job profiles in top MNCs. Topped in infrastructure, placement, and great learning experience with industry expert faculty members, IMT has it all.
IMT imparts high-quality education to all its regular and distance learning-seeking candidates. IMT CDL has conferred many distinguished awards such as "CSR Top Distance Learning Institute of India" in 2018 and 2019, Awards for Excellence in Distance Learning by BBC, and many others.

NMIMS VS IMT Ghaziabad Distance Learning (Placement)
Narsee Monjee Institute of Management Studies is one of the well-known universities serving the quality of education over decades. With the quality of education, it is also best in providing and preparing for it.
NMIMS VS IMT Ghaziabad Distance Learning (Hiring Partners)
Hiring Partners is the one that gives authentication to the universities that they will be having a visit every higher to the universities and hire deserving candidates. With the hiring partners, candidates can have transparency towards the universities in accordance with their placement in companies.
The Hiring Partners of NMIMS University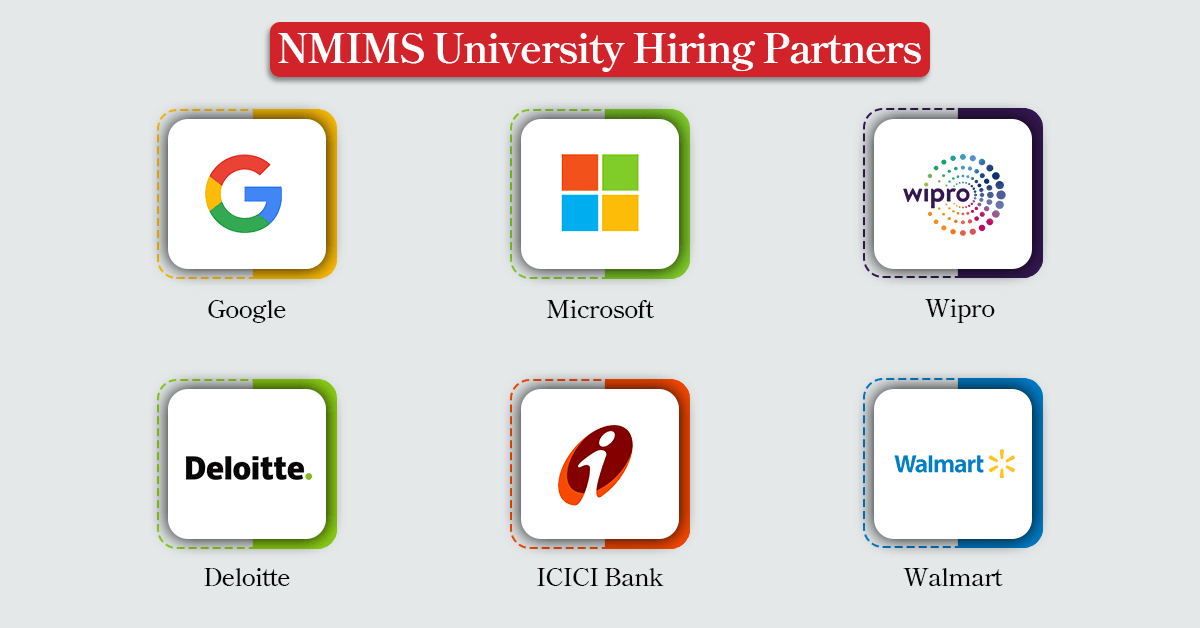 ​The Hiring Partners of IMT Distance and Open Learning Institute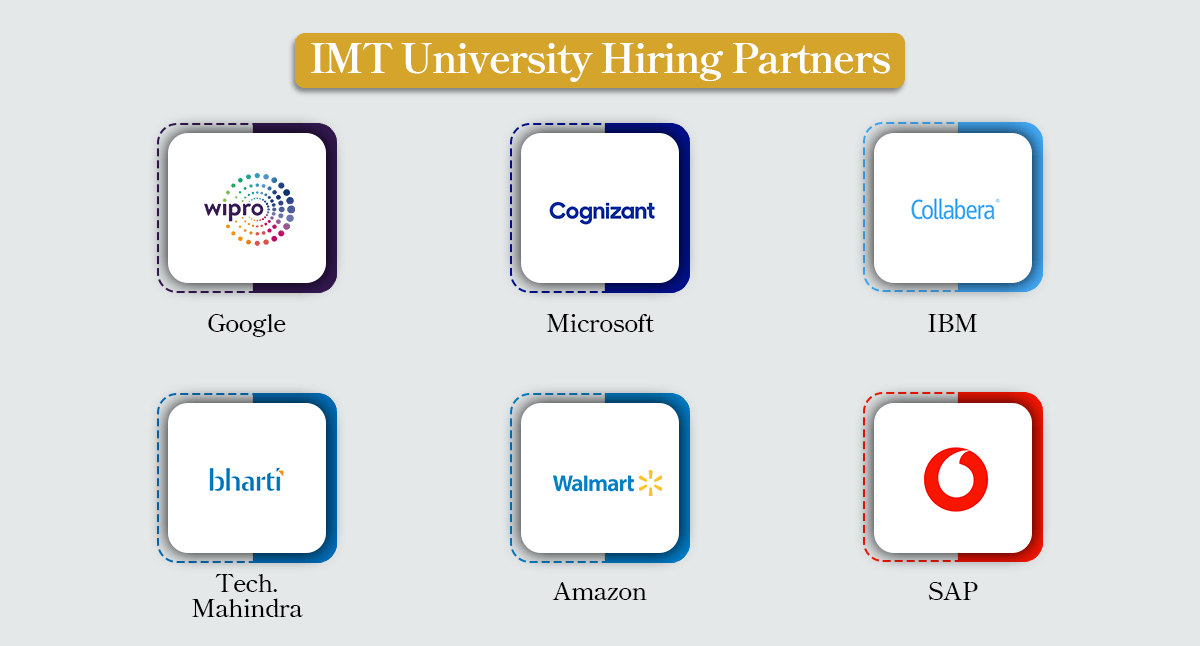 NMIMS VS IMT Ghaziabad Distance Learning (Fee Structure)
The fee structure is one of the important points when it comes to taking admission in any university, and as we know distance education programs are lesser in amount as compared to regular programs.
Keeping in mind the distance learning programs both universities have a pocket-friendly fee structure. Here we have a glimpse of courses with their fee structure:-
NMIMS University Fee Structure

Course Name
Duration
Fee Structure
PGDBM/NMIMS Distance MBA
2-years
Rs 86,000
PGDBM (Supply Chain Management)
2-years
Rs 86,000
PGDBM (Operations Management)
2-years
Rs 86,000
PGDBM ( International Trade Management)
2-years
Rs 86,000
PGDBM (Information Technology Management)
2-years
Rs 86,000
PGDBM (Human Resource Management)
2-years
Rs 86,000
PGDBM (Retail Management)
2-years
Rs 86,000
PGDBM (Financial Management)
2-years
Rs 86,000
PGDBM (Banking and Finance Management)
2-years
Rs 86,000
PGDBM (Marketing Management)
2-years
Rs 86,000
Bachelor's In Business Administration
3-years
Rs 1,31,000
Bachelors in Commerce​
3-years
Rs 94,000
IMT Fee Structure

Course Name
Duration
Fee Structure
PGDM in Marketing Management
2-Years
Rs 110,500
PGDM in Operations Management
2-Years
Rs 110,500
PGDM in Human Resource Management
2-Years
Rs 110,500
PGDM in Finance Management
2-Years
Rs 110,500
PGDM in Business Analytics
2-Years
Rs 110,500
PGDM (Executive) Finance
15 Months
Rs 66,000
PGDM (Executive) Marketing
15 Months
Rs 66,000
PGDM (Executive) Operations
15 Months
Rs 66,000
PGDM (Executive)Human Resource
15 Months
Rs 66,000
PGDM (Executive) Business Analytics
15 Months
Rs 66,000
NMIMS VS IMT Ghaziabad Distance Education (LMS- Learning Management System)
The Learning Management System consists of an advanced level of online classes that are now based on new technologies comprising E-books, video-recorded lectures, live online classes, guest faculty lectures by industry experts, alumni connect, e-library, and so on.
As per the modern era, the education system has also changed, earlier in distance education universities only sent books to their aspirants and they have to prepare their own but now it is been revised and modernized in an extraordinary way that students can learn easily with all such amenities.
NMIMS VS IMT Ghaziabad Distance Learning (Alumni Connect)
You will be receiving assistance with finding a job after finishing your course of study. they will prepare you for the interview by training you on your skills such as how to talk, how to write, and the skills related to understanding the emotional information so you can provide an excellent response What's additionally stressed is that both on this platform and on the previous page is that companies fit you to work opportunities based on requirements in the top MNCs and have current events in mind.
There are universities whose MBA students can expect to get an annual salary package ranging from 6-12 lakh per month. The placement criterion focuses on directing you with the Alma network, the collective information held by alumni who link Alma, making it easier for you to track their job market knowledge and expertise and ties it together with their industry partners. Alma Connect will put you in touch with the most appealing career opportunities from all over the world.
Conclusion
By now you must have read all the required essential points to be taken while choosing a university as well as the features of both the university be it NMIMS or IMT University. Reading at the details I'm sure you've made your decision that which is the perfect one for your future.