Online/distance education has emerged to be a very helpful asset to a lot of students in India because of the flexibility in education and affordability they offer. However, a big question that concerns most learners is whether the degree acquired through online/distance is equivalent to the degree acquired through regular mode?
Is Online Degree Equal to Regular Degree?
Yes, a degree obtained through the online/distance mode is equivalent to a degree obtained through the regular mode. Well of course there are many differences between the two but that does not affect the validity of the online/distance degree. The degrees obtained through the online/distance mode are as authentic as the regular ones and make you eligible for jobs or higher education in both government and private sector.
However, the only requirement is that the college you pursue your online/distance degree must be recognised by the University Grants Commission (UGC) which is a statutory body that has been set up by the Ministry of Education (MoE) of India. The college must also be recognised by the Distance Education Bureau (DEB), a bureau of UGC which is specifically in charge of distance/online education in India.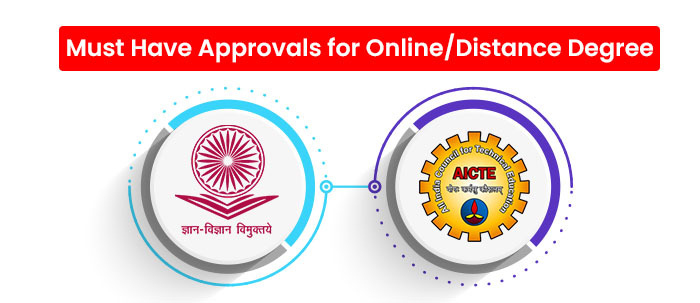 Of course, there are numerous differences between the two modes of education such as in the distance and online mode, you do not get hands-on practical training because everything happens virtually. However, all these differences are irrelevant as the validity of the degree stands the same.
If you have an online/distance degree, then chances are that you will face situations where an applicant with an offline degree will be preferred over you. This is because the traditional and offline degrees are considered to be better but at the same time, the recruiters do not have the right to disqualify you based on your online/distance degree. UGC in its notification has stated that all online/distance degrees offered by institutions recognized by DEB and UGC will be treated as equivalent to the regular and offline degrees.
Now you must be thinking that online/distance degrees are not beneficial as people still believe offline degrees to be better. No that isn't the case. Online/distance are not all that bad, in fact, in many cases, they are better than the regular ones.
When it comes to domain-specific or skill-specific courses like blockchain, AI & ML, Cyber Security, etc, recruiters look for the skills and knowledge of the applicant in these particular subjects and not the degree that the candidate holds. However, there are hardly any offline courses that specifically teach a single specialisation. Not even the IITs have any courses dedicated to subjects such as data science, cyber security, AI & ML, blockchain, etc. This is where online courses are helpful. Many big companies such as Apple, EY, Google, etc have made graduation optional for candidates applying to their firms as they test the candidates solely based on their skills and knowledge.
This was just a brief differentiation between the two modes of learning just to explain the fact that online/distance degrees are equivalent to offline ones. There are other major differences as well. Let us describe them in detail one by one.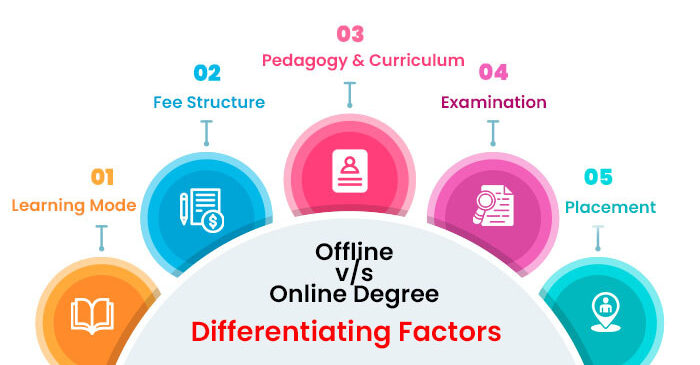 Learning Mode
Learning mode is of course the biggest difference between the two modes of education. In the case of offline regular courses, you have to regularly go to college and attend physical classes and also maintain your attendance. You will be able to interact with the faculty as well as your peers face to face.
In the case of the online mode of education, you do not have to go to college. The university gives you an online platform usually known as the Learning Management System (LMS) where all the classes are conducted, discussions take place, and the learning material is accessed. You can think of it as a virtual classroom. Everything happens just like in a regular college just in the online mode. There are e-libraries, online events, online alumni meets, webinars, and live interactive sessions with eminent personalities from all over the globe.
In the case of open and distance education, the colleges send the learning material like books, case studies, research papers, etc at the home of each student. The students have to just give the exams for each semester.
Fee Structure
The fee structure is a lot more for offline courses than for online and distance courses. In the case of offline courses, since you have to go to college you have to pay for the infrastructure facilities offered by the college.
In the case of online and distance courses, you do not have to pay for any infrastructure as you complete the entire course from your home. You even cut down on expenses such as traveling, accommodation (hostel/pg/flat), laboratories, etc. These factors greatly affect the fee structure and make online and distance courses a lot more affordable.
Pedagogy & Curriculum
The syllabus for a course in the offline mode and in the online/distance mode is almost the same. The syllabus and curriculum have to be the same so that the online/distance degree is equivalent to the offline degree.
Just like in the offline mode, there are regular quizzes, tests, and assignments in the online mode as well. All these are remotely proctored and in online mode. There are regular doubt sessions as well through the discussion forums set up by the college which is usually present on the LMS.
Apart from these, there are other events as well such as regular webinars, live chats with subject experts, and alumni meets to get an exposure of the career opportunities as well.
Examination
In the case of the traditional regular degree, as you already know there are offline exams conducted at the college itself.
However, in the case of online courses, there are usually two options offered to the students. Students have the option to give exams in online mode. Online exams are remotely proctored. You can give exams from home, invigilation of which will be managed through suitable software.
The other option is that there are a few centers designated by the college where students can go and give offline examinations. The invigilation at those centers is managed by the conducting college. The centres are usually situated in many cities so that it is easy for outstation students to give the exam.
Placement
Placements are an important differentiating factor between the two modes. In the case of offline courses, the college conducts placement drives where many recruiting companies come to the college and conduct recruitments. Everything happens at the college campus.
In the case of online degree courses, there are no placement drives conducted by the college. However, good colleges do provide placement support to their learners. They help them build better profiles, and CVs, help them with interview preparations and even help students by introducing them to good companies for jobs or internships.
Faculty
The faculty for the online degree courses is most of the time the same as that of the offline courses. It might be different as it depends from college to college. Hence, you must always visit the official website of the college and check the faculty details before taking the admission. It is better if the faculty for the online courses and the offline courses are the same. However, you must also check the details carefully and check whether the faculty is proficient in teaching in the online mode as it is completely different from how it is in the offline mode.
Pros & Cons of Online Degree Courses
There is nothing that is completely perfect. There are some pros and cons to everything and online degree courses are no exception. While mostly they are beneficial, there are a few cons as well when compared to the offline courses.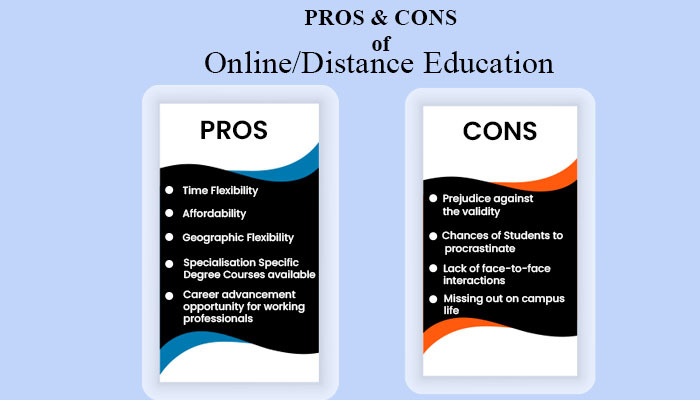 Given below are these advantages and disadvantages of pursuing an online degree.
Advantages of Online Degree Courses
Time flexibility is the biggest advantage of online degree courses. You can schedule your online classes based on your own schedule. You even have access to all the recorded lectures so that you can come back to them in case you missed any for some reason. People with tight schedules, especially the working professionals benefit the most from this mode of learning.

Affordable fee structure is the second main reason for students to opt for online degree courses. If you go for an online course from a reputed online college, then you get quality education but at a very less cost. So, online degree courses from good colleges are a great choice.

Geographic flexibility is another benefit of online degree courses. You do not have to relocate to the city of your college since you can attend all of your classes from home.

Discipline specific courses are also a great advantage of the online degree courses. There are no courses specifically dedicated for certain domains in the offline mode. For instance, you will not find a professional degree course for data science or AI & ML in the offline mode. However, in the online mode there are several such courses like BCA in AI & ML or BCA in Data Science. This is a great advantage for those who are looking for jobs in skill specific fields.

Career advancement for working professionals is another important benefit of online degree courses. Working professionals can upskill themselves with online degree courses without leaving their jobs and hence get a chance of promotion once their course is complete.
Disadvantages of Online Degree Courses
One of the biggest cons of an online degree is the prejudice against the authenticity and validity of online and distance degrees. This is because there are several online institutions that hand out fake degrees. The best way to beat this bias is by selecting a UGC-DEB recognised college for your online degree course. You can verify if your college is valid or not with just one click (

Click here

). Verification of the validity of your college is a must if you wish to stay away from fake degrees.

The flexibility offered by online courses can have a negative impact on students as they might develop a tendency to procrastinate as there are no tight schedules and deadlines are flexible as well. Hence, the student must be extremely focused as well as disciplined while studying an online course.

Many students consider the lack of communication and interaction as a disadvantage of the online course. True that there is no face-to-face interaction, however, good colleges offer excellent facilities for peer interactions and doubt clearing sessions. There are discussion forums that are active 24*7 for students to communicate at any time. Since, the communication is limited because of the online mode, the students must make the most of such discussion platforms provided by the college.

Missing out on campus life is one major disadvantage of online learning that maximum of the students point out. You can not actually meet your classmates and professors but can only connect with them virtually.