Top 10 Distance Education Universities in India
In this modern and ultimate growing world, distance education has expanded its way in the education sector of the country. Distance education in the country has become very popular amongst today's generation as it allows them to continue their job and pursue their graduation or master's degree side by side in the distance mode.
As we all know that there are hundreds of distance education universities and private colleges working all over the parts of the country. But it is not easy to decide which one is best. So, to help you out with this confusion, we are going to clear all your doubts by providing the list of the top 10 Distance education Universities in India.
You will get all the basic details about each university offering various distance education courses. Let's begin by knowing what distance education is.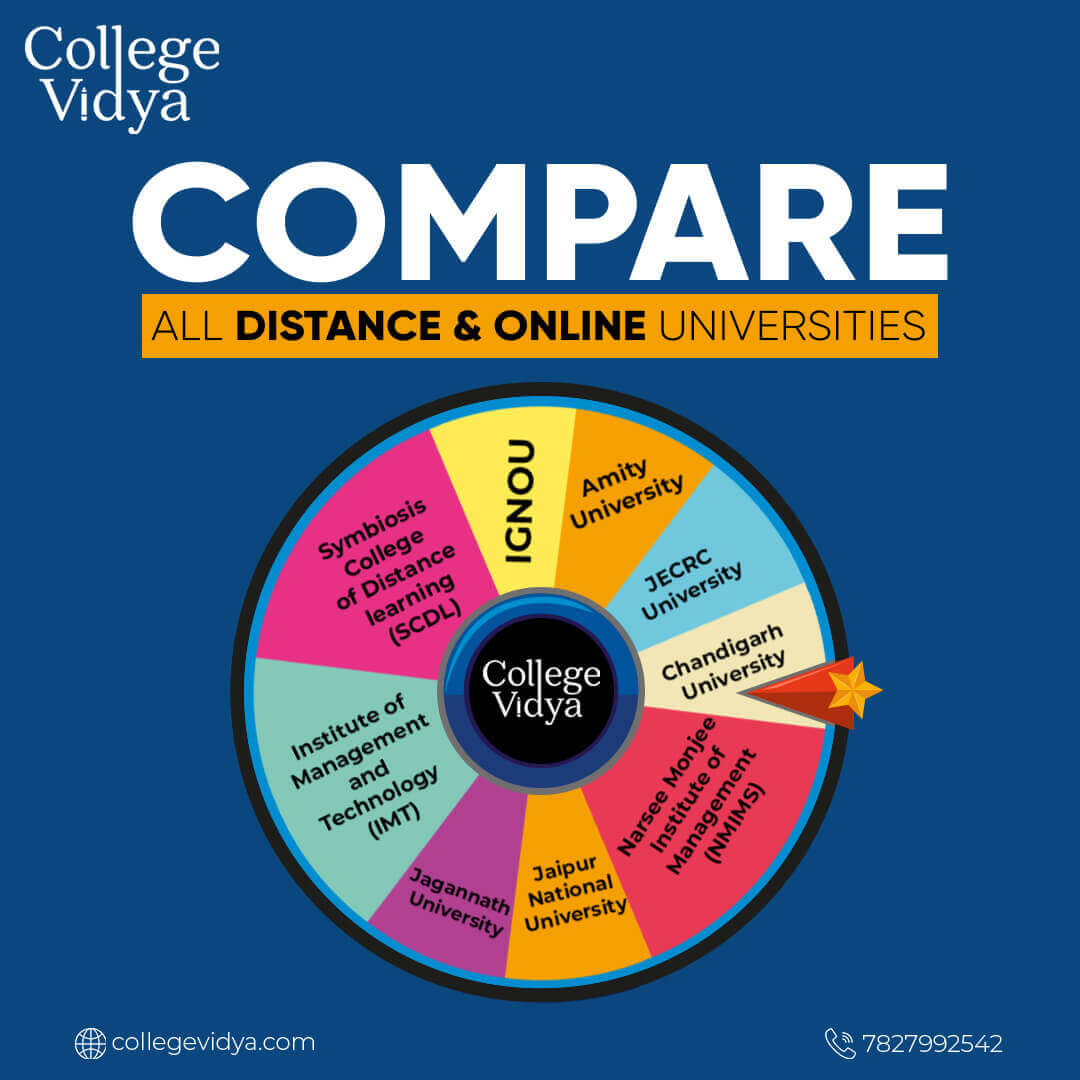 List of Top 10 Distance Education Universities of India
As we have discussed above that there are hundreds of colleges and universities working in the field of distance education learning programs. These institutes are providing various UG and PG level courses for all the students and working professionals.
But, it is quite difficult to find out the suitable choice of the college because of the rise in the competition. Here, you can find out the top 10 best colleges for distance education in India.
You can get all the main information of the universities and can take admission in any of them as per their eligibility and fees.
Now, have a look at the list of Top 10 distance Universities of India given below:-
1. NMIMS Distance Education
One of the leading universities in India operating in the field of distance education is the Narsee Monjee Institute for Distance Learning (NMIMS). The Institute of NMIMS was founded in 1981 and has different centers located in different cities.
This NMIMS institution is renowned for its distance learning courses available in different specializations in undergraduate and postgraduate programs. The university provides PGDM, BBA, and B.Com. As it has always been the students' first preference when choosing any of the distance education programs in the management or science or arts stream. NMIMS is surely one of the most well-established open institutes in this country.
2. Chandigarh University Distance Education
In the list of Top Distance Universities, Chandigarh Distance Education University is another of the top universities offering distance learning courses in its curriculum. Chandigarh University has built its reputation in the education sector for the past couple of years and has now become a well-established university. In 2012, the University of Chandigarh was established.
This university's main campus is located in Punjab. Chandigarh University has been accredited with an A+ grade from NAAC and it has also been approved by UGC-DEB. The university provides MBA, BBA, M.Com, B.Com, MCA, BCA, BA, MA in distance mode. The option of choosing a distance program from CU will surely help the students as you can get all the benefits and quality of education.
3. IGNOU Distance Learning
In India, one of the most popular and oldest open universities is Indira Gandhi National Open University. As India's first national Open University, IGNOU was founded in 1985. You can find hundreds of courses in the list of courses offered by IGNOU at the UG and PG levels. Students get all the advantages in terms of versatility in the length of the courses after obtaining admission to the IGNOU.
The fees paid for the courses are also very low and affordable. All the candidates who are willing to work in the industry and want any technical career can apply for any of the courses in IGNOU as it is one of the largest distance education universities we have in the country. All the known courses in the Undergraduate and Postgraduate courses in India are offered by IGNOU.
4. Amity University Distance Education
Amity University Distance Education in Noida is one of the renowned and well-established private universities in India in the list of top distance universities, which is also recognized worldwide. Students from different parts of the country will be admitted to Amity University as they have excellent courses at UG and PG levels. Also, this university is well known for its courses in management and engineering.
5. Symbiosis University
Symbiosis Distance Learning College (SCDL) was established in 2001. It has been one of the largest private universities operating for many years in the field of distance education. AICTE has approved the Symbiosis College of Distance Learning (SCDL). And, the distance education courses are granted by UGC-DEB. SCDL offers advanced and high-quality education to thousands of students, not only in India but also abroad. The Symbiosis distance education institute is famous for offering a number of Certificate, Diploma, and Post Graduate Diploma along with UG and PG programs across various sectors. This university has a big brand name that is enough to help you in getting a better job in the industry.
LPU Online is the online learning platform of Lovely Professional University, one of the largest private universities in India. LPU Online offers a wide range of undergraduate and postgraduate programs in various fields such as management, computer applications, science, and arts. All the courses offered by the LPU online are UGC approved and one gets a UGC-Entitled online degree post-completion of the program. Along with the UGC approvals the university is also been approved and recognized by AICTE and NIRF.
LPU Online uses a combination of live virtual classes, interactive video lectures, and self-paced learning modules to provide students with a flexible and personalized learning experience. The university has its own Learning Management System (LMS) which is the LPU e-Connect through which all the online course deliverables are provided to the students. LPU Online also provides students with access to a range of digital resources such as e-books, research papers, and video tutorials. Additionally, the platform offers 24/7 technical support and personalized academic guidance to ensure that students receive the assistance they need to succeed in their studies. LPU Online's commitment to quality education and innovative teaching methods make it an excellent option for students who want to pursue their education online.
7. Sikkim Manipal University
The course at Sikkim Manipal University is a great choice for students who want a degree in management from one of the country's top colleges. For the selection of courses, distance education at Sikkim Manipal University is highly popular and the fee for the courses is also very affordable compared to other regular programs.
So, if you are considering admission to the distance education course, Sikkim Manipal University-Distance Education should be one of your choices for admission to the distance education course. The courses offered by Sikkim Manipal University have been recognized by UGC-DEB.
8. School of Distance Learning, Delhi University
The School of Open Learning was established as a constituent college of the University of Delhi in 1962 and is a pioneer in the field of distance education in India. It is one of the largest educational institutions in India. SOL DU is a University of Delhi constituent unit and is approved by the University Grants Board (UGC).
For UG and PG programs, SOL DU admission is regulated by the criteria laid down by the University of Delhi. The course curriculum and assessment trends adopted by the School of Open Learning and the other University of Delhi constituent colleges are not distinguished.
9. Institute of Management & Technology (IMT)
The other top institute offering distance education in India is the IMT Distance and Open Learning Institute. It is one of the leading distance colleges located in Ghaziabad, Uttar Pradesh. It offers various management programs. In training managers for tomorrow, the Centre has taken the lead, armed with a distinct vision, blended with technology and expertise.
By helping its students learn the requisite skills, the center aims to develop all-rounder leaders in management and entrepreneurship. It provides full-time, part-time, and corporate PGDM courses and other programs.
10. Suresh Gyan Vihar University
Suresh Gyan Vihar University distance education is one of India's leading private-owned universities that offer various distance education courses and various other management programs for UG and PG. The SVG University has been certified by NAAC for grade 'A' and UGC-DEB has validated the distance education course. It is a very renowned university that operates in the area of distance learning to offer both students and working professionals the opportunity to obtain their graduation degree and their job at the university.
What is Distance Education?
Distance Education is a kind of education that has evolved a lot in the last few years. It is any form of education that does not involve regular and physical attendance in the colleges for taking classes.
The classes are very less as all the studies are done by students either on their own or online education is also an option provided by various colleges and distance institutes. With advances in technology, distance learning has also started coming in the online learning or e-learning form.
In India, you find a various number of Distance education universities that are offering various types of courses. But, the approval of UGC-DEB i.e., University grants commission distance education board is compulsory for Indian universities and private colleges as it is the statutory body that regulates the distance education of the country and maintains and makes the guidelines of distance education in India.
The mode of distance education provides various courses in different specializations that is one of the advantages for the students to study the subject as per their interest and eligibility. You can find most of the under-graduate, post-graduate, diploma, certificate programs in distance mode.
So, if you are a working professional or a student who wants to pursue a distance program then, you should find a great option in this correspondence course. As in the eyes of law, the value of regular courses and distance programs are equivalent to the new laws.
Conclusion
So, these are the top 10 distance Universities in India that you can choose if you are willing to do any distance course. This article has tried to provide a list of the best universities that are providing distance courses. You can get all the rankings and details about the universities above in the blog and can decide which one is more suitable for you.
Hopefully, this blog will help you give clarity about the colleges that are providing open and distance education. We hope that this blog also provides some useful information to you and will prove helpful in making a decision about choosing the best distance college in India.