With the proposals made by the union government in the National Budget 2023 and the National Education Policy (NEP), digital universities will be a reality in the sphere of higher education in India in the near future. But what is a digital university?
Here we have broken down the entire concept of a digital university for you in the simplest words as well as elaborated on how it can be a major advantage to students. Continue reading to find out more about the details.

What is a Digital University?
The term 'digital university' has been doing rounds in the academic circles as well as among students ever since it has been mentioned as a major initiative to be taken by the union government in the National Budget 2023 and the National Education Policy this year.
But before everything else, the question that arises is what exactly is a digital university?
In the simplest of terms, as the name suggests, a "digital university" is a university that functions completely through the digital mode, i.e. with the use of internet facilities. So, in a digital university, the process of teaching and learning for all the courses are taught through the use of ICT measures (digital and electronic measures) in the virtual mode.
This is very similar to the idea of online educational courses, except that a digital university is to be a full-fledged central university that will exclusievly provided students with a wide variety of digital courses in various formats:
Degree Courses
Diploma Courses
Certification Courses
So, the idea of a digital university is in essence an innovative amalgamation of a number of existing educational frameworks in India- online learning, open distance learning (ODL) and edtech measures.
The "Hub and Spoke" Model
UGC and the top government educational bodies like the UGC have proposed that digital universities will be formed in a 'Hub and Spoke' model.
This basically means that the digital university will be a centralised university in which there will be one centralised unit for running all the administrative and technical functions of the university and multiple collaborative partners that provide the various educational courses to the students.
In this model, the hub is the central unit of the digital university which comprises all the administrative bodies and the technical unit for handling the effective functioning of the university.
The spokes are to be the various educational collaborators, including the top higher educational institutions of India and abroad (colleges, universities etc.), edtech platforms etc. who will provide the various educational courses to the students in the digital mode.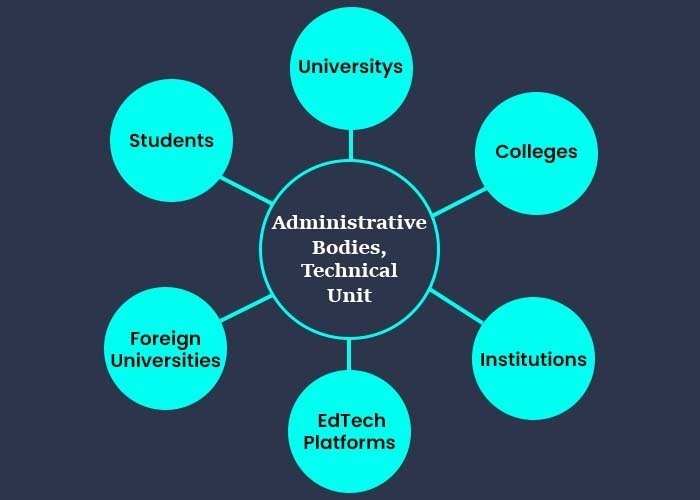 What measures has the Government taken for a Digital University?
Currently, the idea of a central digital university has been extended in the National Budget 2023 and the National Education Policy (NEP) as a proposal to be worked upon in the immediate future. The recent developments and initiatives taken by the Government of India (GoI) and a number of statutory bodies such as the University Grants Commission (UGC) have been summarised below for your easy reference.
PM Narendra Modi has proposed the idea of establishing a central digital university as an act of the parliament.
In discussion with bodies like UGC, AICTE and other stakeholders, the Department of Education has proposed the initiation of the process of establishment of the university with immediate effect.
UGC has also planned to establish modified regulations for Online Education, with the proposal of allowing universities with NIRF Ranking within top 100 and NAAC rating of 2.36 and more to provide online courses without permission from UGC-DEB.
Moreover, with the latest regulations of the UGC, 40% of the required credit points can be obtained from outside the university in which a student is enrolled. This measure is to primarily promote online education in India.
UGC has also joined hands with the Ministry of Electronics and Information Technology (MeitY) as well to establish Common Service Centres (CSCs) which would enable students in remote or underdeveloped areas to access high quality internet and technological facilities to study in the online mode.
The government also proposes collaboration between universities, colleges etc. with edtech platforms where these top universities can provide online courses through these platforms.
Are there any Digital Universities in India?
As of now, there are two digital universities in India, namely:
Digital University Kerala
The Digital University Kerala is a fully digital higher education institution that was established in 2020 under the Digital University Act, Kerala, with the aim of providing best-in-class educational services by tapping on the digital means. The university currently offers students with 3 PG programmes which are completed fully in the online mode.
The courses offered by DUK are:
Post Graduate Programmes
Doctoral Programmes
Post-Doctoral Education
Diploma Programmes
The university also provides students with scholarships for pursuing their education and helps them to develop a comprehensive understanding of the concepts as well as a good network with faculty, peers and industry experts.
Digital University Kerala
Courses Available

M.Tech in Computer Science & Engineering
M.Tech in Electronics Engineering
M.Tech in Electronic Product Design
M.Sc in Computer Science
M.Sc in Data Analytics
M.Sc in Electronics
M.Sc in Ecology
MBA
MBA for Working Professionals (On-Campus)
Doctoral Programmes
Post-Doctoral Programme
PG Diploma in Development Informatics
PG Diploma in e-Governance

Scholarship Facility
Available
Placement Facility
Available
Mode of Education
Online
The digital university which is to be established in Jodhpur, Rajasthan.
The central digital university is yet to be established in India although the process has already been initiated.
Why Should a Student Go for a Digital University?
As a student, you might have the question of why you should consider seeking higher education from a digital university instead of a conventional university.
Here we have listed some of the top features of a digital university which might make it a good choice for your higher education:
A digital university will have no bar on the number of seats for a course, so you can pursue a course without worries about the number of seats getting filled.
There are to be no entrance exams or soaring cut-offs for admission to digital university. So you can take admission in the course of your preference with minimal eligibility criteria.
Education in the online mode is more affordable than full-time offline education. So a larger number of students can easily access the courses while overcoming the burden of heavy financial expenses.
Even if you are not familiar with languages like English and Hindi, you need not worry as the digital university to be established will also provide educational courses in the various regional languages of India. So you can attend classes in your mothertongue.
The digital university will be beneficial for students to continue education as it will allow students to take up courses without the hassle of relocation and in a flexible manner.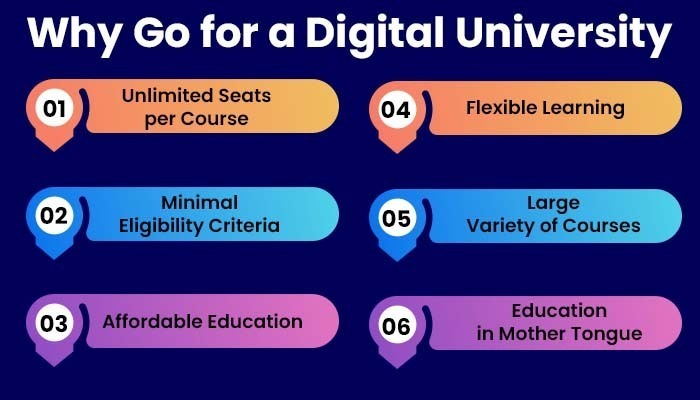 The Vision of a Digital University
The idea of establishing a central digital university in India can be the big step towards universalisation of high quality educational services across the nation. It can be the first initiative in the direction of providing online education on a widespread basis to students.
The decision to start a digital university in India can be beneficial for a number of reasons.
– Greater Youth Enrollment Rates for Higher Education
The central aim around which the digital university establishment was anchored was to increase the access of higher educational services for the youth and students of India. A digital university would enable a larger number of students to enrol in higher education, making it more democratic and equitable. Larger number of students enrolling in such courses further means that the nation has a well-educated and skilled youth that can form a strong workforce as well. Moreover, the digitization of higher education would mean that students residing in very remote, backward or underdeveloped areas also have access to quality educational services irrespective of their location of residence.
– Overcome the Financial Constraints of Higher Education
Another major aspect of the inadequate rates of enrolment in higher education as well as high drop-out rates is the financial constraint associated with it. With the exception of a few educational institutions, higher education in India is highly expensive and consequently unaffordable for a large number of aspirants. This is especially true for regular full-time courses offered by various colleges and universities across the nation.
On the other hand, online education is quite affordable and offered with easy EMI options that allow students to pay the course fee in multiple instalments. As a result, the initiative of a digital university will help solve the financial hassles associated with higher education and make it much more affordable and accessible for a larger number of students.
– Minimal Criteria for Eligibility
Most renowned and prestigious educational institutions either have their own entrance examinations or stringent eligibility criteria for admitting students to various courses.
A large number of students who aspire to pursue a particular course are not able to get through to the university/college of their choice due to this reason. Moreover, with the cut-throat competition and the need to excel in entrance examinations, students also turn to extensive coaching, which is unaffordable for a large number of students.
In order to address this issue, a digital university has been proposed to have very minimal and basic eligibility criteria. Students are required to only have qualified the examination of the required degree and are not required to appear for any entrances or meet a percentage requirement for getting admission to the online courses offered by the university.
In addition, according to the propositions made by the government and the UGC, there are to be unlimited seats in each of the courses in the university, which means that innumerous students can get access to the best-in-class educational services offered by the top universities of India and abroad.
– Upskilling and Contribution to National Economy
With new advancements being introduced in the corporate sector and industry everyday, there is a need for students as well as professionals to continuously upgrade their skills and competencies to stay relevant and be able to grow their careers in their fields.
The initiative of a digital university would allow students to receive training and education beyond the syllabus with the help of internships, research programmes, experiential learning measures as well as promoting startups and the like. Moreover, with convenient short and long term courses being available through the virtual mode, even working professionals can continuously upskill themselves to hone their professional abilities with advancements in the field.
Lastly, if the initiative of a digital university is successfully able to meet the aim of increasing the literacy rate among the Indian youth, then it would also ensure a greater contribution to the economy of the nation.
– Globalisation of Education in India
This is one of the long-term goals of establishing a digital university. Being a virtual domain of education, the constraints of physical relocation will be done away with. As a result, higher education in India would become more globalised, with top educational institutions from across the world coming to join hands with Indian institutions as well to establish a well-networked domain.
The Government of India also plans to strengthen the local educational domain of India by making Indian education more widespread through these digital courses that will be taught in the digital university. There will also be initiatives taken to teach the mainstream educational courses in the local languages of the nation, which means the language barrier encountered by numerous students when pursuing higher education will be overcome as they will be able to attend lectures in their own mother tongue.
– Reduced Digital Divide
Although the use of digital measures for a variety of functions is becoming more common in India, there still exists a digital divide in terms of access to technological and electronic devices as well as internet access and facilities, especially between the urban and rural domains. A digital university, along with initiatives such as Common Service Centres (CSCs), provision of access to affordable electronic devices, internet access and other technological support will enable the bridging of this digital gap in India.
Challenges of a Digital University
Although the idea of a digital university is based on the vision of a brighter future of higher education in India. However, this is not to say that there are not any challenges in pursuing the initiative and implementing it effectively.
Here are some of the challenges that have to be addressed effectively for establishing and ensuring the success of a digital university in India:
– Access to Amenities for Online Education
The digital divide earlier mentioned is very much a reality in India today. Although the use of electronic gadgets, devices, use of internet services etc. is highly prevalent in the urban, developed areas of the country, there are still many regions where people are not familiarised with these aspects. This means that before normalising online higher education, it must be ensured that students in various rural and remote areas be given access to resources like electronic gadgets/ devices and good broadband internet access through which they can conveniently study in the online format.
Students from such backgrounds also need to be given basic training in using these facilities to understand concepts and pursue their education, since it might be very different from any conventional education that they have obtained.
– Mainstreaming Online and Distance Education
Another aspect to be addressed is the general hesitance that people have in opting for online or distance courses. According to latest UGC guidelines as well as the nod from the Ministry of Education of India, online and ODL education holds equal value as regular education.
A mainstreaming of online and ODL education needs to be done in order to make digital university a successful reality in India. This is also one of the most central aims of starting a digital university in India.
– Internet Access and Connectivity in Remote Areas
This is one of the most poignant problems that needs to be addressed in order to ensure that education is delivered effectively to students in the online mode. There are still many regions in India where the internet connectivity is unavailable or in a very poor state. In order to reach such remote areas to enable students to comfortably take up higher education courses, the internet connectivity needs to be strengthened first.
– Attention Span of Students
Another practical and realistic concern that emerged clearly during the period of the global pandemic (when many universities turned to the online mode for delivering the courses), this can prove to be a major setback for a digital university. To address this, the educational courses for the digital university need to be framed and designed in an engaging and interactive manner. The pedagogy should be such that students experience learning as comprehensively as offline education.
– Impact on Other Sectors of the Economy
The establishment of a central, fully digital university will have real effects on other sectors of the economy such as hostels, lodging, academic print media, student services needed in the offline mode etc.These questions need to be considered and addressed effectively by the competent bodies before actually establishing the university.
– Effective Delivery of Education in Online Mode
Although many universities and higher educational institutions today provide online educational courses, with the establishment of a fully-fledged digital university, the teachers as well as students would need to be trained specifically in conducting the process of teaching-learning effectively through virtual means. They need to be familiarised with the concept of online learning tools. Teachers need special training as well to ensure that they can effectively deliver lectures as well as conduct examinations in the online mode.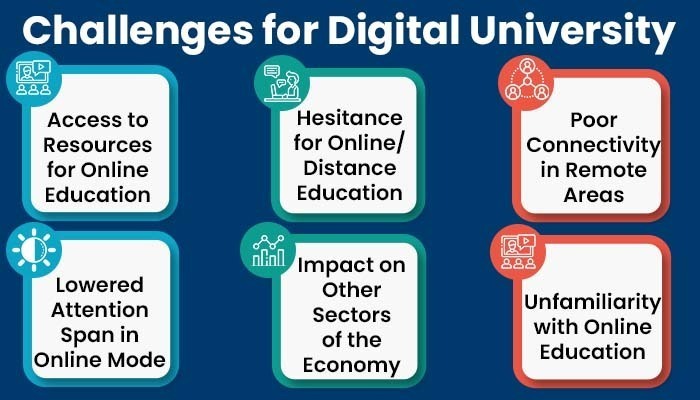 Conclusion: What is the Future of a Digital University?
Considering all factors involved in this process, although the task of establishing a digital university is not unchallenging, it certainly has a bright future in India. With effective measures being taken to implement the numerous aspects involved in the establishment of a digital university, it can be the next revolutionary step in the upgradation of higher education in India.