Pursuing M.Tech or being a software engineer are not the only two options after you complete your B.Tech in Computer Science Engineering. Computer Science is such a dynamic and explorative field with a vast scope in the future. It is a shame to know that people are still unaware of all these amazing options that are out there after pursuing a valuable course like B.Tech Computer Science Engineering.
Best Career Options After B.Tech Computer Science
Once you complete your Bachelor of Technology in Computer Science Engineering (B.Tech CSE) degree, you will have three paths ahead of you-
Higher Studies
Job
Both of the above together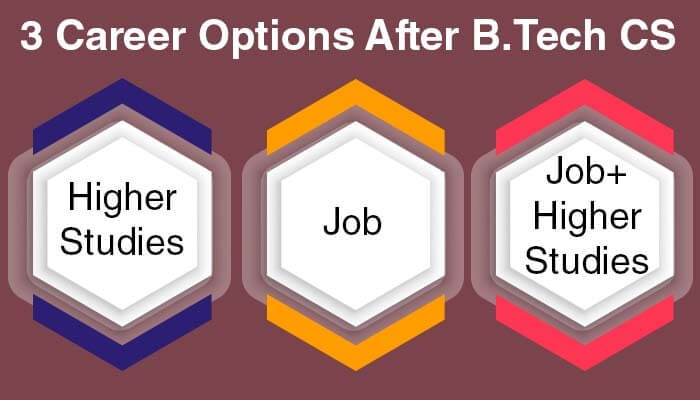 B.Tech in Computer Science is considered as one of the quickest ways to build a successful career and for all the right reasons. The field of Computer Science and Information Technology is one of the most financially beneficial fields of work. Hence it is the most sought after career option globally.
B.Tech in CSE is one of the few courses that is able to get you a high salary package job immediately after the course is complete and even without the need of a higher degree. However, with higher degrees, you have the chance for even better salary packages. So, it is a course that offers you both these options.
It is amazing how both these options are equally good. Therefore, it totally depends upon you, which way would you want to go forth. Given below are all the best options that you have in higher studies as well as jobs.
Higher Studies
When it comes to higher studies, you again have two options. You can either continue in the field of Computer Science and IT or you can switch fields. The most favourable switch is to Management. Let us now discuss each of these options in detail.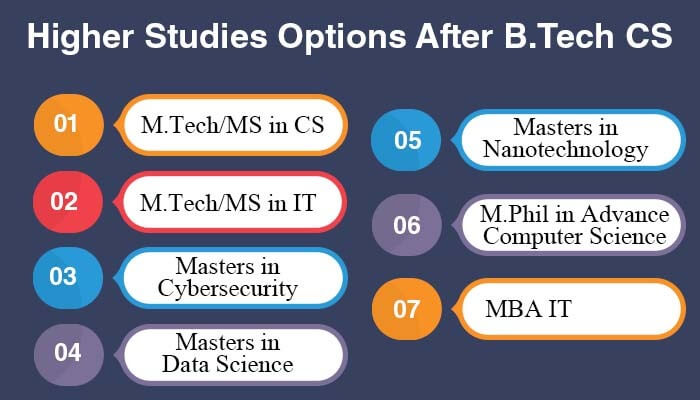 M.Tech/MS in CS
The Master of Technology (M.Tech) in Computer Science is the most sought after course by the Computer Science graduates in India. If you wish to pursue this masters degree abroad, then it is known as the Master of Science (MS).
For admission to both these courses, you have to clear an entrance exam. For M.Tech, you have to appear for and score well on the Graduate Aptitude Test in Engineering (GATE) entrance exam to be eligible for admission. While, for MS, you have to appear for the Graduate Record Examinations (GRE).
M.Tech/MS in IT
Information Technology (IT) is a field very very similar to computer science. Sometimes both these terms are even confused as one. However, there are a few small differences in the areas of work and application.
The M.Tech or MS in IT helps you get similar job roles as M.Tech/MS in CS, the only difference being the area of work. Also, similarly, for admission in M.Tech in IT, you have to score well on the GATE exam while for MS in IT, you have to score well on the GRE exam.
Masters in Cybersecurity & Cyber Law
India is the top producer of IT/CS professionals in the world. However, there is one domain in this field that India lacks in, which is Cyber Security. Cyber Security is the domain in CS that is a lot in demand as already said, because of the lack of experienced professionals. Hence, it is a great opportunity to study Cyber Security and Cyber Law for a lucrative career in India.
In the regular mode, there are only very few institutes that offer courses in Cybersecurity and Cyber Law. However, there are numerous prestigious universities offering Cyber Security courses in the online mode. You can check out these online cyber security courses and the universities offering them at College Vidya.
Masters in Data Analytics/Data Science
Data Science is the most popular profession in the tech world. And with the outstanding everyday growth of big data, data science has become even more important of a career. Even though this field has a lot of scope, there are still very few skilled professionals in comparison to the open jobs in the field. This is why the demand for Data Science professionals is constantly on the rise.
However, just like cybersecurity, data science courses are also very less in number in the regular mode. But there is definitely nothing to worry as numerous Data Science courses are available in the online mode. A lot of prestigious universities are aware of the rising demand of data science experts in the country and hence they have started to offer data science courses in the online mode. You can find all these universities and their online data science courses on College Vidya.
Masters in Nanotechnology
Nanotechnology is not that popular a course and not many people have heard of it. B.Tech CSE graduates usually do not prefer this course as it will lead you to work in aerospace and electronic industries. However, it is quite a diverse course and would surely enhance your skill set.
Apart from nanosciences and nanomaterials, you will also get to study semiconductors, fabrication, etc. Therefore, you get job options in various sectors like forensic technology, material sciences, food sciences, pharmaceuticals, electronic sciences, and of course aerospace.
M.Phil in Advance Computer Science
Master of Philosophy in Advance Computer Science is a degree that would take you into a career of research and teaching. This course, unlike all the other computer science courses, focuses more on theoretical aspects of Computer Science Engineering.
It is a prestigious degree and helps you get jobs as teachers/professors at universities or as research scholars at big corporations and organisations like ISRO, DRDO, etc.
MBA IT
Master of Business Administration (MBA) is currently one of the most popular postgraduate degrees in India. Graduates from all sorts of academic backgrounds are today inclined towards Management & Business Administration job profiles. This is because after MBA, the horizon for career opportunities broadens immensely. You can work in almost any sector.
An MBA in IT is a really popular course these days. A lot of B.Tech CS graduates are going for an MBA degree in IT for their post graduation. It is a great career option for those who wish to switch from technical to managerial roles. These days, an online MBA for working professionals is a growing trend. We will be talking about this and other courses for working professionals in detail later in this blog, so stay tuned.
Scope After Higher Studies
Once you complete your masters in computer science engineering, doors to several different career paths will open for you. Apart from the typical government and corporate jobs, you will have numerous other interesting and amazing options. Let's discuss these career paths one by one.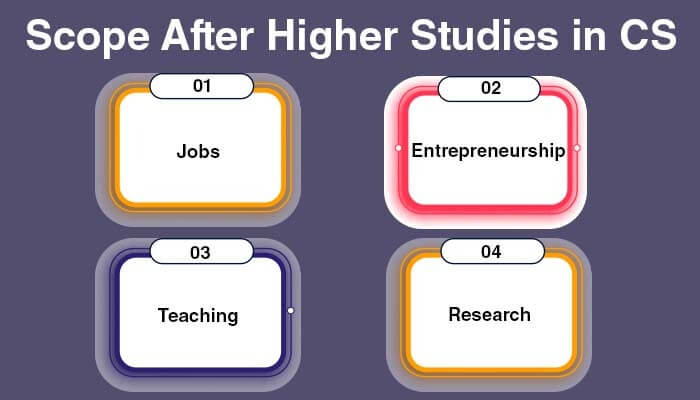 Jobs
If you have completed your masters in computer science engineering or IT or any related fields, then of course you have the option of landing some of the best job roles in both the government and the private corporate sector. The jobs that you get in this case are considered as some of the highly paid jobs in the world. The average salary for a senior software engineer in India is 15-20 LPA.
Entrepreneurship
If you do not wish to opt for a job but instead you wish to start a venture of your own, then that is also completely possible. If you have some creative business ideas that you think can be profitable for you as well as the society, then entrepreneurship is definitely something you should look forward to.
There have been several tech startups that have boomed and are doing extremely well in the industry. There have been several ed-tech and fintech startups that were extremely successful. In this case both technical masters degree or an MBA in IT would be useful.
Teaching
If you do not have an inclination towards corporate life and you want to continue in the academic sphere, then teaching could be a great option for you. You can pursue the M.Phil in Advanced Computer Science if you are interested in a career as a professor/teacher. With the M.Phil degree you can apply to universities for the professor and assistant professor positions. You can also apply to schools both private and government for the position of teacher.
Research
The M.Phil in Advanced Computer Science degree also makes you eligible for the role of a Researcher in the field of Computer Science. M.Phil followed by a PhD degree leads to even better job opportunities at bigger organisations. A job in the field of Research is highly valuable and even more so if you join organisations like ISRO, C-DAC, etc. Hence, the scope of a job in the Research field is immense and lucrative.
Jobs
B.Tech in Computer Science is a course that gives you a holistic development. The subjects you study in B.Tech are highly advanced and immediately prepare you for a job in Computer Science and Information Technology domains.
Following are some of the subjects that you study during the 4 years of a B.Tech in Computer Science Engineering program:
Applied Physics, Chemistry, & Mathematics
Artificial Intelligence
Coding
Communication Technology
Computer Architecture
Database Management System
Data Structures
Digital Circuits
Engineering Mechanics
Signal Processing
Software Engineering
After graduating with a B.Tech in Computer Science Engineering, you are eligible for jobs in both private and government sectors. Let us now see all the prominent career options that you will have after earning your B.Tech in CSE degree.
Corporate Sector Jobs
Jobs in the corporate sector are the most popular among B.Tech in CSE graduates. Many tech giants Google, Apple, Microsoft, Tesla, etc are among the biggest companies in the world. It is a dream of almost every B.Tech CSE graduate to get a job in such big corporations.
Computer Science is a vast field which is growing every single day with leaps and bounds, hence, creating tremendous opportunities. This is why there are a lot of job profiles. This means, after you complete your B.Tech degree in CSE, you have a large diversity of job roles in front of you. Some of the popular ones are:
Top Job Roles For B.Tech CSE Graduates

Software Engineer
Software Developer
Full-stack Developer
Web Developer
Front End / Back End Engineer
Computer Network Architect
Database Administrator
Computer Systems Analyst
Data Scientist
App Developer
However, not all get their first job in top companies like mentioned earlier. But they can start with smaller companies, gain enough experience, hone their skills, and then reach these top 1% companies.
There are broadly two ways in which you can start your career in the corporate sector and these are:
Campus Placement
In case of campus placements, you do not have to make much effort in finding the right opportunity for you as your college/university does the work for you. Campus Placement means that companies come to the college for recruiting students as new employees for their respective organisations.
Students have to give a recruitment test for each company they wish to join. The recruitment tests might vary for different companies. The tests may include written tests, personal interviews, group discussions, etc. Students have to pass all these stages of the recruitment test to finally get a job.
The best part about campus placements is that you get a job immediately after graduating or sometimes even before graduating. This way students can save a lot of time that they might have to invest while looking for jobs themselves.
Some of the top companies for campus placements in India are:
| | |
| --- | --- |
| TCS | Accenture |
| Microsoft | Cognizant |
| Capgemini | Amazon |
| Tech Mahindra | Infosys |
Direct Job Recruitments
Direct job recruitment means that you look for jobs yourself apart from the campus placement by either directly applying through the company's website or through job portals like LinkedIn, Naukri.com, etc.
This way of finding jobs might be difficult, time-consuming, and exhausting, but if you are not satisfied with your campus placement drives and wish to find better opportunities then you must go for this option. With a little more hard work and perseverance you might get much better options than campus placements.
This option is usually preferred by students who either do not get placed in the campus placements or who are not satisfied with the recruitment companies of the campus placement drives.
Some big corporates where you can apply for direct recruitment or through job portals are:
| | |
| --- | --- |
| IBM | Deloitte |
| KPMG | EY |
| Amazon | Reliance |
Government Jobs
Private-corporate jobs are surely quite attractive, however, the level of job security and extra benefits that government jobs offer is what makes Government jobs the priority for many students, especially in India.
There are several government organisations and Public Sector Undertakings (PSUs) that offer jobs to B.Tech CSE graduates. However, for most of these jobs, students have to take an entrance examination.
Either the students have to score well on the GATE examination or some departments conduct their own entrance examination which is mandatory for the students.
Following are some of the top government organisations and PSUs that you can get a job in after B.Tech CS:
Govt. Organisations & PSUs Offering Jobs For B.Tech CS Graduates

Indian Railway (Signal Section)
Bharat Heavy Electronics Ltd.
ONGC (Oil and Natural Gas Corporation)
IOCL (Indian Oil Corporation)
BSNL (Bharat Sanchar Nigam Ltd.)
SAIL (Steel Authority of India)
C-DAC (Centre for Development of Advanced Computing)
ISRO (Indian Space Research Organisation)
DCIO IB (Intelligence Bureau)
RRB (Railway Recruitment Board)
Specialist Officer in top Indian Banks like RBI, PNB, SIDBI, IBPS, SBI, NABARD, SEBI, etc
Teaching in Kendriya Vidyalaya School (A CS Engineer do not need a B.Ed degree to appear for KVS teaching examination)
Other govt. departments such as Cybercrime, DMRC, etc
Jobs+Higher Studies
The biggest advantage that online education has brought along is the opportunity for working professionals to pursue degree courses simultaneously while continuing their jobs. In the competitive times that we live in, it is very important to constantly learn and future proof your skill set.
The best way to do this is pursue a job as well as pursue any relevant course. The job will help you with getting first hand experience and the course will enhance your knowledge and upscale your skills.
You can either go for higher studies like pursuing full-time online degree courses like the M.Tech for working professionals or online MBA. These are long-term degree courses whose duration is at least 2 years. The online M.Tech course is only and only permitted for the working professionals under the WILP (Work Integrated Learning Program).
Following are some of the top colleges for online M.Tech for working professionals.
Shree Venkateshwara University
Lingaya's Vidyapeeth
BITS Pilani
Mangalayatan University Aligarh
You can visit College Vidya to get detailed information about the online degree courses as well as you can compare these colleges to know which one fulfils your priorities.
However, if you do not want to go for a long-term degree course but you still want to enhance your skills then you must definitely go for the short-term skill development courses. Following are some of the top skill-enhancement courses for B.Tech in Computer Science graduates.
Short-term Skill Enhancement Courses After B.Tech CS

Information Security
Ethical Hacking
C, C++, Java, .NET, SQL
Software Testing
Borland Database Engine (BDE)
Robotics
Nanotechnology
Data Analytics & Data Science
Kanban Certification
ISO Lead Auditor Courses
Technical Designing & Drawing
Web Designing
Networking
Professional Embedded Technology
Very Large Scale Integration (VLSI)
Electrical Distribution System
Six Sigma
Primavera Training
If you wish to know more about the online courses and online universities, then you can get all the information on College Vidya. Here, you can even talk to education mentors for career guidance and anything and everything related to online education and online universities. You will get unbiased information and that too free of cost. So if you are looking for an online course to enhance your B.Tech in CSE degree and take it to the next level to get better jobs, then hurry up and visit College Vidya.