You are always told that there are only two prospects for you after you complete your engineering which are either to opt for higher studies or to go for jobs straight away. However, we are here to tell you the third option that is available for B.Tech graduates which is a combination of the first two. Let us understand each of these options in complete detail.
10 Best Career Options After B.Tech Engineering
We live in a world surrounded by engineering marvels. From civil engineering to mechanical, chemical, electrical, computer science, and many more, our lives are practically governed by engineering. No wonder, the amount of respect that engineering professionals enjoy.
Nowhere is this more apparent than in India. Somewhere for sure, you must have heard parents or relatives or neighbors say "Engineering Karlo beta bohot scope hai!". Well, they're not wrong.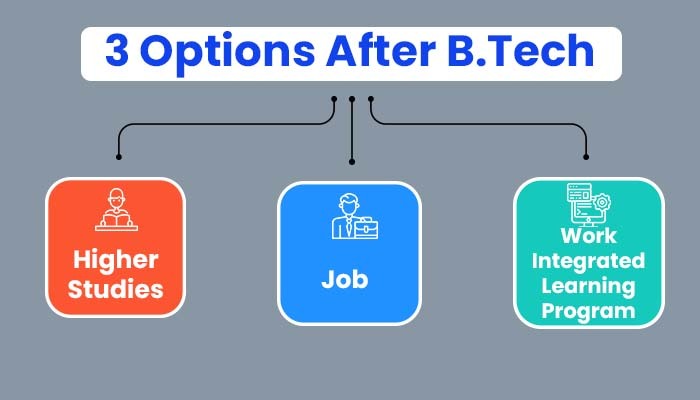 Pursuing engineering is a matter of pride for Indian households. As a result, our country produces a whopping 15 lakh (approx) engineering graduates per year. B.Tech is the most sought-after degree in India.
However, there is still a lack of information, knowledge, and a lot of confusion among students about what after a B.Tech! It already takes rigorous practice and efforts to crack entrance exams like JEE and get admission into an engineering college. However, towards the end of the 4-year course, most students remain at a crossroads, utterly confused about what career choice would be the best for them.
Well, we're here to let you know all the possible career prospects that you can pursue after completing your B.Tech. After reading all these prospects, you will be clear about what should be the right path for you, and hence you will be able to make an informed decision.
Higher Studies
The first option that you can consider is to study more and specialize in a particular domain of your engineering major.
Now, a major misconception is that an M.Tech is the only option after a B.Tech degree but that is not the case. While M.Tech is one great choice after a B.Tech, however not the only one.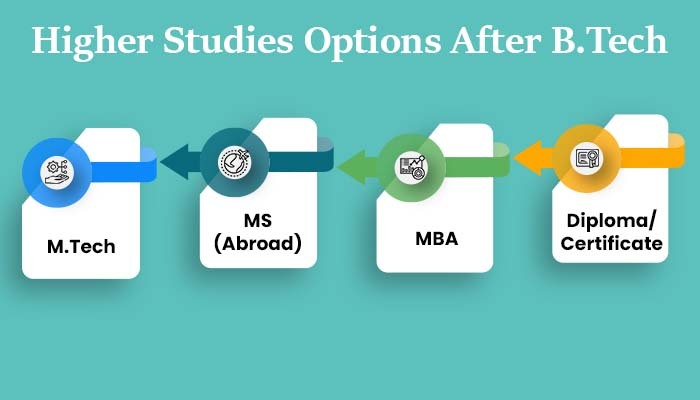 You can opt for a Masters in Engineering from either India or from abroad. Or you can even switch domains from Engineering to Management. Let us know more about each of them.
#1 M.Tech
Master of Technology popularly known as M.Tech is the most sought-after higher studies option after B.Tech in India. If you want to pursue deeper knowledge in a particular domain/specialization then M.Tech is a great option.
For instance, if you have pursued B.Tech in Civil Engineering, then for the M.Tech course, you can pursue any one of the many specializations that you studied in your B.Tech course like Construction Engineering, Geotechnical Engineering, Water Resources Engineering, Highway Technology, Hydraulics, and many more.
The prestigious IITs and NITs are the top engineering institutes in India. However, to get into these prestigious institutes, students have to appear for an entrance examination.
Graduate Aptitude Test in Engineering or GATE is the entrance exam for which B.Tech graduates must appear for, if they wish to pursue M.Tech from India's prestigious engineering institutes.
Various private universities offer other entrance exams as well, however, GATE scores are valid across all public and private universities.
Other Key Highlights
Entrance Exam- GATE
Course Fee- The tuition fee for the M.Tech course ranges between INR 30K to 3L per annum.
Average Salary- The average salary for M.Tech graduates is INR 8 LPA. The salary varies depending upon the role, field, and specialization.
Major Specialisations- Computer Science & Engineering, Electronics & Telecommunication Engineering, Aerospace Engineering, Civil Engineering, Information Technology (IT), Communication Systems, Automotive Technology, Machine Design, Structural Engineering Design, CAD/CAM, Biomedical Engineering, Polymer Engineering
Popular Employment Roles- Senior Software Engineer, Development Engineer, Construction Manager, Project Manager, Aerospace Engineer, Software Developer, Machinery Engineer, Senior Electronics Engineer, Maintenance Manager
Top Institutes- IITs, NITs, ICT Mumbai, VIT, BITS Pilani, SRM University, Indian Institute of Space Science & Technology, IISC Bengaluru
Future Prospects- If you still wish to acquire more knowledge after M.Tech degree, then you can continue to pursue a PhD and venture into the field of research.
#2 Study Abroad (MS)
Students who wish to pursue a masters degree in Engineering after B.Tech from abroad can go for the Master of Science (MS) degree. Pursuing masters in engineering from abroad is the most popular choice among B.Tech graduates.
The facilities and infrastructure offered by foreign universities is top-notch and the best in the world. The experience and exposure of studying abroad gives students the chance of global job opportunities.
However, the students must fulfil the strict eligibility criteria and pass the entrance examination for admission in MS at foreign universities.
The most popular entrance exam for admission in MS abroad is GRE (Graduate Record Examination). Apart from GRE, there are other exams as well like IELTS and TOEFL. The choice of exam depends upon which country you are applying to.
MS from abroad surely comes with amazing benefits, however, it is important to carefully select the right program and right university since it is a big investment and a life changing irreversible decision.
#3 MBA
For tech professionals who are interested in switching from their technical domain into management and business, an MBA is a great career option after B.Tech.
The Master of Business Administration (MBA) has become one of the most preferred career choices of B.Tech graduates in India. This is because of the diversity and better monetary opportunities that the MBA offers.
Career scope after an MBA is immense because of the several specialisations offered by the course. Since management is not restricted to a single sector, the job opportunities are quite a lot.
For admission in a Business School, applicants have to clear an entrance examination that consists of a written test followed by Group Discussions (GD) and Personal Interviews (PI).
The most popular MBA entrance exam is the CAT (Common Admission Test) conducted by the prestigious IIMs (Indian Institute of Management). Other top universities also conduct their own entrance examinations. However, CAT scores are valid across maximum institutes.
In case you are considering pursuing an MBA from abroad, then there is a different entrance examination, which is GMAT (Graduate Management Admission Test).
Other Key Highlights
Entrance Exam- CAT, XAT, NMAT, SNAP, MICAT, TISSNET, IIFT, GMAT (for abroad)
Course Fee- The tuition fee for the MBA course ranges between INR 10L to 30L per annum.
Average Salary- The average salary for MBA graduates is INR 10 LPA. The salary varies depending upon different specialisations as well.
Major Specialisations- General Management, Finance, Business Laws, Marketing, HR Management, Operations, Supply Chain & Logistics, Retail Management
Popular Employment Roles- General Manager, Financial Manager/Analyst, IT Director, Project/Product Manager, HR Head, Operations Manager, Chief Technology Officer (CTO)
Top Institutes- IIMs, ISB, FMS, XLRI Jamshedpur, SIBM Pune, NMIMS Mumbai, SP Jain Institute of Management & Research
#4 Diploma & Certifications
There are certain engineering domains and specialisations that can be studied in a short period of time. These are usually skill-based specialisations that are mostly job-oriented. So, these do not need a degree course, as there are several diploma and certificate courses.
Students can pursue these diploma/certificate courses to hone their knowledge and skills in a particular area of study. These courses will be an additional asset to not just your resume but also to your existing skills and qualifications.
Some diploma/certificate courses that are famous among B.Tech graduates are:
| | |
| --- | --- |
| Robotics | Protocol Testing |
| VLSI (Very Large Scale Integration) | AI & ML courses |
| Programming Languages (C,C++, Java, .NET, SQL) | Software testing |
| Web Designing | Technical Drawing & Designing |
| Ethical Hacking & Cyber Security | User Interface (UI) Designing |
| Embedded Technology | Electrical Distribution System |
# Jobs
Now, if you are someone who has decided to pursue a job directly after your B.Tech degree rather than higher studies, then there are several paths to follow.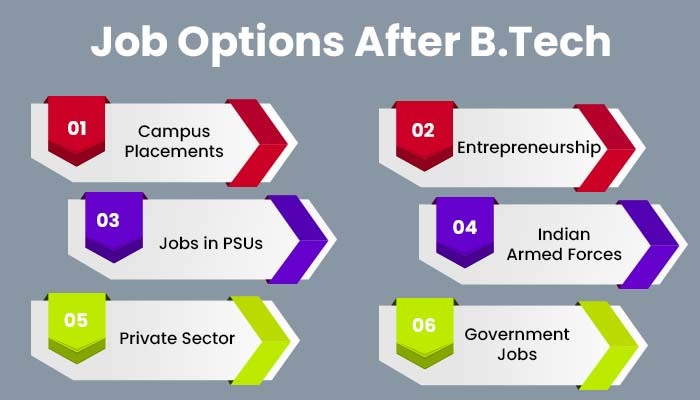 B.Tech is one of the top undergraduate courses that guarantee you jobs immediately after you graduate. The UG course is alone enough to help you land a great job. You do not necessarily have to pursue a PG degree to get a job if you are not interested in studying further.
Following are the best options for jobs after a B.Tech degree
#5 Campus Placements
Placements from campus are one of the most popular career options as it is the quickest way to land a great job.
It is essentially easier to get jobs through campus placements than from outside because you do not have to approach employers as your university does the work for you by bringing in a pool of famous MNCs and other big national & global organizations.
However, you need to prepare hard for these campus placements as all the employers are looking for the best employees for their respective companies. Yes, there is less competition in the case of campus placements but that does not guarantee a job for you as you must be flawless in all your tests and interviews.
If you wish to get a job through campus placements, then you must keep in mind the following crucial points to prepare yourselves from the very start of your graduation.
Maintain a good score in all your subjects throughout the course for an impressive CV. your good scores will be your first (but not the only) impression on the employers.
Participate in extracurricular activities that you are interested in or may be relevant to your course.
Be serious about your project in the final year. You should be well aware of it as it will reflect in your CV and you might be asked questions about it during your placement interview.
Similarly, try to take up a relevant internship and learn as much as possible so that you can talk about it confidently in your interviews if you are questioned about it.
Apart from the written test preparation, you must also prepare yourselves for group discussion (GD) activities and personal interviews (PI).
#6 Jobs in PSUs
Public Sector Understandings (PSU) are organisations/companies which are partially owned by the government (central or state or both) like the famous LIC, BHEL, ONGC, and Hindustan Copper Limited.
These semi-government organisations offer lucrative job opportunities to B.Tech graduates with amazing benefits and support. PSUs hire employees on either permanent or contractual basis.
To get a job at a PSU, you must have appeared for the GATE exam. The PSUs release the minimum GATE score which is required by students to get the job. Further, there are different procedures for different PSUs, like some might conduct interviews while others won't.
However, there also are some PSUs that offer jobs to B.Tech graduates without a GATE score. They have their own entrance examinations or other procedures. Some of these PSUs are:
PSU Offering Jobs Without GATE Score

Reserve Bank of India (RBI)
Shipping Corporation of India Limited (SCIL)
OPTCL
Airport Authority of India
Bhabha Atomic Research Centre (BARC)
Bureau of Indian Standards
Delhi Electricity Regulatory Commission
PEC Limited
Indian Coast Guard
National Mineral Development Corporation (NMDC)
Hindustan Newsprint Limited
Border Security Force (BSF)
UPPCL
Housing & Urban Development Corporation Limited
#7 Private Sector
Apart from the public sector, engineers have a lot of scope in the private sector. You already read about the campus placements, where numerous companies of the private sector approach engineering universities to employ engineering students.
However, engineering graduates can directly approach companies themselves through several job portals or directly through the job postings by the companies themselves.
Online job portals like LinkedIn and Naukri.com are a great way to make connections and find available jobs in the market. You just need to register and make a profile on these portals. Then you just have to apply to as many jobs relevant to your specialisation or expertise.
After you apply to various job openings, you will have to wait for the reply from your employer's end. If your resume gets selected, you will be invited for further rounds of the selection procedure which might include written tests, interviews, etc.
#8 Entrepreneurship
Startups in India are becoming a huge success. As an engineering graduate, if you have those creative ideas to start a business of your own, then entrepreneurship is a great career choice.
Gone are the days when only Management graduates could think of entrepreneurship. Today, if you have a unique idea that can offer something good and useful to society, then you can use your engineering skills to execute that idea into an actual working product/service.
However, starting your own business is not an easy task. There are multiple negative sides to entrepreneurship as well. But if you are well-aware of all such difficulties and are ready to face them, then you must go for it.
#9 Indian Armed Forces
Engineering graduates are needed in the Indian Armed Forces as well for technical support to the armed troops on the ground with various technical/mechanical issues. The Indian Armed Forces readily employs on-ground engineers in the following three branches:
Electronics & Mechanical Engineers
The Corps of Engineers
The Corps of Signals
The eligibility criteria for B.Tech graduates to join the Indian Armed Forces is different from that of other jobs because for on-ground duty, the engineers must be physically fit as well to be able to survive in danger prone military areas.
#10 Government Jobs
All the above career options were for engineering graduates who wish to continue jobs in their field. But what about the students who do not wish to pursue jobs in the technical sector?
If you are one such person who does not wish to continue in the engineering domain, then one of the best options for you is to go for a government job.
There probably wouldn't be a person who is not aware of the perks and benefits that accompany government jobs in India. There are endless advantages of government jobs, like lucrative salaries, other benefits like health benefits and several allowances.
However, it is not easy to get government jobs as there are strict eligibility requirements and you have to go through tough entrance exams among fierce competition.
Every year lakhs of candidates apply for government jobs in India from all over the country while the vacancies are very less. Therefore, you must prepare well and consistently work very hard as the entrance exams are not a piece of cake.
Following are some of the entrance examinations in India for some top tier government jobs:
| | |
| --- | --- |
| Competitive Exam | Conducting Government Authority |
| Civil Services Exam | Union Public Service Commission (UPSC) |
| UPSC NDA & UPSC CDS | Union Public Service Commission (UPSC) |
| ISRO Recruitment Exam | ISRO Centralised Recruitment Board |
| RBI Assistant & Grade B Officer | Reserve Bank of India (RBI) |
| IBPS Clerk, PO, RRB, and SO | Institute of Banking Personnel Selection |
| RRB ALP, JE, NTPC, and Group D | Railway Recruitment Control Board (RRB) |
| SBI Clerk and PO | State Bank of India (SBI) |
| SSC CGL, CHSL, GD, CPO, JE, JHT, MTS, FCI, Scientific Assistant and Stenographer | Staff Selection Commission (SSC) |
| CTET | Central Board of Secondary Education (CBSE) |
| LIC AAO and ADO | Life Insurance Corporation of India (LIC) |
Work Integrated Learning Programs (WILP)
As we stated at the beginning of the blog, there is a third option beyond higher studies and job which is actually a combination of these two. This means that there is an option for you to pursue a job and a degree course at the same time.
How?
With the help of online degree courses.
Immediately after completing your B.Tech degree, you can pursue a job from the ones we discussed above. Now, simultaneously with your job you can pursue an online degree course like online M.Tech or online MBA.
If you wish to pursue an online MBA as a working professional, then there is no hard and fast rule or strict eligibility criteria. You just need to take admission in an online college through an online application form and pay the fee and then comfortably attend college from your home.
However, the case is different in case of online M.Tech.
The M.Tech program is not allowed in the online mode as per the government of India. However, due to the growing demand from working professionals for a way to upskill themselves.
Therefore, the government took measures and has now allowed a blended online M.Tech program but only and only for working professionals. This program is known as the Work Integrated Learning Program (WILP). So, the engineering working professionals can now do a job and pursue online M.Tech at the same time.
This is a really great opportunity for all the B.Tech graduates as they can even earn while pursuing their masters degrees. The online M.Tech is more affordable when compared to offline M.Tech programs and the best part- you do not have to leave your job. Once you complete your online M.Tech program, you will be able to get promotions or salary hikes at your workplace because of a raise in your qualification. This initiative will save a lot of your time and money.
Read more about the WILP here.