Data Science is one of those fields in the IT industry today, that has been doing wonders in terms of employability. Currently, Data Science is the most popular profession among young IT professionals in India & abroad.
Therefore, there has been a sudden hike in students pursuing Data Science courses. Even working professionals in the IT industry are pursuing master's courses or additional certificate courses in Data science because of its great demand and worldwide popularity.
A B.tech in Computer Science indeed gives you knowledge of the Data Science topic, however, not in much detail. Data Science has now emerged as a subject of its own because of the ever-evolving Big Data.
Best 10 Colleges for Data Science In India 2023
And so, many colleges in India have come up with courses that specifically deal with the subject of Data Science which is just one branch of Computer Science. These colleges aim at providing their learners with a holistic curriculum that can equip them with industry-oriented knowledge and experience.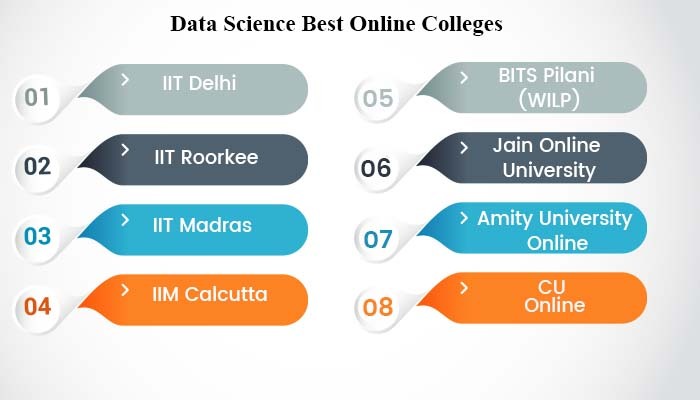 While in the regular (offline) mode, most colleges only offer postgraduate-level courses in the Data Science domain. There are very few colleges that offer offline undergraduate courses in the Data Science domain. We have listed all the top colleges offering offline Data Science courses towards the end of this blog.
However, there are many many online courses (UG, PG, Diploma and certificate) on Data Science available. Even top colleges have started offering online Data Science courses because of their growing popularity.
Best 10 Colleges for Data Science Online Courses
Some of the top colleges that offer online Data Science Courses are listed in the table below.
SI. No
Data Science Colleges In India
Data Science Courses
Data Science Course Duration
Data Science Course Fees

1

IIT Delhi

Certificate Program in Data Science & Machine Learning

6 months

₹1,25,000 + GST

2

IIT Roorkee

Executive PG Certificate Program in Data Science

12 months

₹2,49,999/-

(5% off for one-time payment)

3

IIT Madras

B.Sc in Programming and Data Science

1-3 years

(with flexibility to complete in 6 years)

₹1,00,000/-

2. Diploma in Data Science

1-2 years

₹55,000/-

4

IIM Calcutta

Advanced Program in Data Science

12 months

₹4,40,000 (+GST)

5

BITS Pilani (WILP)

M.Tech Data Science & Engineering

2 years

₹60,500/- per semester

₹16,500/- (one-time admission fee)

2. Postgraduate Program in AI & ML

11 months

₹2,45,000/- (including GST)

6

Jain Online University

Certification- Python for Data Science

3 months

₹12,000/- (National)

$250/- (International)

2. MCA in Data Science

2 years

₹2,00,000/- (National)

$4,200/- (International)

3. MBA in Data Science & Analytics

2 years

7

Manav Rachna Centre for Distance and Online Education

BCA in Data Science & Big Data Analytics

BCA in AI & ML

3 years

₹1,56,000/- (semester- wise payment)

₹1,46,250/- (year- wise payment)

₹1,36,500/- (one-time payment)

MCA in Data Science & Big Data Analytics

MCA in AI & ML

2 years

₹1,44,000/- (semester- wise payment)

₹1,35,250/- (year- wise payment)

₹1,26,500/- (one-time payment)

8

Chandigarh University Online

Master of Science in Data Science

2 years

₹1,20,000/-

9

Amity University Online

BCA in Data Analytics

3 years

₹2,20,000/- (semester-wise payment)

₹2,00,000/- (year-wise payment)

₹1,95,000/- (one-time Payment)

2. MCA in ML & AI

2 years

₹1,76,000/- (semester-wise payment)

₹1,64,000/- (one-time Payment)

3. MBA in Data Science

2 years

₹2,80,000/- (semester-wise payment)

₹2,55,000/- (one-time Payment)

10

Hindustan Online Centre for Open and Digital Education (CODE)

BCA in Data Analytics

3 years

₹1,05,000/-

2. MCA in Data Science

2 years

₹90,000/-

11

Online Manipal University Jaipur

M.Sc in Data Science

2 years

₹2,60,000/-

2. MBA in Analytics & Data Science

2 years

₹1,50,000/-
Online Data Science Course Fees and Duration In India
Data Science has become an important domain in Computer Science and Information Technology industry. Therefore, many colleges have come up with Data Science discipline-specific courses in the past few years.
The program fee and duration depend upon the type of program you decide to pursue. We have described these different types and their respective fee and duration further.
Different Types of Data Science Courses
There are 4 types of courses in India that you can pursue depending upon what you want to study and in how much detail you wish to study.
Undergraduate Courses- These courses are for those who have just passed their 12th standard or those who do not have any knowledge about Data Science but wish to build a career in it.
The undergraduate degree courses are- B.Tech (4 years), BCA (3 years), and B.Sc (3 years).
Postgraduate Courses- These courses are for those who have completed their undergraduate degree in any of the Computer Science domains and now wish to specialise in Data Science.
These postgraduate degree courses are for 2 years- M.Tech, MCA, M.Sc, and MBA.
Diploma Courses- These courses offer knowledge about some specific topics within Data Science. They do not teach Data Science as a whole but only a few subtopics that come under the Data Science discipline. Diploma Courses are usually for less than 1 year.
Certification Courses- These are short-term courses that last for 3-12 months. Certificate courses also target specific subtopics from the Data Science discipline. For example, there are certificate courses for 'Python for Data Science' or for Machine Learning techniques.
Average Fee for Different Data Science Courses
The fees for the different types of Data Science courses will be different because of the difference in their duration, curriculum, and based on facilities offered by different colleges.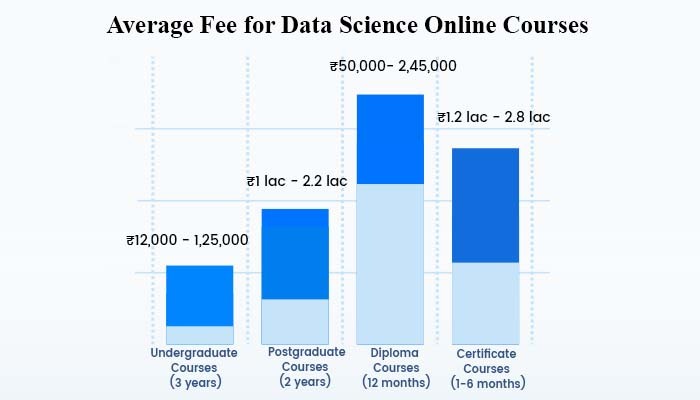 The exact fee is different for different specialisations and colleges. So, we have listed the average fee for all the different types of data science courses.
| | |
| --- | --- |
| Data Science Course Type | Data Science Average Fee in INR |
| Certificate Courses | 12,000 – 1,25,000 |
| Diploma Courses | 50,000 – 2,45,000 |
| Undergraduate Courses | 1 lac – 2.2 lac |
| Postgraduate Courses | 1.2 lac – 2.8 lac |
Duration for Different Data Science Courses
For online courses in any stream, the duration is usually flexible. There is one fixed duration and then one maximum duration. For example, in some colleges, the BCA courses can be done within 3 to 6 years.
Here, the fixed duration is 3 years while the maximum duration is 6 years. For Certificate courses, the duration is not fixed. It completely depends upon the length of the course curriculum.
| | |
| --- | --- |
| Data Science Course Type | Data Science Course Duration |
| Certificate Courses | 6 weeks to 6 months |
| Diploma Courses | Within 12 months |
| Undergraduate Courses | 3 years |
| Postgraduate Courses | 2 years |
Online Data Science Course Career Prospects
The world generated around 41 zettabytes of data in 2019 and 79 zettabytes by the end of 2021. A whopping 38 zettabytes in just 2 years. Big Data is expanding exponentially and at a rapid rate.
With the expansion of Big Data, the need to manage it has also increased, making way for plenty of opportunities for Data Science professionals. And this need is going to keep growing as Big Data is expected to grow at an even faster rate than before. Thereby, becoming a profession with one the best career prospects.
Apart from managing the data, there is another reason why professionals specifically skilled in the Data Science domain are in more demand. This is because the data has been transformed and become more diverse, hence complex.
So, professionals who can deal with this complex data are the need of the hour, especially for companies whose businesses run on data of different sorts.
Data Scientist is undoubtedly the coolest job out there currently as it offers lucrative salaries and benefits. There is security in the job as well because the jobs are not going anywhere as long as there is data in the world, and the data is going to be there as long as there are humans on earth. So, you can be rest assured of the future scope and career stability after studying Data Science.
Data Science Jobs and Salary
Given below are the different and some of the highest-paid job roles available in the Data Science field along with their salaries in national as well as international markets. This is for you to know the worth and importance of Data Science as a career and why it is the career of the future!

| | | |
| --- | --- | --- |
| Data Science Job | Salary in India | Salary in the US |
| Data Architect | ₹20,40,312/- | $1,23347 |
| Data Scientist | ₹8,64,729/- | $97294 |
| Data Engineer | ₹8,65,518/- | $93272 |
| Business Intelligence (BI) Developer | ₹5,98,580/- | $82448 |
| Machine Learning Engineer | ₹7,23,386/- | $112513 |
Online Data Science Course Placements
Though there are plentiful opportunities in the Data Science field, the students must know how to grab those opportunities. This is where the colleges play a big role by providing placement assistance to their online learners.
Many universities conduct large job fairs virtually to connect their students with industries. And if you take admission in renowned universities, then you have greater chances of getting placed. This is because most renowned universities have tie-ups with various companies and industries. The university, therefore, acts as a career bridge between students and recruiters.
Data Science Placement Services Offered By Universities
Apart from providing placement assistance, the universities even prepare students for these placement drives. They provide career support services in numerous forms. Some of these are:
Resume Writing-

There are experts who mentor you on how to write an outstanding resume. Resume is the first thing that the recruiter sees, hence it needs to be impactful enough for the recruiters to go forward.

CV building-

Since Data Science is a skill-based subject, the practical skills of the employee matter more than their academic knowledge for the employer. The university makes sure that every student is able to build a strong Curriculum Vitae (CV) by the end of the course.

Mock Interviews-

There are numerous students who are outstanding at their job but lack interpersonal and communication skills. And as you must be aware, in current times soft skills matter as much as the core skills do. Therefore, universities conduct personalised mock interviews for each student so that they do not fall behind in this aspect.

Internship opportunities-

Internships are a stepping stone towards a great career because you get hands-on experience of the job you are about to pursue as your career. When you go for full-time job recruitment, you have an edge over others because of your experience that they don't have. Colleges help you get started by helping you connect with their industry partners.

Career Path Guidance-

Every good college has career guidance mentors who help you carve your career path. They let you know about the opportunities that are out there and what you should do in order to take the right advantage of those opportunities.
Biggest Recruiters for Data Science Course
Data Science professionals are needed in almost all sectors, as there is rarely any sector that does not work on some sort of data. However, some of the biggest companies that recruit Data Science professionals are.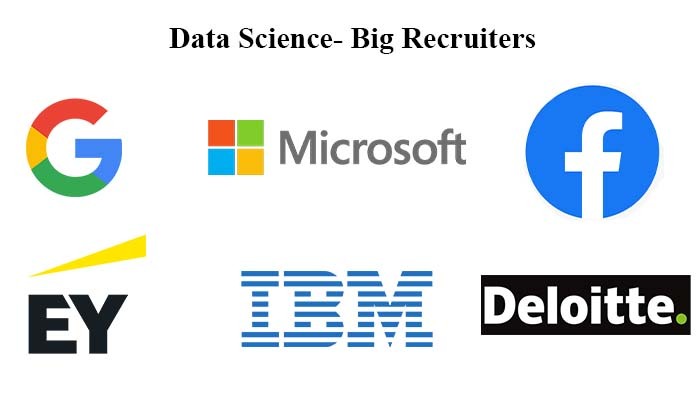 | | |
| --- | --- |
| Google | Microsoft |
| Facebook | Ernst & Young (EY) |
| IBM | Amazon |
| Fiat Chrysler Automobiles (FCA) | Aditya Birla Group |
| Deloitte | Lenskart |
Factors to Consider for Best Online Data Science Colleges In India
To choose the best online data science college, there are multiple factors that you must consider. This is because online education is something new and still evolving, so not all colleges might be able to deliver the best results.
So, to help you find the best online college with all the necessary facilities, we have listed down the most important factors that you must not miss at any cost.
1. Approvals
This is the first and the most important thing that you must see in any college. UGC gives a separate approval to colleges to offer online courses because online education requires a completely different infrastructure. So only those colleges who are eligible for the same are given the approval. Without government approval, the degree offered by the college is not valid. So always check if the college has UGC-DEB approval for its online courses.
2. Flexibility
Flexible class timings as well as flexibility with the exam mode is another vital factor to look at. If you are a working professional then you will have to look for a college from where you do not have to compromise on your job schedules. Few colleges conduct online exams, while others don't. Few colleges conduct live online classes, while others provide recorded video lectures. So, these are the things you must know beforehand to avoid problems in the future.
3. LMS
The Learning Management System (LMS) is another crucial part of online education. LMS is that online platform where the course is conducted. You can think of it as a virtual classroom, where you attend online classes, get access to study material, and hold discussions with professors and your peers. A strong LMS ensures the smooth delivery of education and communication.
4. Course Curriculum
Data Science is a vast and very dynamic subject. It has multiple subdomains and branches within. So, if there are some particular topics or domains that you wish to learn, then it is always advised to check the course curriculum of your preferred course. The curriculum might vary across colleges. You must also enquire if the college offers practical sessions, since Data Science is more of a skill-based course.
5. Program Fee
You will be surprised to see different colleges have different fee structures for the same course. This is because of the varied facilities that the colleges offer. So, if affordability is your priority, then you can compare colleges based on their total program fee and select the one that best suits your requirements. Click here for Online University Selection Checklist!
Data Science Offline Colleges In India
Some of the prestigious colleges in India offer offline and regular Data Science courses and these are.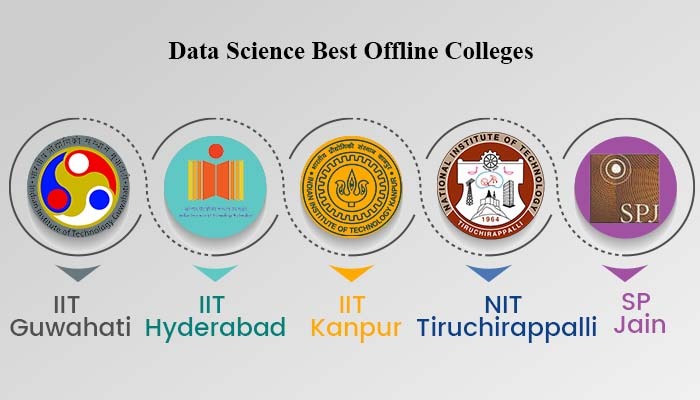 | | |
| --- | --- |
| Data Science Offline Colleges | Data Science Course with Specialization |
| IIT Guwahati | M.Tech in Data Science |
| IIT Hyderabad | M.Tech in Data Science |
| IIT Bombay | M.Tech in AI and Data Science (for IIT Bombay undergrads only) |
| IIT Kanpur | BS and BS-MS in Data Science |
| NIT Tiruchirappalli | M.Tech in Data Analytics |
| SP Jain School of Global Management | Bachelor of Data Science |
| Symbiosis Centre for Information Technology (SCIT) | MBA in Data Science and Data Analytics |
| KJ Somaiya Institute of Management | MBA in Data Science and Analytics |