NMIMS distance/online MBA or Masters of Business Administration specialized in Retail Management is a postgraduate level degree course. The course can be pursued through a distance mode of learning from any university.
NMIMS School of Continuing Education is one of the best universities to pursue the MBA in Retail Management Course through distance or online mode of learning as the university is recognized by the University Grant Commission and Distance Education Bureau and only provides valuable courses to the students.
How Is NMIMS Online/Distance MBA In Retail Management?
An MBA in Retail management through distance and online mode of learning is a valid course approved by the DEB of the University Grant Commission and AICTE.
The duration of the Post Graduate degree program in Management course specialized in Retail Management is 2 years that are further divided into 4 semesters.
Read: Best Distance MBA Colleges In India with Updated Fees
This 2-year curriculum allows the students to combine concepts of general management with the principles of retail management. The Distance MBA offers a thorough understanding of the principles and characteristics of the retail and connected sectors.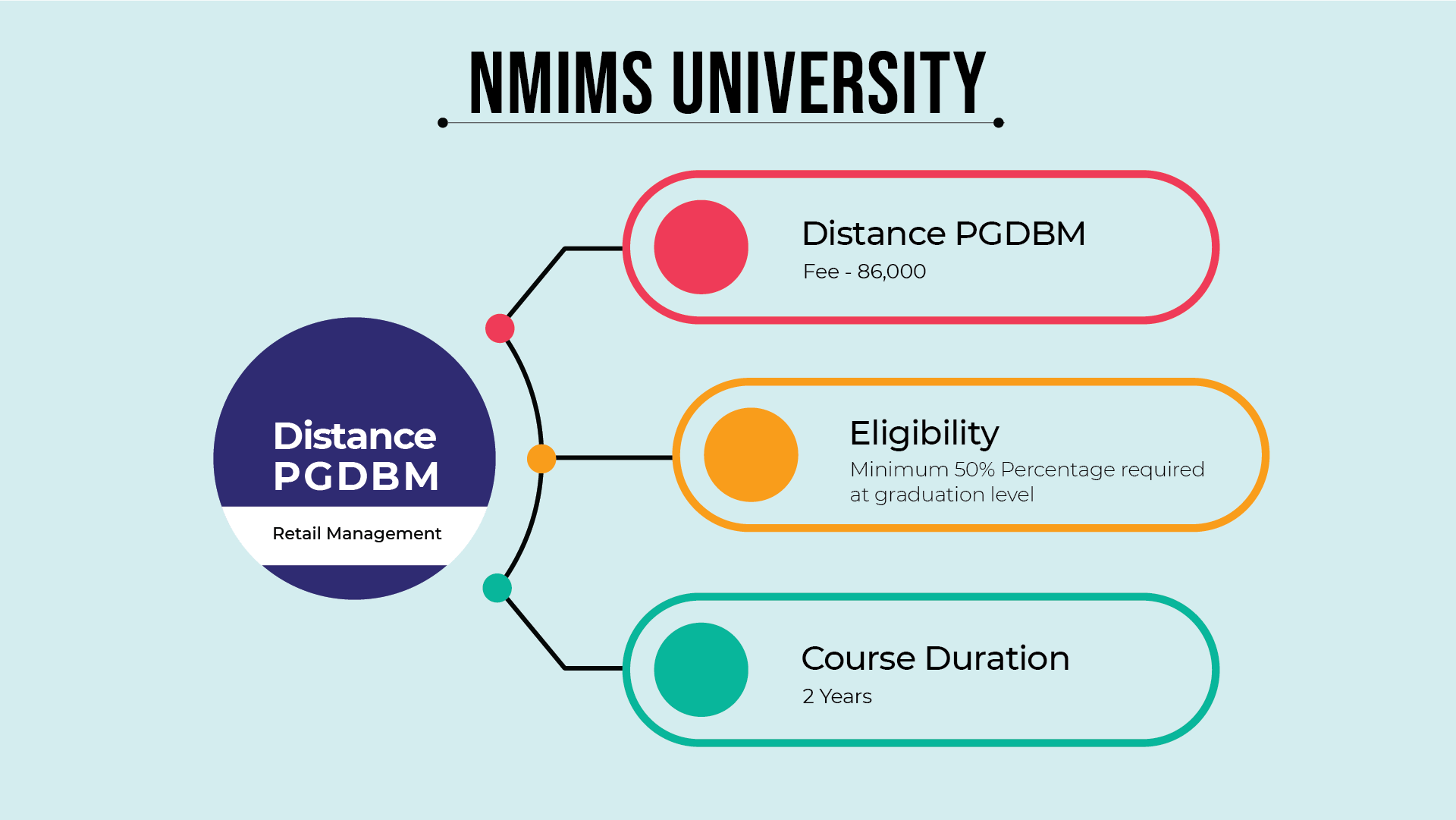 The course contains both theoretical and technical elements that can be used in retail practice. The students can recognize the integral role and the importance of management of logistics and supply chains and risk in the organized retail sector after completing the course that will help them to attain better job opportunities in the workplace.
Course Details of Distance/Online NMIMS MBA in Retail Management 2023
| | |
| --- | --- |
| University Name | Narsee Monjee Institute of Management Studies |
| Degree | Degree |
| Full-Form | MBA in Retail Management |
| Duration | The duration of the course is 2 Years. |
| Age | No Age Limit |
| Minimum Percentage | Minimum 50% Percentage required at graduation level |
| Fees Incurred | INR 86,000/-for full course |
| Average Salary Offered | INR 2 LAKHS TO 5 LAKHS PER ANNUM |
| Employment Roles | Retail Accounts Manager, Retail Banking Manager, Key Accounts Manager, Regional Business Manager, Assistant Department Manager, Relationship Manager, Senior Sales Manager, Head Retail Operations Manag |
| Placement Opportunities | Aditya Birla Group, Colleges & Universities, ITC, Lifestyle International, Retail Industries, Reliance Industries, Tata Group, Globus groups, Bata Group |
​Eligibility Criteria of Distance/Online NM MBA in Retail Management
The applicant looking to take admission to the NMIMS needs to follow certain eligibility criteria to pursue the MBA in Retail Management course through a distance or online mode of learning. The eligibility criteria that needed to be followed are mentioned here for the reference of the students:-
A Bachelor's Degree (10+2+3) in any discipline from any recognized University or an equivalent degree recognized by the Association of Indian Universities (AIU) with a minimum of 50% marks at the Graduation Level is required to be eligible for the course.
Students with less than 50 per cent of their Bachelor's (10+2+3) qualifications must have at least 2 years of job experience to be admitted to the university.
Syllabus of NMIMS Distance/Online MBA in Retail Management
Semester – 1

Semester – 2
Subjects
Credits
Subjects

Credits

Management Theory and Practice
4
Business Communication
4
Organizational Behaviour
4
Essentials of HRM
4
Marketing Management
4
Business Law
4
Business Economics
4
Strategic Management
4
Financial Accounting & Analysis
4
Operations Management
4
Information Systems for Managers
4
Decision Science
4

Semester – 3

Semester – 4
Subjects
Credits
Subjects

Credits

Introduction to Retail
4
Global Retailing
4
Consumer Behaviour
4
International Logistics & Supply Chain Management
4
Merchandising Management
4
Marketing Research
4
Sales Management
4
Business Ethics, Governance & Risk
4
Retail Store Design and Location
4
Research Methodology
4
Retail Store Operation and Inventory Management
4
Project
4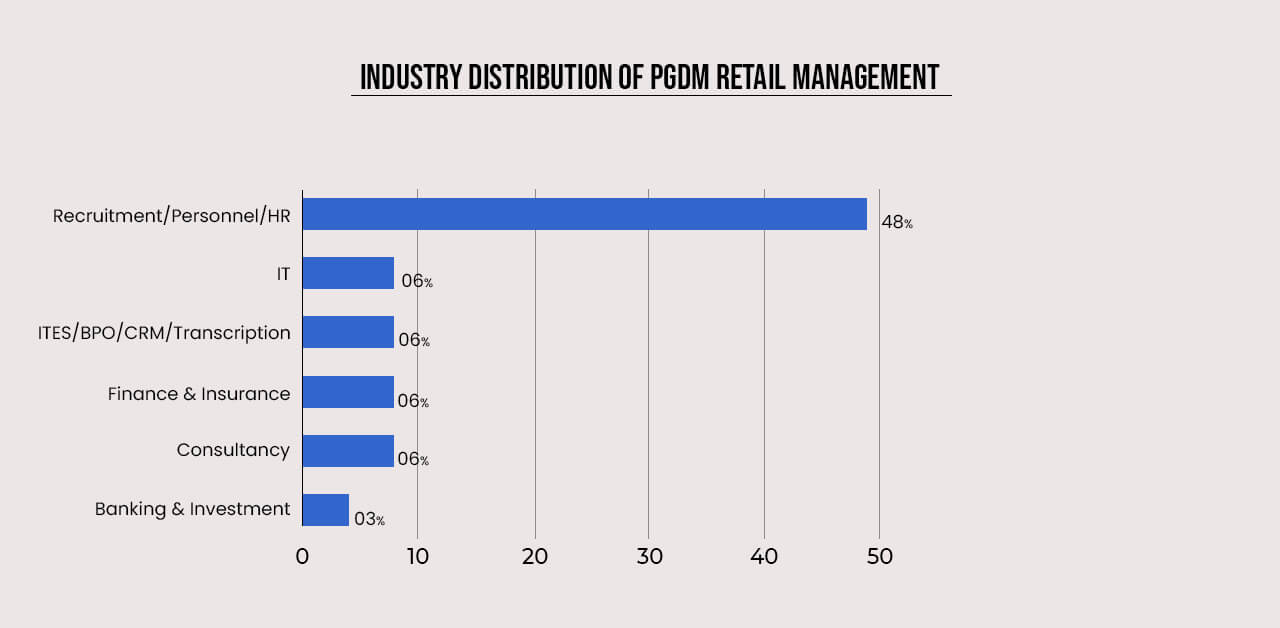 Fee Structure of Distance MBA in Retail Management
The fee structure of the MBA course specialized in retail management is a bit lower than the regular MBA course. The fee of the MBA in Retail Management Course can be done in 3 ways. These ways are mentioned below and the students can choose one according to:-
Full Course Payment – Rs. 86,000/-
Yearly Payment – Rs. 47,000/- per year.
Semester-wise Payment – Rs. 25,000/- per semester.
Career Opportunities after Distance/Online MBA in Retail Management
If any student wants to make a career in the retail management sector and wants to become a professional retail manager in retail marketing then, here are all the major career aspects relevant to the course of Distance MBA in Retail Marketing.
​After completing the post-graduate degree program in retail management from distance learning the students will catch an awesome career opportunity to move up in their careers.
Read: MBA Graduate Salary In India
For postgraduate graduate holders in the retail sector, there are several job opportunities. Here is a list of better career opportunities for retail management after completing the course:-
| | |
| --- | --- |
| Retail Manager | Warehouse Manager |
| Store Manager | Brand Manager |
| Retail Buyer | Customer Care Executives |
| Merchandiser Analyst | Image Promoter |
| Supply Chain | Merchandise Manager |
| Distributor Marketing Executive | Department Manager |
About NMIMS University
Narsee Monjee is one of the most famous reputed universities in Pune, Maharashtra, founded in 1981. The University is renowned for offering aspirants many management courses. It was initially a private institute, but the Government appointed it as a Deemed University in 2003, following observation of its standard of education.
Later, for those who are willing to acquire higher education but cannot undergo standard training, the university developed an NMIMS Global Access School of Continuing Education.
The NMIMS-School is also recognized for its diverse courses via distance or online mode of study by the University Grant Commission and the Distance Education Bureau.
The vision of the university is to develop and deliver the best curriculum to the students so that they can be professionals in their field.
Students can take any distance diploma, degree, undergraduate, and postgraduate courses according to their career goals from NMIMS. All the university degrees, diplomas, and certificates are valid in the workforce and are accredited by the UGC and AICTE Distance Education Bureau.
The National Assessment and Accreditation Council also accredits the NMIMS with a grade 'A+' to serve the standard of education. More than 50,000 students have now gained admission.
The program structure of the university is based on the KSA (Knowledge-Skill-Attitude) framework that helps working professionals acquire key skills and competencies required to flourish in the workspace.
NMIMS Distance/Online MBA Other Specialisations
The retail marketing postgraduate degree program is the best course for students wishing to become professional retail managers and undertake higher studies in this area in order to develop their careers.
Here in this article, we tried to explain the MBA distance and online course offered by the Narsee Monjee Institute of Management Studies so that students had all the relevant details about the training before applying for the course.