In the dynamic landscape of global education, Indian Institutes of Management (IIMs) stand tall as beacons of excellence in business education. Renowned for their rigorous curriculum and esteemed faculty, IIMs have garnered international acclaim, making them an appealing choice for students worldwide.
For those seeking quality education in management from the comfort of their own homes, online courses offered by IIMs present a compelling option. This blog post aims to guide overseas students in their pursuit of affordable and high-quality online MBA and management programs.
In this comprehensive guide, we will explore the advantages of choosing online IIM courses, delve into the various programs available, demystify the admission process, shed light on financial aid options, and showcase success stories of international students who have thrived in this enriching educational environment.
Join us as we embark on a journey through the world of online IIM courses, where borders are no barriers to achieving academic and professional excellence. Whether you're a budding entrepreneur, a mid-career professional seeking a strategic edge, or an aspiring leader eager to make a global impact, this guide is tailored to meet your educational aspirations. Let's unlock a world of opportunities together.
Why Consider Online IIM Courses?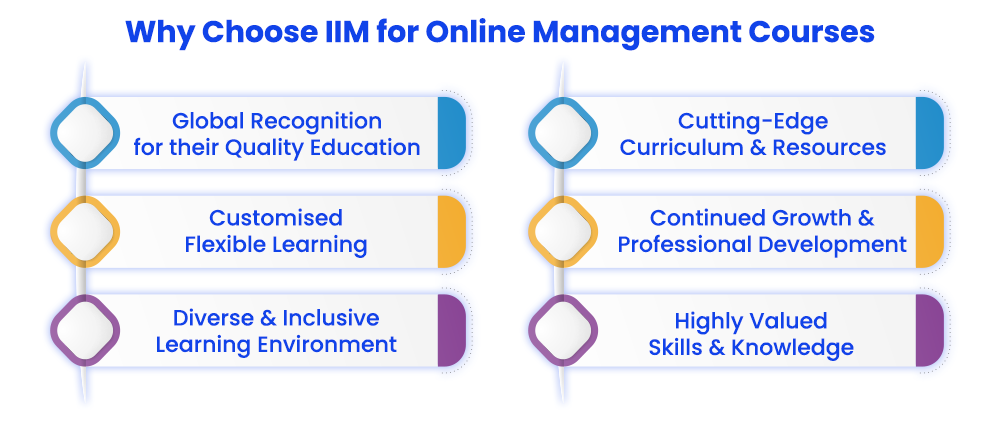 Quality Education, Globally Recognized
Online IIM courses offer a world-class education that is on par with the best business schools worldwide. The faculty comprises distinguished professors and industry experts who bring a wealth of knowledge and practical experience to the virtual classroom. This ensures that students gain not only theoretical insights but also invaluable real-world perspectives.
The reputation of IIMs transcends borders, making graduates highly sought after by employers across industries. The globally recognized brand of IIM opens doors to a wide array of career opportunities in multinational corporations, consulting firms, startups, and more.
Flexibility and Accessibility
One of the primary advantages of online learning is its flexibility. Students have the freedom to customise their study schedules, allowing them to balance education with other commitments such as work or family. This accessibility eliminates the need for international relocation, making it a cost-effective and convenient option for overseas students.
Diverse and Inclusive Learning Environment
Enrolling in an online IIM course means becoming part of a diverse and inclusive community of learners from around the world. This multicultural environment fosters a global perspective, enriching discussions and providing insights into different business practices and cultural nuances. Such exposure is invaluable in today's interconnected global economy.
Cutting-Edge Curriculum and Resources
IIMs are known for their forward-thinking curriculum that is constantly updated to reflect the latest industry trends and developments. Online students have access to a rich repository of resources, including case studies, research papers, and virtual simulations. Additionally, the use of advanced technology and interactive platforms ensures an engaging and immersive learning experience.
By choosing online IIM courses, students not only gain a solid foundation in management principles but also acquire the skills and knowledge needed to navigate the complexities of the modern business world.
Top Online IIM Courses for Overseas Students
Indian Institutes of Management offer a diverse range of online programs designed to cater to the needs and aspirations of students from around the world. Here are some of the standout offerings:

Online Post Graduate Program in Management (ePGP): The ePGP is a comprehensive two-year program that combines the rigour of a traditional MBA with the flexibility of online learning. It covers a wide range of business domains, including finance, marketing, operations, and strategy. The program is ideal for mid-career professionals seeking to enhance their managerial skills and leadership capabilities.
Executive Program in Business Analytics (EPBA): In an era driven by data, proficiency in business analytics is a crucial skill set. The EPBA is tailored for professionals looking to harness the power of data to drive business decisions. Covering topics like data visualisation, predictive modelling, and machine learning, this program equips students with the tools to extract valuable insights from data.
Advanced Program in Supply Chain Management (APSCM): For individuals interested in the intricacies of supply chain operations, the APSCM is a stellar choice. This program delves into supply chain strategy, logistics, demand forecasting, and more. It equips students with the knowledge and skills needed to optimise the flow of goods and information in a global business environment.
Certificate Program in General Management (CPGM): The CPGM is a condensed program that provides a holistic understanding of essential management concepts. It covers key areas such as marketing, finance, operations, and leadership. This program is ideal for early-career professionals or entrepreneurs looking to develop a solid foundation in business management.
Digital Marketing Strategies Program: In the digital age, effective marketing strategies are paramount. This program focuses on the latest trends and techniques in digital marketing, including SEO, content marketing, social media, and data analytics. It is tailored for marketing professionals, entrepreneurs, and anyone looking to master the digital landscape.These are just a few examples of the diverse online programs offered by IIMs. Each program is designed to provide a transformative learning experience that empowers students to excel in their respective fields. Given below is a list of some of the top online programs offered by various IIMs.
Institute Name

Course Name

IIM Ahmedabad

e-Post Graduate Program in Management (ePGP)
e-Post Graduate Diploma in Advanced Business Analytics (e-PGD-ABA)

Executive Post Graduate Program Interactive Learning Mode (EPGP)
Professional Certificate Program in HR Management & Analytics

Post Graduate Certification in Advanced General Management

Executive Post Graduate Program (ePGP - 2 years)
Executive Development Program in Operations Management with Six Sigma
Executive Certificate Program in Digital Marketing and Social Media Strategy
Executive Certificate Program in Business Finance
Executive Post Graduate Program in Management
Executive Development Program in Leadership & Change Management
Post Graduate Executive Certification in General Management
Executive Development Program in Data Science & Machine Learning using R and Python

Executive Development Program in Digital and Social Media Marketing
Executive Development Program in Marketing Analytics
PG Certificate Program in Digital Leadership in Smart Manufacturing
Executive Development Program in Digital Supply Chain and Logistics Management
Executive Development Program in Strategic HRM
Executive Post Graduate Certificate Program in General Management

Executive Development Program in Strategic Management
PG Certificate in AI and Machine Learning
Executive Development Program in Managing Products and Branding
Executive Development Program in Digital Marketing and Analytics
Executive Development Program in Strategic HRM
Executive Development Program in Leadership and Management
Executive Development Program in Advanced Supply Chain Management and Analytics
Executive Development Program in Operations Management with Six Sigma
Executive Development Program in Applied Financial Risk Management
Executive Development Program in Financial Data Analytics

Post Graduate Program (MBA) for Working Executives (2 years)
Post Graduation Certification in General Management

Executive Post Graduate Diploma in Sports Management (EPGDSM)
Post Graduate Program in General Management
Executive Certification Program in Marketing Analytics
Executive Certification Program in Project Management
Executive Certification Program in Advanced Supply Chain Management
Executive Certification Program in HR Analytics
Executive Certification Program in Data Science & Analytics
Admission Process and Requirements at IIMS
Eligibility Criteria
International students interested in enrolling in online IIM courses typically need to meet the following eligibility criteria:
A bachelor's degree in any discipline from a recognized university or institution.
Relevant work experience, which may vary depending on the specific program. Some programs may require a minimum of two to three years of professional experience.
Proficiency in English, demonstrated through standardised tests like TOEFL or IELTS for non-native English speakers.

Application Process at IIMs
Online Application: Start by visiting the official website of the respective IIM offering the program of your choice. Locate the online application portal and create an account.
Document Submission: Prepare the necessary documents, which may include transcripts, letters of recommendation, a resume, and a statement of purpose.
Application Fee: Pay the application fee, which varies by program and may be non-refundable.
Interview (if required): Some programs may require candidates to participate in an interview as part of the selection process. This can be conducted through video conferencing or other virtual platforms.
Notification of Admission: Once the selection process is complete, successful candidates will receive an official offer of admission.
Visa Requirements
If you are planning to pursue blended learning programs from IIMs, then you might have to relocate to India because in the case of blended learning format, students have to physically attend college from time to time. International students accepted into a blended IIM program will need to obtain an appropriate student visa to study in India. The specific visa requirements and process may vary depending on the student's home country. It is advisable to consult the official website of the Indian embassy or consulate in your country for the most up-to-date information.
Scholarships and Financial Aid
IIMs may offer scholarships or financial aid options to deserving students. These can include merit-based scholarships, need-based scholarships, and fellowships. It is recommended to check the official website of the respective IIM for information on available scholarships and the application process.
Career Scope & Job Opportunities
A Global Passport to Success: Graduates of online IIM courses find themselves well-positioned for a wide range of dynamic and lucrative career opportunities in the global job market. The prestige associated with an IIM degree, coupled with the comprehensive education received, opens doors to a plethora of possibilities.
Highly Valued Skills and Knowledge: Employers worldwide highly value the skills and knowledge gained through IIM programs. Graduates are equipped with a robust foundation in critical areas such as strategic management, financial analysis, market research, and leadership. The ability to think critically, make data-driven decisions, and adapt to rapidly changing business environments are among the key attributes that set IIM alumni apart.
Exemplary Roles and Positions: IIM graduates have successfully secured prominent roles in internationally renowned organisations. From Chief Financial Officers and Supply Chain Directors to Marketing Managers and Business Analysts, the versatility of an IIM education prepares graduates to excel in various functional areas. Their contributions drive organisational success and innovation.
Leadership Roles in Multinational Corporations: IIM alumni are highly sought after for leadership positions in multinational corporations across various industries. Whether it's spearheading strategic initiatives, managing cross-functional teams, or driving innovation, IIM graduates are equipped with the skills and knowledge to excel in these demanding roles.
Consulting and Advisory Roles: The analytical and problem-solving prowess honed through IIM programs makes graduates particularly adept at consulting. From management consulting firms to boutique advisory services, IIM alumni are valued for their ability to provide strategic insights and solutions to complex business challenges.
Entrepreneurial Ventures: For those with an entrepreneurial spirit, an IIM education provides a solid foundation for launching and scaling successful ventures. The robust understanding of business principles, coupled with a network of fellow alumni and industry connections, can be instrumental in the journey of building a thriving business.
Niche Specializations and Emerging Industries: As industries evolve and new sectors emerge, IIM graduates are poised to leverage their expertise in specialised areas. From fintech and e-commerce to sustainable energy and healthcare management, the adaptability and depth of knowledge gained through IIM programs position graduates as valuable assets in cutting-edge industries.
Potential for Career Growth: Completing an online IIM course is not merely a milestone but a catalyst for ongoing career growth and advancement. Graduates often experience accelerated progression within their organisations, taking on leadership roles with increased responsibilities. Moreover, the skills acquired are transferable, opening doors to new industries and sectors.
Continued Growth and Professional Development: The learning journey doesn't end with graduation. IIM alumni benefit from a commitment to lifelong learning and professional development. Continued access to resources, alumni networks, and executive education programs ensures that graduates remain at the forefront of industry trends and advancements.
In conclusion, the comprehensive education provided by online IIM courses not only equips graduates with the skills and knowledge needed to excel in their careers but also empowers them to be catalysts for positive change in the global business landscape.
By choosing to pursue an online IIM course, overseas students open themselves up to a world of opportunities, setting the stage for a successful and fulfilling professional journey. Pursuing an online IIM course as an overseas student not only offers a world-class education but also lays the foundation for a successful and rewarding career on a global scale.
Testimonials and Success Stories
John Doe, ePGP Graduate: "Enrolling in the ePGP program at IIM was a game-changer for my career. The flexibility of online learning allowed me to balance my professional commitments while gaining invaluable insights from world-class faculty. Today, I'm leading a dynamic team at a multinational corporation, and I owe much of my success to the knowledge and skills I acquired through this program."

Jane Smith, EPBA Graduate: "The EPBA program equipped me with the analytical tools and techniques needed to make data-driven decisions in my role. The comprehensive curriculum and hands-on projects provided practical experience that immediately translated to my work. I'm now a sought-after data analyst in a leading tech company, thanks to the EPBA program."
Tips for International Students
Visa Preparation: If you are planning to pursue a blended learning or are simply relocating, then begin the visa application process well in advance. Ensure you have all necessary documents and meet the requirements set forth by the Indian government.
Cultural Awareness: Familiarise yourself with Indian culture and customs. Understanding and respecting cultural differences will enhance your overall experience.
Time Management: Online learning requires discipline. Create a study schedule that aligns with your personal and professional commitments.
Networking: Engage with fellow students and faculty members. Participate in virtual events, webinars, and forums to expand your professional network.
Explore Resources: Take advantage of the wealth of resources available online, including digital libraries, forums, and discussion groups.
Stay Connected: Regularly communicate with your professors and peers. Active engagement will enrich your learning experience.
Seek Support: If you face challenges, don't hesitate to reach out to the support services provided by the institution. They are there to help you succeed.By keeping these tips in mind, you can make the most of your online learning experience at IIM.
Top Trending Article for IIMs
Conclusion
The world of online IIM courses beckons with a promise of academic excellence, global recognition, and boundless career prospects. For overseas students seeking quality education in management, IIMs offer a compelling opportunity to embark on a transformative educational journey.
With a diverse range of programs, a flexible learning environment, and a reputation that transcends borders, IIMs stand as beacons of quality in business education. The experience gained through these programs is not only intellectually enriching but also equips students with the practical skills needed to excel in today's competitive business landscape.
So, whether you're a seasoned professional looking to ascend to leadership roles or an aspiring entrepreneur with a vision, consider the world of online IIM courses as your gateway to success. Unlock a world of opportunities, and let your educational journey begin today.