Manipal Online MA JMC (Master of Arts in Journalism and Mass Communication) is a 2-year postgraduation degree that is consisted of 4 different semesters. The course study integrates with the theory and practical knowledge as well that empowers a student to be more productive, innovative, creative, meaningful to work in every field from writing to presenting your story in media. The programme is designed in such a way to strengthen your set of skills, foundation, roots, analyzing approach, knowledge in respective fields such as; Social, Political, Cultural, Economical, and even current structures as well.
Manipal Online MA JMC Overview
Online MA JMC is a vast field of networks, communication, advertising, public relations and much more. Through this tabulate you can get a rough overview of the Online MA JMC programme that is offered by the Online Manipal University.
KEY FEATURES
DETAILS

Course

MA JMC (Masters of Arts in Journalism & Mass Communication)

Course Level

Postgraduation

Mode of Education

Online

Approvals

UGC, ACU, NAAC (A+), WES, ICES AICTE, IQAS

Online MCom Job Profiles

Journalist

Digital Marketing Expert

Radio jockey (RJ)

Social Media Executive

Content Creator/ Developer

Public Relations Professional

Publicity/Advertising Industry, etc

Eligibility

Graduation degree

in Computer Applications/ Computer Science/ Informational Technology, equivalent qualification.

Duration

2 years (4 Semesters)

Average Salary

INR 2 lakh to 7 lakh and above
The curriculum of the MA JMC comprises the skill and other abilities that will give you hands-on experience in such sectors that includes, media, script and screenwriting, digital publishing, fundamentals of photography & videography, audio-video editing, reporting, camera facing, and other such things that a mass communication student have all the skills. A student will gain experience and become an expert in the news, reporting, broadcasting journalism, digital media, and marketing, also in some sections are the art of storytelling, film appreciation, media law, ethics, and much more.
Read: Best Career Options After BA

About Manipal Online MA JMC
MA JMC is the foremost and the most famous course of the Manipal online university. Every year around hundreds of students takes admission in the MA JMC course. The course curriculum of the MA JMC is mapped out in a way that a student will impart the knowledge and understand the work culture, concepts of entertainment, news, writing, production, scripting, television, etc. Students can check out the main Manipal University's blog to know the other advantages, information, about the Manipal Online University. Course study or placement drive of Online MA JMC programme is designed in a way that it thrives a student to guide their skills in such fields, Conversation & Communication Skills, Problem-Fixing Skills, Analytical, Creative, etc.

Is Manipal Online MA JMC Degree Valid?
Yes, the Online Manipal MA JMC Degree is valid and generally acceptable by all the departments, government sectors, or for higher education in India or abroad. Online degree is signed or approved by the UGC Act of 1956, AICTE, NAAC, or other higher statutory bodies of the educational committee.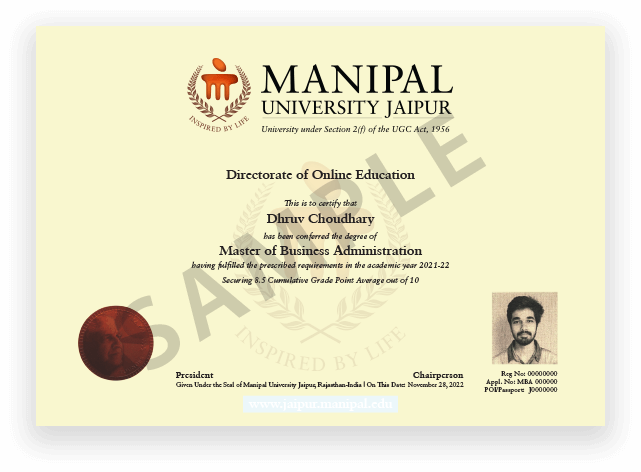 Key Features of Online Manipal MA JMC
The term of MA JMC is not bounded to limited job vacancies but it spreads to offers or opens good branches of the opportunities to the various media or other fields that include reporting, newsgathering, writing, scripting, direction, production, public relations, advertising, etc.
MA JMC builds up the skillset in the candidate to work efficiently in any selected field of journalism such as, confidence, creativity, communication skills, networking, critical, analytical, writing, observational, or other problem-solving skills.
The Online MA JMC programme leads you to walk on the right path and field such as, Print Media, Editing, Advertisement and PR, Direction, Journalism and Reporting, Anchoring, Video Editing, Photography and Videography, Cartooning, Research, Radio, Broadcasting, etc.
The course material of MA JMC is available at the LMS of Manipal Online University, where a student can regulate or login into the LMS of the course.
Manipal Online MA JMC offers a quality of education and mentorship by expert faculty members that amplifies the value of the real world. It allows the insights to create your own path of success with confidence and knowledge. The method of pedagogy introduces you to enhance and develop your analytical and critical thinking abilities.
Read: Short Term Courses with High Salary In India
Scholarship Offered by Manipal Online University
Students who are applying to Manipal Online University through these below-mentioned scholarship categories. For them, they should carry all the required certificates in the prescribed format to appreciate the benefits of provided scholarships.
| | | |
| --- | --- | --- |
| Scholarship Category | Documents Required | Scholarship Discount |
| Divyang (for persons with disabilities) | Divyang Certificate | 20% |
| Defence Personnel | Personnel/ Services/IC number | 20% |
| Government Employees | Identity Card | 10% |
| Merit (80% & above in class 12, 10+3, Diploma exams) | Marksheets | 10% |
MA JMC Course Eligibility Criteria at Manipal Online
Candidates must have 10+2 from the recognized boards.

Candidate must be graduated with any stream or from an authorized university/ institution recognized by AIU (Association of Indian Universities) or other competent bodies.
Eligibility Criteria for International Students
Candidates must have completed a graduation degree certificate of equivalence from the Association of Indian Universities required from students with foreign education to apply in any university in India.

Students & professionals holding NRE, PIO status, residing outside India and / or students & professionals who are not Indian citizens are considered 'international students' and are ELIGIBLE to pursue MUJ's online degree programmes. All such students & professionals will be billed an international fee for respective degrees & may need to submit documents mentioned but not limited to CV, address proof, valid VISA, PR card & passport copy as part of the application process.
Read: Madras University Distance
MA JMC Curriculum Offered by Manipal Online University
| | |
| --- | --- |
| First Semester | Second Semester |
| Basics of Language | Media Language |
| Social Structure and Current Affairs | Political Science and Current Affairs |
| Fundamentals of Photography | Digital Publishing |
| Communication Theories and Models | Editing and Layout Designing |
| Concept of News and Reporting | Public Relations |
| Development of Media | Broadcast Journalism |
| Basics of Audio and Visual Communication | Media Laws and Ethics |
| – | Development Communication |
| Third Semester | Fourth Semester |
| Writing for New Media | Script and Screenwriting |
| Intercultural Communication and Current Affairs | Economic Structure and Current Affairs |
| Mobile Editing Software | Basics of Audio and Video Editing |
| Elective 1 | Film Appreciation |
| Elective 2 | Final project |
| Communication Research | Dissertation |
| Minor specialization | – |
| Internship evaluation | – |
Note: Every student will undergo with their respective project work or elective programme to complete their course.
Students can choose Elective subjects from these below-mentioned MA JMC Specializations
Third Semester
Fourth Semester

Elective subject

(Choose One)

Art of Storytelling, Beats of Journalism Media and Differently Abled Communication

Formats: Print Production, Audio Production, A/V Production, Website Management

Elective Subject

(Choose One)

Mobile Journalism, Media Analysis, Advertising Theory and Practice, Digital Media Marketing

Languages: English, Hindi

Beats of Social, Political, Cultural, Business, Sports, Science

Minor specialization (Choose one)

Strategic Communication, Health Communication, Educational Communication Corporate Communication, Data Journalism

–
Note:
The medium of instruction from writing examinations to submit the particular semester or final assignments need to be instructed in the English language only apart from Hindi elective subject, which a student will opt in the third semester.

Students can pay their respective course fees in the instalment semester-wise. Students can either enjoy flexible payment options or be able to finance their course fees into zero-cost EMIs.
Manipal Online MA JMC Fees & Duration
Particulars
Description
Course

MA JMCA

Fees

Total Fees: INR 1,50,000 (all-inclusive)

INR 37,500 per semester (includes an examination fee of INR 5,000)

Duration

Minimum 2 years (divided into four semesters) Maximum Duration 4 years

Roles and Duties in MA JMC

Radio Jockey (RJ)

TV Correspondent

Producer

Screenwriter

Sound Engineer

Video Jockey (VJ)

Art Director

Content Editor

Advertisements

Cameraman

Photographer

Speech Writer

Professor,

etc.

Average Salary

INR 3 LPA
Admission Procedure at Manipal Online University
The admission procedure of MA JMC is written below that a student can easily fill and submit their course application in some simple steps. To validate their admission to the MA JMC's Manipal Online University a student must follow or fill the course carefully.
Application Process:
Applicants who are interested and want to take admission to Manipal Online University's MA JMC course or need to submit their online applications. they can visit the official website www.manipal.com

Candidates are required to pay an online application fee of Rs 500/- as registration charges. (the paid fees will be adjusted in the first-semester fee).
Selection Process and Admission Criteria
For all the submitted applications of online degree courses, students will be notified and if requires further clarification, the candidate will be intimated via email, SMS, or even a phone call.

Candidates will be notified about their admission to Manipal Online University within five working days of submitting their application for the respective selected course.

Applicants must submit a complete academic application with the updated and required documents within the due date, as mentioned on the website.
Documents Required
Identity Proofs: Adhar card, Passport, Voter's ID, PAN Card with Current Photograph, any other Govt- issued identity card.

Address Proofs: Aadhar Card, Passport, Voter's ID, Gas Bill, Bank, Statement, Post-Paid Mobile Statement.

Class 10th Marksheet

Class 12th Marksheet

Graduation Marksheet (for MBA, MCA, M.Com, MA JMC)
Other Documents
Work-related experience certificate

Graduation degree certificate

Scholarship Documents

Defence Service Certificate

Divyaang Scholarship

Reserved Category Certificate
Read: JAIN Online UGC Entitled Online Degree Programs
Academics at Manipal Online University
The e-learning material at Manipal Online University will be instructed or provided through the LMS portal (Learning Management System). LMS includes these below-mentioned features:
| | |
| --- | --- |
| Video lectures | Interactive Sessions |
| Live classes | Guest lectures |
| Online study material | Webinars |
| Panel discussion | Digital library |
| Virtual Stimulation | |
Mode of Delivery
The medium of instruction for all the lectures, assignments, virtual classes, research, or other project works should be instructed only in the English language.

All the programme examinations would be conducted through an online mode of education.

Students will receive their login credentials at the time of admission.

Assignment, research work, or dissertation would be submitted on LMS just by enrolling their respective credentials (ID & Password).

Students need to score around 40% aggregate marks in their semester or final year examinations.
Read: Highest Salary Jobs In India
Placement Assistance at Manipal Online University
The role of a placement cell in a student's life is to provide good placements, job opportunities with smart salary packages in different firms. If a student would not able to place during campus interviews, then the placement cell works to builds the whole persona and helps students in the following areas:
Personality Development:
The placement cell of the online Manipal universities organizes personality development workshops, sessions, training, and other programs. These programs are highly designed to train the students to deal with the various possible scenarios that could help a student in the workplace.
Soft skills training:
Soft skills training includes communication skills, cognitive skills, reasoning skills, logical thinking, and much more. It is one of the key responsibilities of a university's placement cell is to train their student for the real world in setting up the management techniques, problem-solving capabilities, with verbal and non-verbal abilities.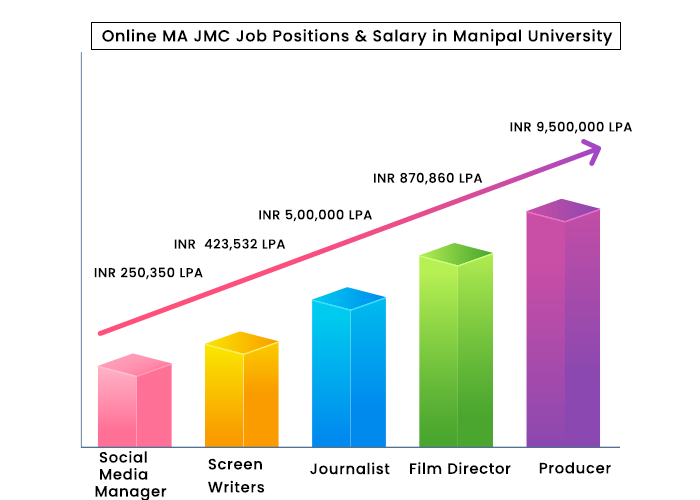 Top Recruiters of Manipal Online University
Although, Manipal Online University has more than 50 plus hiring companies only in the MA JMC course. these are the top hiring firms that offer great job/internship opportunities with the smart salary packages in their firms. Here are some of the top hiring companies of Manipal Online University.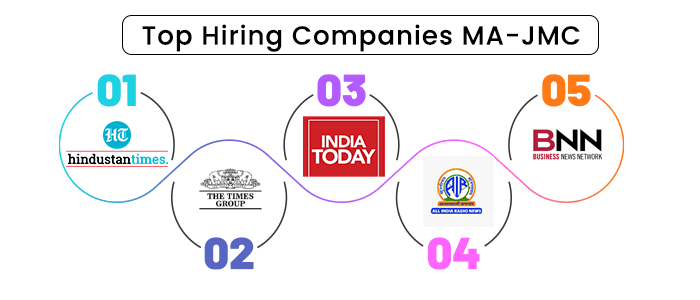 | | | | |
| --- | --- | --- | --- |
| Utopia Labs | EazyDiner | ValueLabs | Mahindra & Mahindra |
| Synopsys | Microsoft | Tata Power | National Instruments |
Online Manipal University Reviews
Manipal Online University uses the best advanced LMS (Learning Management System) to give its students a clear and in-depth education through an online portal.

The teaching staff is highly experienced, professional and superior in their respective field.
Online Manipal University Prospectus
The Online Manipal University has its own full detailed course prospectus from where a student will get all the university and offered courses details, eligibility criteria, curriculum, campus, faculty, and much more. From below mentioned button a student can download the Online Manipal University university prospectus.
Read: IAS Officer Salary Structure
Similar Online MA JMC Universities
| | | |
| --- | --- | --- |
| Universities | Year of Establishment | Approvals |
| Amity Online University | 2005 | UGC-DEB, AICTE, NAAC A+ |