Master of Science (M.Sc) in Data Science is a postgraduate level course. The course duration is 2 years with 4 equal semesters. This is a professional degree course and requires advanced technical knowledge and skills.
There is great career scope in Data Science so pursuing higher degrees like M.Sc in Data Science is quite a wise option. After pursuing M.Sc in Data Science, you get various job options like you can be a Data Scientist, a Data Analyst, a Data Architect, a Machine Learning expert etc. These are some of the coolest and highest-paid jobs in the IT sector with a median salary of 9.5 LPA.
There are various offline as well as online M.Sc. Data Science courses across top colleges in India. This blog is a complete guide to M.Sc. in Data Science and contains all you need to know about it.
MSc In Data Science Highlights 2023
The table below briefly gives all the highlights of M.Sc. in Data Science. The highlights in this table are described in minute detail later in the blog.
Course Name
MSc In Data Science

Course Level

Postgraduate

Average Total Course Fee

Offline- INR 2-4 lakhs

Online- INR 1.2-2.6 lakhs

Course Type

Eligibility Criteria

Bachelor's degree in IT/ Computer Science/Mathematics/Statistics as one of the core subjects and with at least 50% marks or equivalent grade from a government recognized college/institution.

Admission Process

Offline- Entrance Exam based

Online/Part-time- Merit in qualifying exam based

Duration

Offline – 2 years

Online – 1-2 years

Job Profiles

Data Scientist

Data Architect

Data Analyst

Data Engineer

BI Developer

Machine Learning Engineer

Database Administrator

Applications Architect

Median Salary

INR 9.5 LPA

Big Recruiting Companies

Accenture

Mphasis

Cognizant Technology Solutions

Infosys

Capgemini

Tech Mahindra

IBM India

Dell

HCL Technologies

Collabera Technologies
MSc In Data Science Course Fee
The total course fee of M.Sc Data Science is different across colleges. The fee also depends upon the mode of education. The average total course fee of M.Sc. in Data Science courses is INR 1 – 2.5 lakhs.
The fee at every college varies because it depends upon the facilities offered by the college.
For online colleges, the kind of online learning platform, study material, conduction of examination, etc matters and affects the total fee. For offline colleges, the infrastructure of the college, the kind of on-campus facilities like labs, etc affect the total fee. Also Read | Best Data Science Course In India!
Top 10 Colleges for M.Sc In Data Science In India
The table below gives the exact fee-structure and duration of best online and offline colleges in India offering M.Sc in Data Science program.
| | | | |
| --- | --- | --- | --- |
| SI No | Msc Data Science Colleges | Duration & Mode | Total Fee |
| 1 | Chandigarh University, Chandigarh | 2 Year, Online | INR 1,20,000 |
| 2 | Manipal University, Jaipur | 2 Year, Online | INR 2,60,000 |
| 3 | VIT Vellore | 2 Year, Offline | INR 82,000 |
| 4 | Christ University, Bangalore | 2 Year, Offline | INR 1,70,000 |
| 5 | Sastra University, Thanjavur | 2 Year, Offline | INR 80,000 |
| 6 | Amity University, Noida | 2 Year, Offline | INR 1,22,000 |
| 7 | GITAM, Visakhapatnam | 2 Year, Offline | INR 2,50,000 |
| 8 | Loyola College, Chennai | 2 Year, Offline | INR 85,250 |
| 9 | Fergusson College, Pune | 2 Year, Offline | INR 2,03,780 |
| 10 | Kalasalingam University, Tamil Nadu | 2 Year, Offline | INR 1,00,000 |
Also Read | Top 10 Data Science Colleges In India 2022!
MSc Data Science Eligibility
MSc in Data Science is a professional postgraduate level degree course. It is a highly advanced and technical course. Therefore, there is a minimum eligibility criteria to get admission to this course at any university.
The candidate must have a bachelor's degree of at least 3 years course.

The bachelor's degree must be in Computer Science/ Mathematics/ Statistics or any related and relevant field.

The candidate must have secured at least 50% marks or an equivalent grade in each of 10+2+3/4 levels. There might be a relaxation for reserved category candidates at some colleges.

Work experience is not considered as an eligibility criteria, however, the online M.Sc. in Data Science course is a great option for working professionals as they are usually preferred more than freshers at few colleges.
MSc Data Science Salary and Job Profile
After pursuing the M.Sc. in Data Science degree course, the candidates can get job opportunities in so many different profiles as Data Science is quite a diverse and dynamic field which is evolving every single day. However, there are some prominent job roles that are desired by professionals across the globe and some of these are:
| | |
| --- | --- |
| Data Scientist | Machine Learning Engineer |
| Data Architect | Business Intelligence (BI) Developer |
| Data Analyst | Database Administrator |
| Data Engineer | Applications Architect |
The job roles listed in the table above are among some of the highest-paid profiles not just in the Data Science domain but also in all of the IT sector. The median salary in August 2020 of professionals in the Analytics and Data Science sector was INR 9.5 LPA according to a report by Analytics India Magazine (AIM) in collaboration with Great Learning.
The graph below shows the per annum average base salary of these job roles.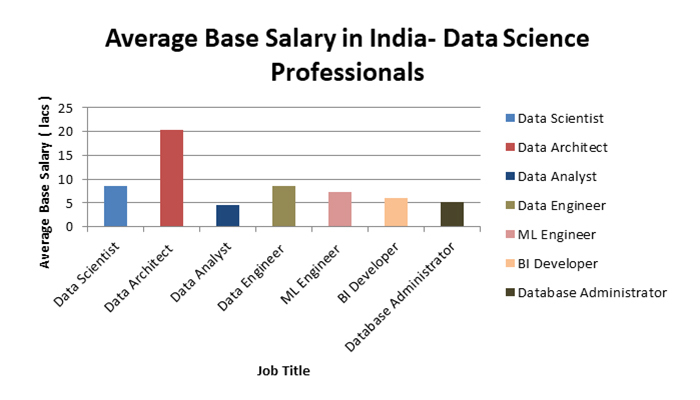 Career Prospects and Job Scope for M.Sc Data Science
Data Science is a flourishing profession which is evolving with every passing day. It guarantees great career opportunities. This is because there is a wide gap in the demand and supply of Data Science professionals in India. As of August 2020, there were a total of 93,500 jobs available in the Data Science & Analytics domain according to a report by Analytics India Magazine (AIM).
This clearly states that the country is in dire need of Data Science professionals. Hence, pursuing M.Sc. in Data Science or any other professional degree course in Data Science is a very wise move toward a bright career.
As already stated above, there are multiple job profiles within the field and all of them are well-paid ones. Since M.Sc. in Data Science is a postgraduate level degree, your chances of getting a good position in a company as a Data Science professional increase.
When you talk about career scope, the career prospects not just in your home country but across the world also matter. A profession in Data Science is highly recognised globally. Also Read | How much does a data science get paid?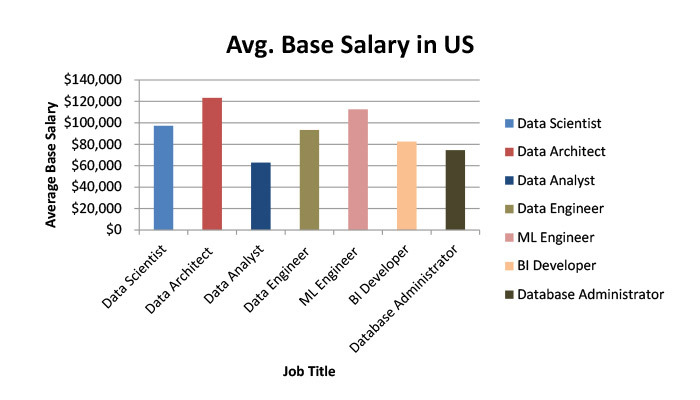 Big Recruiters
The Govt. of India has recently been encouraging entrepreneurs and start-ups in the IT industry. This has substantially increased funding in the Indian Analytics sector which has in turn increased the job openings.
As of 2021, a total of 79 zettabytes of total data has been generated. This Big Data is expected to become more than double of what it is now. It is expected that by 2025, there will be approximately 180 zettabytes of total data in the world. Various domestic as well as global IT and KPO organisations, and MNCs are recruiting data science professionals in large numbers.
Some of the top recruiting companies are:
| | |
| --- | --- |
| Accenture | Mphasis |
| Amazon | Walmart |
| Cognizant Technology Solutions | Infosys |
| Microsoft | Flipkart |
| Capgemini | Tech Mahindra |
| IBM India | Dell |
| HCL Technologies | Collabera Technologies |
| Wipro | Reliance |
M.Sc. Data Science Course Types
The M.Sc. in Data Science course can be pursued in three ways. You can either do it the traditional way in the form of a full-time offline mode. Or you can pursue it in the online mode. In case you are a working professional, you can opt for the online course or in part-time or distance mode.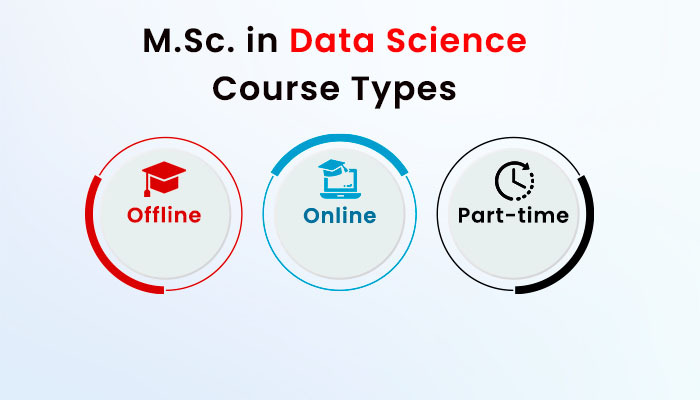 Based on the mode of education, other factors like course fee, duration, eligibility and admission criteria, etc also vary. For instance, your course fee will be more in the case of offline mode in comparison to online mode because of the infrastructure and other facilities involved in the offline mode. The fee for the online mode will be more than that of the distance mode because of facilities in the online mode like LMS. Similarly, the duration of the course, the timings of classes, and the conduct of exams also vary across different modes of study.
M Sc Data Science Syllabus and Subjects 2023
As already iterated, the M.Sc in Data Science is a technically advanced program which needs students to be equipped with some basic skills relevant to the subject.
An aspirant for an M.Sc. in Data Science must be proficient in relevant programming languages, mathematics and calculus, and statistics. Some other skills that the aspirant will hone in an M.Sc. in Data Science program are- data analysis, machine learning and deep learning, data visualisation, big data, etc.
Following is the descriptive syllabus that you study in an M.Sc. in Data Science program. This is a common syllabus based on data collected from various colleges. Hence, the syllabus for each college might vary slightly.
Semester 1
Semester 2
Semester 3
Semester 4

Advanced Database Management Systems

Applied Probability and Probability Distribution

SQL Programming

Python and R Programming

Computational MAthematics

Statistical Inference

Calculus and Linear Algebra for Data Scientists

Data Analysis and Visualisation

Distributed Algorithms and Optimisation with Hadoop and Spark

Advanced Machine Learning

Deep Learning

Stochastic Processes

Cloud Native Development

Data Structures and Algorithms

Java Programming

Optimisation

Web Technologies

Bayesian Statistical Modelling

Longitudinal Data Analysis

Minor Project

Natural Language Processing

Applied Business Analytics

Data Engineering

Data Mining and Warehousing

Programming in SAS for Analytics

Research Methodology

Major Project
M.Sc Data Science Tools & Technology
There are some specific tools, technology, and programming languages that you will learn during your M.Sc. in Data Science program. Some of the important ones are
| | |
| --- | --- |
| Python | SSIS |
| R | SPSS |
| SQL | TIBCO Spotfire |
| JavaScript | Microsoft Azure |
| Natural Language Processing (NLP) | Amazon Web Services (AWS) |
| Tableau | Snowflake Cloud Data Platform |
| Apache Spark | Kubernetes |
| Apache Hadoop | Qlik Sense |
| Power BI | |
Data Science Specialization In MSc
Data Science is a very diverse subject. There are numerous sub-domains within the broad domain of Data Science. There are hence various specialisations of Data Science. The M.Sc. in Data Science course will help you build strong basics in all of these specialisations. This will also be very helpful if you wish to specialise in any specialisation at a higher level to gain in-depth knowledge of that particular specialisation.
Following are the M.Sc. in Data Science Specialisations.
| | |
| --- | --- |
| Data Mining & Statistical Analysis | Business Intelligence & Strategy Making |
| Data Engineering & Data Warehousing | Data Visualisation |
| Database Management & Data Architecture | Operations-related Data Analysis |
| Machine Learning & Cognitive Specialist | Market Data Analytics |
| Cybersecurity Data Analysis | Deep Learning |
Also Read | Which course is best for cyber security in India?
MSc Data Science Entrance Exam 2023
A maximum of the institutions in India take admission in the M.Sc. in Data Science courses based on the merit of students in an entrance exam. The candidate must attain a certain minimum number of marks (cut-off) to get admission. This cut-off is different for different colleges.
Now there is not just a single entrance test out there. There are different types of entrance tests. Entrance tests are on national-level, state-level, and even university levels.
An entrance exam for M.Sc. in Data Science is usually in the form of Multiple Choice Questions (MCQs) as well as Numerical Question Answers. The subjects are- General Aptitude, Logical Analysis, and Core Science Subjects.
If you wish to pursue M.Sc. in Data Science, then some of the important entrance exams in India are.
IIT JAM
The Joint Admission Test conducted by the Indian Institute of Technology (IIT JAM) is a national-level entrance exam. The exam is conducted for admissions in master's and post-diploma programs on a rotational basis.
The Central Universities Entrance Test (CUET) is a national-level entrance examination that provides a common platform to students across the country. If you wish to apply to any central university or any other university in the country, you will have to take the CUET examination to be eligible for admission.
The Birla Institute of Technology and Science Admission Test (BITSAT) is conducted by BITS, which is a leading institute of higher education in information technology and sciences in India.
M Sc Data Science Admission Procedure 2023
The admission process is different for different modes. For admission in an offline M.Sc. in Data Science course, you have to appear for an entrance examination. A valid score in any relevant national or state-level entrance exam is mandatory in this mode.
For online mode also, students need a valid score in a relevant entrance examination. If the student does not have a valid score, then some online universities might conduct their own entrance examination.
Some of the common steps involved in the admission process for M.Sc. in Data Science courses are given below:
Step 1- Go to the official website of the college. Those who are applying for an offline course can go to the college as well to get the application form.
Step 2- Fill up the application form with all your personal as well as academic details. Upload the necessary documents and then pay the application fees.
Step 3- If you have already given an entrance examination then you have to submit your scores with the application form. If not, then you have to appear for the entrance exam conducted by that college.
Step 4- Your scores from the entrance exam will be checked followed by document verification. If you clear the cut-off, then you will be eligible for admission.
Step 5- The eligible candidates will get a confirmation call through email. They can now pay the academic fee and start with their program.
M.Sc. Data Science- Placement
The placement after M.Sc. in Data Science completely depends upon the college you take admission in. Many colleges consist of Placement cells that continuously work towards the placements of the students. These colleges organise placement drives wherein various companies come to the college to recruit students.
Some universities offer placement assistance services to their students as well. These services include preparing students for written tests and interviews. They also help students in writing outstanding resumes and building great CVs.
Colleges act as a bridge to connect students with recruiters. They do so by organising virtual job fairs, or webinars and interactive sessions with industry experts, alumni meets, and even by helping students in getting internships to get started with their careers.
M.Sc. Data Science- Top Colleges Abroad
Some of the top colleges abroad that offer the postgraduate level degree in Data Science and related subjects are given below
University
Course Name

International University of Applied Sciences (IU), Germany

Master's Degree in Data Science

Dundalk Institute of Technology, Ireland

Master of Science (MS) in Data Analytics

Johnson and Wales University, USA

Master of Science (MS) in Data Analytics

Clark University, USA

Master of Science (MS) in Data Analytics

Yeshiva University, USA

Master of Science (MS) in Data Analytics & Visualisation

Master of Science (MS) in Artificial Intelligence
Also Read | MBA In Data Science Also Available!