All You Need To Know About: Education Budget 2023
Feb 2, 2023 1.1K Reads
Listen us
Delhi: Finance Minister Nirmala Sitharaman announced the budget for the year 2023-2024 of 1,12,899 crore as expenditure in the union budget on 1st February.
There has been an 8% marginal increase in the budget allocated in the year 2022 where the expenditure budget was Rs1,04,278 crore. Whereas the department of school education will be getting Rs 68,804 crore and the Department of Higher Education will be allocated Rs 44,094 crore.
Highlights of the Education Budget:-
For Digital India e-learning, the government has allocated ₹420 crore, just 5 crore more than revised estimates of 2022-23.
National Digital Libraries will be installed in every city and state also considering the rural areas.
100 Labs to be set up in engineering colleges to develop apps using 5G.
Centre will recruit 38,800 teachers and support staff for 740 Eklavya Model Residential School which are serving 3.5 lakhs tribal students.
Proposal of 'Digital University' and development of e-content in all regional languages has been promised, for the betterment of the education system.
PM Kaushal Vikaas Yojana 4.0 to be launched to equip the Indian youth with new age skills such as robotics, coding, drone and other soft skills.
Work will be done on schemes like Make AI in India' and 'Make AI Work for India, and centres for AI will be set up!
30 international centres will be set up across different states of India to develop Skill India Digital Platforms with stipend support and apprenticeship promotion schemes.
157 new nursing colleges will be established and new programs will be introduced for boosting medical education.
Establishment of District Training Centres for educators whereas setting up of National digital library & Physical libraries at ward and panchayat level too.
Allocation of Rs 8791 crore budget for research, academics to IIT for indigenous production of lab grown diamonds.
Sarva Shiksha Abhiyan (biggest school education scheme) has been allocated almost the same amount as last year Rs 37,453 crore.
Midday Meal gets an allocation of Rs11,600 crore
The 'Manodarpan' scheme by the Ministry of Education could be enriched with expert resources to better guide students with issues like addiction, self-healing, adjustment training, and short online courses, one-to-one online sessions with subsidized fees, etc.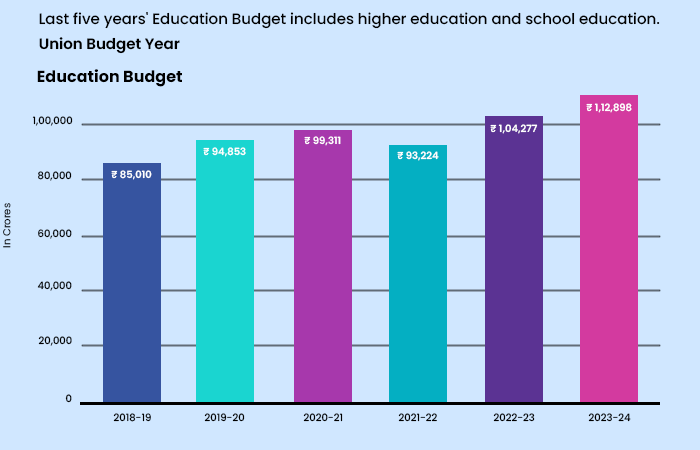 Conclusion
Well not much can be said on the lines of how much execution can we see until next year, but let's just hope that we obey and move towards digitalisation. With the setting up of digital libraries in all the Indian languages we can surely reach a higher level of education. Also recruiting quality teachers for government schools is a need of an hour and will surely improve the quality of education in India from the roots. Let's hope that the implementation of these schemes are kept at par.
Recommended for you
Home
Search
Suggest
University
Categories
VideoCounseling