Top Part Time MBA Colleges in Bangalore
If you want to take admission in MBA in part-time mode then there are various top universities that are offering part-time MBA colleges in Bangalore. Bangalore has been on the top list of serving distance education for years as well as job opportunities in high MNCs.
Here we have the list of colleges offering part-time MBA programs:-
| | | | |
| --- | --- | --- | --- |
| ​IIMB | | ​St. Josephs College of Commerce | ​NICMAR |
| ​IGNOU | ​Corparena Academy of Management | ​CMS Business School | ​Shanti Business School |
| | ​Management Academy of Digital Economy in India | ​M.S Ramaiah University of Applied Science | ​SIBM Bengaluru |
| ​Bangalore University | ​Indian Institute of Materials Management | — | — |
Part-Time MBA Course In Bangalore 2023
Part-time MBA has got some specifications which need to follow so is to enrol the program. Also here is a glimpse of the course that you'll be learning during the whole program as in this course you will be having a deep study of finances, accounting, business management, Supply chain, business intelligence, projects, seminars, webinars, workshops, industrial visit.
Practicals are included in the course of part-time MBA and live lectures with assignments to practice.
They also do semester bys examination procedures. So here is the short course detail that you need to follow:-
Degree
Masters
Duration
Course Duration of part-time MBA is 2-3 Years.
Age
No specific age limit, any graduate can pursue the course.
Minimum Percentage
45-50%
Subjects Required
An Honors or a Graduates degree recognized by UGC

Minimum 2 years of experience in the same Field

Average Fees Incurred
INR 20,000 – 80,000 per annum
Similar Options of Study
MBA (Distance), Executive MBA, PGDM
Average Salary Offered
INR 3-12 Lakhs per annum
Employment Roles
HR Manager, Marketing Manager, Operations Manager, Business Analyst, Business Development Manager, Senior Business Analyst, SAP Consultant, Area Sales Manager, Marketing Executive etc.
Placement Opportunities
Infosys Limited, Oracle, Standard Chartered Bank, IBM India Private Limited, Citibank, Axis Bank, , Vodafone, Deloitte, HSBC, Cognizant etc.
Why Part Time MBA from Bangalore?
Part-Time MBA is a master's degree in Business administration. It is a 2-3 year of postgraduate program that consists of 4-semesters of 6 months each. Bangalore is now officially known as Bengaluru, it is a metropolis city and the capital of the state well known as the god's place Karnataka.
It is where you can find the famous Nageshwar temple. Bangalore is also famous for its numerous job opportunities as it's also an industrial hub for aspiring aspirants.
You may find Bagmane tech park, Infosys, UB City, etc. Part-time MBA for the candidates of Bangalore is a foremost program as there are many multinational companies in Bangalore and all the MNCs need a high scaled professional. So for such great opportunities, we need MBAs who can work rigorously.
Read: MBA for Working Professionals
A part-Time MBA is a master's degree in which you have several advantages as in this program you can take classes on weekends or evening classes is also an option. So it is beneficial for the aspirants who want to upskill their career they can opt for the program. It is similar to the regular MBA program as it also consists of similar subjects that we study on the regular MBA program.
Part-time MBA is a flexible degree yet valid and effective for the candidates as in this program you have the authority of taking classes with the options given such as weekend or evening classes. Suppose of getting job experience of 2-years with the 2-year part-time degree of MBA.
Here on this blog you also will get to know the subject details of the program and the top colleges that are offering part-time MBA. The subjects are corporate economics, finance, accounting, business law, marketing management, research, etc.
What is a Part-Time MBA?
A part-time Masters' degree in Business Administration is a postgraduate degree in which you have a time span of 2-3 years where you can study the complete course detail of an MBA that is similar to a regular MBA.
It's a part-time program where you can attend classes on weekends or evening classes so that it won't affect your current job or regular course or classes if you're doing so.
Part-time MBA/Online MBA Programs in India UGC approved enables you to have many career opportunities as it is one of the most opted courses and also the most wanted program by the top MNCs. In Bangalore, you can have numerous colleges and institutes that are offering the same program for you with the specialization including.
Part Time MBA Bangalore Eligibility criteria
The eligibility criteria of the program part-time master's degree in business administration are that one has to fulfil its minimum criteria to ensure its admission.
For admission, you need to be a graduate in the same stream or any other stream such as BA/BCOM/BSc/B.Tech etc.
If you're a working professional or have work experience of at least 2-year can pursue the program part-time MBA.
There has to be a minimum of 45-50% in its graduation for admission in part-time programs.
The experience should be in the same field to get admission in the same specialization of MBA.
Part-Time MBA Program Bangalore Duration
The duration of the program is of 2-years that consists of 4-semesters that are of 6 months each.
Some of the universities offered it as a 3-year program where you'll be having 6 semesters that is of 6 months each. The classes batches generally are on weekends or evening batches.
MBA Part-Time Bangalore Specializations
Part-time MBA serves you various numbers of specializations so you can choose the program as per your interest. An MBA is a postgraduate program that has been opted by many of the candidates so it's the most opted course. So here we have mentioned those specialized programs for you to get the idea. Have a look at the topics below:-
| | | | |
| --- | --- | --- | --- |
| | ​MBA In Accounting Management | ​MBA In Sales and Marketing Management | |
| | | ​MBA In Retail Management | |
| ​MBA In Airport & Airlines Management | ​MBA In Healthcare and Hospital Management | ​MBA In general Management | ​MBA In Supply Chain Management |
| ​MBA In Corporate Management | ​MBA In Agriculture Business Management | — | — |
Subjects of Part-Time MBA Program
The subjects that are included in the program of a part-time master's degree in business administration are as follows.
Semester 1
Semester 2
Corporate Social Responsibility
Macroeconomics
Micro-economics
Business Law
Principles of Marketing Management
Operations Management
Principles of Accounting
Optimization and Project Research
Tools and Framework of Decision Making
Corporate Finance
Quantitative Methods and Statistics
Project Management
Business Communication and Soft Skills
Marketing Management
Organizational Behaviour 1
Organizational Behavior 2
Semester 3
Semester 4
Supply Chain Management
Internship Projects
Financial Modeling
Strategic Management
Business Intelligence
Marketing Research
Managerial Economics
Corporate Governance and Business Ethics
Corporate Finance 2
Part Time MBA Colleges in Other Cities/States
Career Scope After Part-Time MBA Degree from Bangalore
As a part-time MBA already giving you the opportunity of doing this postgraduate degree without leaving your current job or course it will definitely scale up your career to the bulk number of job options. It will definitely upskill your current career by getting appraisal and promotion hand in hand.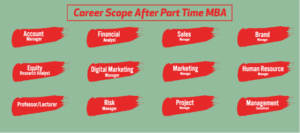 A part-time MBA enables you to have job opportunities in top MNCs, private sectors, and government sectors too. Some of the job opportunities for your reference are as follows:-
| | | | |
| --- | --- | --- | --- |
| ​Account Manager | ​Financial Analyst | ​Sales Manager | ​Brand Manager |
| ​Human Resource Manager | ​Equity Research Analyst | ​Digital Marketing Manager | ​Marketing Manager |
| ​Professor/Lecturer | ​Risk Manager | ​Project Manager | ​Management Consultant |
​Conclusion
In this blog, we tried to give you all the needed information for the program part-time MBA. We have mentioned the eligibility criteria, duration of the program, and the top colleges offering the course in Bangalore. Also, top job opportunities have been shared. Hope this blog has cleared all your doubts.