Distance MBA, a Master's degree in Business Administration is a course for all the graduated aspiring students. It is a course that can be done by the graduates of any stream in BE/Btech/BA/BCOM/BSC/BCA or diploma holders. Distance Learning MBA In India has become a foremost course when it comes to talking about postgraduate programs.
As all kinds of jobs and sectors or domains need a specialized person to take upon the management of all the fields. Be it the technical field or management field we need a person who will see the management. Distance MBA is a course recognized by UGC-DEB and AICTE, so it's a valid program if you're doing it from a recognized university.

There are 933 universities that offer distance learning programs but only 33 universities are UGC-DEB approved. So if you're looking for a distance MBA or any other distance program then doing it from a recognized university is only fruitful.
Distance MBA brings out the opportunity, especially for the aspirants that are working professionals or are unable to attend regular classes due to their work schedules. It is also for the aspirants that are unable to spend much due to some personal issues as the distance courses are quite favourable for the pocket of such people.
Distance MBA offers you a master's degree with a job guaranteed. For working professionals, it apparently gives you a hike and promotion in your current career.
Read: Best UGC/AICTE Approved Distance MBA Colleges in India.
Which Distance MBA Is Best In India this year?
There are several distance MBA specializations that will give you a master's degree in that particular domain. So at first, we take a deep dig into the specialized courses of distance MBA and their significance then we will bring out the best course of distance MBA in India. So here's the list of specialization courses for distance MBA:-
| | | | |
| --- | --- | --- | --- |
| ​Human Resource Management | ​Marketing Management | ​​Accounting Management | ​Finance Management |
| ​Economics Management | ​International Business Management | ​E-Business/ E-Commerce | ​Entrepreneurship Management |
| ​Business Management | ​Information technology Management | ​Rural Management Management | ​Operations Management |
| ​Risk Management | ​Banking Management | — | — |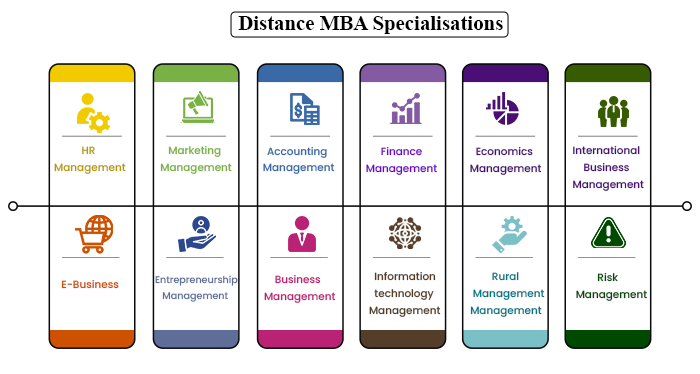 All these specialized courses of distance MBA have their own significance in the job market. All the courses are the best and can give you a remarkable hike in your career. It's just you who will decide the specialization in accordance with your preference and forte.
Also Read: What Is MBA Distance Education?
Let us talk more about some of the high-demand courses from these specialized courses to scratch out the best from these fourteen programs.
Best Distance MBA Courses In Demand In India 2022
1. Distance MBA in Finance– MBA Distance in Finance is the most picked curriculum in business management when it comes to a master's degree. The Financial Length Learning Software MBA is a course dedicated to the research and management of finance and accounting. It is primarily for applicants who have an interest and knowledge in financial management, or a specific business, or who start their own company.
During the MBA, we research different topics relating to finance and accounting. We study distance learning. You will study finance management, economy, and corporate communications in the language of business. You are responsible for handling product marketing or for the business. It develops financial skills and relies on money. This is a course. The willingness to spend money is inculcated by the MBA in finance distance learning.
2. Distance MBA in Marketing– The MBA in Marketing Management is the business management course that a student holds after graduation in any field and aims at doing higher studies in marketing management to achieve his/her career in the marketing industry. If it is science, commerce, or arts to apply for a degree in marketing management, it is not mandatory to belong to any particular field.
Anyone interested in the philosophy of marketing should apply in the course of marketing management for a master of business administration. With a remote MBA, you have numerous career opportunities including marketing director, Digital Marketing Manager, Operations Manager, Marketing Analyst, etc which are open to your student approximately between 5L and 8L per year. Read: Top 10 Part Time MBA Colleges/Universities In Chennai.
3. Distance MBA in Supply Chain Management– Any organization's supply chain management sector needs a broad workforce to achieve its objectives. This is why there is a strong demand for almost every company for MBA graduates in supply chain management.
In several supply chain industries, students can also apply for government jobs and stable jobs. Here is a list of top recruitment firms, where students can enroll in Amazon, Flipkart, TCS, Indian Air Force, GATI, DHL, DTDC, Snapdeal, etc. after completing their MBA in supply chain management course.
4. Distance MBA in Operations– Did you ever consider who takes charge of each department's work in one single company? The answer is the company's Operations Manager.' The job of activity is, therefore, one of the complex tasks that the applicants demand a great deal of concentration on.
It is one of the highest-paying MBA jobs after graduation in management. It is one of the most popular. Also, the common option between the students is an MBA in operations management. After you have completed the MBA distance in business, you can perform different functions such as the management, development, and management of available resources through employee skills and the company's services or products. Read: Top 10 Distance/Correspondence MBA Colleges/Universities In India.
Here is a list of job opportunities for every MBA owner, for example, Operations Analyst, Corporate Associate, Fund Manager, Operations General Manager, Finance Analyst, Supply Chain Manager, etc.
5. Distance MBA in Rural Management– The MBA in Rural Management distance course is one of the most common management studies in agriculture and rural development. The rural management MBA for Remote learning covers the study of concepts of rural management, including the planning, development, and governance of cooperative organizations and other associated agricultural administrations.
MBA distance is essentially a 2-year curriculum split into two semesters annually in rural management. You can also enter rural management in the MBA by way of distance learning if you work or do not have time to take a daily class.
Rural MBA contains a range of job opportunities, such as rural charitable organizations, multinational NGOs, the government of India's rural development programs and social science institutions, research facilities located in rural areas, rural development assistance and organizations, rural development agents, and company development officers, research offices. Distance MBA in Rural Management involves a number of career opportunities.
6. Distance MBA in Information Technology Management– For the IT experts, we have a boon in the industry as the specialist is challenging for the need in the work and people's lives. MBA IT distance learning is a technology-based course that provides more business appeal in line with the other courses and streams in an increasingly developing industry, and also offers opportunities for jobs abroad.
M Bachelor's degree in MBA IT distance learning undoubtedly opens up more job possibilities in a life of study. Thanks to the fact that it is in remote mode one also do not have to abandon the present job and can do the software at the same time. There are extreme openings for jobs by using MBA distances in IT including Google, Amazon, Microsoft, Facebook, Accenture, IBM, TCS, HCL, BCG, GlaxoSmithKline, and so on.
7. Distance MBA in International Business– MBA can be completed by conventional standard courses or distance learning. International Business Management course. Distance training is tailored for students who wish to learn to run or grow their company abroad without compromising their existing profession or work. Students do not need to take standard classes during distance learning programs.
Generally, students research themselves during the entire course and take the online class on a specific subject, which results in successful learning when they get stuck in some topic. MBA is frequently required in international business marketing graduates, as companies and organizations which currently compete in the international arena expand globally.
After students have taken the course in line with their interests, they will apply for both private and government jobs and go abroad for work. Any of the highly paid positions, such as export managers and managers, international business analysts, investment management firms, international marketing managers, multinational business managers, international finance managers, and international foreign exchange representatives are listed below. Read: Is There Any Value In A Distance MBA, Or Is It A Complete Waste?
These are some of the most famous or chosen courses of distance MBA in India that enables you to have numerous job opportunities in your futuristic career and will definitely take you to the zenith.
Best Distance MBA Colleges in India, Courses & Fee Structure
The table below includes the list of the best distance MBA colleges/institutes/universities in India along with the courses offered and the fee structure:
| | | |
| --- | --- | --- |
| Name of the University/ Institute | Courses Offered | Fee Structure (per annum) |
| University of Petroleum and Energy Studies (UPES), Dehradun | MBA | Rs. 72,500 |
| Chandigarh University | MBA | Rs. 27,650 |
| Indira Gandhi National Open University (IGNOU) | MBA (IGNOU – OPENMAT Entrance Exam is conducted for the admission) | Rs. 31,500 |
| Lovely Professional University | PGDM/MBA | Rs.50,000 (approximately) |
| Symbiosis Centre for Distance Learning | PGDM (two-year course) | Rs. 37,000 |
| Narsee Monjee Institute of Management Studies, Mumbai / For NMIMS Distance Student Zone | PGDBM (two-year course) | Rs. 43,000 |
| IMT Ghaziabad | PGDM (two-year course) | Rs. 88.000 |
| SRM University, Chennai | MBA | Rs. 30,000 |
| Maharshi Dayanand University, Rohtak | MBA | Rs. 30,000 (approximately) |
| Amity University | MBA / PGDM | Rs. 70,000 – Rs. 1,00,000 (approximately) |
| Bharathidasan University – Centre for Distance Learning | MBA | Rs. 30,000 (approximately) |
| GITAM – Centre for Distance Learning, Visakhapatnam (Institute of Eminence) | MBA | Rs. 30,000 |
| Jain University, Bangalore | 1-year PGDM | Rs. 16,800 |
| Andhra University (CDL) | MBA | Rs. 25,000 to Rs. 30,000 (approximately) |
| Acharya Nagarjuna University, Andhra Pradesh | MBA | Rs. 25,000 to Rs. 30,000 (approximately) |
| Jagannath University, Jaipur | MBA | Rs. 25,000 |