BCA Distance Education Programs usually last 3 years and are meant to provide students with a thorough grasp of different elements of computer applications, such as programming languages, software development, database administration, web technologies, networking, and others. Students obtain a solid foundation in computer science and practical abilities that are highly regarded in the business through a well-structured curriculum.
One of the primary benefits of studying a BCA Distance Education program is the flexibility it provides. Students can plan their study schedules around their personal and professional obligations. They may study at their speed, allowing them to efficiently juggle careers, families, and school. Because of this flexibility, distance learning is an excellent alternative for working professionals, people living in remote places, or those who prefer a self-paced learning strategy. Also Available: BCA Online!
BCA Distance Education uses various educational modalities to provide high-quality education. Students can engage in meaningful learning experiences using online platforms, multimedia materials, virtual classrooms, and interactive discussion forums. Furthermore, students receive ongoing assistance from certified faculty members through online mentoring and problem-solving sessions. Thanks to innovative technology, students may easily access course materials, submit assignments, and engage with classmates and teachers.
Students studying BCA Distance Education can learn vital skills in the employment market. Problem-solving, critical thinking, teamwork, and effective communication skills are emphasised in these programs. Students are encouraged to work on real-world projects that allow them to apply academic principles in real-world circumstances. This hands-on learning equips individuals to face obstacles and contribute productively in the workplace.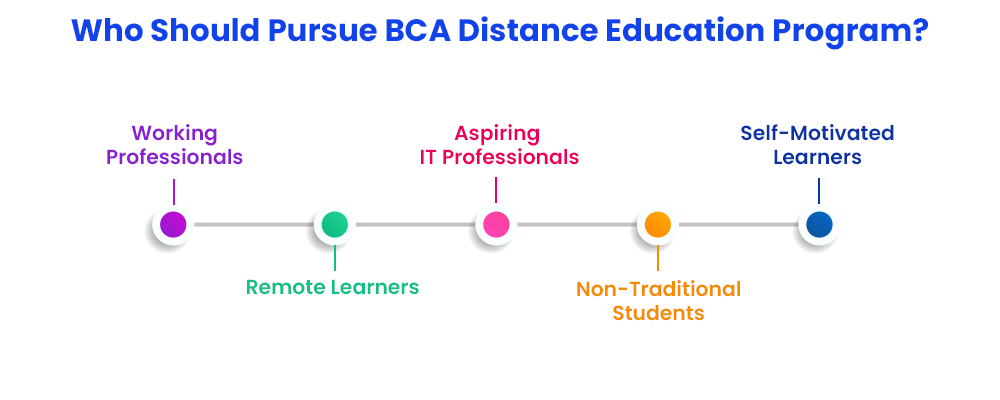 Students can also use distance BCA programs to create a solid professional network. Collaboration and contact with peers, industry experts, and alums online develop vital relationships that can lead to career opportunities, internships, and mentorship. In today's competitive employment market, having a strong professional network is essential, and distance learning programs provide networking opportunities and increase one's relationships.
Graduates of Distance BCA programs have several employment options available to them. They can work in various fields, including software development, IT consulting, web development, database administration, system analysis, etc. They can also pursue entrepreneurship and launch their businesses in computer applications. The need for qualified workers in this field is always increasing, making this a perfect moment to start a career in computer applications.
Key Highlights of the BCA Distance Education Program
BCA Distance Education programs have several major features that make them appealing to students looking for flexibility and convenience. Here are some of the most important aspects of Distance BCA:
Distance learning allows students to study at their speed and convenience. They may access learning materials, lectures, and assignments online, allowing them to plan their studies around their personal and professional obligations.

BCA Distance Education provides flexibility to study anytime, anywhere, as long as the applicant can access a computer and an internet connection. This eliminates the requirement for individuals to physically attend a college, allowing them to complete their education without regard for geography.

Distance BCA programs frequently provide self-paced learning alternatives, letting students complete the curriculum leisurely. This adaptability allows students to devote more time to difficult topics while moving rapidly through common themes.

Many BCA Distance Education programs use a blended learning strategy combining online lectures, virtual classrooms, interactive discussions, and self-study resources. This range of learning approaches improves the overall learning experience and student engagement.

Distance BCA programs are frequently given by experienced faculty members with computer application knowledge. They give students direction, support, and feedback, assuring a high-quality learning experience.

Through virtual forums, discussion boards, and online communities, BCA distance education programs frequently promote networking possibilities. Students may network with their classmates, instructors, and industry experts, forming crucial career ties and broadening their network.

Recognised and approved distance BCA programs by respected schools ensure that graduates acquire a meaningful certification. This accreditation is valuable in the job market and improves career chances.
Syllabus of the BCA Distance Education Programs
The curriculum of BCA Distance Education programs may range slightly between colleges or institutions. However, the fundamental disciplines and themes commonly addressed in the curriculum include:
| | |
| --- | --- |
| Fundamentals of Computer Applications | Programming Languages |
| Database Management Systems | Web Technologies |
| Object-Oriented Programming | Software Engineering |
| Computer Networks | Operating Systems |
| Data Structures and Algorithms | Mathematics for Computer Science |
| Information Security | Software Development |
Top Specialisation for BCA Programs
Eligibility of Distance BCA Programs
The qualifying requirements for BCA Distance Education programs may differ between colleges or institutions. However, the following are the typical eligibility requirements:
Candidates must have passed their 10+2 (or equivalent) from a recognized board with a minimum aggregate percentage (often between 45% and 50%). Some institutions may also require candidates to take Mathematics as a required subject in their tenth and twelfth grades.

There is no set age restriction for earning a BCA through remote education. Some universities, however, may have age limitations or relaxation rules. It is recommended that you research the specific criteria of the university or institution to which you desire to apply.

Several universities may have entrance tests for admittance to their BCA Distance Education programs.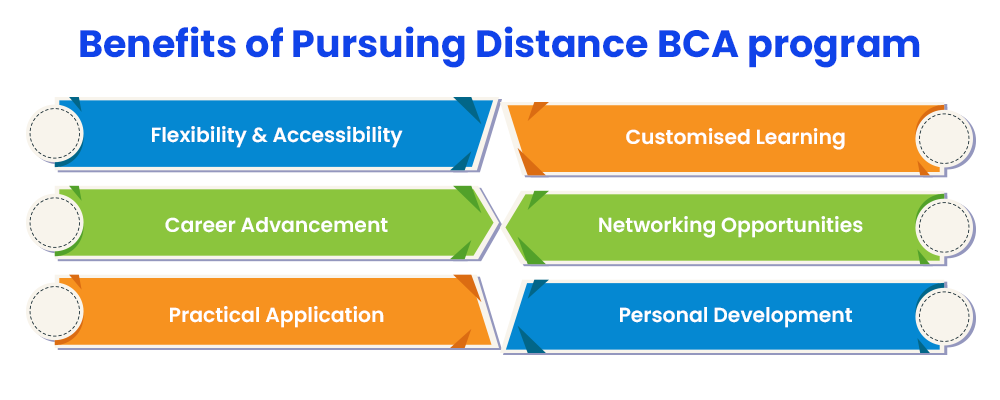 To be eligible for the Distance BCA program, candidates must fulfill one of the qualifying requirements listed above. These requirements guarantee that students have a strong educational background and, in certain circumstances, appropriate professional experience that will prepare them for the program's rigours.
Duration of the Distance BCA Course
The length of the Distance BCA degree varies according to the university and manner of study (full-time or part-time). A BCA Distance Education degree typically takes 3 years to finish. However, certain colleges may provide expedited or self-paced options, allowing students to complete the degree in less time, provided specific conditions are met.
It is crucial to note that the duration of the program may also be affected by factors such as the number of courses taken every semester, any breaks or leave of absence taken throughout the program, and the student's ability to complete the academic requirements within the period specified.
Other Types of BCA Degree Courses
Admission Process of the Distance BCA
The admissions procedure for a BCA Distance Education degree may differ based on the university or institution that offers it. However, the following are some of the most usual steps:
Step 1: Investigate several universities or institutions offering Distance BCA degrees. Consider accreditation, curriculum, faculty, and reputation when shortlisting candidates who meet your aims and preferences.
Step 2: Examine the institutions' eligibility standards to verify you fulfill the minimal educational requirements and any other particular needs, such as work experience or admission examinations.
Step 3: Fill out the online application form from your preferred university or institution. Provide accurate and relevant information, such as personal information, educational background, and any supplementary papers or certificates that may be requested.
Step 4: The institution will review your application to determine your eligibility and appropriateness for the program. This might include reviewing your academic credentials, statement of purpose, letters of recommendation, and other supporting papers you provided.
Step 5: As part of the admissions process, certain colleges may ask you to take an entrance exam or participate in an interview. This measures your business and management knowledge, abilities, and aptitude.
Step 6: If your application is accepted, the institution will make you an admission offer. Examine the offer letter thoroughly, paying close attention to the terms and conditions, program information, and any financial responsibilities.
Step 7: If you accept the admission offer, follow the university's procedures to confirm enrollment. This may entail submitting the needed documentation, paying the requisite costs, and fulfilling further procedures.
Career Opportunities After Distance BCA
BCA graduates are in great demand in today's digital age for various reasons. The growing IT sector and company digitalization have produced a high need for individuals who can design, manage, and protect computer applications and systems.
The rising need for online and mobile apps, data analytics, and e-commerce solutions have enhanced the value of BCA graduates even further. Furthermore, the start-up environment offers intriguing options for BCA graduates with entrepreneurial talents. Overall, BCA graduates are in high demand because of the increased reliance on technology and the need for digital transformation across businesses. Here are some potential career paths you can explore:
| | |
| --- | --- |
| Software Developer/Programmer | Web Developer |
| Database Administrator | System Analyst |
| Network Administrator | IT Consultant |
| IT Project Manager | Data Analyst |
| IT Support Specialist | Entrepreneurship |
Explore Top Colleges/Universities for BCA Distance Learning