In this era of startups, technology plays a key role in growing a business but finding professionals with the required skills and technical experience is quite a headache for employers. Business Development Executive (BDE) is one of the profiles in the business domain that serve as game changers for organizations. The professional and technical skills of BDEs are of great value to a company as their networking skills bring in new clients and businesses. The competitive nature and influential personalities are some of the highlighted features that one must possess to become a BDE.
What Does a Business Development Executive Do?
Business Development Executives are professionals who outgrow a company's profit by adding new clients or customers. They seem to have an identical profile to a Sales Executive but their job role includes a different and wide range of job responsibilities. Business Development Executives/Professionals are responsible for sourcing new customers for the company.
Video Source: Freshers Now
The convincing power of BDEs is a big plus for them in retaining the existing customers for a longer association with the company. The work profile of business development professionals mainly involves lead generation and their conversions into sales. They also work on the client or customer's feedback to resolve their query and enhance the company's prospects.
Key Responsibilities of Business Development Executives
Some of the basic responsibilities of a business development executive are listed here for a better understanding of their job roles:
Introduce clients to the products and services offered by the company.
Identify quality and sale-worth leads from a bunch of data.
Convince clients to get associated with the company either by selling the product or by making them a part of the company's network.
Design new strategies to boost the company's revenue from old as well as new clients.
Understand the client's need and act on it with an effective pitch without causing a significant change to the company's policies.
Read clients' feedback and implement necessary changes to get a longer and more satisfactory customer association.
Train team members about new business developments to meet targets as per their KPIs and KRAs.
Attend conferences and client meetings to make them understand that the company has the best for them as compared to others.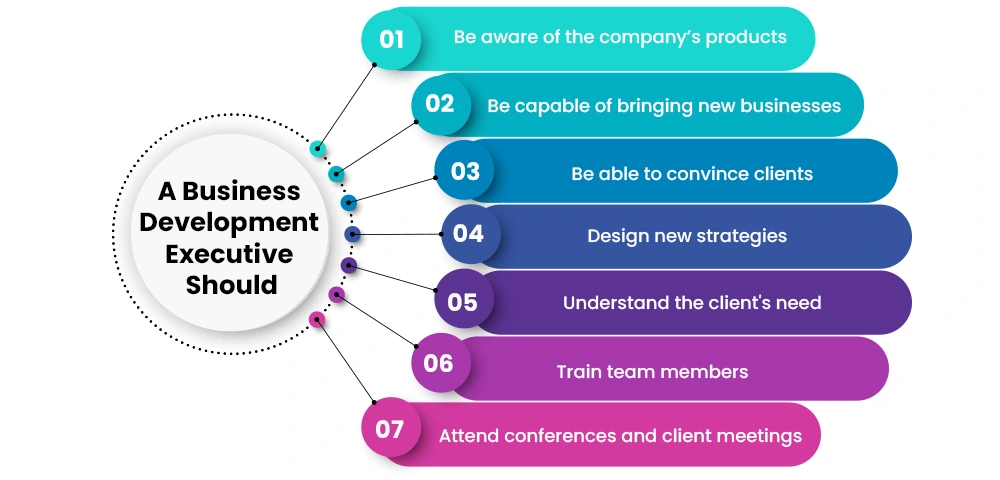 Basic Requirements to Become a Business Development Executive
1) Educational Qualification
After getting a glimpse of the roles and responsibilities of a Business Development Professional, you might be thinking of the qualification that one must have to become a successful BDE. Well, there is no specific undergraduate or postgraduate degree that is specifically designed to make you a business development executive in any reputed firm.
However, individuals who have a commerce background and have completed their graduation either with BBA or B.Com can apply for a position of BDE in any company. Also, some companies prefer an MBA professional for the same role in their firm. Since there is no mandate of stream or background, thus, candidates with BA or MA can also apply for this position in a firm.
Although, prior work experience along with academic qualification is always preferred by companies. Interested candidates can explore the option of UGC-DEB-approved online degree programs as mentioned here along with a job to get relevant field experience.
2) Additional Skills
Some additional skill sets should be acquired to become an efficient BDE. Since the job role of a business development executive involves interaction with clients, therefore, they must possess professional communication skills. Marketing and sales skills are also a part of the skilling programs that one should learn to become a successful Business Development Professional. These skill sets can be learned through some training programs or with time as on-job training.
Skills Needed to Become a Business Development Executive
A BDE is supposed to interact with clients and convince them to invest in the company by getting benefited by the company's services. These responsibilities can be fulfilled effectively with three basic skills:
Communication Skills
Marketing Skills
Sales Skills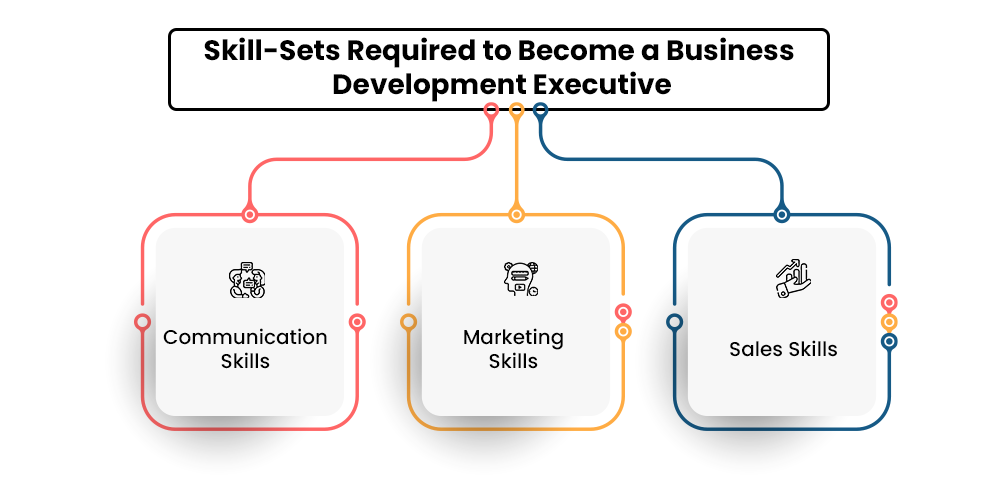 These skill sets can be easily gained through internship programs in the business domain. The job skills learned during an internship program are quite helpful in understanding the responsibilities and execution of developments as a BDE.
An idea of the duties of a business development professional can also be obtained by assisting a senior on the same designation in the initial years of the job. This benefits the aspiring candidates in a better way by giving an exposure to the real challenges of the industry. This on-job training is quite valuable as it gives a chance to be part of a highly professional network of experts.
Certificate Courses that can be Pursued to Become a Successful Business Development Executive
A Business Development Executive is responsible to build a strong and pertaining network of customers for the company's growth and development. This elite job profile can be justified by learning some of the fundamental aspects of business, sales, and marketing. The insights into the real challenges of the industry can be obtained through the advanced curriculum of some certification courses specially designed for candidates who want to explore the field of business from career prospects. Some of these short-term certificate programs are mentioned here that can be completed in online mode to become a successful BDE irrespective of the discipline or stream of the candidates in their graduation.
These certificate courses aim to provide an in-depth understanding of management, marketing, sales, and communication skills that are key requirements for becoming an efficient professional in business development.
Career Growth for a Business Development Executive
A business development professional has a commendable understanding of corporate goals and working patterns. The customer-centric mindset of professionals in business development not only enhances the organization's growth but widens up their career path as well. With all the experience in the business sector, a BDE can easily get promoted to a BDM (Business Development Manager) position. As a BDM, individuals get to contribute to the company's growth by managing some teams of business development professionals.
Salary Package for a Business Development Executive
The package of business development professionals is quite promising compared to the other entry-level jobs. The salary package for a fresher BDE ranges between 1.8 LPA to 6.0 LPA. The average package of the same designation is around 3.0 LPA. Apart from the fixed salary packages, there are performance incentives offered to professionals in business development by most organizations.
Perks of Being a Business Development Executive
Every job profile has a certain set of advantages attached to it. For business development professionals, the most attractive part is traveling and exploring. Generally, BDEs get to travel for business meetings and client visits as a part of their job. Also, there is great flexibility in the working hours for professionals in business development. Besides, almost all organizations (private and public) require business development professionals and hence there is a wide scope of job opportunities for them.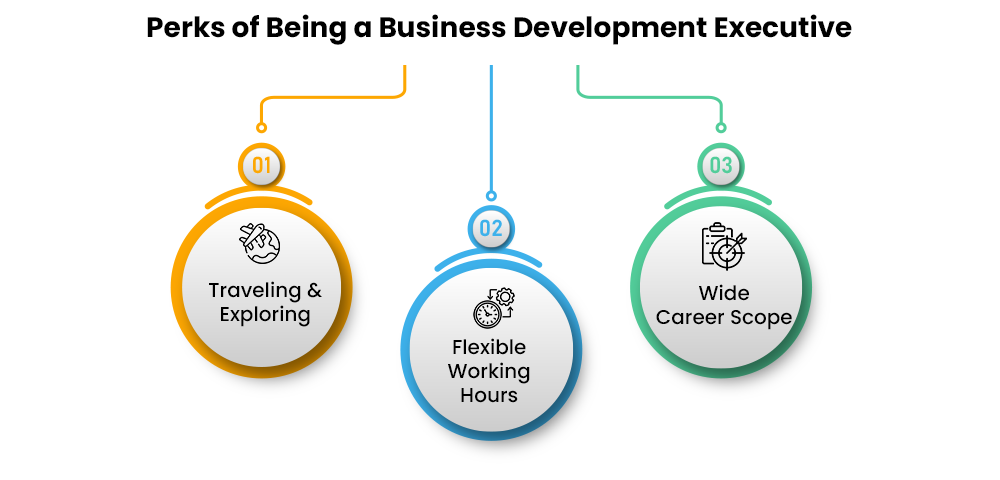 Interview Questions Asked for the Role of Business Development Executive
In today's competition, only getting the required skills and qualifications is not enough to get you your dream job. You need to have a prior idea of the company with which you want to excel in your career. Apart from that, you should prepare for some of the questions that are generally asked by interviewers for a specific profile. Here is a list of some business development executive interview questions that are generally asked.
"Why do you want to work with us?"
This question is generally asked to get to know about your interest in the field and your knowledge about the company. You should answer it by emphasizing the quality of services and products that the company offers and relating it to your skills.
"What would you do to retain an old customer?"
This is the part where the company wants to know about your negotiating and influential skills. You should answer this question by involving the strategies that you would develop to retain customers.
"How do you react to a failed strategy of yours?"
This question is asked to understand your mindset in failure. This question is not asked to know about your failures but it is asked to know what have you learned from them. So, you should include the learning part and backup plans here.
Is a Business Development Executive Profile Suitable for You?
If you are someone who enjoys being part of the managerial team then a BDE position is quite suitable for you. Besides, you get to spend most of your working hours in client meetings and other interactive events as a business development professional. Also, your convincing and influential skills can easily get you on the list of top employees in your company. Apart from that your leadership quality and effective sales strategy can make you grow your career in this field.
Some Other Related Job Titles
Sometimes getting a desired work profile feels like a tough task but this stress can be avoided by learning the almost same aspects of one job title under the other. Many job profiles have more or less the same responsibilities as that of a BDE. These profiles can be taken up by individuals who are interested in working as a BDE but are not getting the chance to be one. To get practical knowledge of the related work profile, one can secure some of the below-mentioned job profiles:
Strategic Account Executive
Business Development Representative
Sales Executives
Client Relations Executives
Top Trending Article
Conclusion
Professionals who want to build a career in the business development field can become business development executives. To be eligible for this designation, one must possess a minimum qualification of a bachelor's degree like a BBA or B.Com. A professional experience in the related field or an MBA would be given preference. The roles and responsibilities of BDEs include expanding the company's network by finding and retaining clients to boost revenue. Some basic skills in communication, sales, and marketing help execute business development strategies efficiently.
Certificate courses and internship programs can help out in understanding and fulfilling the client's need for a better business structure. BDEs can earn an attractive package of 1.8 LPA to 6.0 LPA. With experience and required skills, they can easily get promoted as BDMs with a high-end package. The career scope for BDE is quite broad and it is a profile best suited for individuals who enjoy traveling and meeting new people each day. Individuals can also explore the approximately identical work profiles under the tag of Strategic Account Executive, Sales Executives, and others.