Chandigarh Distance University is one of the most famous universities in Punjab and established distance learning to provide education to all sections of society. The university is recognized by UGC-DEB and all its courses are valid everywhere. Chandigarh University is also accredited by NAAC with an 'A+' Grade. The university is famous for its excellence in research & innovation. The university has been set up with an aim to promote the young talent of India.
​The university provides both UG & PG courses to its distance learning students. The university has signed a memorandum of understanding with more than 250 foreign universities & institutes of the countries like Canada, the USA, the UK, Australia, Italy, Russia, South Korea, and others. Chandigarh University has also gained the status of Asia's fastest-growing private institution, and it is also famous for inviting a large number of companies for placements in a single year.
Chandigarh University Distance MA In English
It is a 2-year post-graduate course that is for working professionals who do not have time to attend the lecture physically. This course is valid in India and all over the world. For a person who wants to make a career in the English literature field and doesn't have time to attend classes offline mode then an MA program through distance learning is a good choice for him.

Eligibility Criteria for Chandigarh Distance MA English
There are certain educational qualifications that a student needs to qualify to take admission in the distance MA in English of Chandigarh University:
A person should have completed his/her bachelor's in any discipline.
The bachelor's degree must be of a UGC recognized university.
Admission Procedure of Chandigarh Distance MA English
The admission procedure for a distance MA in English at Chandigarh University is extremely general and simple. Here are the steps of the admission procedure:-
Search the website of Chandigarh University's distance education.
Then, register yourself by clicking on the link on the homepage of the site.
Fill up all your personal details asked by the university, like your Full Name, Email Id, Phone Number, etc.
Then click on the button 'Register Now' to complete the registration process.
Then, you will receive the User Id & password either via SMS or via email.
After receiving the username & password, Candidates need to log in to the portal with the given user Id & password.
Then, click on the 'Buy Now' button to buy the prospectus and complete your application form afterwards.
Fill in all your details on the application form and then pay the program fee.
After the successful payment of the program fee, students will get the option to submit their documents.
Upload all the necessary documents asked by the university, including your current passport size photo.
After the completion of the above process, students will get the confirmation mail on their registered phone number or Email Id.
Contact the students' redressal cell of the Chandigarh University in case of any problem or query.
Duration of Distance MA in English
The duration of a distance MA in the specialization of English at Chandigarh University is of minimum 3 years.
Fee Structure of Chandigarh Distance MA English
Below mentioned fees for all the semesters include the Academic fee, Registration fee, Exam fee, and other hard copy charges of SLM.
The total fee for odd semesters (1st &3rd): Rs. 13,700.
The total fee of even semesters (2nd & 4th): Rs. 11,200.
Chandigarh Distance MA English Specializations
Chandigarh University offers specializations of distance MA in English in two subjects. As MA in English is a single specialization program so you have to choose one subject. There are two subjects of distance MA in English specialization mentioned below:
Postcolonial Theory and Literature
World Literature
​Syllabus of Chandigarh Distance MA English
The curriculum of the Chandigarh university is internationally recognized because it has been designed to develop challenging industrial needs. The below-mentioned syllabus is a conventional or general syllabus of MA English provided by Chandigarh University. Elective or optional subjects will change as per your choice of subject specialization.
Semester – 1

Semester – 2
Codes
Subject Title
Codes

Subject Title

MAE601
Literary Criticism and Critical Approaches- I
MAE607
Literary Criticism and Critical Approaches- II
MAE602
British Poetry Till 17th Century
MAE608
British Poetry of 19th and 20th Century
MAE603
British Drama – I
MAE609
British Drama – II (19th and 20thcentury)
MAE604
Early British Fiction
MAE610
British Novel of 19th and 20th Century
MAE605
English Language
MAE611
Indian Writing in English
MAE606
English Language Lab
MAE612
Research Methodology
​
​Semesters

Semester – 3
Semester – 4

S.N.

Subject Codes
Subject Title
Subject Codes

Subject Title

1

MAE613
Literary Theory – I
MAE619
Literary Theory – II

2

MAE614
Indian Writing in Translation
MAE620
Dalit Literature

3

MAE615
Autobiography
MAE621
Women's Writing

4

MAE616
Specialization – I
MAE622
Specialization – III

5

MAE617
Specialization – II
MAE623
Specialization – IV

6

MAE618
Research Project/Paper
MAE624
Dissertation
​Career Options Available After MA English
There are a plethora of career options available after a distance MA in English. Here is the complete list of job profiles or career options to go for after completing a distance MA in English:
| | | |
| --- | --- | --- |
| Content Writer | Copywriter | Journalist |
| Teacher | Writer or sub-editor of print media | Proof-reader of any company or publishing the house |
| News writer | Anchor | |
Also Read | Highest Paying Salary In the World!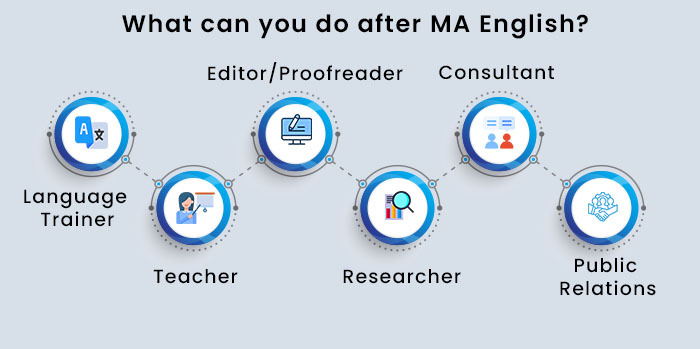 ​Conclusion
After the completion of distance MA English through Chandigarh University, you will be specialized in writing in the English language. Then, you will be eligible to do a job in the field of writing in English. This is just a 2-year program and can have this degree without even compromising your other commitments and responsibilities.