The Need Of Selecting One Out Of The Two!
Bygone are the days where education had been taken lightly but with time it has changed drastically and with the changes, we can see the new amendments within, just for the sake of serving the quality of education amongst knowledge and opportunity seekers.
We came across the world of New Normal! Where we actually have faced and acknowledged ourselves with the important features before choosing a university for the particular program. We now know that for selecting a university there are several important factors to look for so that we surely can ensure a valid degree, a degree that will definitely take up our career to the zenith.
The height of success starts with will and enthusiasm towards chasing your dream and the platform through which you can start your journey. Have you ever thought that what if unknowingly or accidentally you get into a wrong destination that can even ruin or disturb your career and somewhere around will break a leg of your dream? So it's better to do a little or more of R&D first hand before choosing the platform or we can say university.
Here in this blog, we will be talking about two of the well-known universities named Shri Venkateshwara University Distance Education and Chandigarh University Distance Education. So before digging out the best one out of these two let us have a glimpse of information about these universities first.
About Shri Venkateshwara University
​SV University came into existence in the year 2010 by the UP Govt, Act 26 at Gajraula, U.P. It has been formed by Sri Bankey Bihari Educational & Welfare Trust. The university is UGC approved under the UGC Act 1956 of u/s 22 (1).
It offers many of the UG, PG programs for its distance learning-seeking candidates. It has also been accredited by NAAC in the 1st cycle. It has signed MOU with a spoken tutorial of IIT, Bombay. Also Read: JECRC V/S SVU Distance Education.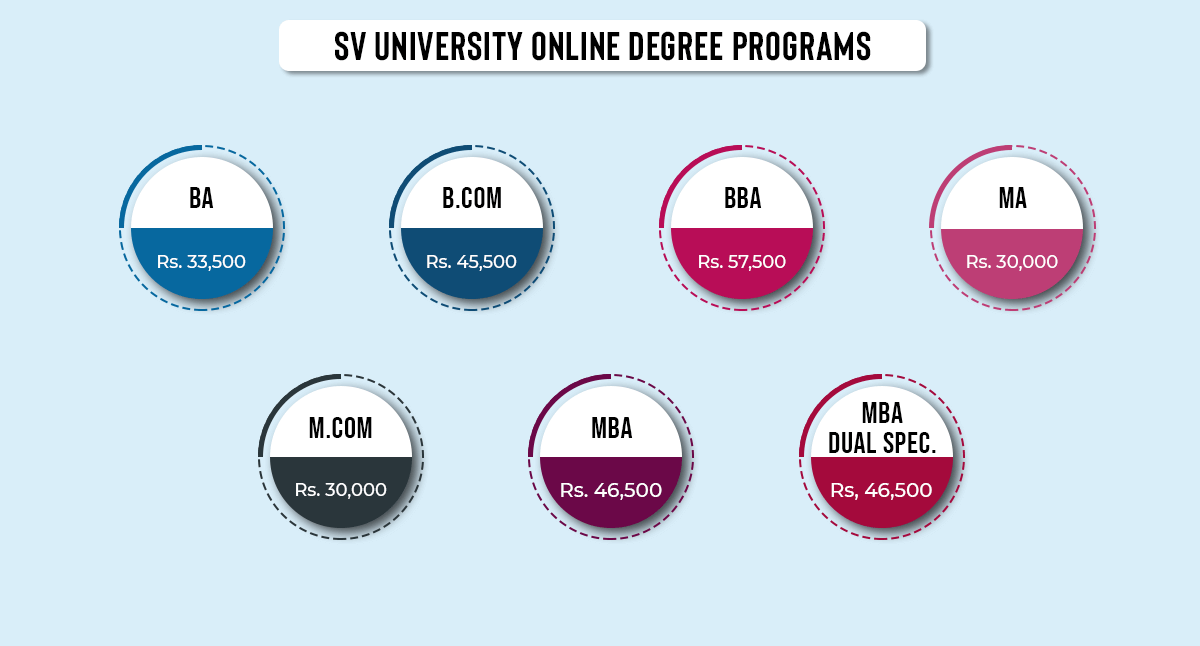 About Chandigarh University
Chandigarh Distance University is a well-established university to deliver distance learning for many years. It is located in Punjab and was founded in 2012. Chandigarh University distance learning courses are approved by the University Grants Commission for distance learning (UGC-DEB). Also Read: Chandigarh VS JECRC Distance University.
The university is also accredited by NAAC with A+ Grade Estimation. It has also been awarded as Asia's fastest-growing private institution. It has also ranked 3rd amongst the best private universities in India today, NIRF, and many more.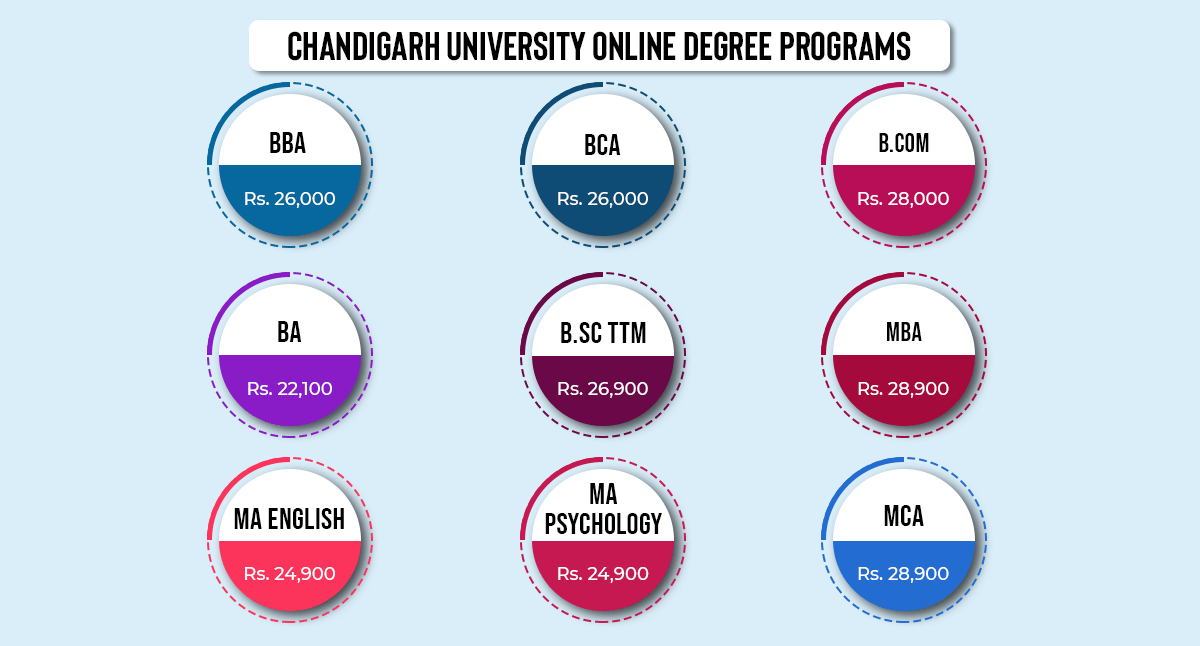 To get more information about these two universities we will now discuss all the other factors and features of them so that it will help us to fetch the answer of selecting the best out of them.
The List of Courses offered by Both University
What is the need for Approval?
Approvals have played a vital role in the field of education and with time we can now see the importance before selecting a university for any program be it undergraduate or postgraduate. Now considering the two universities we are discussing out in this blog, let us know the approvals of these universities first and furthermore the need for it.
At first, The Chandigarh University Institute of distance and online learning program (CU-IDOL) is valid as it is a University Grant Commission and Distance Education Board-approved university and accredited by National Assessment and Accreditation Council with A+ Grade, which means it has a commendable curriculum and faculty structure.
We now have the Shri Venkateshwara University, which is also a UGC-DEB approved university under Act 2(f). So it is a valid university that offers you valid courses and a revised curriculum for all the programs. Meanwhile, you must be tangled regarding the meaning and importance of these approvals so let us discuss the same.
UGC means University Grant Commission that has come into existence in India in the year 1953 and has become the statutory organization of Government under the Act in 1956. Its work is to regulate the standard of teaching, examination, maintenance, coordination, and research in the university and also help colleges and universities financially. Also Read: NMIMS VS IMT Ghaziabad.
National Assessment and Accreditation Council came into existence to see the quality of teaching, the infrastructure of Universities/Colleges, the curriculum of the courses offered, student support from admission procedure to course-related query, and other specifications that need to be followed by universities and colleges to ensure the quality of learning and then it offers recognition to the universities in India as per their performances.
Distance Education Board (DEB), established in the year 2012, the earlier time it was named as Distance Education Council an organization that is regulating and responsible for distance learning and, its name replaced with DEB now, So it actually gives approval to the distance education providing universities that whether they can give distance degree or not which can be calculated only and only after following its norms and condition. It is mandatory to get a valid distance degree as there are only 33 DEB-approved universities there from 933 universities.
Chandigarh V/S SVU – Features of LMS
The online classes provided by both the universities Chandigarh University and SV University are basically interactive classes in which there are options of asking queries or problems regarding any topic. It also has recorded video lectures availability, so you can even have lectures as many times as you want and can even mail the queries.
There are live lectures with the option of video-recorded lectures. Queries can be asked in the comment section or by mail.
LMS means Learning Management System in which digital education has made e-learning two-way learning just like a classroom experience. It is a systematic panel that offers you easy and sterling learning access. Also Find: NMIMS VS Symbiosis.
LMS includes webinars, recorded lectures, online live lectures, and also it has digital libraries that consist of e-books, course-related videos that can be accessed anywhere and anytime. There is one-to-one faculty interaction.
Chandigarh V/S SVU – Placement Scenario
Shri Venkateshwara University and Chandigarh University both are popular distance universities located in India. Most of the students are already pursuing various courses through the distance learning mode of education.
Both universities are affiliated and acknowledged by the Distance Education Bureau of the University Grant Commission for offering different distance courses to the students and the courses that are offered by the universities are valid according to the guideline of AICTE and UGC-DEB.
The students will get valid degrees pursued from any of the universities whether it be Chandigarh University or Shri Venkateshwara University and a valid degree will help the students in getting better job opportunities in the job market.
All the distance universities provide placement assistance to distance learners that mean they will suggest the companies to the degree holders and they will prepare the students with the skills which would help them to crack the interviews in top-notch companies. Also Read: Top Distance MBA Colleges In Chhattisgarh.
Both Chandigarh University and Shri Venkateshwara University are also famous for providing the best placement assistance to the students. During placement assistance both the universities train the students with adequate skills like communication skills, personality development, and soft skills that will help the students in getting the best jobs.
Conclusion
After giving a good read of this blog you may have been able to clear doubts on choosing the best university out of both the two listed down here. Make sure the important points we have listed down the same for your reference so that it will be easier to look for the one that suits you the most.