Data Science Certification is a short-term course usually in the online mode that teaches specific subjects/topics within the data science field. Data Science is a vast subject and can not be studied in a short span of time. However, there are various sub-topics, skills, tools, and techniques that need in-depth knowledge and practice. The data science certifications are used to master these specific skills. Also Read | What Is Data Science and its Importance!
Read the blog further to know all about data science certifications along with the colleges and online platforms that offer these courses.
Best Colleges for Online Data Science Professional Certification Course In India 2023
So, now that you know what data science professional certificate courses are, for whom they are, and their importance, it is time to know the best colleges in India that offer these online data science certifications.
Institutions offer Data Science certifications in two ways. First, they directly offer the certification, and second, they partner with an edTech platform to offer the course. Also Read | Top 10 Data Science Colleges In India!
In the first case, the college itself oversees the entire course procedure, from registration, admission, and fee payment, to Learning Management System (LMS) and faculty. In the second case, the college just offers the course material and faculty, and the rest of the arrangements and facilities are taken care of by the edTech platform.
Given below is the list of colleges that directly offer data science professionals certifications.
Data Science Certification Course Online (Beginners & Experienced Level)
College Name
Course Name
Total Fee
Duration

IIT Delhi

Certificate Program in Data Science & Machine Learning

₹1,25,000 + GST

6 months

IIT Roorkee

Executive PG Certificate Program in Data Science

₹2,49,999/- (5% off for one-time payment)

12 months

Jain Online University

Certification- Python for Data Science

₹12,000/- (National)

$250/- (International)

3 months
Data Science Certifications by EdTech Platforms In India
It is important that you choose the right platform to pursue your online data science professional certification course. This is because not every online platform is eligible to offer this course as Data Science is quite an advanced technical subject.
You must thoroughly go through the website of the platform to validate the authenticity of their courses. Also, you must check whether the partner university is recognised and approved to offer online courses. If otherwise, the certifications that you receive might not be valid.
To help you make the right choice, in the table below we have listed down some of the popular edtech platforms that offer the best data science certifications along with their partner universities.
Online Data Science Certification Course by EdTech Platform
EdTech Platform
Partner University
Course Type
Course Name
Duration

upGrad

IIIT Bangalore

Post Graduate Program

Executive Post Graduate Programme in Data Science

12 months

IIM Kozhikode

Certificate Program

Data Science for Business Decision Making

8 months

IIIT Bangalore

Certificate Program

Advanced Certificate Programme in Data Science

8-8.5 months

IIIT Bangalore

Advanced Program

Advanced Programme in Data Science

12 months

Great Learning

Great Lakes

Post Graduate Program

PG Program in Data Science and Engineering

9 months

Great Lakes

Post Graduate Program

PG Program in Data Science and Engineering

6 months

Jain Online University

Post Graduate Program

MCA in Data Science

24 months
What are Data Science Certifications?
Data Science Certifications are the short-term courses that help you build academic as well as practical knowledge. The data science certifications are usually for two types of learners.
The first category of learners is the ones who do not have any prior knowledge of the subject at all. For such learners, there are data science certifications for beginners. These certifications teach the learners from the foundation level to build their basics and then slowly move forward with the skills.
However, such individuals who do not have any prior knowledge of the subject and are wishing to build a career in data science are advised to opt for online degree UG & PG courses in data science like online BCA, Online MSc in data science and Online MBA Data Science. This is because certification courses will not make you job-ready but degree courses are job-oriented and will make you completely industry-ready as soon as the course ends.
The second category of learners is the ones who already have some prior knowledge of the subject and are simply looking to upskill themselves. Such learners usually comprise B.Tech (Computer Science) graduates or working professionals who want to hone some of their specific skills.
For instance, you are a working professional in the Information Technology (IT) field and have an opportunity to switch to the Data Science domain. However, you are not very proficient in Python or say Machine Learning Techniques.
Now, a data science professional is expected to be very skilled in both Python and Machine Learning. So, you do not have to go for full-fledged degree courses of 2-3 years to learn just two of these topics. This is where data science certifications come to the rescue. Since these certifications are mostly in the online mode, they offer the flexibility of time and space. You do not have to leave your job as you can continue the learning simultaneously.
Why Data Science Certifications?
The world is generating massive amounts of data every day and at an unprecedented scale which is popularly known as the 'BIG DATA'. This data is continuously evolving and being produced with Veracity, Volume, Variety, Value, and Velocity- which are the 5 "V's" of Big Data challenges.
Such sudden evolution has led to an emerging need for skilled data science professionals across the world. This is because 'DATA' is something that affects each and every industry, sector, or organization, be it government or private. There is no business today that can run without Data. In fact, Data Science helps businesses run better and make greater profits.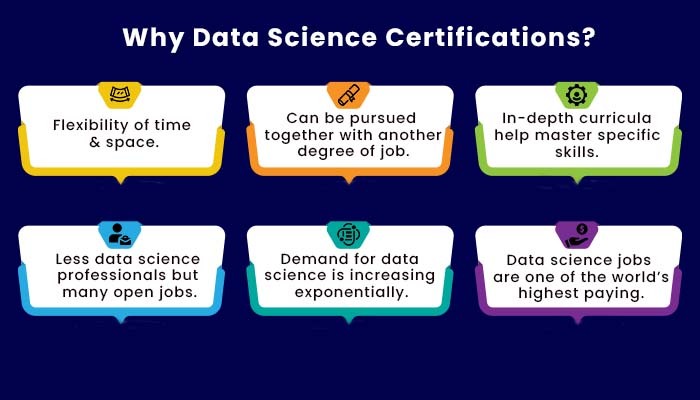 Therefore, all kinds of businesses today, critically need experienced and skilled data science professionals. However, unfortunately, there is a huge gap between the demand and supply of data science professionals and technologists. This is because there is a dearth of discipline-specific courses in Data Science. Also Read | Syllabus & Subjects of Data Science!
Why are there fewer Data Science Professionals?
There are three main reasons why there is this huge gap between the demand and supply of data science professionals, especially in India.
The undergraduate courses of computer science in India are too generic to focus specifically on addressing issues in the data science area.

There are very few postgraduate courses that explicitly focus on Data Science.

Even if there are some postgraduate courses that are explicitly focused on Data Science, the working professionals of the industry do not have the luxury to leave their jobs to pursue higher education.
Hence, to fulfil this gap, many prestigious universities came up with discipline-specific data science courses. For instance, a few IITs offer M.Tech in Data Science. However, these courses are at the postgraduate level and require strict and high eligibility standards. And then again, not many people were able to pursue these courses and the shortage of data science professionals continued.
So now, with these factors in mind, these institutions came up with short-term courses that cater to the specific needs of the learners. For instance, if a working professional needs to learn just one particular programming language for a job, then they do not have to study the entire M.Tech or MCA in Data Science. They can just opt for a certification course that teaches that particular programming language, thereby saving the time and money of the individual.
Data Science Certifications Fee Details 2023
The fee structure for the data science certifications depends upon the course that you pursue. The fee varies greatly because there is no generic syllabus or curriculum for these courses. The curriculum, syllabus, and duration of each course vary from the other, hence the fee varies.
The total fee for the data science certifications might start from ₹10,000/- and go up to as high as ₹2.5 lac. So it is difficult to extract one average fee for such a wide variety of courses. Also Read: Data Science Course Fee Details!
Are Online Data Science Certifications Valid?
Yes, online data science certification courses are completely valid BUT only when pursued by the right college and right platform. You must check the university or the online platform for the right Govt. approvals.
If the university or the online platform does not have the right accreditations or the right industry-experienced mentors, then the validity of their certifications might be questioned. You can refer to the universities and the edtech platforms we have mentioned in this blog, as they are recognised and approved, and offer world-class learning.
Jobs & Salary after Data Science Certifications
Most of the Data Science Certifications are job-oriented and are aimed at specifically teaching you skills needed for a particular job. Or, you also have an option of pursuing a combination of two or more Data Science Certifications that can help you master all the knowledge and technical skills needed for entry-level data science jobs.
However, people with a background in Computer Science or Information Technology can get higher-level jobs with the help of relevant data science certifications.
For instance, if you are a student of B.Tech Computer Science, then with the help of a certificate that involves in-depth knowledge and skills of data science practices (for example- Machine Learning), you can get a higher-level job in the data science domain.
Or if you are already a working professional in the IT industry, then again, you can get promoted to higher-level positions in the data science department of your organisation if you gain job-related specific skills with the help of a certification course, that too without even quitting your job. Also Read | Data Science Jobs Career Guide for Students & Professionals!
Some of the popular jobs in the data science field and their respective salaries are as follows
| | |
| --- | --- |
| Job Title In Data Science Field | Avg. Base Salary |
| Data Scientist | ₹8,64,729/- |
| Data Analyst | ₹4,63,202/- |
| Machine Learning Engineer | ₹7,23,386/- |
| Data Engineer | ₹8,65,518/- |
| Business Intelligence (BI) Developer | ₹5,98,580/- |
| Data Architect | ₹20,40,312/- |
| Database Administrator | ₹5,09,032/- |
If you wish to pursue any online Data Science degree courses, then you can visit www.collegevidya.com and look for the various online data science undergraduate, postgraduate, and diploma courses. You can compare different universities for the same course and choose the one that best fits your subjective needs. Also Read | Data Science Salary In India for Freshers!