With a pandemic hitting the world, each and every sector including education has gone virtual. With the availability of the latest technologies, education has moved on from its traditional way of learning. Schools and colleges globally have resorted to the online mode of learning.

In the past two years, even MBA has evolved and is progressing into the online mode of education. An online MBA has served as a great opportunity for aspirants who are already engaged in education or work commitments by offering flexibility to distant learners and working professionals. An online MBA offers not only flexibility to working professionals but also pocket-friendly education opportunities to individuals bound by financial obligations.
While an online MBA degree is a great opportunity to build your career, it is necessary that you make a wise and informed decision to choose your ideal online MBA and get a place! Checking the ranking of the B-school is not the only way you should choose your ideal B-school.
Read: What Is Part-Time MBA?
Factors such as your career goals, financial situations, time commitments, placements, ROI, etc greatly impact the choice of your program. No one program fits all the characteristics. Hence, before making an important life decision, you must consider and weigh all the pros and cons and then select judiciously.
Following are the 10 factors that will help you answer the question- How to choose your ideal online MBA and get a place:
#1 Admission Process
The admission process for an online MBA varies from one university to another. A maximum of the B-schools and universities offer direct admission for an online MBA degree. However, some schools consider entrance examination scores as well. There are a few schools that have entirely different criteria for admission which might include presentations and online interviews, as there are limited seats. Applicants must be thorough with the entire admission process before applying to their preferred B-school.
#2 Accreditations and Rankings
Online MBA has gained decent popularity in recent times due to the prevailing pandemic situation. There are plenty of universities offering online MBA degrees. However, aspirants should be very careful in choosing an ideal online MBA college as there are few colleges that have a good online presence but lack the right affiliations.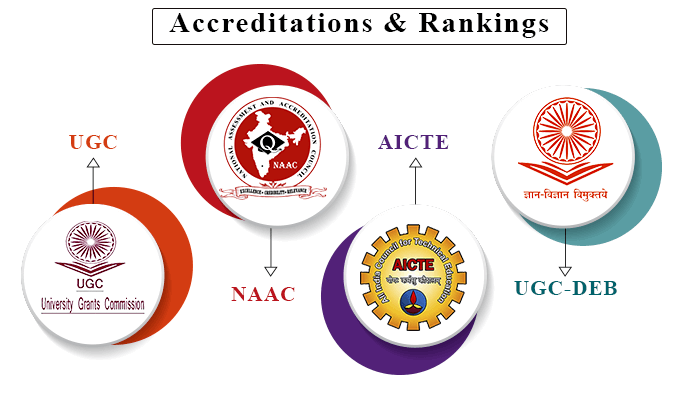 Accreditations help you give an idea about the various facets that a B-school must excel in such as curriculum, faculty, placement opportunities, retention and graduation rates, alumni support and satisfaction, student bodies, etc. As per UGC (University Grants Commission) guidelines, universities must be approved by NAAC (National Assessment and Accreditation Council) or AICTE (All India Council for Technical Education) for Indian universities. Applicants can also check for other affiliations and accreditations as well.
The ranking of a B-school is not the only parameter but is one of the important ones to consider while choosing a college. The ranking determines the reputation of the university and hence enhances the opportunities surrounding corporate exposure and placements. The rank also determines the value of the institution and the quality it offers in terms of education, faculty, students, alumni, and alike. These factors are really important as most companies consider them before hiring. You can check the ranking of a college on online platforms such as NIRF (National Institutional Ranking Framework) before making a decision.
#3 Course Curriculum and Industry Exposure
Once you have decided on the online MBA program you want to opt for, the next step is to check the curriculum of that particular program. You must study a curriculum that best suits you.
You must take a careful look at the curriculum module provided by the college and the classes that are going to take place. Your research must include information on the study material, instructor-led training, or any domain-specific knowledge you require.
Once you are done with the research on academics, you must next check for the industry exposure you're supposed to get, since MBA is mostly about the practical experiences that you gain through industry exposure and networking.
Cross-check if the industry exposure provided by the college aligns with your requirements. Enquire about internship opportunities, group assessments, live projects, and interactive sessions with industry experts and veterans.
Read: Career Options After MBA
All these factors are really important to consider when you are going for an online MBA because everything is going to be virtual, so interaction is the key to success which is possible if the college manages regular and seamless interaction and communication.
#4 Careers and Placements
Most of the applicants for an online MBA degree are working professionals who are looking forward to elevating their careers. Placements play a major role when it comes to selecting a B-school for them as well as any other aspirant trying to build a career for themselves.
Landing a job after an MBA is always easier said than done due to more number of aspirants in comparison to the lesser number of jobs in the market. Hence, it becomes vital to select a B-school that provides internship as well as placement opportunities.
You must define and understand your career goals and then proceed with the research accordingly. This is important because you must be aware of your specialization and field and then you must look for opportunities in that particular direction first.
While doing your research on this topic you must look into the recruiters coming to the college every year, the salaries offered, the nature of jobs, average packages, the background of the students placed, and any such information that might relate to your current working situation.
You can also check if the institution has specific departments for helping students with their resume writing and interview process during placements. Any college with a good placement record and reputation increase your chances of landing your dream job!
#5 Program Fees and ROI
MBA is an infamously expensive course to study in India and abroad which is why online MBA has come as a savior to many. Not only is the program flexible but it is also feasible. Many aspirants had to give up on their dreams of studying management education because of financial obligations.
Online MBA has given a sigh of relief to such aspirants with its affordable fee structure. However, the fees for an online MBA is still a big investment and therefore ROI (Return on Investment) or the value for your money is an extremely important factor to consider. You must go through the college website and check their placement records for maximum, minimum, and average packages.
With everything going online in recent times, online MBA has essentially gained pace in terms of virtual learning and is doing wonders in the field of online education.
An online MBA program provides a degree and the same experience as a full-time MBA at a much lower cost. With lesser fee and deduction on additional expenses such as accommodation and commuting, the chances of a better ROI increases substantially.
#6 Flexibility
Flexibility is one of the primary reasons for students to opt for an online MBA. Therefore knowing about flexibility in learning is something you must not miss. There are colleges that offer not only flexible class schedules but also flexible exam schedules.
Following are the two types of learning structures in an online MBA program:
Synchronous classes
In a synchronous learning structure, there is a set time for live online classes and every student must be present at that time. Most of colleges record such live lectures for students who miss the classes but these students would miss out on the discussions as well because the interaction happens during the live classes only.
Asynchronous classes
In an asynchronous learning structure, there is no set time for classes so the students can attend at their own pace. In this case, there are discussion forums where the students can interact with the faculty as well as their peers at any time.
Most universities offer a blend of a synchronous and asynchronous learning environment. There are live classes that are recorded as well as discussion forums and regular live interactive sessions at times that are feasible for most. There is the flexibility offered by some universities in terms of assignment submissions and taking exams as well.
#7 Online Learning Support
One of the most important aspects of online education is the Learning Management System. The online learning platform must offer equity to all its users and take into consideration users with varied pain points and needs. Understanding how to use the platform or its technicalities such as the interface is not enough.
The students must know about their overall learning experience and the kind of support and guidance they will be offered throughout the program.
Since it is online learning, you must verify if you will be supported at any time of the day or week. You must also know about the support and guidance system during assignment submissions and while taking exams.
This is vital information that you just know beforehand as it will be difficult to cope once you have already taken admission and when there's no going back.
#8 Alumni and Networking
An online MBA degree upskills you in the field of Business Administration. For constant learning and growth in this field, it becomes essential to build a strong network. A B-school with a great alumni base helps you kickstart your networking. They help you to network and build your contacts in the corporate world.
Not only networking, your alumni would help you build a perspective about the opportunities and the growth that you can expect from a particular industry.
Before deciding on the course, you can contact the alumni of the college through social networking sites like LinkedIn and talk about your queries.
You can also check from the college website or course curriculum if the college regularly organizes live interactions with alumni who are industry experts.
#9 Faculty
Faculty plays a major role in your journey as an online MBA student. Traditional offline learning is completely different from the new online learning environments. While online education has many benefits, it comes with its own challenges as well and one of them is online teaching. Before applying to a college, you can check student reviews about the faculty.
The teacher should be someone who can manage classroom engagement well. You can do your own research on the faculty by looking into their industry exposure and experience, their teaching pedagogy, and availability during the program.
The teachers should be available for student queries, live interactions, and communication through online discussion forums even after the classes.
#10 Knowing Your Peers
Lastly, knowing who all will be your classmates can be a plus point for you. You must be wondering why knowing the people whom you are not going to meet is important.
Well, it does, as it helps you along your journey of studying online MBA because are the peers you will be studying together with and working on assessments and group projects for the next two years.
You will be able to know the diversity of the batch in terms of work experience, profile, and background. Having a diverse batch helps you later build networks in diverse fields and industries. This may seem less important in the beginning but makes a big difference in the future.
Read: What Is Distance Learning MBA?
Hope you have by now found the answer on how to choose your ideal online MBA and broaden your horizon about characteristics you must know before applying to a B-school. You can refer to these 10 factors while deciding on your B-school. Considering these options will surely help you get admission to a good B-school and a great placement.